The very first thing I ever learned to cook was pizza. I started around grade 8 and spent the next 472 years trying to perfect it. I'm about halfway there.
The first big breakthrough I had was years ago when I started to BBQ my pizza. Then I decided I'm an all or nothing kind of person and built my own wood fired pizza oven. Don't scoff, it's actually easier than you think.
Finally, after realizing that maybe not EVERYONE wants to build their own wood fired pizza oven, I should probably really figure out how to make pizza at home in a regular oven. If you don't happen to have an outdoor pizza oven, s soon as you make this dough I want you to read this post on making perfect pizza in your home oven. If you're a pizza enthusiast that one post will change your pizza life, I promise.
If I hadn't figured out that a BBQ produces a really great pizza, I'm sure I would have built a pizza oven by now with random things from my shed. Leftover patio stones, some plastic pots and half a bag of solidified Miracle Grow.
Anyhow ... I'm rambling. As you may know I got the Earth to Table cookbook for Christmas and I've been trying out recipes since I got it. The first recipe I had to try was pizza dough. I've tried a few homemade pizza doughs in my time but none of them seemed any better than that big blob of dough you can buy in a plastic bag at the grocery store. The faux dough. So I've always used the gloppy dough from the grocery store to mixed results. Sometimes it's O.K., other times I roll out the dough to a 9 " circle r and by the time I grab my sauce the dough has reverted to a 3" circle. And it's smirking.
So I was pretty excited to have a promising pizza dough to try out. Nothing gets me more excited than the possibility of coming to the end of my quest for the perfect pizza. Except maybe a new episode of Modern Family.
So on New Year's Eve I opened the cookbook and gave it a shot. Sure enough the recipe was a complete and utter success. It was perfect. The dough was perfectly crisp on the outside and light on the inside. (not gummy ... sometimes the grocery store glop is gummy inside for some reason) I ate so much I cursed the dough, the pizza, the cookbook, the recipe, Jeff Crump, the fella, my cats and my 3rd grade teacher. I felt kindda sick. Totally my fault. (and the fault of the dough, the pizza, the cookbook, the recipe, Jeff Crump, the fella, my cats and for some reason ... my 3rd grade teacher.)
After I calmed down and digested a bit I knew I had to let you all in on this recipe, so I stood on my porch and screamed at Jeff Crump. HEY!!!!! JEFFF!!!!!! CAN I PUBLISH YOUR PIZZA DOUGH RECIPE???!!!! I didn't hear a "No." back, so I figure, we're good.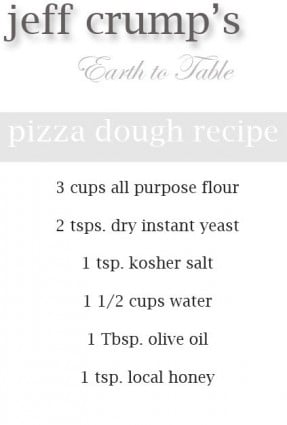 Gather your ingredients.
Notice my local honey? It's my pal Russell's honey. No wait ... it's his Uncle's honey. I already ate all of Russell's honey.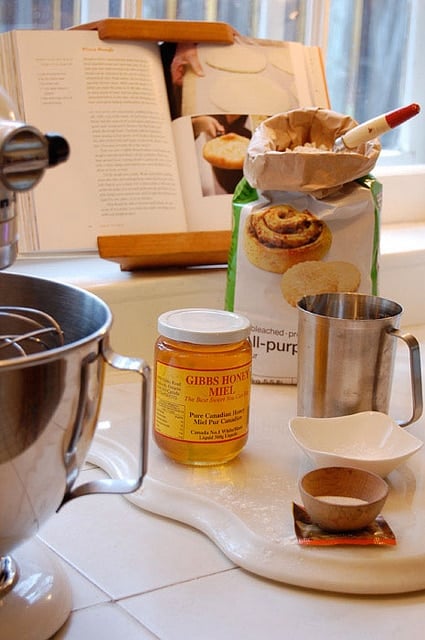 Combine flour, yeast and salt in stand mixer.
(If you don't have a stand mixer, use a Cuisinart or mix the ingredients in a bowl by hand with a wooden spoon)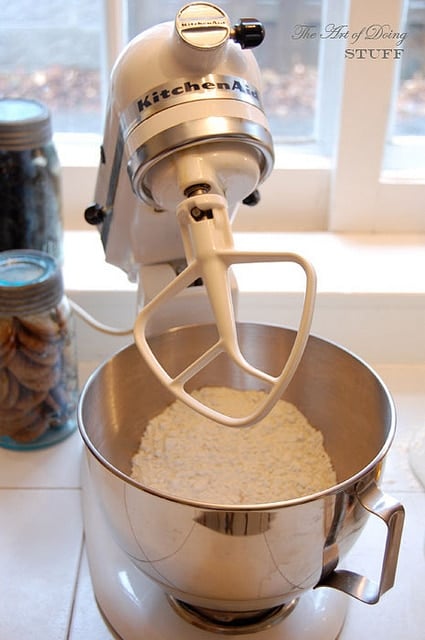 Add one cup of water, oil and honey. Mix with flat beater on low speed until combined.
Remove flat beater.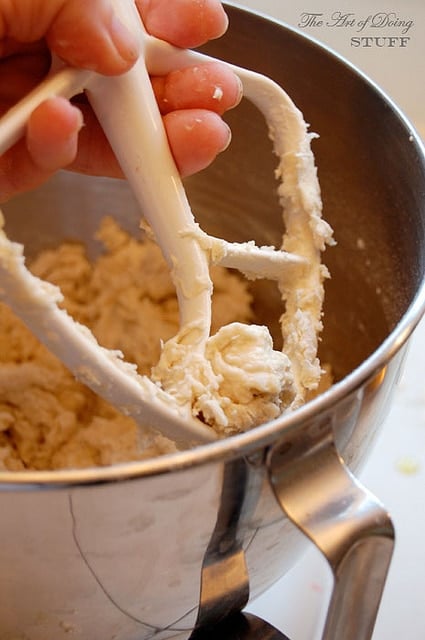 Add dough hook.
Gradually add the remaining water (you may not need to add all of it) while continuing to mix on low speed. When dough pulls away from sides of bowl and hangs off of hook, you're done.
(Again ... just mix by hand with wooden spoon until dough forms into ball)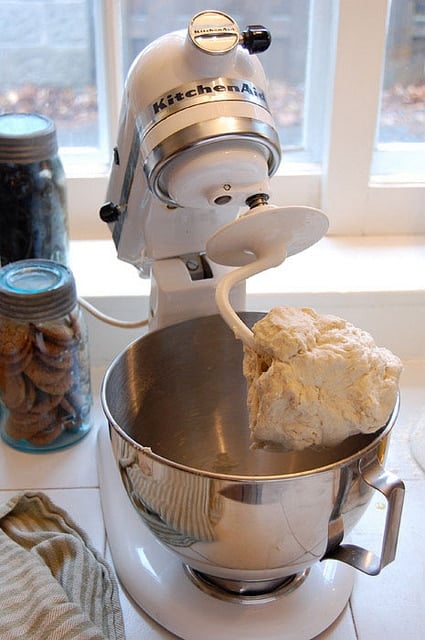 Knead dough until it's smooth and elastic. About 3 minutes.
Place in a large greased bowl, turning dough so it's greased all over. Cover with damp towel and let rise for about an hour or until ...
it's about doubled in size. Ta da.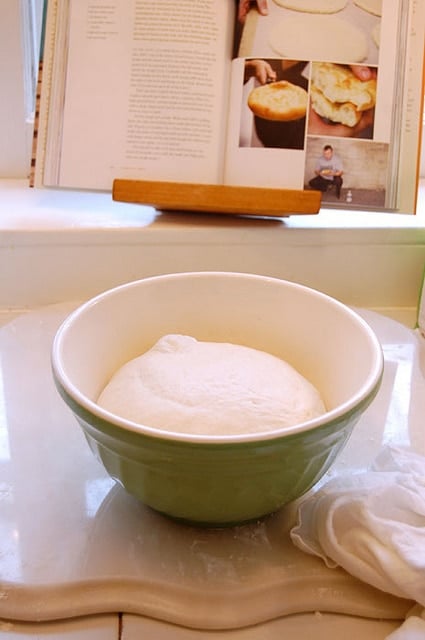 You can either divide the dough in half for 2 normal sized pizzas, or you can divide into 4 for individual sized pizzas.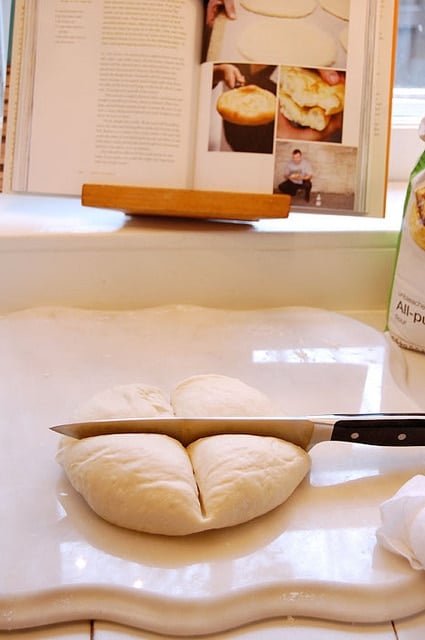 Work each ball of dough by pulling down the sides and tucking them under the bottom a few times.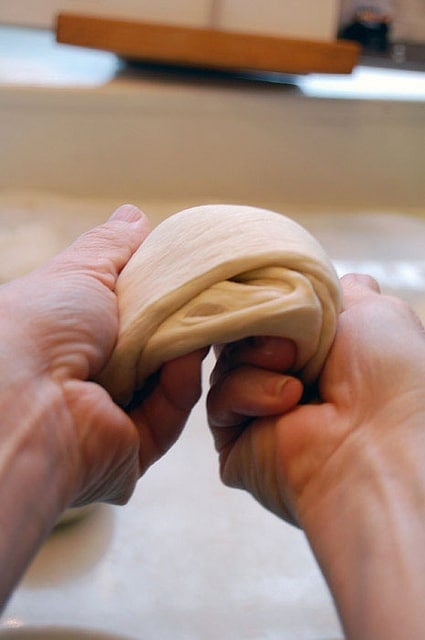 See all that stretched gluten? That's what you're lookin' for.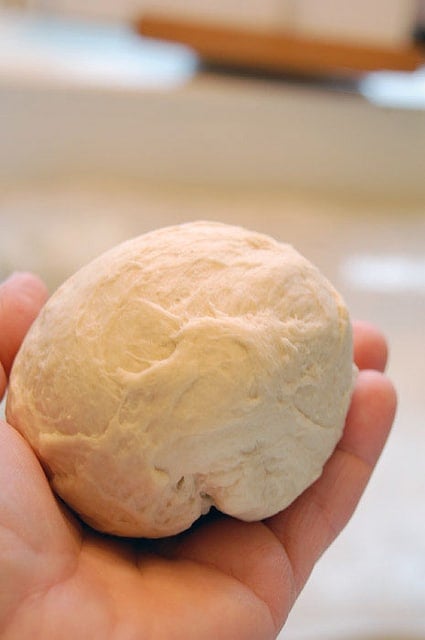 Roll the dough under the palm of your hand until smooth.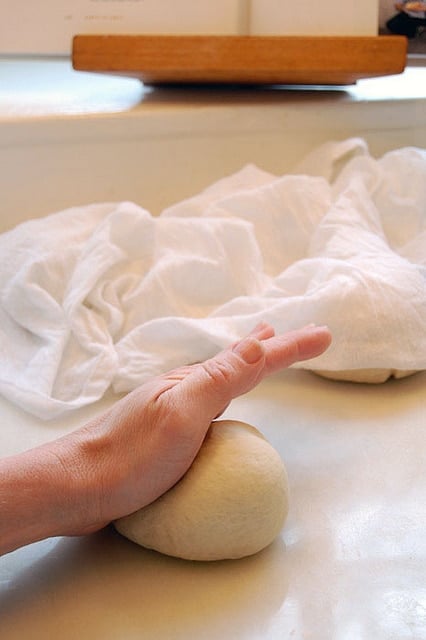 It should be soft and smooth and perfect feeling. If you've fallen in love with your ball of dough, you've done it right.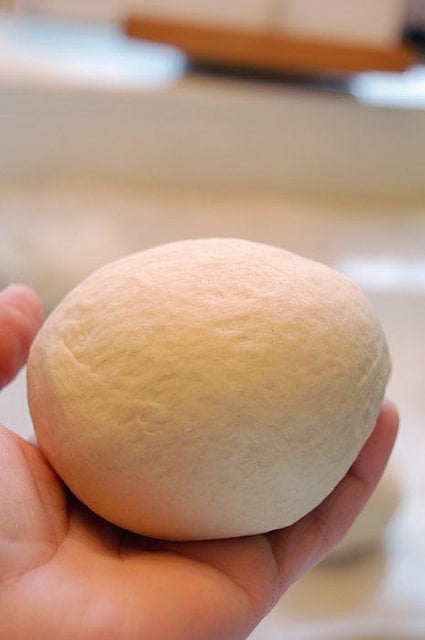 They will be 4 little things of beauty. That need to be protected.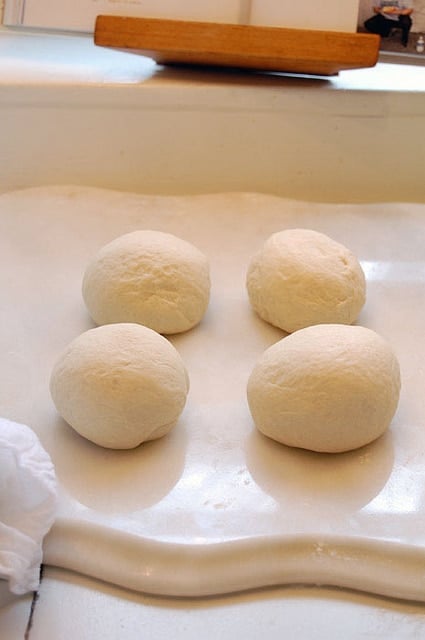 At this point you can either freeze your dough, refrigerate it for use the next day or GET READY TO MAKE PIZZA RIGHT NOW!!!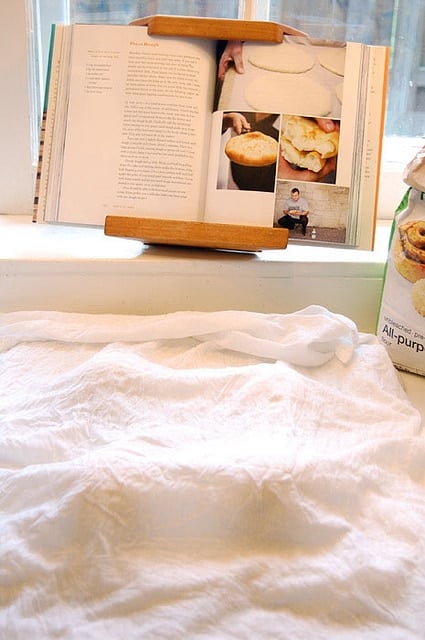 If you plan on making pizza right away, then cover the dough up with a damp towel for 15 - 20 minutes and let it rest.
Once you've done that, you can roll it out and make your pizza.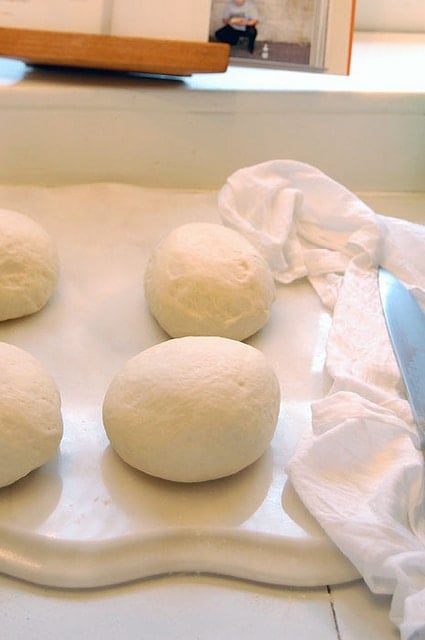 As I mentioned at the beginning of this post, I BBQ my pizza all the time now. I bought a couple of non stick pans for the job. They're just circular pans with holes all over the bottom to allow the bottom to crisp up. You can read my entire post on BBQ pizza here (it's kind of a love story not unlike Pioneer Woman's Marlboro Man story, only there's more swearing and a monster involved) or I can give you the quick version.
Preheat your BBQ to HOT. As hot as possible. 500 degrees at least. Make your pizzas on their pans and then put them on the BBQ. Close the lid immediately and turn the burners down to medium or medium low so you don't burn the crusts. Leave them for 8 - 11 minutes depending on how hot your BBQ gets. Remove the pizzas and then stick them under your broiler for a few minutes to get a bit of crisping on the pepperoni and some browning on the cheese.
A flavour the fella gets when we go to Jeff's restaurant "Earth to Table, Bread Bar" is bacon, scallions and goat's cheese pizza. It's DELICIOUS. Just not as delicious as a classic pepperoni, which is always my choice. (when I make it at home I add fresh basil leaves after it's removed from the oven)
So, the quest for the perfect pizza is almost complete. I have the sauce, the dough and the method. The only thing remaining?
I am now on a quest, for the perfect pizza cheese. I expect it will take me approximately 3 years, 4 mental breakdowns, 7 bottles of sedatives and quite possibly a black eye.
Wish me luck.
p.s. I would like to thank Jeff Crump who kindly gave me permission (for reals) to publish his pizza dough recipe.