An Amaryllis that grows without any water, a vase or general care. Just stick it on a table and walk away. What is this sorcery? Wax dipped Amaryllis bulbs! Here's how to make them.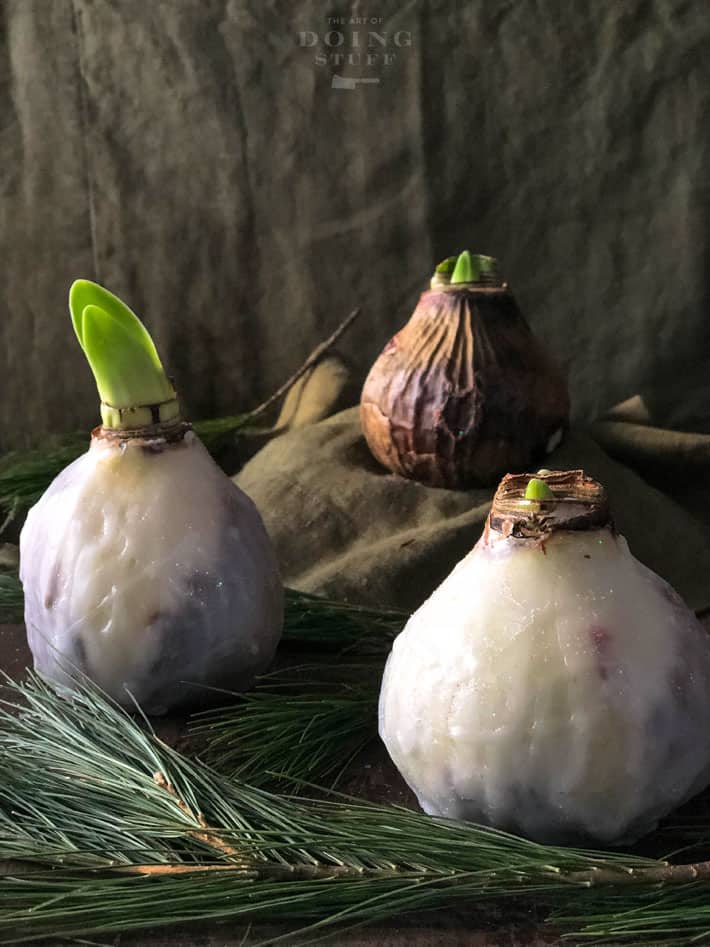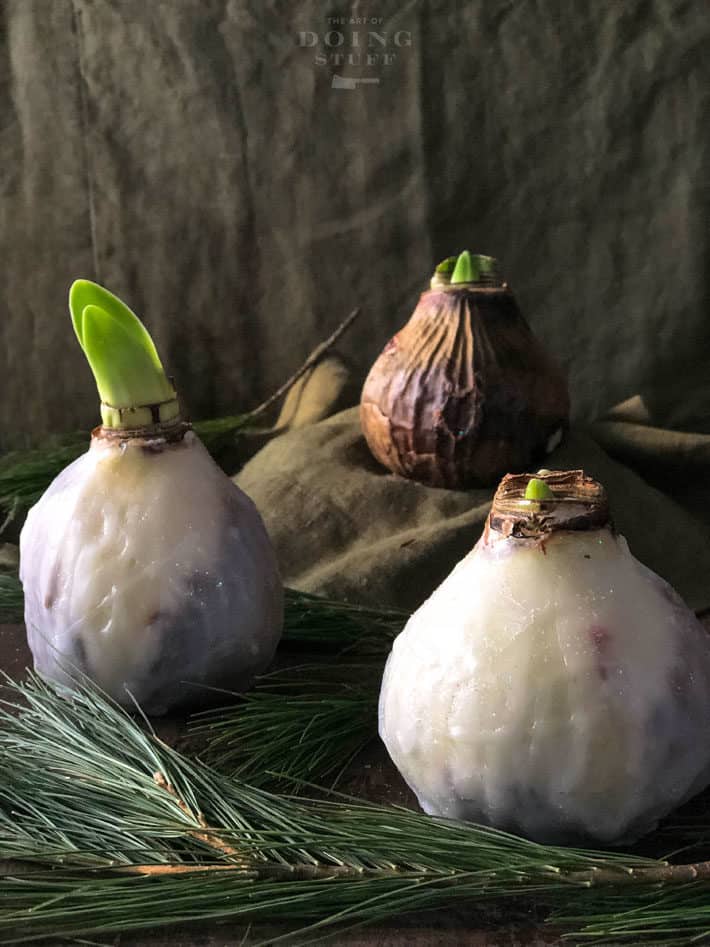 A couple of years ago I saw Amaryllis bulbs that had been dipped in wax at my local garden centre. I didn't know what they were and figured they were just Amaryllis bulbs that had been dipped in wax to look pretty. At around $34 for a bulb I wasn't intrigued enough to read anymore about them on the box.
Fast forward to this year when I saw them again and realized the magic of them is the fact that you can just place them anywhere and they'll grow. Along a mantle, down the centre of a dining room table tucked into greenery. They're less expensive this year, around $20, but they're still a lot more than a plain Amaryllis bulb – which is between $8-$15 per bulb depending on the rarity and quality of it.
omgomgomgomgomg. THIS is what my DIY dreams are made of. I got to work immediately figuring this out.
Did I mention this would make a GREAT hostess gift this season?
After some online research and reading on Amaryllis bulbs I got a handle on it. The wax part was fairly obvious. Wax would hold the moisture in the bulb. But according to the makers of these wax bulbs there was some super secret process the bulbs went through to make sure they'd bloom without additional water.
Since it was pretty easy to figure out how they got the Caramilk into the Caramilk bar I was pretty confident I'd crack the secret to the waxed bulbs.
I gave it some thought, did some more research and decided the two things you'd need to do to ensure success was twofold.
1. Soak the Amaryllis bulbs in water so they're fully hydrated before you wax them.
and …
2. Cut off the bulb's basal plate (the flat part the roots grow out of) to shock it into thinking it's dying which forces it into trying desperately to reproduce itself – by flowering.
My experiment seems to have worked. And I have to say I like the way these homemade wax Amaryllis bulbs look better than the store bought ones. For one thing, you can customize them.
At first glance I thought the store bought waxed bulbs were made with metallic wax, but it's just regular paraffin wax that's been spray painted.
If you have all the stuff you can also make coloured wax by mixing regular wax with wax dye, but I didn't do that. I just wanted a quick DIY not a whole "thing" that would end up costing more money than just buying one pre-made.
So instead of trying to make metallic wax for instance, I gold leafed the bulb afterwards with gold leaf I found at the Dollar Store. Other bulbs I left natural, with just white wax covering them, part of the darker bulb skin showing through and and most of the bulbs I sprinkled the white wax generously with white dollar store sparkles to make them glitter.
All in all this "I'm cheaping out" experiment has been a complete success and these waxed Amaryllis bulbs are going to be beautiful around the house throughout the holidays.
Here's how to do it:
How to Make Waxed Amaryllis Bulbs
Soak Amaryllis bulb in lukewarm water for 4-8 hours.
Cut off the roots, including the basal plate.
Let the bulb dry for a few hours.
Melt wax (I used old candle stubs but if you don't have those use some paraffin wax) over low heat.
Paint the wax on the Amaryllis bulbs from the neck down covering the sides and base.
Gold leaf or cover in sparkles if glitzy is your thing.
Place the bulbs in a warm area of the house to encourage growth.
The length of time it takes to flower usually around 6 weeks with store bought Amaryllis bulbs. I can't give you a timeline on this because mine haven't flowered yet, but the flower bud has popped up out of the bulb so I know it's only a matter of time.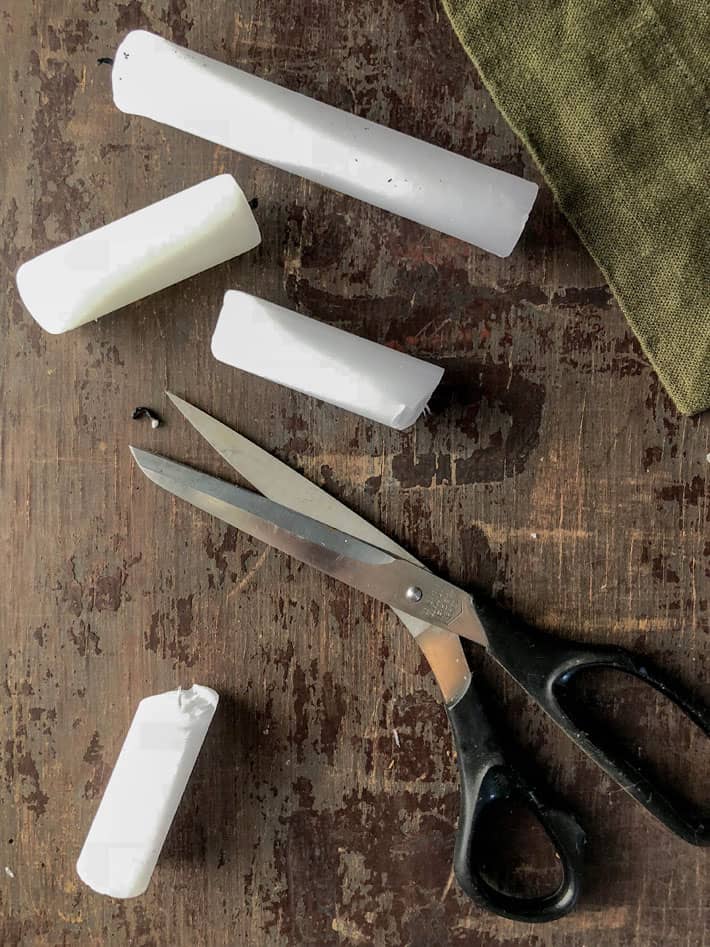 I save my short, burned candles all the time. Half the time I look at them in the cupboard and think WHAT am I saving this crap for. The other half I pull them out and think WELL thank the lord I saved this crap. (I also use spent candles for making homemade fire starters.)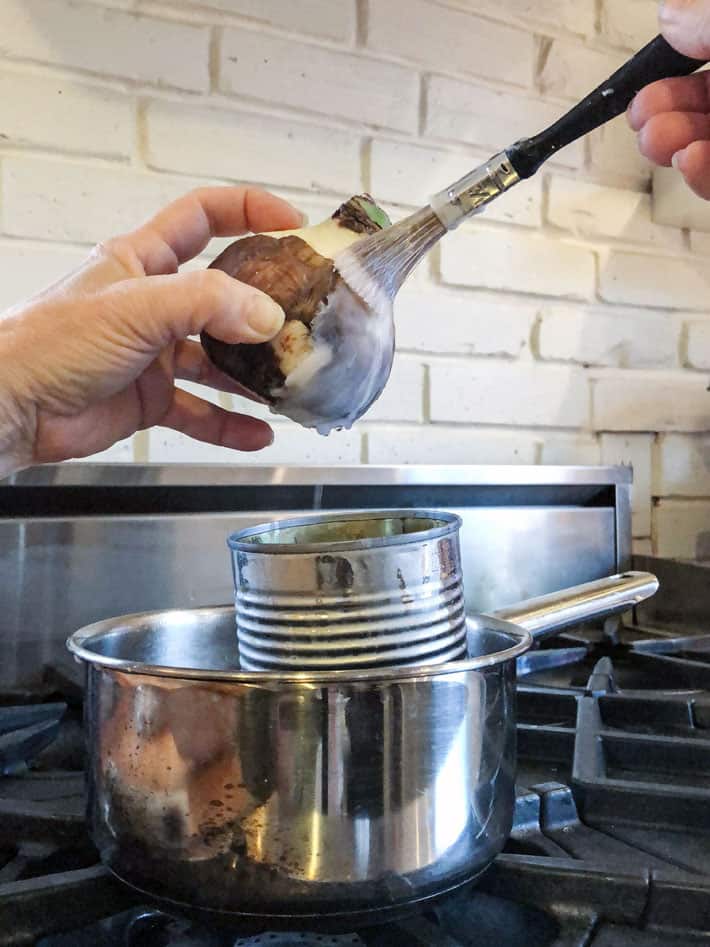 I didn't dip the entire bulb into the hot wax because I felt like it would be too much of a shock to the bulb. Painting it on felt more gentle.
Paint the wax on until there's a good thick coating of wax all over the bulb. It'll take several layers.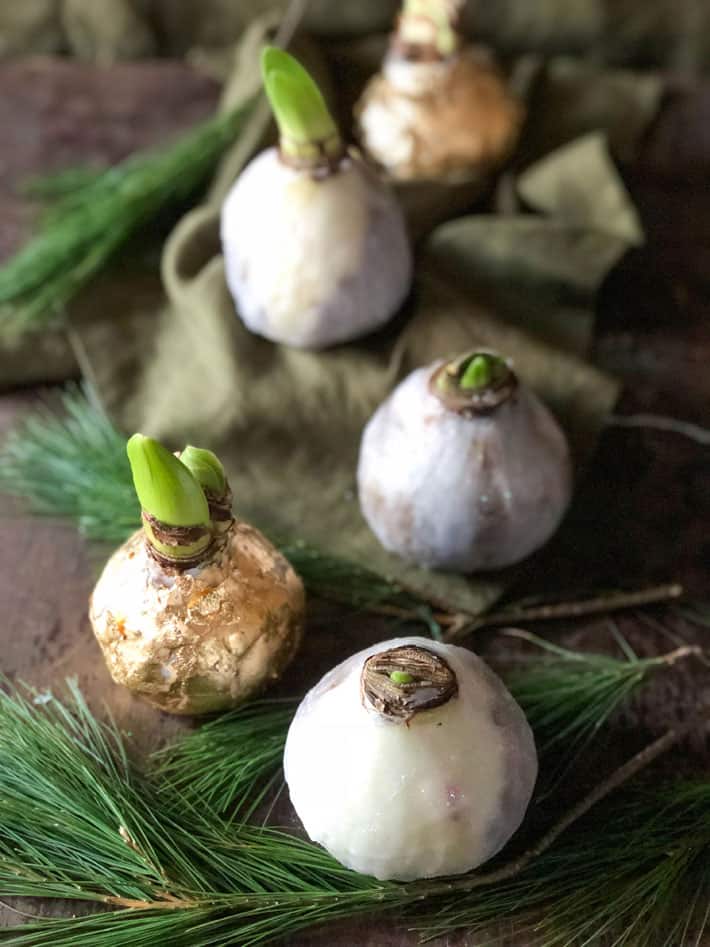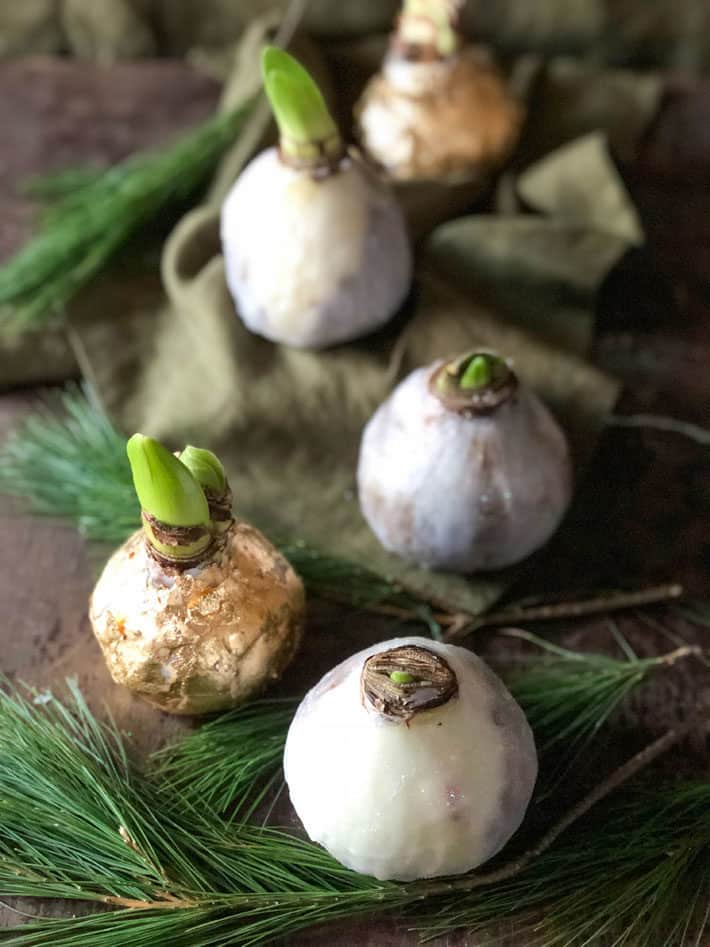 The gold foil is VERY fiddly to get on the wax. Make sure your wax is still hot when you apply the gold foil and press it into the wax with your fingers or the palm of your hand until you think it's really stuck. And repeat. Like a million times.
It's a huge pain but the result is kindda breathtaking.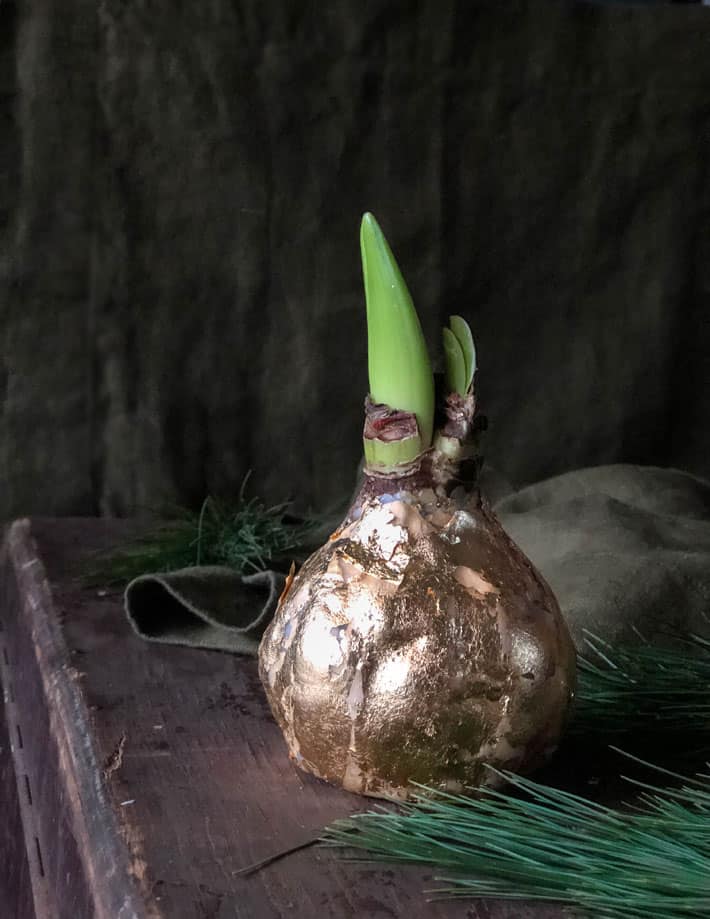 The easier way to fancy up the waxed bulb is to sprinkle it with sparkles as soon as you're done waxing it.
I used white sparkles on white wax but you could do whatever you wanted. Green sparkles on green wax, green sparkles on white wax, gold sparkles on white wax … how many more examples do you need?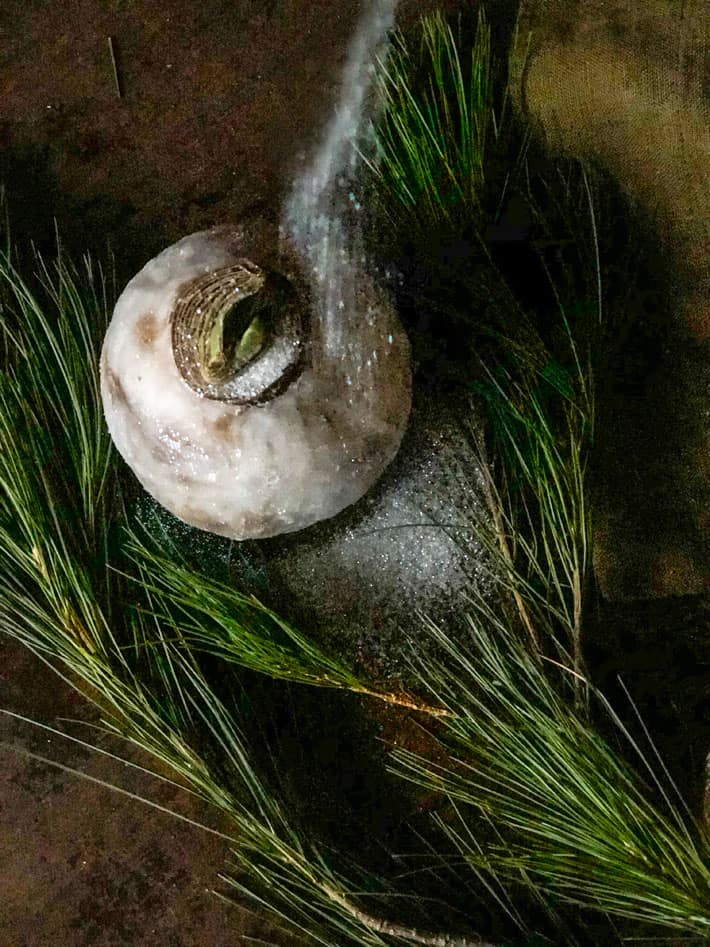 I've also left my wax drippy looking. I did that on purpose. If you want things perfectly smooth just smooth the wax out with your finger or the brush while the wax is warm.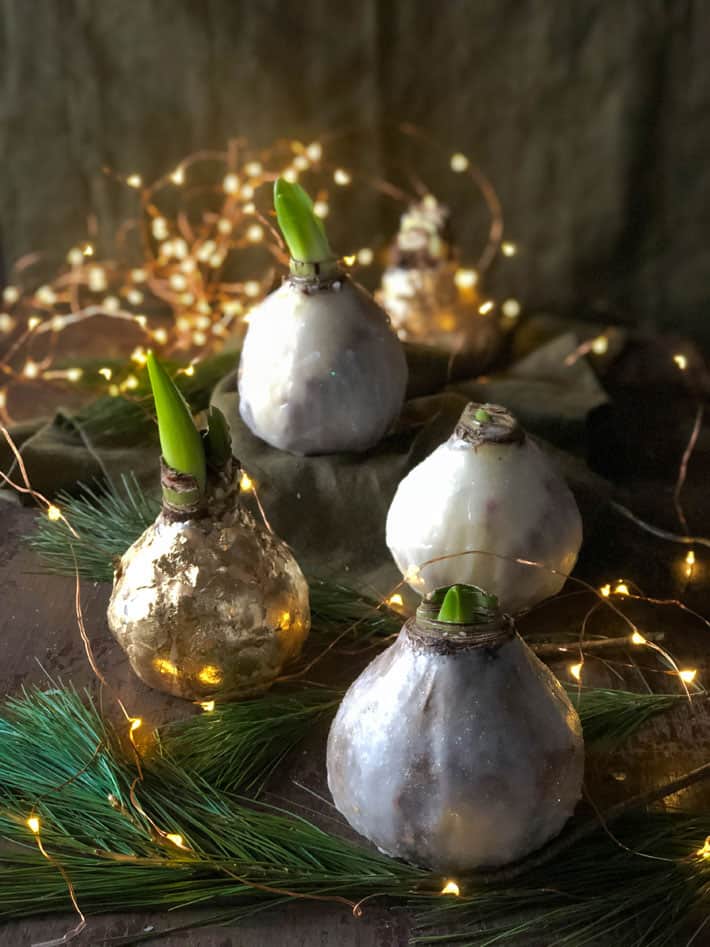 ---
WAXED AMARYLLIS BULB TIPS:
Don't soak your bulb in water for longer than 8 hours. It can turn to mush.
When you cut off the basal plate make sure you do it straight so your bulb isn't tippy. Your flat cut is what will keep the bulb stable.
If you're using spent candles for your wax, like I did, cut the burnt part of the wick off otherwise it'll get your wax dirty looking. Don't worry about getting rid of the wick, the wax will just melt away from it.
For heating your wax I HIGHLY recommend putting the wax in a tin can and setting that can in a pot with some water in the bottom. It keeps your pots clean. Plus if you have leftover wax you can just put the whole can, wax and all in the cupboard and pull it out when you need to wax something else.
Don't forget to wax the bottom of the bulb. The whole point of waxing is to help the bulb retain moisture so as much of the bulb needs to be waxed as possible.
I used Dollar Store gold leaf which was basically a mess of small gold leaf pieces. To make things easier you can buy whole sheets of gold leaf.
There's no saving and reusing these bulbs. Once you cut the basal plate off you're killing the bulb. However, I wasn't worried about this because I have never once saved an Amaryllis bulb to use from year to year.
---
Finally, this was fun to do. Like, 100%, I should totally have a bulb waxing party, fun. Which of course would be much more fun than any other sort of waxing party. It's easy, the results are great and it's weirdly satisfying to paint wax on a bulb then cover it with sparkles.
Happy waxing.
→Follow me on Instagram where I often make a fool of myself←