I mentioned last year that I used the Mother Earth News Garden Planner to map out my Front Yard Vegetable garden. It was great. A useful tool that I figured I only needed to use once.
Garden's planned. Done.
Not so. You see you're not supposed to plant the same plants in the same area year after year because it depletes the soil of the nutrients that particular plant feeds on and it makes the soil more prone to the disease and pests of that particular pant.
I knew all of this information, it's just that I was going to ignore it. The way men ignore the warning about how many aspirin you can take in any given day when they have a headache or feel a tiny bit sick. 2 aspirin every 4 hours? That's just a suggestion. I'm pretty sure it's O.K. to take 5 every 2 hours.
So what convinced me to change my plantings around every year? The Mother Earth News Garden Planner. Let me explain what it is a little bit.
The planner is a program you can go into and design your garden. Either flower garden or vegetable garden. You lay it out and design it and pick the plants you want to grow. You basically just drag and drop them into the spot you want and the planner automatically tells you how many will fit in your space and puts a little picture of them there. You can choose to make your plan according to traditional row gardening or the newfangled and VERY impressive Square Foot Gardening method.
It's easy. Aspirin directions easy.
This is my plan from last year. Which I thought would be my plan for all years.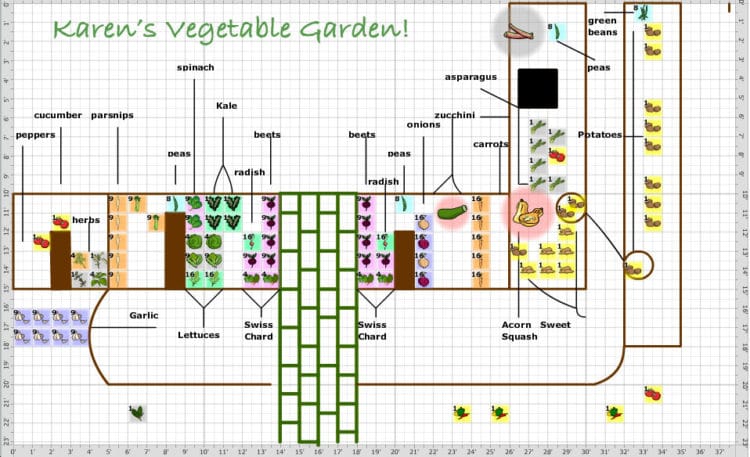 The program keeps your garden plan on file, so when it's time to start your garden planning the next year you can take a look at your old garden plan to see what you did. You can also create a whole new garden plan based on your current layout. That's what I did because I wanted to change out some of the vegetables I grew.
When I started to drag and drop my tomatoes into my new garden plan whole sections of my plan started to show up in red. Like a stop sign. Alert! Alert! Do not proceed past the Big Red Blog.
The garden planner was remembering what I planted last year and alerting me to the fact that I shouldn't plant my tomatoes (or anything else in that plant family) there again.
As much as I tried to ignore it I couldn't. Big red blobs are difficult to ignore.
A Big Red Blob.
Did you notice the big red blog? Case in point.
So the Mother Earth News Garden Planner overrided my stupidity and laziness and forced me to pay attention to crop rotation. The other good thing about the planner is every week they email you a reminder to start certain seeds based on your location so even if you're using my Seed Starting Calculator, you'll also get an email reminder that it's time to start tomatoes.
The planner is free for the first 30 days to try out but you won't be able to save your plan and it won't send you email reminders etc. It's still works great though and is perfect if you just want to quickly map out a garden to see exactly how many plants will fit where. Then if you decide you absolutely love it, you can pay the $25 a year subscription to it. I did. And yes it was worth it.
I'm investigating how I can apply the power this planner has over me to the power a bottle of aspirins and a headache has over men.