A few days ago, if you remember, I spilt vegetable oil all over my flagstone backyard while teaching you how to light a charcoal grill.
I wasn't thrilled about it, but I wasn't too worried about it either. I mean, it's a backyard. Things happen back there that would never happen in your house. For instance when's the last time you dumped the remnants of a can of pop into your living room plant? Or witnessed a raccoon orgy?
The first month or so after building my backyard I was convinced it was at least partially, if not entirely, possible to maintain that "just photographed for a BBQ ad" look.
You know the type. Happy family, smiling at each other over a perfectly dressed pork chop, clinking neon plastic glasses filled with lemonade as the dog who never poos romps in the grass.
I now realize my backyard is actually outside. Bit of a downer when I realized that little piece of truth. So that never-a-leaf-may-fall look, isn't gonna happen. Ever. Unlike the brochure shots for BBQs and outdoor furniture, MY backyard has bugs and bird poo and dried up dead leaves and a sad, empty bread bag that floats in after every garbage night. Bread bags are notorious party animals and every garbage night they seem to call on "empty coffee cup" to wander the neighbourhood wreaking havoc. Occasionally Gatorade bottle joins in, but that's only on especially wild nights.
So when I spilt vegetable oil all over my flagstone I figured … well … I'll try and get it out but I'm not gonna kill myself over it. Because of the whole "it's a backyard and it's outside" thing.
Plus I'm trying really hard not to be insane lately.
First up. Rinsing. Just trying to wash away the oil with soap and water. It didn't work. I didn't think it would. But why not try the cheapest, easiest thing first just in case.
Second up, Kitty Litter! My old standby for fixing just about everything. Plus I had some just sitting in the closet. So again … other than the fact that I'll have to find something else to sprinkle on the salad tonight, this option isn't costing me any money.
Original Stain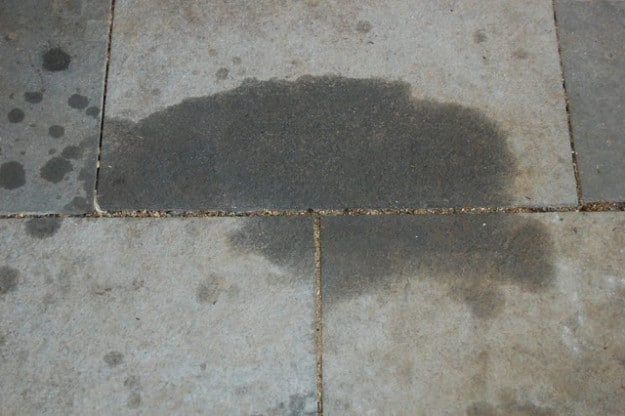 I swept the area, then dumped some kitty litter down.
Then I crushed it in with the heel of my foot. Squashed it right in there. Then I left it for a day. Which showed remarkable restraint on my part, because normally I'd be screwing around with something like this almost immediately after putting it down.
After a day passed, I swept up the kitter litter to reveal … get ready for the TA DA!
Poo-stinkles! (I've decided I'm overusing "Asshead"!) Kitty litter rarely lets me down, but evidently today was the day. Well … today and yesterday when I found a whack of of it solidified in my cat's puffy trousers.
Third up! TSP. Otherwise known as Trisodium Phosphate. $2.99 for a little milk carton type box. So technically it's even cheaper than kitty litter, only I had to go out and buy the TSP and already had kitty litter handy. 'Cause I have cats. And eat salads.
You can mix TSP into 3 different strengths. Household, Heavy Duty, and Super Heavy Duty. Getting sick of this cleaning the backyard thing you can guess which route I went.
Mix up the TSP into a paste, rub it into the oil/grease stain, scrib it then leave it alone for 1/2 an hour. Did I say scrib? I meant scrub.
Rinse with water. Ta DA!!
Asshead! Let's try that again … Paste … Wait … Rinse. Ta Da!!
The second round of TSP got most of the job done. It's not perfect, but it's an improvement.
And since this isn't a BBQ brochure and I am working on being not insane … I'm going to live with it.
For an hour.
Then I'm going to try dishsoap and water one last time. But this time with some vigor.
Even better. As you can see, none of the methods that I used worked completely, but by working away and combing them I had some success. Here's a side by side of the original stain compared to the final stain. 'Cause I'm a professional blogger and I do things like that. Give side by side comparisons.
Again. Not perfect. But this time I really am going to live with it. Until tomorrow. When I'm thinking of doing what I should have done in the first place … paint all the pavers with vegetable oil.