You find a lamp, you love the lamp, the lamp's cord may have been chewed on by a teething opossum ... in the year 1942. Here's how to rewire that lamp.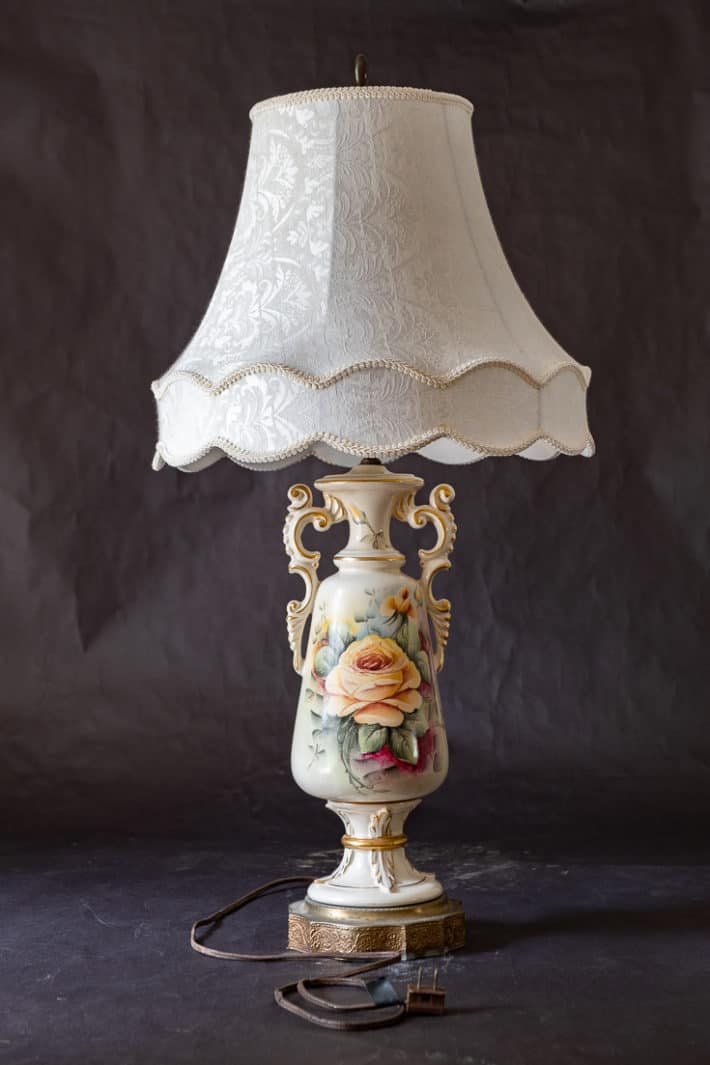 Allow me to introduce you to "the lamp". I love this lamp. It's not mine, but that doesn't make me love it any less. And to be honest with you, by the time I finish writing this post it might be mine. This is all dependant on how quickly I can find a spot for it and break the lamp that's in that spot right now.
The lamp is for sale at my sister's store but it needed to be rewired so I grabbed it and brought it home under the pretence that I wanted to do her a favour by rewiring it. I really just wanted to walk it around my house seeing if there was somewhere I could put it.
I also needed a lamp to demonstrate my latest DIY on how to rewire a lamp so the level of my selfishness and this lamp is really quite deep.
If you're scared of electricity or the thought of rewiring a lamp makes your stomach feel all funny pop a Gaviscon and keep reading.
Because it took me longer to try to find a spot for this lamp than it did to rewire it. And I have a very small house.
There are a few different things on a lamp that might need replacing:
the wire
the plug
the socket
But most often the problem is the wire and the plug, with the socket being fine.
If *just* your plug is a mess then you can just cut the old one off and attach a new one that just clips into place like this one.
But if the wire is chewed and the plug and lamp are old you're going to want to rewire the whole thing. Which sounds like a "thing", but it isn't.
How to rewire a lamp.
You're just going to need a flathead screwdriver and a new wire with a plug on it (you can buy a wire with plug on Amazon or at any local hardware store) for around $5.
You don't need the whole HUGE rewiring kit that includes a new harp, socket and other thingees. For a simple rewiring job, you just need the wire and plug.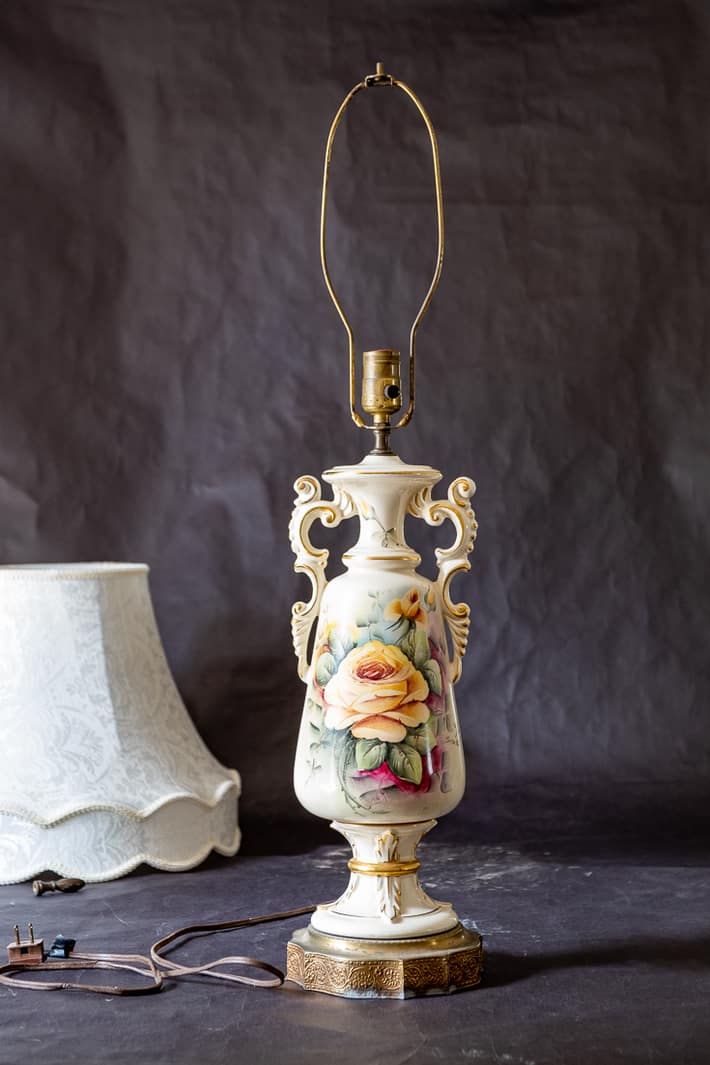 Remove the finial and shade. If the harp can be removed, take that off too.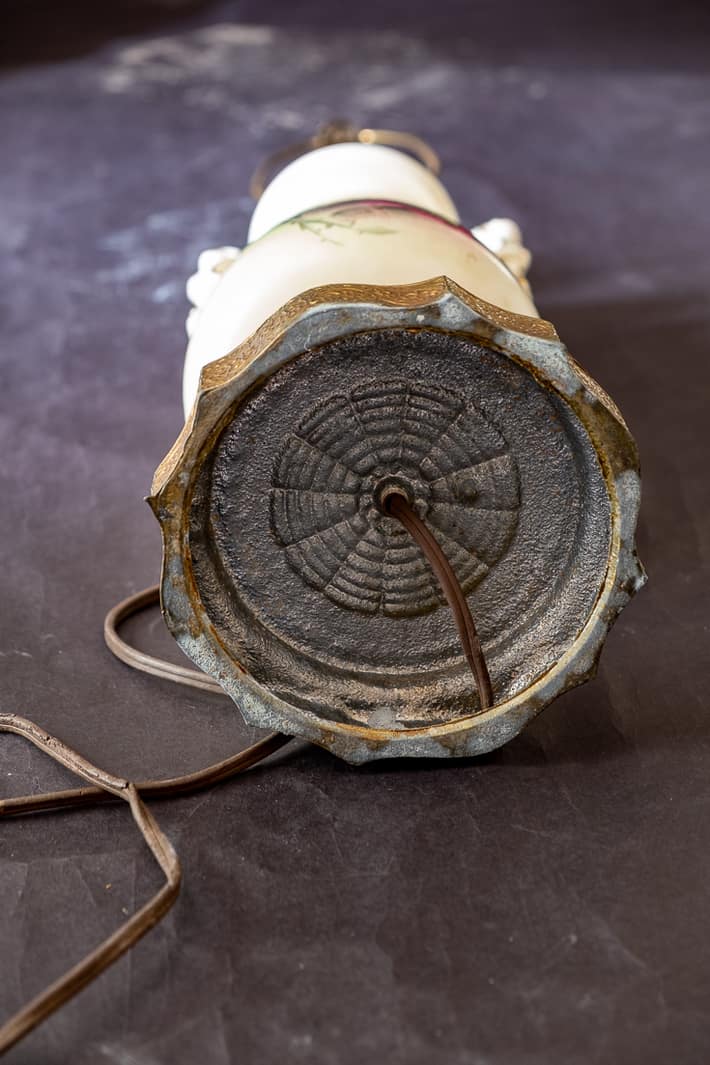 2. Flip the lamp over. If it has felt on the bottom pull it off.
3. Pull the top part of the socket out.
4. Remove the top part of the socket then pull the cardboard cover off.
5. Now you can see the socket and the wires. If the socket is in good shape (doesn't look burned or sketchy) you can replace just the wire and plug. If the socket looks suspicious replace it as well.
6. Unscrew the wires from the socket. Don't completely remove the screws, just unscrew them enough to be able to easily remove the wires.
7. Now the wire is unconnected you can pull it through the base of the lamp and save it for another project. Just kidding. Throw away the mangled cord and plug.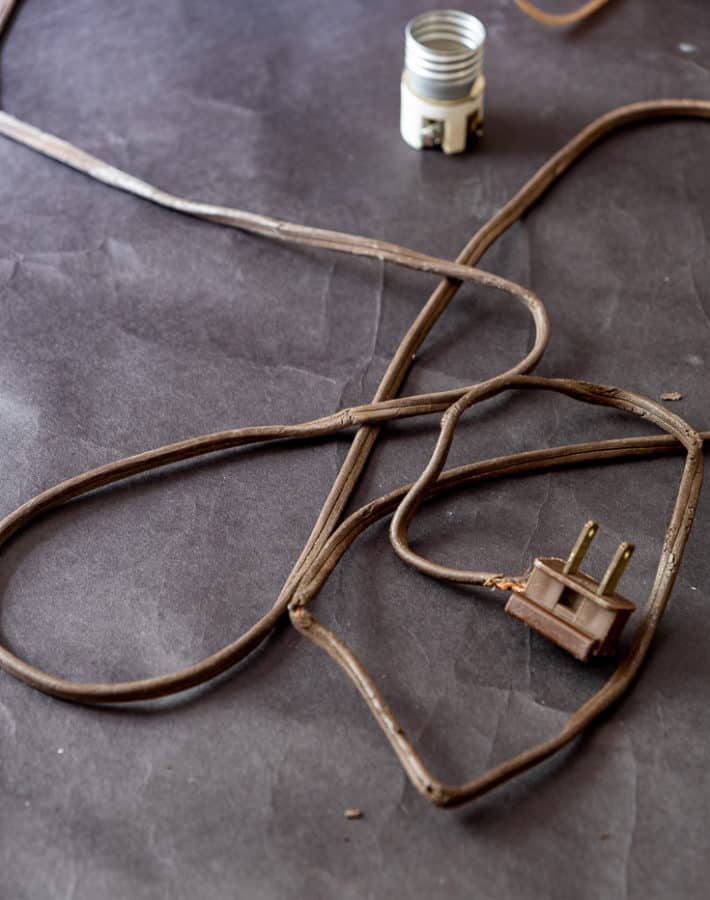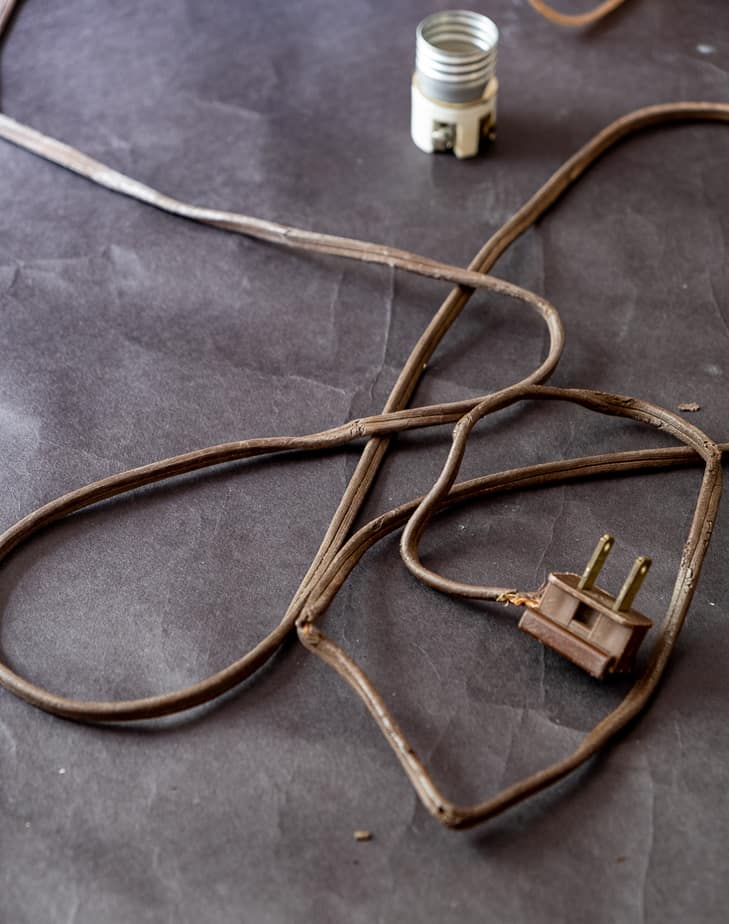 That right there is a very good example of an almost hilariously dangerous lamp wire. Cheer yourself on that you've just averted a potential fire, shock, aesthetically unpleasing disaster.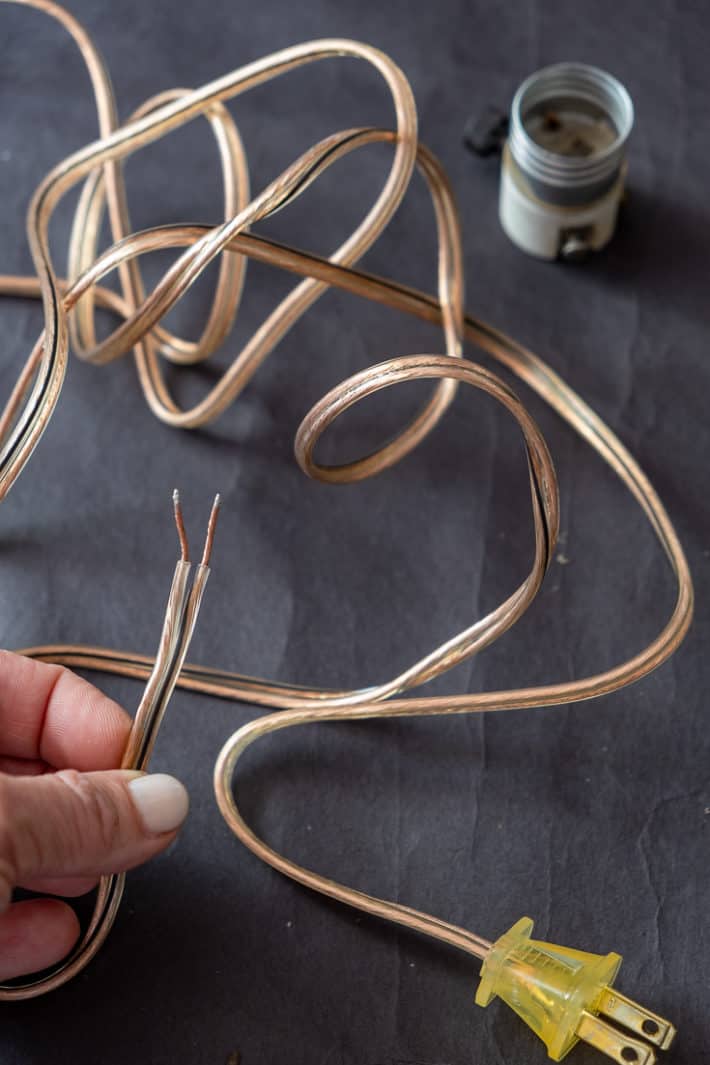 8. Run your new wire back into the lamp the way the old wire came out.
9. Once the wire is through pull the wire apart so you have a few inches free. You're about to tie a knot.
10. To stop the wire from getting any stress on it, or pulling out from the socket you should tie what's known as an Underwriter's Knot.
11. If you have too much wire left on the top take a pair of scissors and cut each wire off. Then gently cut through the insulation and pull it off revealing the wire underneath.
12. Twist the wires a bit and then curve them into a U shape so the wires will easily hook over the screws on the socket.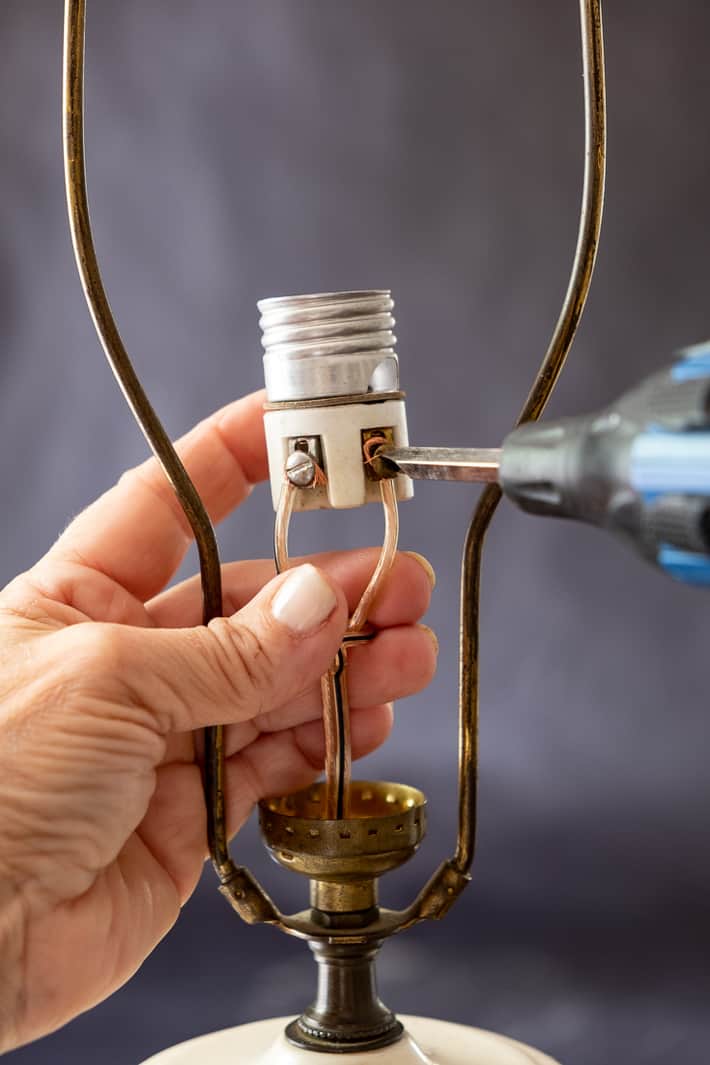 Does it matter which wire goes where?
Yes! When you're rewiring a lamp you have to pay attention to which wire goes where.
You'll notice that the wire you bought has one wire that's ridged, and one that's smooth.
The ridged wire will always go to the silver screw (which is neutral).
The smooth wire will always go to the brass screw (which is hot).
13. Hook your wires over their corresponding screws and tighten the screw making sure to keep the wire in place.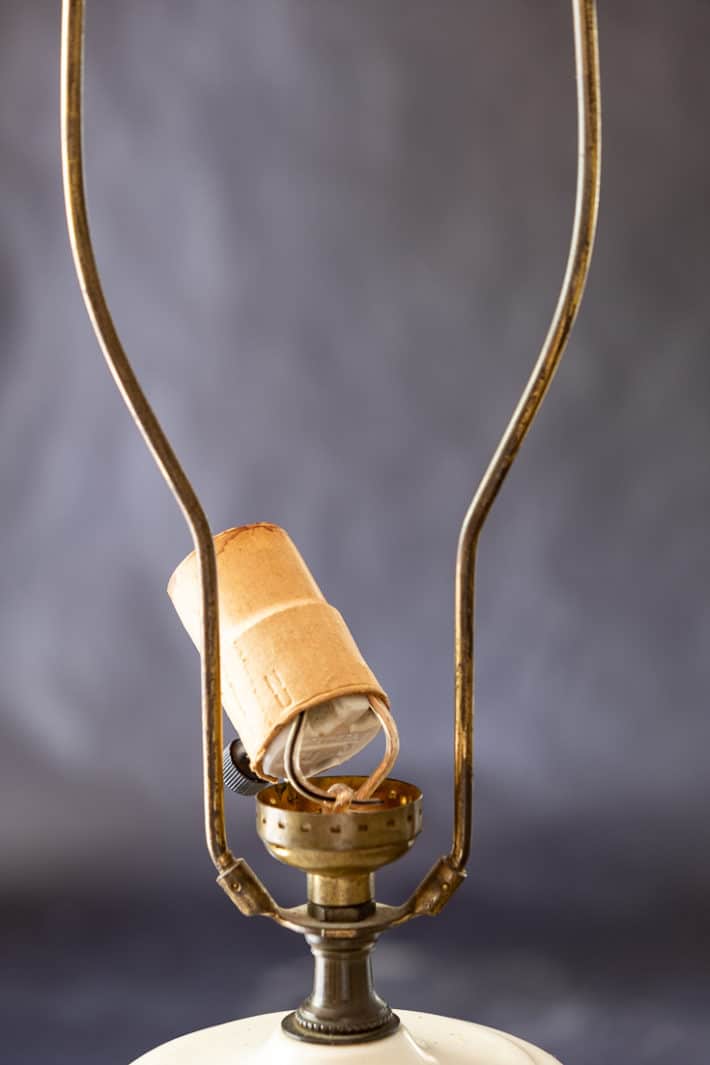 14. Pull the wire from the base of the lamp until the knot is as far down as possible then replace the cardboard and then top of the socket.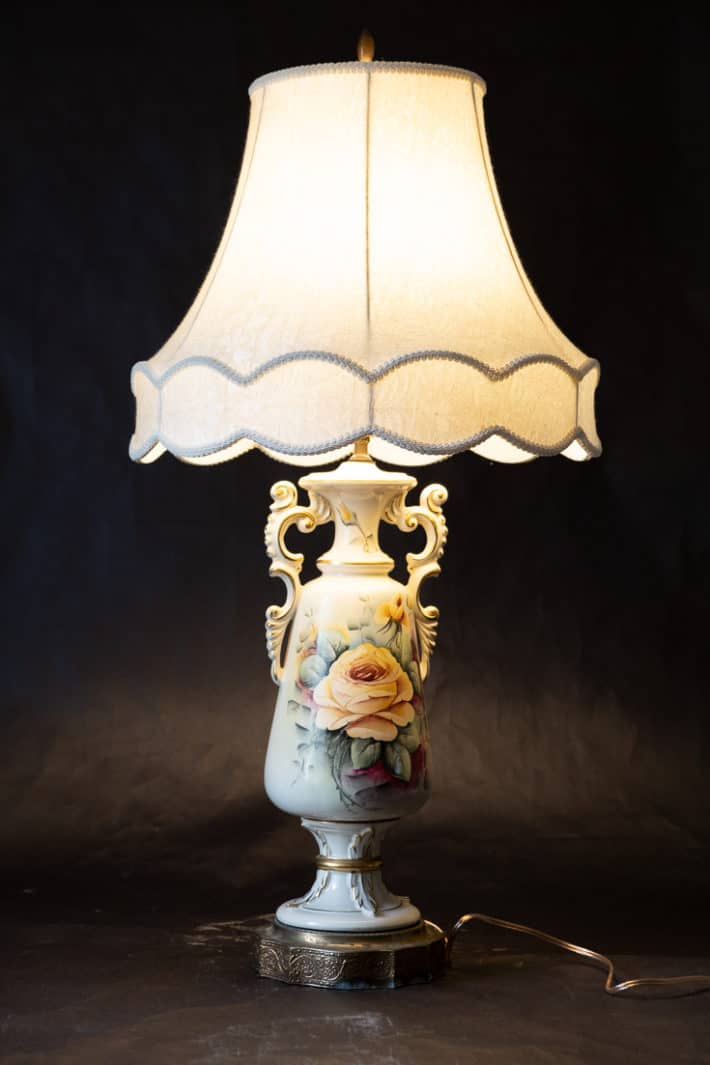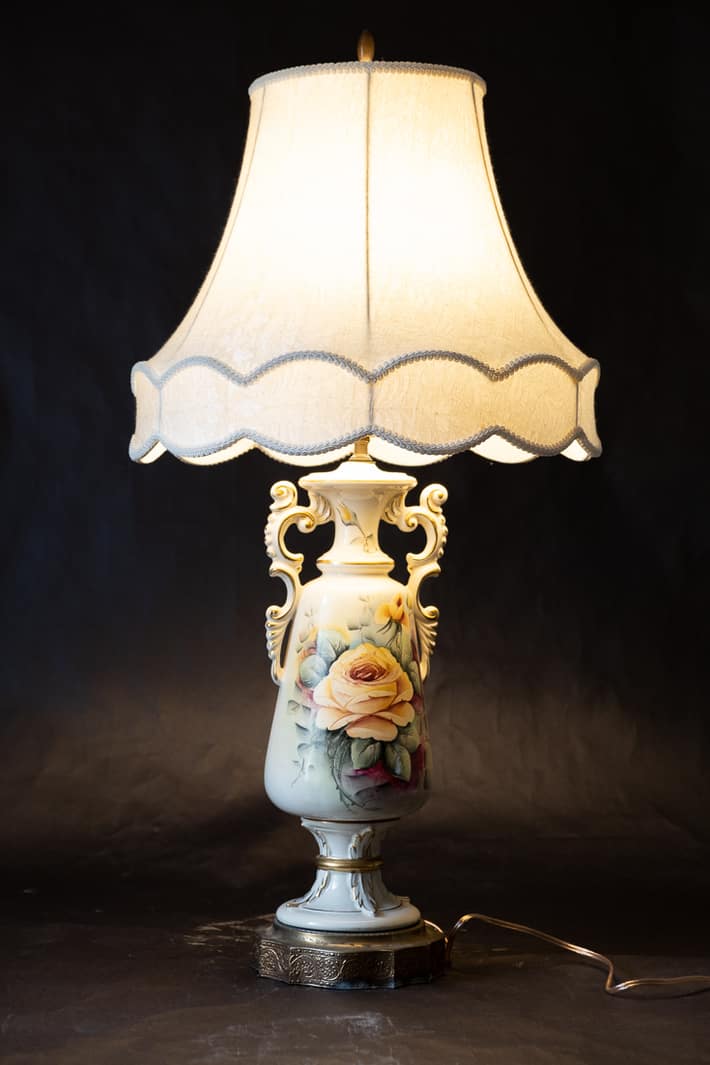 It seems like a lot of steps but it isn't really. Watch the video.
There you go, you rewired a lamp like some sort of electrical genius. Before you know it you'll be replacing chandelier sockets, installing breaker panels or remembering to always use a tissue when handling a halogen bulb.
Actually I suppose at this point you may have just learned HOW to rewire a lamp but that's knowledge you will always be able to keep in your brain (or browser bookmark) for when you need it.
Also, I regret to inform you that I still, even by the end of this post, have not found a place for the lamp.
So that settles it.
I'm going to have to bring it back fixed to my sister's store which is going to be a REAL blow to my relationship with her. She's going to think I'm ... altruistic, kind, helpful and all kinds of other alarming things.
God only knows where this kind of wrong impression of me is going to lead but I suspect there might be some awful awards dinner and perhaps a commemorative plaque.
→Follow me on Instagram where I often make a fool of myself←