I have this one rose bush. It's a particularly troublesome rose bush. To be blunt, this rose bush is an asshead.
It's all wonky and spindly and I don't know how, but it grows thorns made out of Tarantula fangs. It's always the very first rose bush to get black spot, drops every leaf it has and more often than not looks ugly. It also scratches people on purpose. Usually on their forearms and upper backs. True story.
Ironically this rose bush produces the most beautiful roses in my garden. Black, scrawny, scarred stems, filled with deadly sharp thorns, leading up to the most beautiful, full, cheerful looking rose you've ever seen. It's like someone dropped Shirley Temple's head on Amy Winehouse's body.
So why do I keep this asshead rose around? Because it's November 4th and that sucker is still producing roses. Every other plant in the garden is dead, dried up, frozen, limp or liquified. But not this thing. This thing is still growing perfect roses.
So even though the calendar says it's over. Even though every other plant in my garden says it's over. This miserable rose bush says differently. Every single November, it says it ain't over til it's over.
So yesterday I ventured outside in the freezing cold to clip the very last memories of nice weather. The last of the roses and a few rose hips.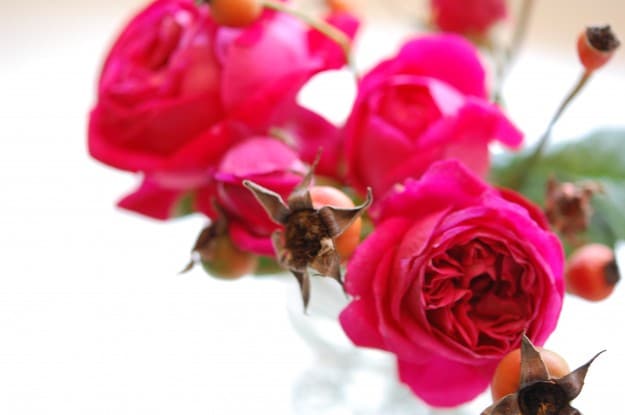 I brought em inside, made a hot chocolate, lit a fire and started arranging roses from the garden. That was a bit weird.
I didn't have a lot to work with but you don't really need a lot. So if you have a backyard or um … access to one … go have a look to see what you can find. If you can look past the mess of a fall garden in distress you might just find enough to fill a …
Mason Jar
A Jug


or A Retro Nut Bowl
When you only have 4 or 5 (slightly weatherworn) roses and a handful or rosehips you're best not to try to make a perfect arrangement.
Let em just pile up however they want. They're in old age and frankly a bit crotchety. Just let them rest where they may.
And watch your back.