I have a couple of fast & easy ways to clean any silver, but silver jewelry in particular. One is much easier & faster, but you can take your pick on which method you want to use. I'm not here to dictate. I'm just here to tell you you're an idiot if you don't pick the right one.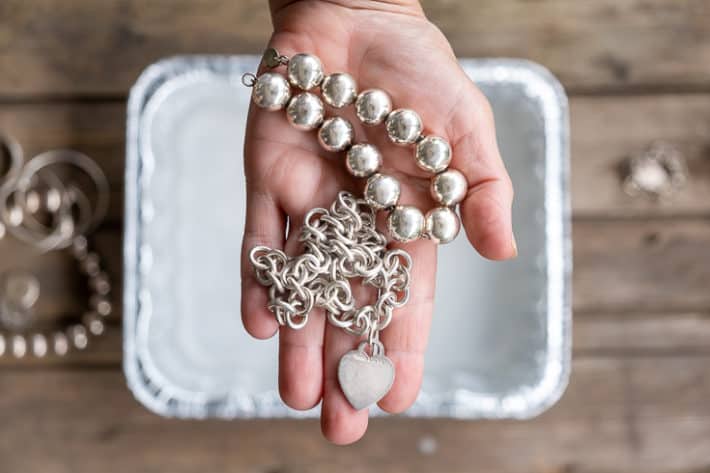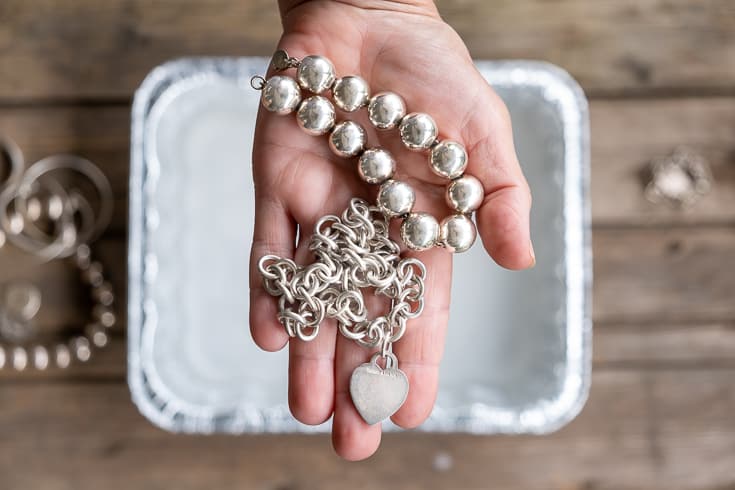 When I left my job as an entertainment reporter at the television station MuchMoreMusic I was given a Tiffany bracelet as a going away present. Up to that point the most extravagant thing I'd hung around my wrist was a rare neon green scrunchy in the 1980s.
And once I draped a very expensive chain of linked dry cured sausages around my neck.
I've collected more silver jewelry since then which has lead to one of the greatest thrills in my life. Cleaning it. Nope. Not because I'm a big loser. Because cleaning your silver jewelry can actually be one of the fastest, instantly satisfying things you can do. Like having an abscess lanced.
I know. When you clicked on this post about how to clean silver jewelry you figured it would be some horrible drudgery that you'd have to endure. This is not that. I promise. If cleaning my silver jewelry was a lot of work I wouldn't do it. Who has time to clean silver? Butlers. That's who. Not me. Not you.
We are very busy people who have important things (like watching cat videos) to do.
So how are you going to clean silver? If you own the good stuff you can take it to the place you bought it from and they'll professionally clean it for you. This is a struggle if you bought the silver ring while on vacation in Mexico for a couple of reasons. You may have bought the piece on the beach from a random stranger whist sipping your 7th Piña Colada.
In which case you will need to fly back to Mexico (probably not a problem) and hope you can find and recognize the random stranger. This will involve drinking another 7 Piña Coladas to ensure you're looking with the same level of drunkenness. The other problem is, even if you find the barefoot random stranger, chances are they won't have a free cleaning with purchase policy.
We have therefore established you're probably going to clean your bracelet, ring, necklace, belly chain yourself.
O.K. let's go over the basics so you know what we're dealing with here.
Silver tarnish.
WHAT IS IT??
Tarnish on silver is a natural chemical reaction between the silver and things in the air that contain sulphur, like hydrogen sulphide. The mixture of the silver with sulphur creates black silver sulphide (tarnish).
Silver tarnish needs to be removed with either polishing, chemical dipping or electrochemically.
---
3 ways to clean silver jewelry
You have 3, just 3 options for cleaning silver. You can polish it, electrochemically clean it or "dip" it.
POLISHING SILVER
You can polish your silver with a silver paste, but these pastes are pretty abrasive, which means while they will clean your jewellery they'll also form tiny scratches on it. You can test how scratchy your silver polish is by rubbing it onto a piece of unscratched plexiglass.
ELECTROCHEMICAL CLEANING OF SILVER (using aluminum foil)
Electrochemical cleaning is what happens when you put silver into a bowl or sink with aluminum foil and washing soda (sodium carbonate).
This method works because when the two metals touch in the solution of water and sodium carbonate. The aluminum foil corrodes and then releases hydrogen gas. This gas is what reacts with the silver tarnish to remove it. The sodium carbonate acts as an electrolyte. I have no idea what that means exactly but it's a thing.
Cleaning with aluminum foil and something that has sodium carbonate (like Arm & Hammer's Super Washing Soda) works, but in my opinion not as well as silver dip. Actually, not only in my opinion. Aluminum foil just plain doesn't do as good a job as silver dip but if it's all that you have it absolutely does work.
It can take anywhere from 5 -30 minutes to work.
REMEMBER! Sodium Carbonate is not the same as Sodium Bicarbonate (Baking soda).
DIPPING SILVER JEWELRY
This is the easiest, most sure fire way to *instantly* clean even the most tarnished of silver jewellery. Yes. Even that ring you got in Mexico 9 years ago.
It's gentle as long as you use the dip properly and works in seconds.
---
METHOD 1
Materials
Aluminum foil or pan
Hot water
Sodium Carbonate (Washing Soda)
Cleaning silver with aluminum foil
Line a bowl or sink with aluminum foil (or just use an aluminum pan.)
Fill it with hot water and throw in around ¼ cup of Arm and Hammer's Super Washing soda which is made of 100% Sodium Carbonate.
Add your jewelry and keep an eye on it. It can take anywhere from 5-30 minutes to remove tarnish this way.
Take your silver out of the solution, rinse it under water and polish with a polishing cloth if you have one.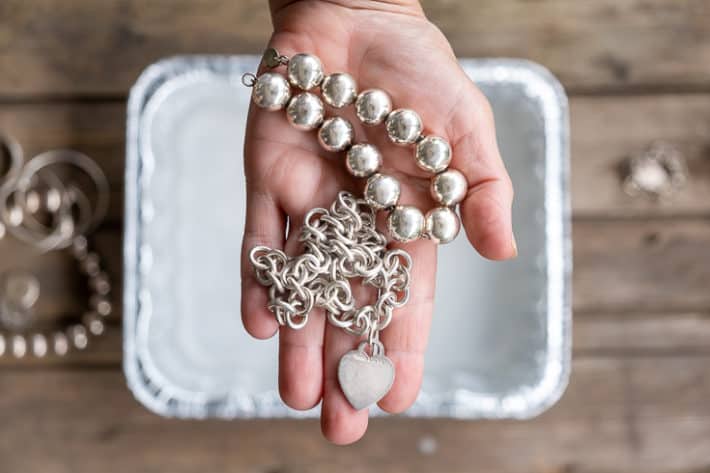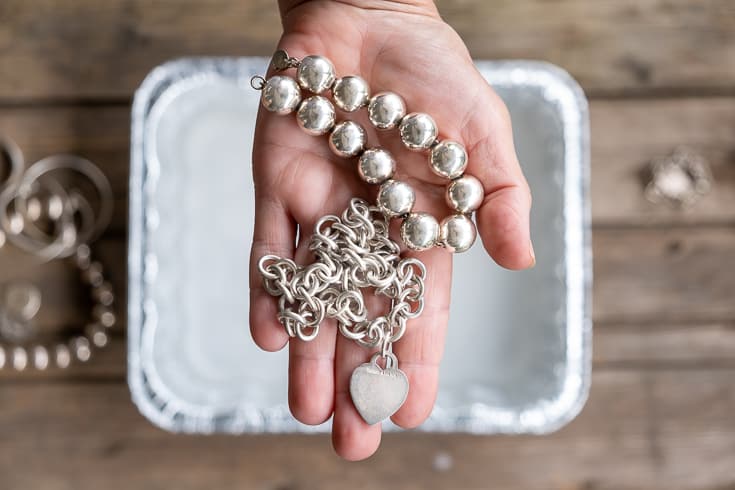 ---
My method of choice is silver dip. You can get jewelry dip at malls or jewelry stores. Most probably jewelry stores in malls. Walmart carries it as well and so do some hardware stores if they have a cleaning products section.
METHOD 2
Cleaning silver by dipping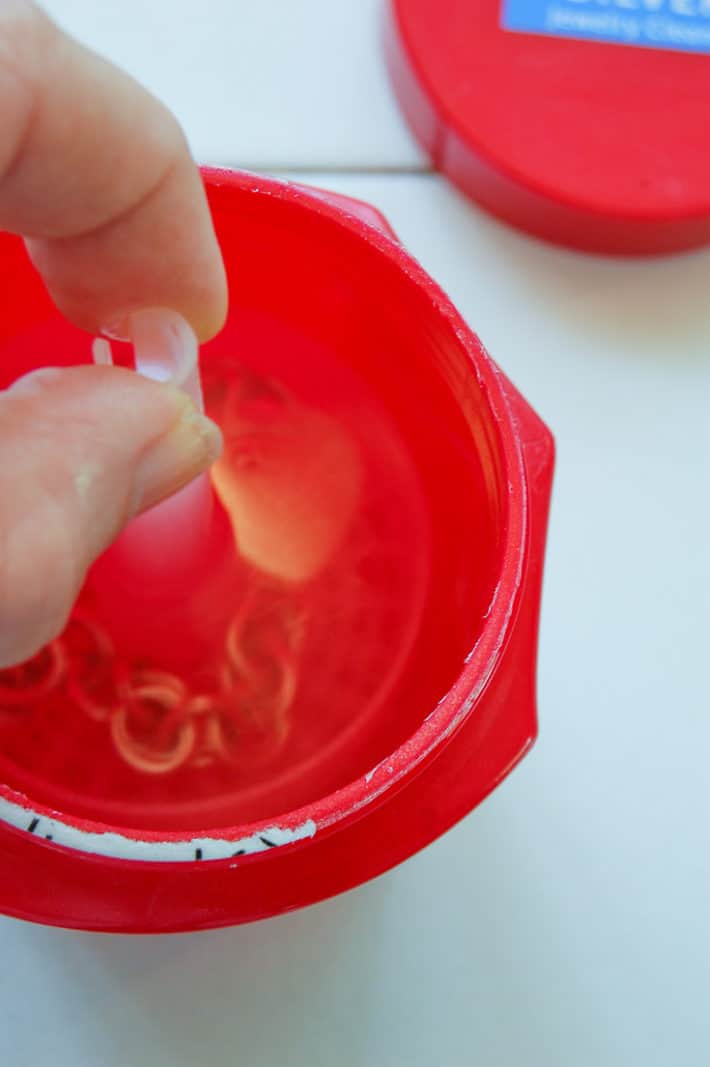 Materials
SILVER DIP
The two easiest to find brands of silver dip are Connoisseurs or Hagerty. I've used both.
SILVER POLISHING CLOTH
This Connoisseurs one is just $5 on Amazon but if you have a jewelry store near you I'm sure you could get one from there.
Polishing cloths are embedded with a very mild abrasive that is designed to not scratch the finish of your jewelry.
Lift the plastic basket out of the jar of cleaner and put your piece of jewelry in it.
Put your piece of jewellery into the basket.
Submerge the basket in the jar and swirl it around for a few seconds. Often you only need to dip the piece in then take it right out again. Do NOT leave your jewellery in the dip. If you leave it in too long it'll RUIN your silver. So remember!
Pull the basket out of the cleaner. INSTANTLY clean.
Rinse your jewellery under water. If you leave it in the basket you run less a risk of sending your earring down the drain. Also, just putting the plug in the sink would help with this.
If you have one, give it a final polish with the polishing cloth.
That's it. In a few seconds your silver will look like new.
BEFORE:
AFTER:
The difference between the before and after is even more dramatic in real life. Such an instant sense of satisfaction. And far fewer calories than the instant satisfaction one would get from eating a bag of potato chips.
---
You can see the difference between the two methods below.
The chain at the top is the silver dip method.
The chain at the bottom is the aluminum foil method.
TIP: You can also use the silver dip for cleaning other silverware by dipping a rag into the solution and rubbing it on your silver utensils, jugs, trays or whatever else.
I'm not going to call you an idiot if you choose to use the aluminum foil method. I'm just going to assume you have a fear of magpies and don't want your silver to be so shiny you risk being attacked by a flock of them.
→Follow me on Instagram where I often make a fool of myself←