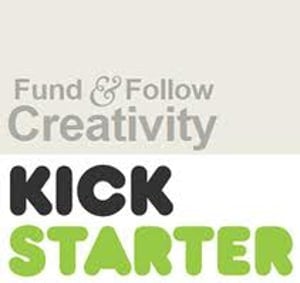 The website Kickstarter is the most revolutionary tool in the world of business today. And I say that with all the confidence of someone who knows absolutely nothing about business. So there.
But, as someone who knows nothing about business … I think this Kickstarter website is pretty damn good. I like it so much I decided you needed to know about it too. Because as popular and influential as it is … not everyone knows about it.
Kickstarter is a website that's completely dedicated to helping people raise money to fund their great ideas. People are now given the freedom to say forget it to banks and their high interest rates, and suck it to Dragon's Den and other investors who want a cut of their profits. Instead, the new inventors and entrepreneurs are looking to regular folks like you and me to invest in their ideas. Kickstarter brings us all together on one Internet website.
Kickstarter projects are created by people like you. People like me. People wayyyy smarter than us. People wayyyy dumber than us. Everyone and anyone who need an investor, in other words.
Think of Kickstarter like Ebay. A site you can browse around looking at things, but instead of buying them … you're investing in them. Anywhere from $1 to thousands of dollars.
There are countless projects on Kickstarter you can invest in, ranging from someone who needs money to go on their first Stand up Comedy Tour, to fashion students, to people who have invented great new gardening devices.
When you donate to the project you love on Kickstarter you'll be given a reward! Rewards increase with the amount of your donation. With something like the comedy tour, your donation might get you a potholder made by the travelling comic herself, or a tour tee shirt.
Donating bigger bucks to bigger projects gets you bigger rewards. Take the most successful fundraising project on Kickstarter to date … The Pebble Watch.
The Pebble is an unbelievable watch created by a few computer guys. If you click on the picture above you can see all about it in their Kickstarter fundraising video. Since appearing on Kickstarter, the creators of The Pebble have raised close to 9 million dollars. This, through the support of regular folks like you and I. 60,000 supporters to be precise. With an investment of $115 into Pebble, you'll receive an actual Pebble watch (with a retail value of $150) once the fundraising is complete. (Fundraising for this particular project ends on May 18th.)
Once you help fund a project you do NOT own any part of it. You are giving the entrepreneur money to help them. You will receive your reward as a gift, but you do not own any of the actual project you have invested in. So once you get your reward, that's where the return on investment ends.
You do have to be careful in terms of what you pick to invest in. There are projects that never get off the ground, projects that from the look of it aren't even remotely feasible. However, if the project you donate money to doesn't reach it's target fundraising goal, all your money is refunded. Only projects that meet their goal move forward.
Having said that, over 46% of the projects that start on Kickstarter are successful. Those are pretty good odds.
I myself have invested in a Kickstarter project and am seriously thinking about investing in another. The one I decided to invest in was Karen Rzepecki's "reCAP" project.

I invested in her project last year around Christmas time. She has since completed her fundraising and has now successfully launched the reCAP! The reCAP is a screw on lid that fits over a mason jar, making any standard mouth (not wide mouth) mason jar good for drinking coffee or other liquids out of. The cap has a spout and a lid that clicks down, so you can put anything in it and it won't spill.
For someone who has a complete and utter OBSESSION with mason jars, this is now my best friend in the world. No. I do not think that is sad and pathetic. A few weeks ago I received in the mail my investment rewards. 2 reCAPS. I've used them every single day since then. Partly because they're truly, incredibly handy. And also partly because I know in a very small way, I helped this venture happen. There's something very satisfying about that.
Pinterest is addictive and interesting but it doesn't leave you with the same sense of satisfaction that browsing around and investing in a Kickstarter project does. Plus you don't get something in the mail a few months later. What's more fun than surprise mail with a gift inside?! Nothing.
Soooooo … since EVERYONE likes getting something fun in the mail … and I REALLY love promoting a product I personally love …. and reCAP would like you to see how great their caps are too ………
1 reCAP to 10 different people. To enter, just leave a comment telling me how you plan to use your reCAP.
In the meantime, go have a look at Karen's reCAP site where she sells this product to get a better look at them and learn the story behind the reCAP.
I will draw 10 winners randomly and announce the winners next week on Wednesday, May 23rd.
Contest closes for entries on Sunday, May 20th at midnight. Contest is now closed to entires.