You know something's up if I'm posting on a Tuesday! Am I getting married? Having a baby? Marrying a baby? Eating a baby like a frog? It could be any one of those things (oh YES it could TOO) but … it isn't. I'm going to get to the miraculous reason for a post on Tuesday in a moment, but to lead into it I would like to show you what you were all asking for yesterday.
You may notice that, well … I ran out of fence boards. I need one more to finish the gates. I wish I could say that I decided to make the gates bigger than I originally planned and that's why I ran out of wood, or I ruined a piece of wood by cutting it wrong, but no, that's not why I'm missing a board. I missed a board because math makes my head explode and I miscalculated. I'll be running out to pick that missing board up first thing in the morning and finishing the gates before I even check my emails because this is EXACTLY the type of thing it's easy to put off.
And I know that putting it off doesn't mean just forgetting about it. It means I'll be just barely thinking about it until it's done. It'll be that tiny little thought in the back of my mind that pops up every day … "finish the gate … do the gate … you haven't done the gate …" And those recurring thoughts will eventually become so exhausting I'll have to have a partial lobotomy just to get rid of them. Or I could just finish the gate.
I've said it before, I'll say it again, IN FACT I'LL SCREAM IT AGAIN … STRESSING OUT OVER A PROJECT YOU'RE PUTTING OFF TAKES WAY MORE ENERGY THAN JUST DOING THE ACTUAL PROJECT.
I know what I'm talking about. These are just a few of the huge projects I've tackled in the past few years …
I built a chicken coop
I redid every inch of my backyard.
I ripped all my front yard and turned it into a vegetable garden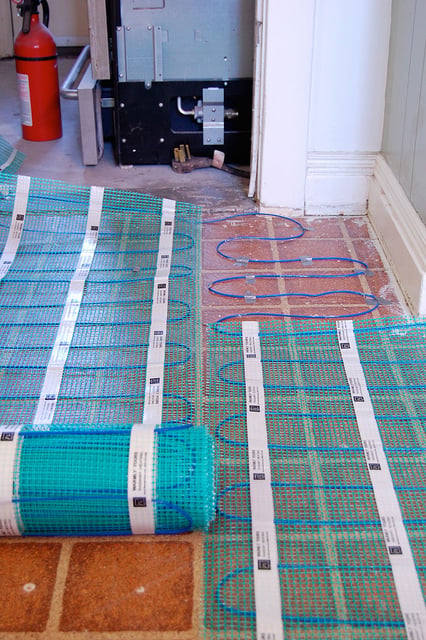 I smashed out all my ceramic tiles and installed heated floors.
And on and on and on and on and on and on ….
So I know a thing or two about not only starting big projects, but actually finishing them.
I know how to eat a frog.
And judging by the responses to my survey a couple of weeks ago you all have a LOT of frogs that need choking down. 62% of you say you have a BIG project that you'd love to get done this summer.
62% OF YOU WANT TO EAT THE FROG.
So I'm ridiculously excited to tell you about The Summer of Doing Stuff.
I've always loved including challenges on this blog, the most famous being The Christmas Pledge. You've also taken part in my Organizing Challenges, Food Challenges and even my Give a Compliment to a Random Stranger Challenge.
The Summer of Doing Stuff is the entire summer of FUN challenges for you and I to do together. (It's a special project on top of my regular blog posts.)
June, July and August will all be devoted to a different 30 day challenge that we'll do together. You can either do one of the challenges, or commit to the entire summer of challenges. I'll be doing them right along with you and guiding you the entire way to help make sure you're successful.
Also, because it's a whole GROUP of us that will be doing this together (complete with a private Facebook page) you'll have all kinds of people to lean on, get support from and complain to when necessary.
Nearly 4,000 of you filled out the survey in the first 3 days, and let me know what it really was you wanted to challenge yourself with this summer. The results are in, and they dictated what this summer's monthly challenges were going to be.
Like I said, 62% of you wanted to EAT THE FROG. Finally start or finish that project you've been putting off and getting it down at the beginning of the summer means you'll have the REST of the summer to …
RELAX! I know. This is a hard one. If you read The Art of Doing Stuff, chances are you're a doer. A person who thrives on filling your days with stuff. Relaxing makes you anxious. Nervous. July's challenge is MADE for you. WE are going to relax. If it kills us. Relaxing isn't for lazy people! Learning to relax is very important for us doers. But sometimes it's really hard to do. I promise, that if you take the challenge to relax in July I will MAKE SURE YOU DO. Even if it kills us. There will be meditative walking, sitting, reading, breathing exercises and more things to help you learn to relax. If I do my job right, by the end of the month we'll all be a puddle of goo.
THE FOUR ROOM CHALLENGE for August challenges you to go through 4 rooms in your house and clear them out! Clear it, clean it, calm it. One room per week means it won't be overwhelming and we'll be able to retain a lot of that July goo. By the end of the month we will be the envy of those around us because we'll have empty spaces on shelves and extra room in our cupboards. We'll be like people who live in television commercials.
Click through any of the links above to learn more about The Summer of Doing Stuff and how you can take part in 1, 2 or all 3 of the challenges!
This concludes today's special Tuesday post. Now if you'll excuse me, I have stuff to do.