Potato leek soup will always have a place in my heart, but during leek harvesting season in early summer it's Leek & Goat Cheese quiche that has a place in my stomach.
As you know (or maybe don't know if you're new around here) I have backyard chickens; three of them at the moment. You might not know this but, 3 chickens lay enough in a week to egg a midsized high rise apartment complex.
Take a look at the contemporary coop I built for them if you haven't seen it before - it made quite an impression on Pinterest when I first built it.
Because of the whole drowning in eggs thing, I'm always looking for egg based meals. Currently the stars of my "use up the eggs" rotation are a classic cheese soufflé, ice cream, Yorkshire pudding and my current favourite - this Goat's Cheese & Leek quiche. Or tart, depending on what pan you cook it in.
The difference between a tart and a quiche isn't huge. Quiche are savoury and custard based and tend to be a tiny bit deeper than a tart. Plus quiche is always served hot. A tart on the other hand can be sweet or savoury and is supposed to be served cold or at room temperature.
To make a tart you need a proper tart pan with a removable bottom on it so when it's time to serve the tart all you do is push up on the bottom of the tart pan and your entire tart pops out, making for easy slicing.
A LOT of tarts let things pop out when you push their bottoms.
It all starts with the crust. You can use your own favourite pie crust recipe or use a frozen crust.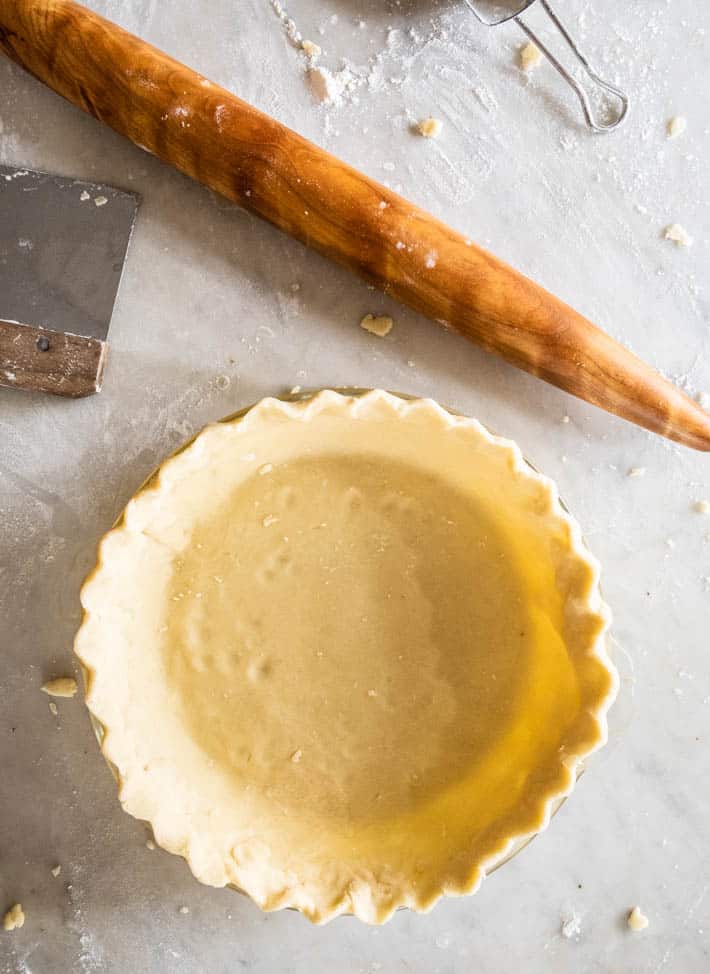 The first thing you're going to do is make your pie crust and then blind bake it.
Blind Baking a Pie Crust
NOTHING is more important to the quality of your pie crust than the type of pie pan you use. I have the best luck with old aluminum pie plates that I picked up at garage sales. They're a medium to dark gray and are dull from years of use. Metal conducts heat much better than ceramic and better than glass.
Roll your dough out into the pie pan and then dock it (prick around the bottom and sides with a fork. This allows steam to escape and helps stop your crust from shrinking when it cooks.
Cover the dough with tin foil or parchment paper and then add some ceramic pastry weights to weigh the crust down. If you don't have actual pastry weights you can use rice or what I've used for years, dried lentils. I just keep the lentils in a bag marked "pastry weights" and use them over and over.
REFRIGERATE for at least half an hour. This also helps stop the crust from shrinking.
Bake at 400°F (204°C) until the crust is golden (about 15 minutes). Remove pie weights and foil then bake another 5-10 minutes if the bottom crust isn't golden yet. Cover your edge of your pie with the used foil to keep it from browning too much if you have to.
Your crust should be partially but not completely baked.
While the pie shell is blind baking Prep 3 leeks like I show you in this post. Then you slice them, and cook with some garlic, salt, butter and olive oil. So far so good right? It's about to get better.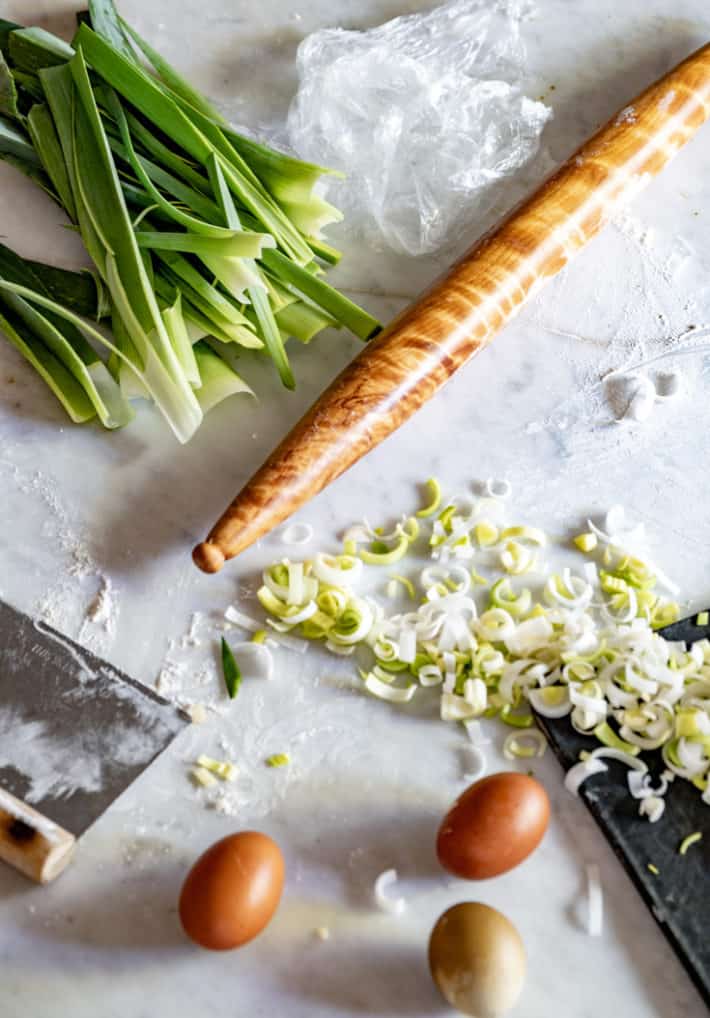 Throw in some white wine and stock and simmer.
Let the leek mixture cool and stir up some heavy cream and eggs. Then you mix those things together, scatter some goat cheese across the top and it's ready to bake.
Fixing a Crack in Pie Crust
Even though you do everything right you might pull your pie crust out of the oven from blind baking and find there's a crack.
Now, with some fillings that wouldn't matter, but with a runny custard filling you're going to want to repair that crust.
Just take some raw pie dough and press it into the crack. Make sure it's stuck, wetting it a tiny bit if you have to. Your crack is now sealed and the crust ready for filling.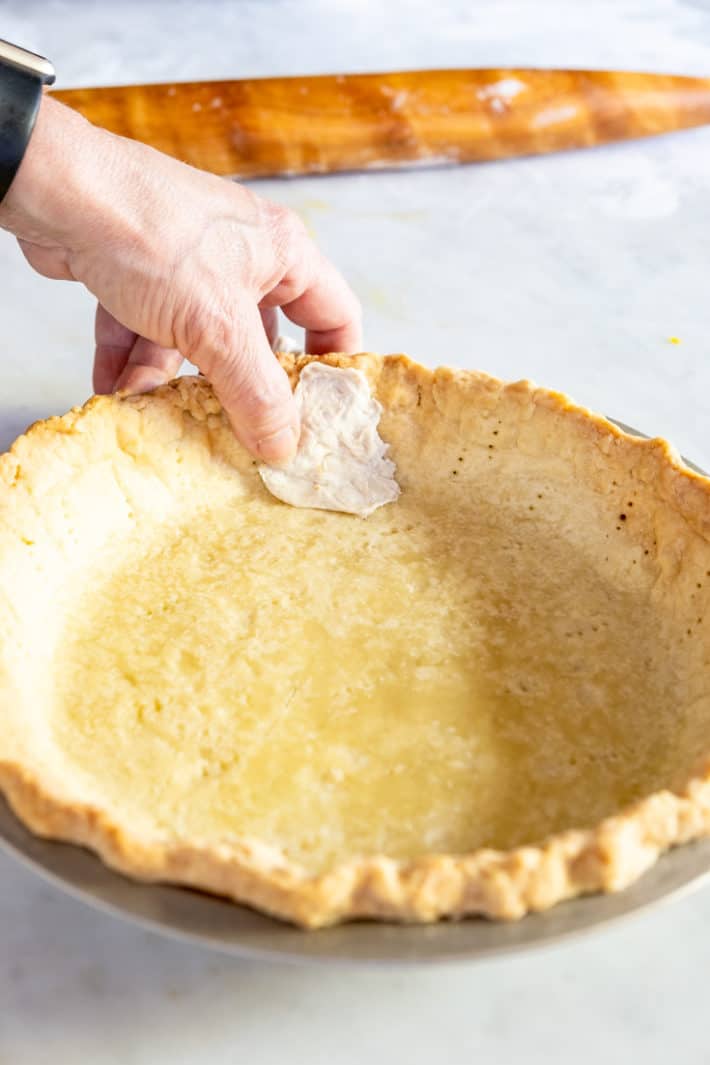 Pour the egg and leek mixture into the pie shell then top with your cheese.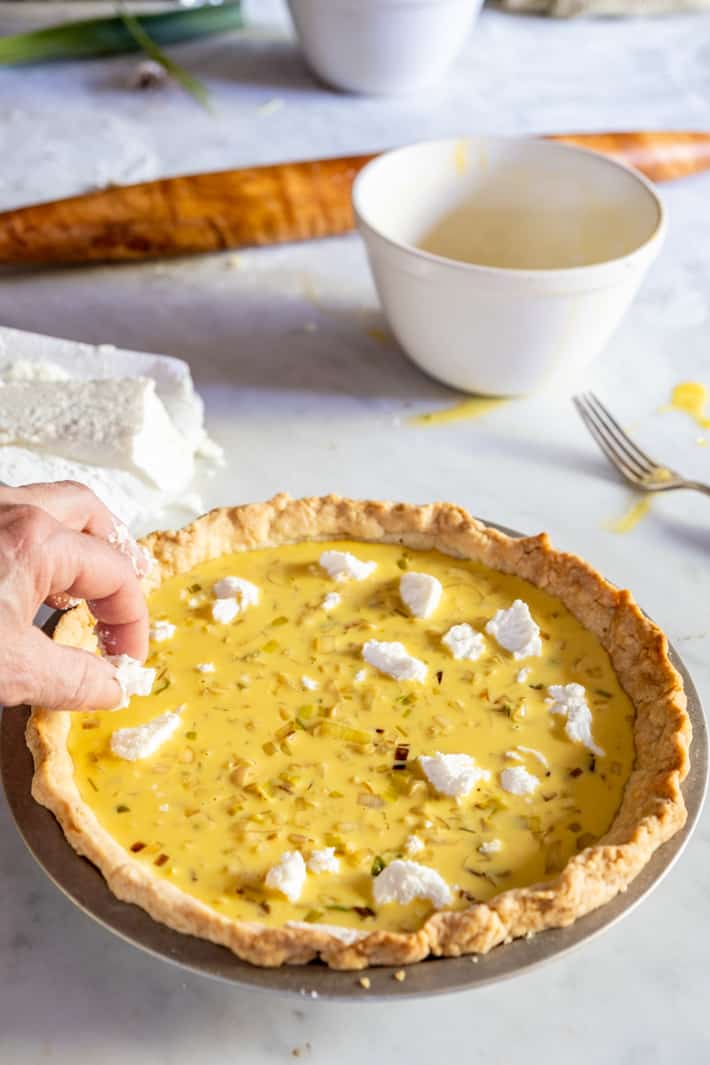 You can use as much or as little goat cheese as you want. I use around 3 ounces.
Bake in a 325°F (160°C) oven for 20 minutes, or until the centre is just barely set. You know. Not wiggly but not hard as a rock either. It'll continue to cook once you take it out of the oven.
Leek & Goat Cheese Quiche
A quiche with a filling that's guaranteed to set that takes advantage of fresh, in season leeks. (although you don't need those - grocery store leeks are fine)
Print
Pin
Rate
Ingredients
1

pie crust

3

leeks

white and light green part only

3

tablespoon

unsalted butter

1

tablespoon

olive oil

3

garlic clove

finely chopped

1 ½

teaspoon

sea salt

4 ½

tablespoons

white wine

dry

4 ½

tablespoons

fresh stock

chicken or vegetable (you can sub with water)

Freshly ground black pepper

to taste

4

whole eggs

3

egg yolks

8 ½

tablespoons

cream ( I use whatever cream I have in the house. Whipping

half and half or 18%.

3

oz

goat cheese
Instructions
Blind Baked Pie Shell
Roll dough out and place in a tin pie pan.

Prick bottom and sides of dough.

Cover dough with foil or parchment paper and fill with pie weights. Refrigerate 30 minutes.

Bake in a 400°F (204°C) until crust is golden. About 15 minutes.

Remove weights and foil. If the bottom of the crust hasn't turned golden at all return to the oven for another 5-10 minutes, covering crust edges so they doesn't over brown.
Assembling
Remove dark green tops and roots from leeks and cut in half lengthwise. Rinse the leeks under water to clean out any dirt. Slice thinly.  Add garlic,  leeks and salt to butter and oil in pan over medium heat.  Sauté 10 minutes or until leeks are softened.

Add white wine and stock.  Simmer 3-4 minutes.  Add fresh ground pepper.  Remove from pan into bowl and allow mixture to cool.

Mix together eggs, egg yolks and cream.  Add to the cooled leek mixture.

Pour the filling into your blind baked pie shell, top with crumbled goat cheese and bake at 325 for 20- 25 minutes, or until set.
Notes
The length of baking time will depend on your oven and the type of pie plate you use.
Don't forget to refrigerate your crust before baking. 
Serve alone with a big salad or with a side of sausage or bacon.
Nutrition
Calories:
420
kcal
|
Carbohydrates:
22
g
|
Protein:
11
g
|
Fat:
32
g
|
Saturated Fat:
15
g
|
Cholesterol:
257
mg
|
Sodium:
855
mg
|
Potassium:
191
mg
|
Fiber:
2
g
|
Sugar:
2
g
|
Vitamin A:
1664
IU
|
Vitamin C:
6
mg
|
Calcium:
95
mg
|
Iron:
3
mg
Oh.
And then you eat it of course. Bottoms up.
→Follow me on Instagram where I often make a fool of myself←