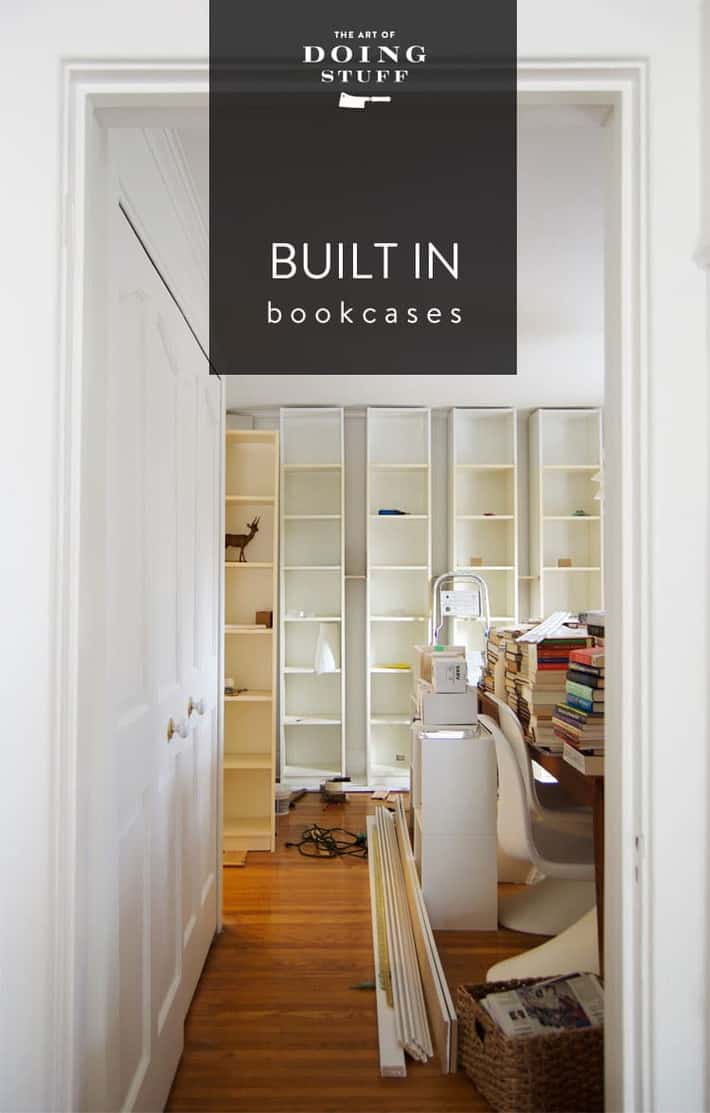 Turning regular box store bookcases into custom, built-in bookcases is super-easy!!
Step 1. Assemble your bookcases.
Step 2. Put bookcases in place.
Step 3. Stare at lopsided bookcases.
Step 4. Lean a little to the left to see if that makes bookcases look straight.
Step 5. Decide you might need a measuring tape.
Step 6. Measure spaces in between bookcases so they're evenly spaced.
Step 7. Marvel at how even though they're all on the same floor, and evenly spaced, each bookcase is still leaning in a different direction.
Step 8. Decide you might need shims.
Step 9. Shim bookcases.
Step 10. Stand back and stare at bookcases guessing if maybe they might be straight.
Step 11. Decide you might need a level. And a drink.
Step 12. Drink lots.
Step 13. Drink more. Eat a jelly bean you found in the corner, nestled in cat hair.
Step 14. Drunk call your friend in a panic to make sure she knows how GREAT jelly beans are.
Step 15. Drink again. Realize this would all be going much more smoothly if you were wearing a bathing suit.
Step 16. Put on bathing suit.
Step 17. Stumble a bit.
Step 18. Stare at bookcases again, wonder why you ever thought they were crooked. They look perfectly straight.
Step 19. Barf.
Step 20. Stand on your front porch to get some air. Wave at neighbours who are pointing at your barfy bathing suit. Fall into bush.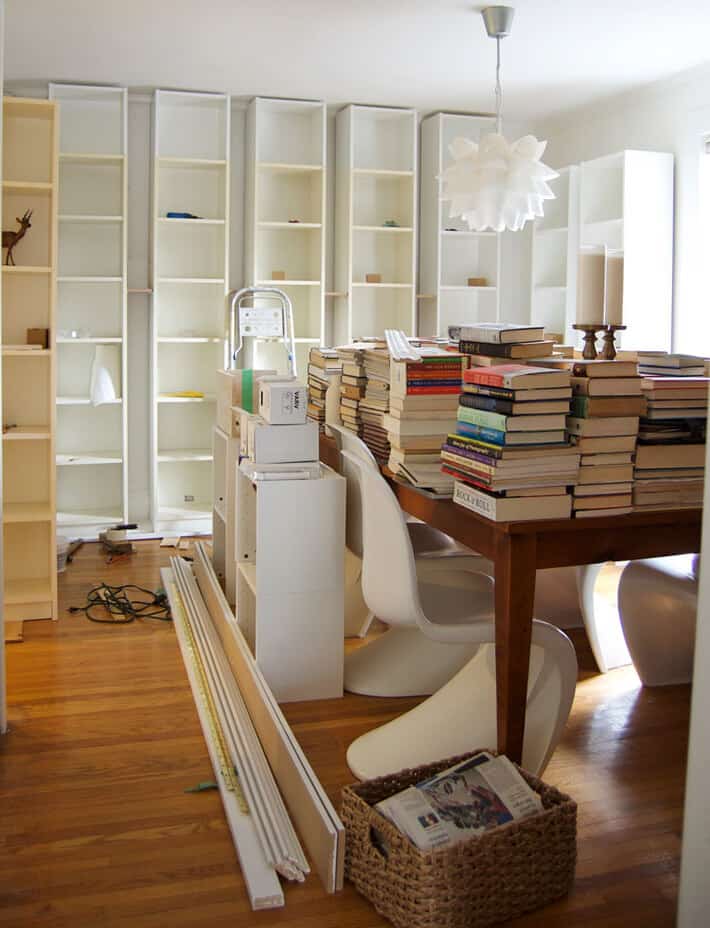 On the upside I've decided if I never get these bookcases done I actually really like how all my books look just stacked on the dining room table.
Now's probably a good time to announce that installing built-in bookcases isn't as easy as I've made it sound. It's hard.
It isn't a matter of just attaching them to the wall and adding trim to them. Well it is actually, but that's a lot harder than it sounds.
Your bookcases have to be installed so that they're level and plumb. So they have to be level in all directions and there are a lot of directions. They have to be level from front to back, left to right, and then all the faces of them have to be level to each other.
To get them level you have to use shims. Once you have them level you have to attach them to the wall at which point they're probably going to end up not level again so you have to recheck and re-level them.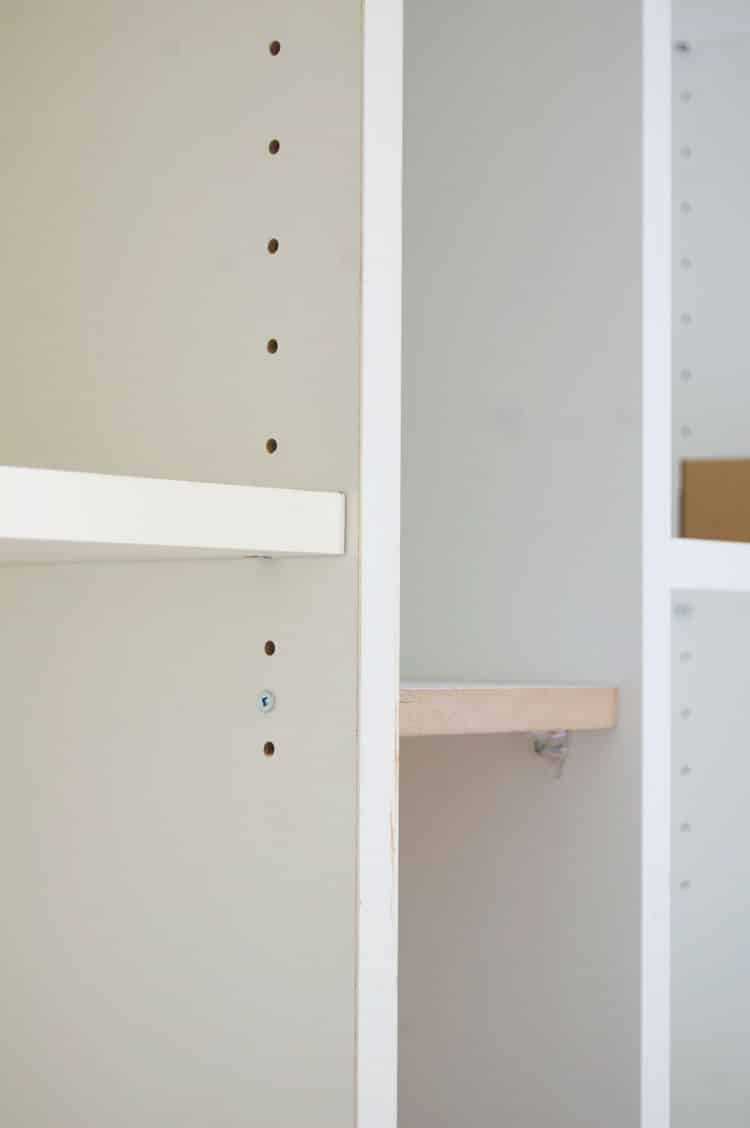 Once they're attached to the wall it's a good idea to attach all the bookcases to each other to keep them from twisting and moving. It'll just stabilize them. If your bookcases are tight to each other all of this is much easier and you can just screw right through them, but if your bookcases are spaced apart like mine are, you'll have to add some wood in between the cases and screw it into place. This will keep everything from shifting when you drop kick them out of anger for being so disagreeable.
At this point my goal is to get these bookcases done before December 1st because December 1st is traditionally the day I do all of my interior Christmas decorating. It's the last step to getting ready for Christmas.
I thought it would be superhandy if I wrote a list of what I had to do to finish the project and posted it here on the blog so if I ever became unsure of what my next step was I could just head to my computer, type in my web address and then click on the Pinterest button in the upper righthand corner and browse for how to make a nice herringbone noose.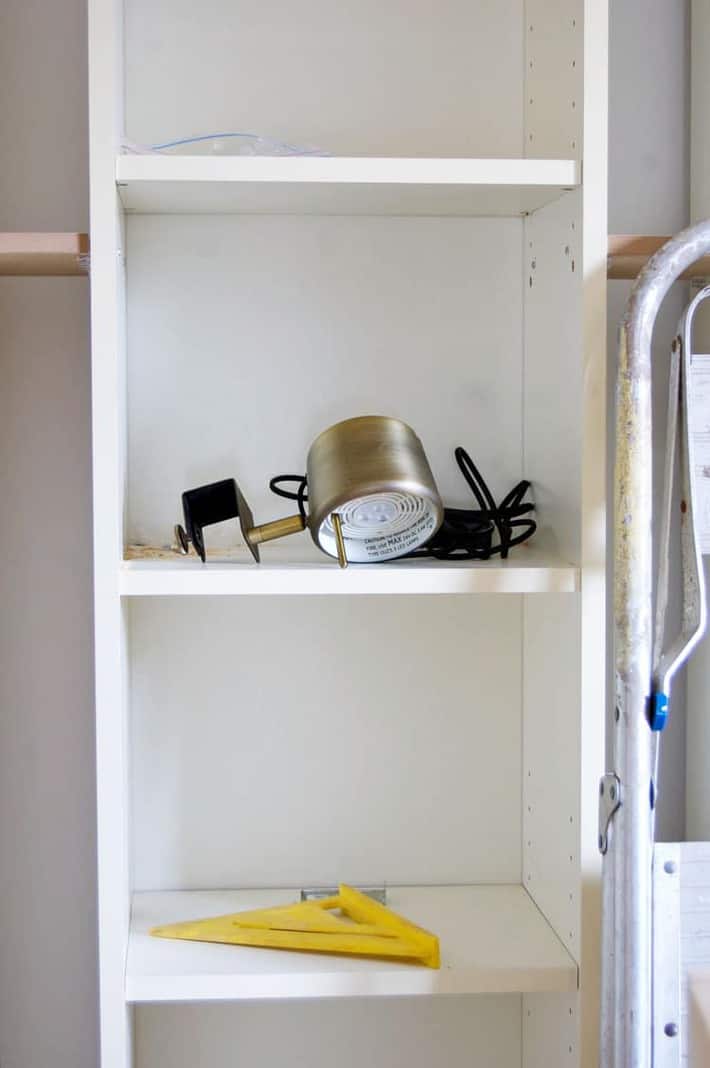 Steps to complete bookcase project.
Finish installing bookcases on the left and right wall. (the centre ones are done.)
Install flat piece of trim along the top of bookcases.
Cut crown moulding and install. (this is where the noose will come in handy.)
Measure and cut trim for faces of bookcases.
Install facing trim.
Prime bookcases.
Paint bookcases.
Install lights. (You can see the lights I've chosen based on their look and price of $50 each up above. The only problem is they aren't meant for bookcases so I'm going to have to figure out how to MacGyver them.)
Do a bunch of other stuff.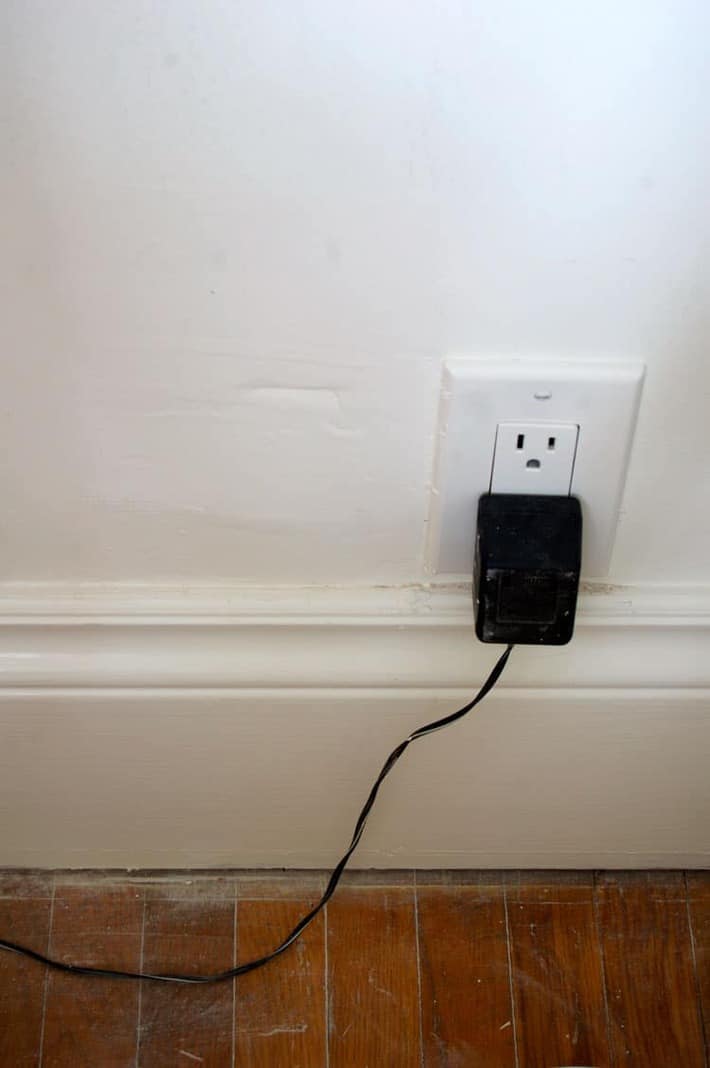 The last step "Do a bunch of other stuff" is referring to things that will have to be done that I either can't predict or don't want to even think about. Like moving an electrical plug 3 inches, which I had to do earlier on in the installation. Yes. I had to move an electrical plug by 3 inches to make it work for my bookcase configuration. Which wouldn't have been too huge a job if it weren't for the fact that in the middle of those 3 inches there was a support beam. That meant I had to cut a big hole out of the drywall and the plaster and lathe behind it so I could access the beam with a drill, so I could drill a hole through it to run the electrical wire to the other side of it. So, yeah. Total bathing suit situation.
The patch job to the left of the plug is almost done, it just needs one more coat of drywall compound.
Right now, at this very moment I'm feeling very much like this is a disaster. Partly because I just haven't had time to devote to this project, partly because my December 1st deadline is quickly closing in and partly because well, have you SEEN the pictures. The whole job looks like a total disaster. But most jobs do when you're in the middle of them.
Hey! Haha! Remember back in September when I wanted it completed by October? No? Well maybe you remember back in April when I wanted it done by the end of spring?
Until just this moment I was feeling weird about that fact that I once made over my entire house in one month. Why am I having such trouble with this? I just realized. I wasn't working during that month. I was a television host in between hosting jobs and I had every minute of every day to devote to getting it finished. Plus I didn't have chickens or 3 large vegetable gardens or a blog. As opposed to now when I'm running a business single-handedly like an idiot, dealing with the gardens and keeping a bunch of chickens alive.
So now I don't feel quite so bad about it. Especially not when you consider I have ... wait ... hold on ... how many days does November have? It's not one of those weird short months is it? Hold on a second while I say the rhyme ... "30 Days have Novem ...." ARGHADLKABHIGHHH. Just a second, maybe if I say it while wearing my bathing suit it'll sound different.
Nope.
Here I sit at my desk wearing my bathing suit and November is still only 30 days. I have 5 days left to finish installing built in bookcases. And I will be working on the blog 3 of those days.
I will need to work later. I will need to work harder. And if these wonky bookcases push me to the point of drinking again, I will need to stop myself from pulling on my bathing suit. Because this just became a birthday suit job.
Neighbours be warned.