A very scary story.
by karen
One day Karen walked out to the chicken coop.
She (Karen, I mean) gasped in horror.
There before her lay evidence of what was probably a massacre. Feathers everywhere.
1, 2, 3, 4.
4 chickens. All accounted for. She saw that as a good sign.
Karen (that's me) put her best brave face on and entered the coop area. All the chickens seemed fine, everyone was dancing around like every other morning.
But it didn't explain the blanket of feathers. Could the hens have had a chicken friend over for a visit last night? A hen party?
It was definitely possible, Karen thought. They're very social, my chickens.
Another quick look around revealed no empty wine glasses and not a single dirty chip and dip bowl. Since Karen knew the chickens to be horrible at cleaning up after themselves she decided there had been no party.
Plus, Norma wasn't throwing up in the corner.
There was only one way to get to the bottom of this mystery. Ask Cuddles.
At first Cuddles agreed to talk but only if her voice was altered and she was taped in silhouette.
She seemed embarrassed. She could barely even look at me.

A tiny bit of coaxing and that little chicken opened right up.

Cuddles and all her friends were experiencing something no man or woman wants to experience.

Premature balding.

Chickens you see … moult. They lose their feathers. Each and every one of them. They do this once a year, usually just before winter. So, really I don't know what Cuddles was so upset about. It really wasn't premature at all. It was right on time.
As soon as a feather falls out a new one starts to grow. It can be uncomfortable for the gals. I mean, imagine if things like sharpened sticks started sprouting out of your skin.
You'd be embarrassed too.
And probably pissed.
The hard shaft of the feather first looks like a tiny black spot on the chicken's skin. Then as it grows out more it looks kind of like a black stick or pin.
A day or so later, the actual feather starts to plume out from the hollow shaft. These new stick-like feathers are called pin feathers. It'll take a few weeks for the moult to finish.

You may not even notice them unless you ruffle their feathers.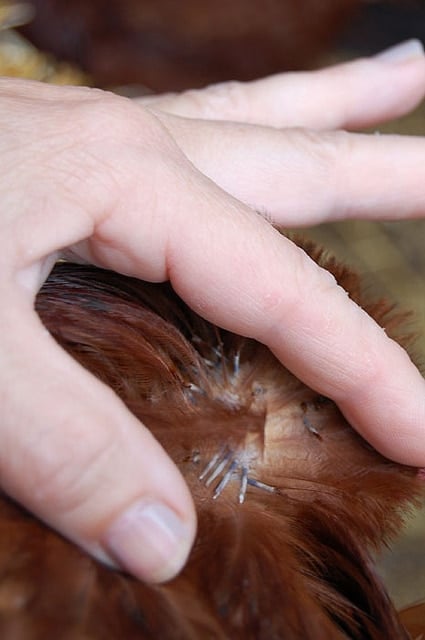 Once you do that you'll see them right away.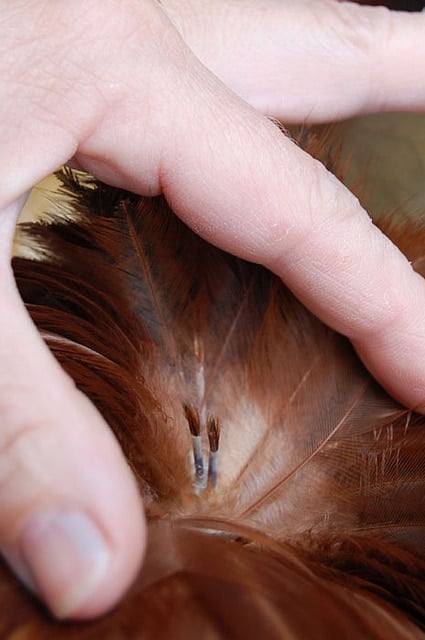 Brand new soft, downy feathers to keep them warm through the winter. Last year I just brought them hot oatmeal with raisins, but this'll probably work too.

Back to the story …
All 4 of Karen's chickens were losing their feathers and showing tiny bald spots.
Karen cried.
She knew that growing feathers took all the energy her chickens had so they wouldn't have any energy to produce eggs for a while.
Karen cried some more. A big, gulping for air cry.
She cried for her poor chickens, she cried 'cause she wouldn't have any eggs, and she cried for this next chicken she found a picture of on Backyard Chickens.

Karen walked outside and showed the picture to Cuddles. See Cuddles? Things could always be worse. THIS is something to be embarrassed about.

I mean, seriously. Fauxhawks are so, 1997. So embarrassingly out of date it's scary.