This is how I envisioned the first apple harvest from my own small apple trees would be.
Sitting on a lush field of green surrounded by antique wicker baskets spilling with fresh, crisp apples. These apples would magically transform themselves into pies. Obviously. As I floated across the grass towards home, wicker basket nestled in the crook of my arm, I'd glance over my shoulder at the wonder of the world that created this feast of sweet fruit. . Also I would look super-cute.
This is how it actually was.
Sorry to shatter the dream.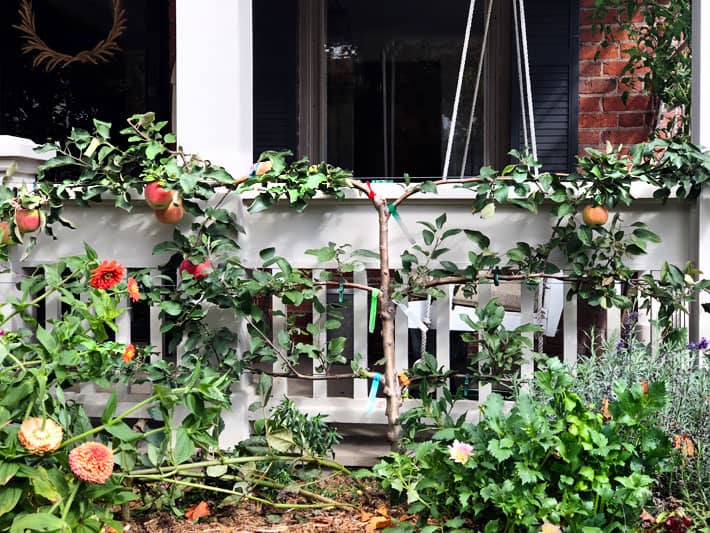 I did end up getting slightly more than one apple from my very first true apple harvest but it wasn't much more than one. I got 11 apples. Of the 6 varieties I grow I managed to salvage 2 varieties. The rest were stolen by a band of ne're do well squirrels.
In defence of my dream, the apples I did get were gorgeous. Big, healthy fruit without a single blemish. My main harvest was of Jonagolds, a sweet eating apple with a barely there tartness.
How did this happen? How did I go from 70 apples on my tree to 11?
This is a Typical Small Apple Tree Harvest
Like this:
In early June I thinned my apples to one apple per cluster to improve the quality of my apples.
After thinning I was left with 70 apples on my 2, small espalier trees.
Every apple was bagged with a ventilated plastic bag to keep disease and critters off of them.
Early July I noticed the apples were so hot in their bags because of our scorching summer that the skin on some of them was scalded, so I removed the bags.
Enter critters, stage left.
One morning in late July I glanced out my kitchen window to see an apple sitting on my neighbour's fence. Weird. I wonder why she left that there.
The next morning I found an apple under my tomato plant.
That night I found a half eaten apple in the middle of the road.
A few days later, looking down upon me from my roof was a squirrel. With an apple.
This continued off and on for the next few weeks until I finally tangled my espalier trees up with deer fencing so squirrels couldn't get to my apples.
And then I found more apples scattered around the neighbourhood.
I tightened up the knot of fencing around my trees and hoped for the best. Squirrels are more tenacious than you might think. And smarter. And hungrier.
By the end of the season I had 11 apples left.
When you consider both the size of the trees and myself there's really no reason to be disappointed. I can only eat so many apples and wouldn't have anywhere to keep baskets upon baskets of them for long term storage anyway.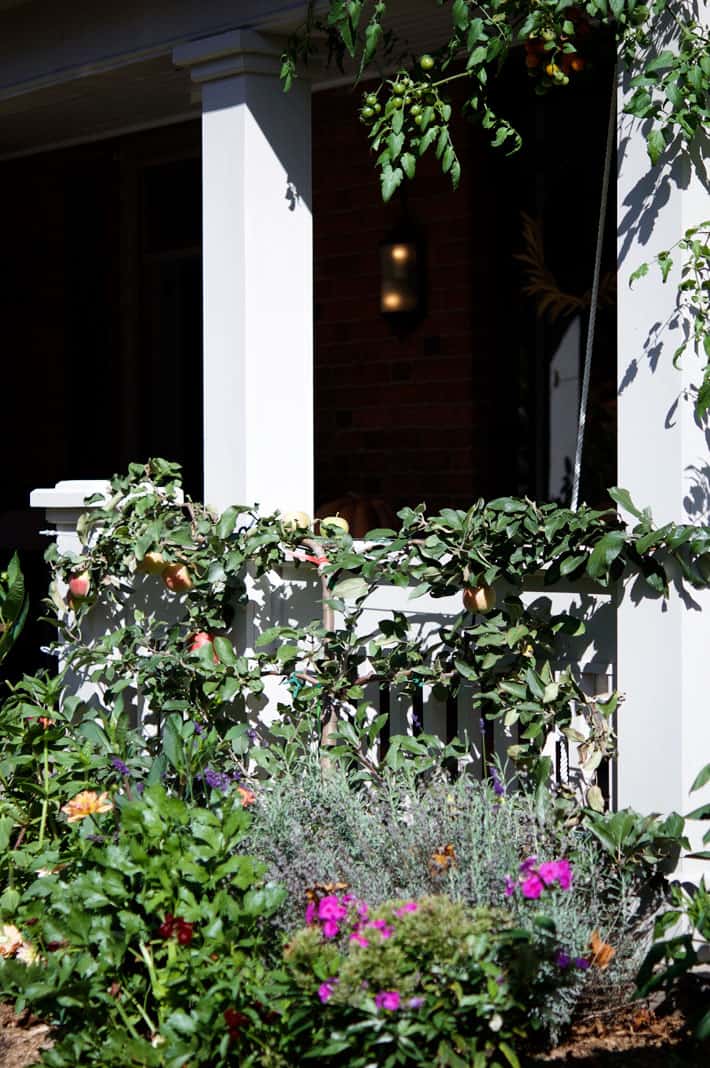 So really it's kind of a good thing that I only got 11 apples. Although a few bushels may have been just the nudge I needed to move to an actual farm where I'd have farmhands neatly lined up in military trenches ready to shoot squirrels.
When I first picked my apples I shared a picture of them on Instagram and everyone wanted to know if I had picked these apples myself WHY would they have stickers on them???
Good question.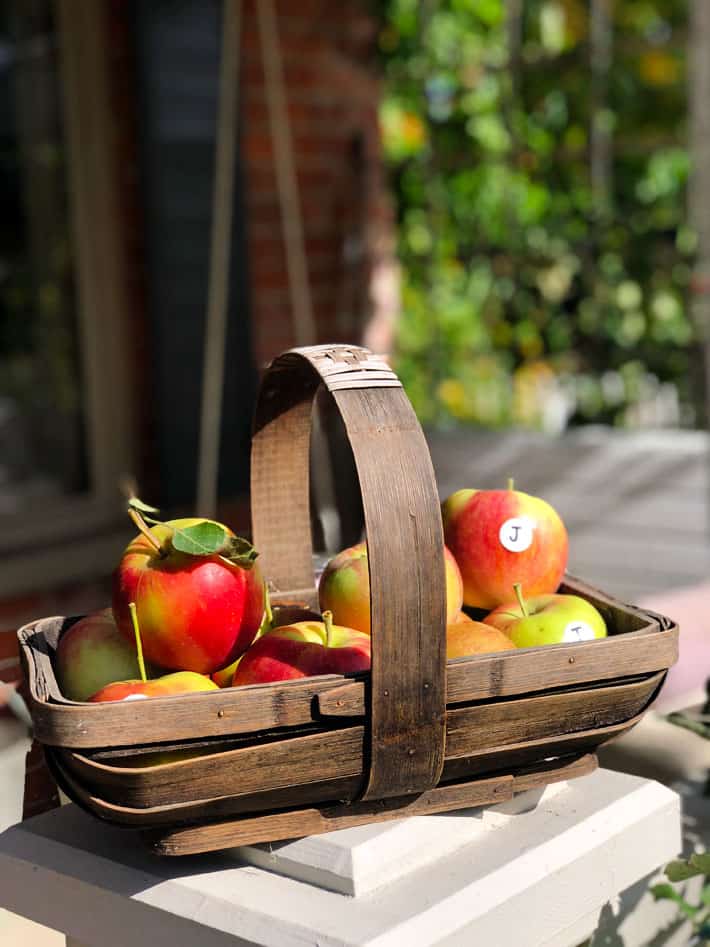 Before picking the apples I put a sticker on them to indicate which type they were so I wouldn't get them confused. J for Jonagold, M for McIntosh and ? for Don't know what the hell this one is, I found it on the ground.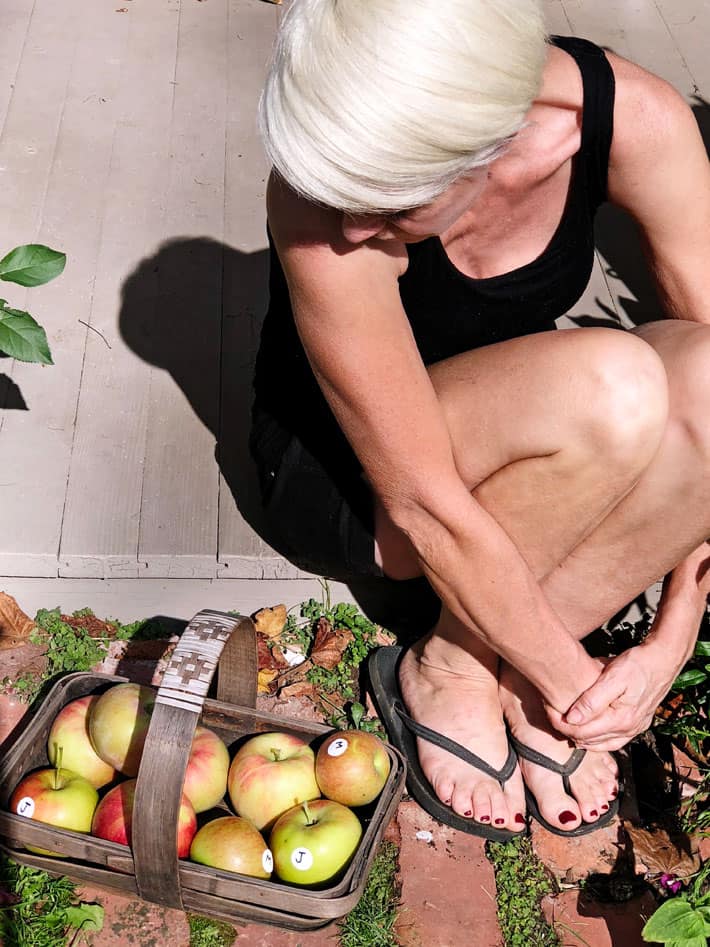 My 9 apples are now stored safely in my refrigerator. Only 9 because I ate two of them. If I don't force myself to eat them right away, I'm the type of person who will continue to save these few apples I'm so very proud of, until they just rot into a liquid puddle of squoo at the bottom of my fridge.
I shall now formulate a plan to get me through next year's harvest with at least 30 apples and no dead squirrels.
I've already taken care of the most important part of it all - I've ordered a new vintage apple picking dress.
→Follow me on Instagram where I often make a fool of myself←