My living room looks over the span of almost 20 years. Style isn't innate. It's cultivated over a lifetime. Like a bonsai or a bunion.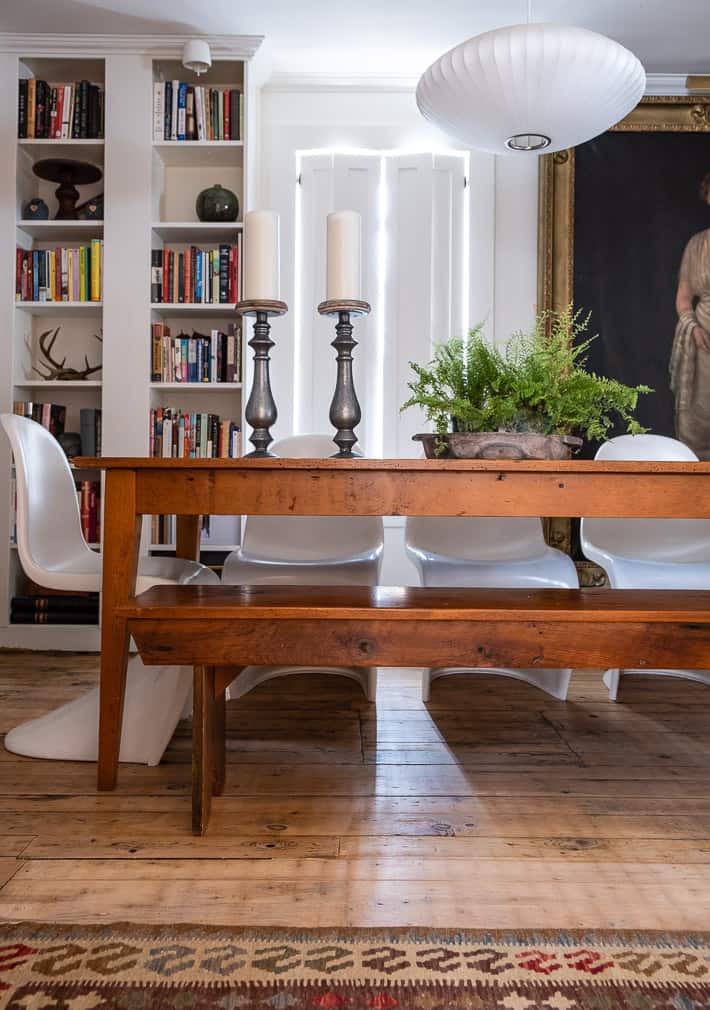 The reason rooms designed by professional interior designers or decorators look so good is what they do is really, REALLY hard. And it takes years of practice.
I seriously feel the need to hail the professional designers and decorators of the world. They are not given the credit they deserve, especially nowadays. With the invention of Pinterest and Instagram people think that decorating is easy because EVERYONE is doing it, but it isn't. I repeat. Great design isn't easy, it's HARD. Decorating a room that's so perfect you want to just stare at it? That's as difficult as painting a picture you want to do the same thing with.
And in terms of skill level, most of us (yep, even lifestyle bloggers) are at the paint-by-number level compared to professional designers who are whipping out masterpieces.
---
Decorator: def: a person who decorates home interiors by choosing colours, carpets, materials, and furnishings. Schooling required to call yourself a decorator? No.
Designer: def: a person who designs home interiors (including structural elements) by choosing colours, carpets, materials and furnishings. Schooling required to call yourself a designer? Yes.
---
It's only in the past year that I've got my dining room and foyer to the point that I really like them. I'm sure I'll change things at some point. Maybe new chairs in the dining room or redoing all the bookshelves in a different way but for now I smile every time I walk through it as opposed to having a 5 second long anxiety attack when I make my way through it from the hall to the kitchen.
The foyer? Same thing. I like it. It works. It could use some more layering (a trick that actual designers and decorators are particularly skilled in). It took a long time, a lot of trial and error, but other than having to recover the two chairs in it, I'm really happy with it and love looking out into it from my living room every night. One place you'll never find me is in the foyer looking fondly into the living room. For the 20 years or so I've lived in this house I've never been happy with the living room.
I kind of hate it.
Let's take a moment now to take a look at what I've done with my living room in the past. From the beginning shall we?
Living Room Looks
2001: I think the word we're all looking for is YIKES. K. I didn't really have my style down at this point in time, lol. Nor did I have any money. Every cent I had went into the custom tight back red velvet couch with a single down cushion. Everything else in the room was flea market, garbage or family cast offs. I actually really like the lamps and wish I'd kept them. The vibe I was apparently going for was "My house is old, I like old stuff, I don't like shopping at Sears."
I wish I could say I was channelling my inner Bunny Mellon but I didn't know who she was at the time. Plus I don't think this room would be Bunny Mellon approved.
Special shout out to the Fred Flintstone television to the right of the fireplace which I kept for a lot longer than I probably should have.
This is actually a shot from a newspaper feature. Once a week the Toronto Star (I think it was the Star) would feature the home of a celebrity and this week I was the celebrity. This was pre-blogging, during my television career.
What I like about this room? Well it certainly had personality.
What I don't like about this room? It had a personality disorder.
2009 I finally stopped trying to make all of my old crap work and bought actual furniture from furniture stores. In fact if you haven't read about it, in 2009, I got rid of pretty much EVERYTHING I owned and started from scratch. The redo of my house started with buying the couch which was a floor sample. Looking back at the room now it isn't bad but it's a long way off from the look I've evolved to now. It's pretty bland and I was SO excited about having new, contemporary stuff instead of found in the garbage old stuff that I went a bit overboard with it. The coffee table, the sofa table, the lamps on the sofa table, the Ikea gooseneck light ... all sleek and modern. It's not a terrible room - it just isn't there yet.
What I like about this room? Having a rug in it.
What I don't like about this room? The rug could use more personality and should either be bigger or smaller.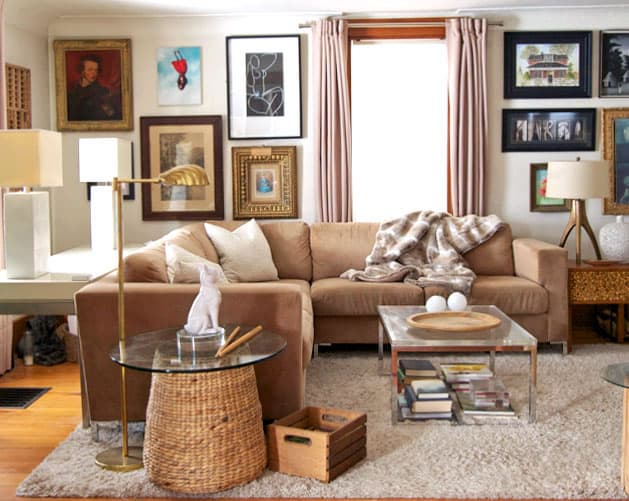 2015: Enter the gallery wall. Looking back on it, I'm realizing this is my favourite incarnation of this room. From this angle anyway. Gallery walls were having a real moment 5 years ago or so. Because there was so much going on with the walls, I pared back the tops of tables so it didn't quite make your head spin when you walked into the room.
Looking at it now I can also see that I like the low contrast of the whites and taupes but with some really impactful colour on the walls. And black because every room needs some black. And a rug. I desperately need a rug in my living room again. I had to get rid of this Costco shag rug that I bet about half of you owned at one point. It was just a smashed disaster after being down for a few years.
Also it was my only option at the time in terms of size, but I can't say I'm in love with the wicker laundry basket with a piece of glass on top acting as an end table but I like the texture it brings to the room.
From the other end of the room looking towards the fireplace it was a bit hectic with the gallery wall and the bookshelves, but that could be solved by minimalizing (is that a word?) the bookshelves. Or even getting rid of them entirely and putting chests, tables or just large pieces of art there.
What I like about this room? How the gallery wall makes the room feel bigger and the ceiling higher. I also like that it feels cozy. It's sophisticated and kind of worldly without feeling stuffy or formal. A good mix of casual and comfortable without resorting to a pair of puffy La-Z-Boy chairs with a built in cooler in the arm. Which we can all admit we'd secretly love to have. It's O.K. You can admit it. This is a safe space.
What I don't like about this room? The curtains but I dealt with that issue when I built my interior wood shutters last year.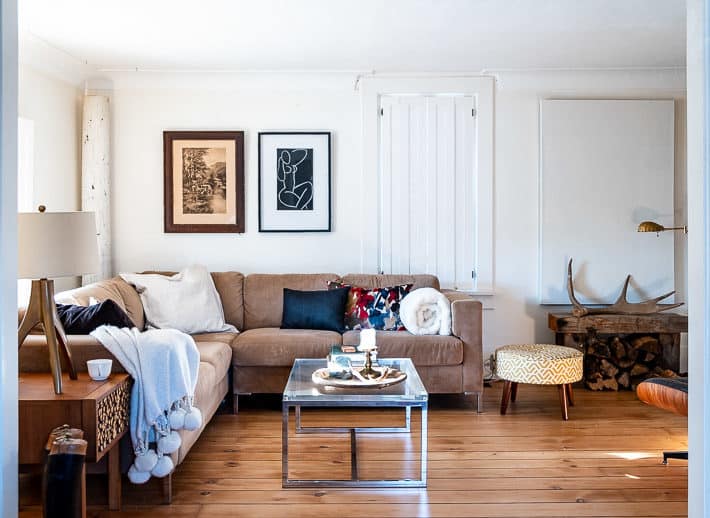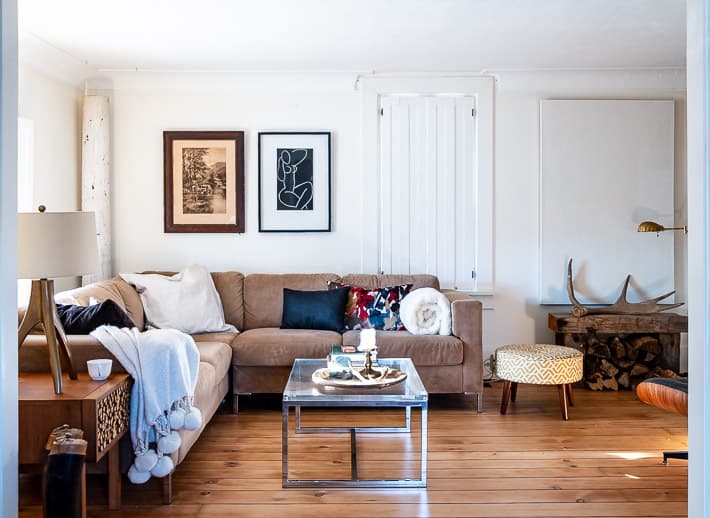 2019: This is my living room as of last week. There's no rug. I need a rug. Also getting rid of curtains, no matter how awful they were took some much needed texture and softness out of the room. I need to remedy that. The couch is pushed back much further than it was in the "gallery wall" picture because I got rid of the sofa table behind it. It's not bad and still feels much better than how it started out 10 years ago. There's art but it's not a gallery wall which feels calmer. Also I hate that coffee table. I LOVE it as an end table but hate it as a coffee table for some reason. The room is nice but it's missing texture and layering. It doesn't feel like it's wrapping you in its arms and that's the feeling I want.
What I like about this room? The floors are beautiful. Yay to ripping out and refinishing my orange floors! I like that there are a lot of things that I love in the room like my old riding boots, my barn beam bench and a huge vintage antler.
What I don't like about this room? It only feels halfway done and the whole thing just doesn't feel right. Not like my dining room and foyer and kitchen. I don't have it figured out yet. I'm not sure when I'll have it figured out but I do know the "inspiration" folder on my laptop is soon going to explode.
Seriously. I'm cultivating my taste like a madwoman over here. And my bunion.

→Follow me on Instagram where I often make a fool of myself←