I am about to tell you the secret to living a happy life. The secret to making sure you get everything you want and don't attract anything you don't. The secret to making maple syrup, baking bread, having a great holiday, and bursting into dance even when the radio is only playing car commercials.
It's red pants.
Those are my official "Fun stuff is about to happen" pants. They're fun. As the name implies.
I put those pants on and nothing but a good time is about to happen. You probably have fun pants too, you just haven't named them yet because you're afraid of what people will think if you go around naming your pants, which is totally understandable. So maybe start with something smaller and more socially acceptable like "fun socks" and work your way up.
This is the week I tapped my Maple tree. That can only mean one thing. It's time to break out the red pants and let the fun begin. I love this time of year not because it's great weather or especially pretty outside. Honestly it's kind of gross out. The snow has mainly melted revealing blobs of dog poop around the neighbourhood, your backyard is so barren and sad it looks like a Zombie time share and that big shiny thing in the sky is … not so shiny.
So why do I love this time of year? What are you an idiot? BECAUSE IT'S TIME TO MAKE MAPLE SYRUP. Ergo … Spring is just around the corner.
Also, I mean, I'm making maple syrup. From scratch. From a tree in my backyard. It's all kind of amazing.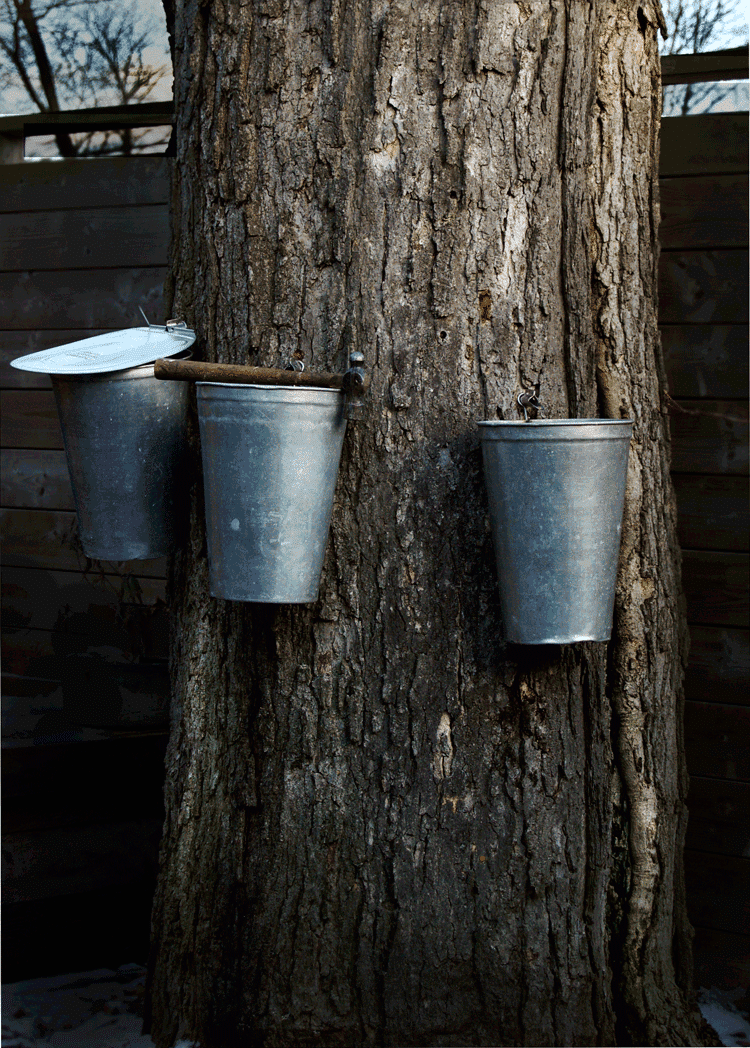 I've been making maple syrup from my big maple tree in my backyard for years now but if you didn't know that about me and you want to make maple syrup, even if you only own ONE maple tree, you should read this …
MY ULTIMATE GUIDE TO MAKING MAPLE SYRUP
(click on the link above to get all the instructions on how to tap a tree and how to turn sap into syrup)
If you're interested in making your own maple syrup your supplies will cost you anywhere from $50 to $100 for the setup. Even cheaper if you can source used equipment. My spiles were $2.50 each for instance from a TSC store and I found my vintage aluminum buckets at a roadside vegetable stand of all things.
A starter kit with all metal components (3 stainless steel spiles, 3 traditional aluminum sap buckets, 3 metal bucket lids, cheesecloth & an instruction booklet sells for $104 on Amazon.
An all plastic kit with 2 plastic buckets, 2 plastic lids, 1 plastic spiles, a filter and instruction booklet sells for $50.
I don't have a forest of trees, just a single, albeit huge, maple tree. It isn't even a sugar maple.
Nope. You don't need a sugar maple to make maple syrup. You don't even need a maple tree. The best tree to use for maple syrup is indeed a Sugar Maple, the second best is a Black Maple, which is what my tree is but you can also use a Red Maple or even a Birch tree to make syrup. Any of these trees have enough sugar in their sap to eventually turn into syrup if you boil it down enough. Sap produces syrup at a ratio of 40:1. In other words it takes 40 cups of sap to make 1 cup of syrup. Unless you're using a Birch tree in which case it takes many more cups of sap to make 1 cup of syrup.
Remember that handy Refractometer I used last fall to test how sweet my beets were?
This week I used it to test how sweet the sap that came out of my tree was. The sap out of my Black Maple measured as a 2.5 on a Brix scale. That's perfect for making syrup. And last week I ended up buying the fancy higher level digital refractometer which I'll be able to use for testing the sugar content of my maple syrup as I'm boiling it down. My older refractometer couldn't test sugar levels as high as what's in syrup. This is going to make making Maple Syrup at home infinitely easier for me. You see, to be considered Maple Syrup, it has to be boiled down until it's a minimum of 66.5% sugar, so you have to keep boiling and boiling the sap until most of the water has evaporated away and what's left is a little water and whole lotta sugar. If you boil it down too much and reach just 1 percent over that figure, your maple syrup will crystallize in the bottle.
So you have to be pretty accurate when you're making maple syrup and using a digital refractometer will help a lot with that.
Also, I'm just a sucker for gadgets, especially ones that have buttons.
If I can find the tree through the mounds of snow that fell a couple of days ago, this weekend I'll be ignoring my emails, closing down my computer like a good little pioneer and boiling down my first batch of sap for the season and making maple syrup.
While wearing red pants.
Have a good weekend!