This is how my mantle has looked for the past ... I don't know ... 2 months or so.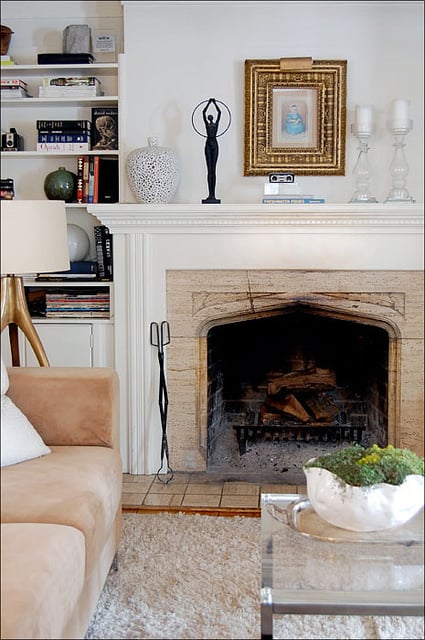 Using most of the same things, but cleaning it up a bit and changing their positions, it's a whole new look.  It's more symmetrical, more balanced.  More traditional.   Which  changes the entire feeling of the room.  For no cost and about 30 seconds worth of time.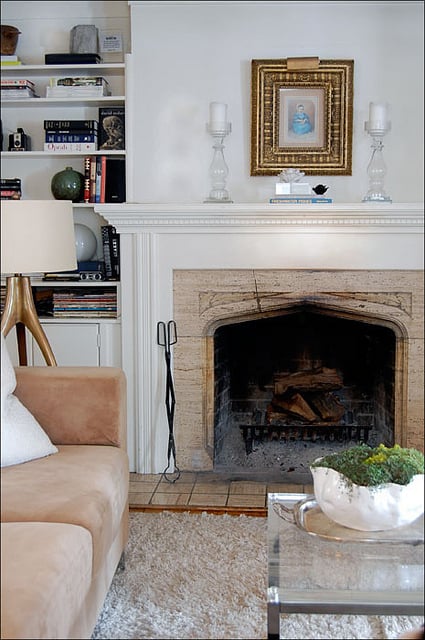 Most people shove things on their mantle, coffee table or bookcases and leave them exactly the same way for all eternity, or at least until the next holiday when they put up a) garland b) a wreath, or c) a giant stuffed Easter bunny in a straw hat and overalls.
Put away that bunny.  Today I have inspiration for you.   24 variations on the same mantle using regular objects that most of us have.  Books, candlesticks, vases, and most importantly ... weird little objects.   Unexpected things like binoculars, antlers or cameras.
So sit, relax ... and start scrolling.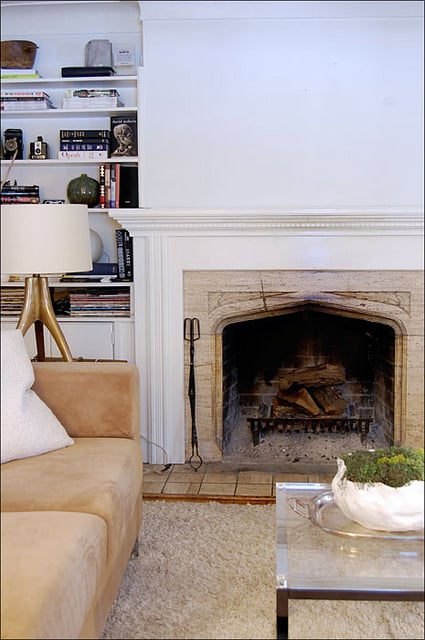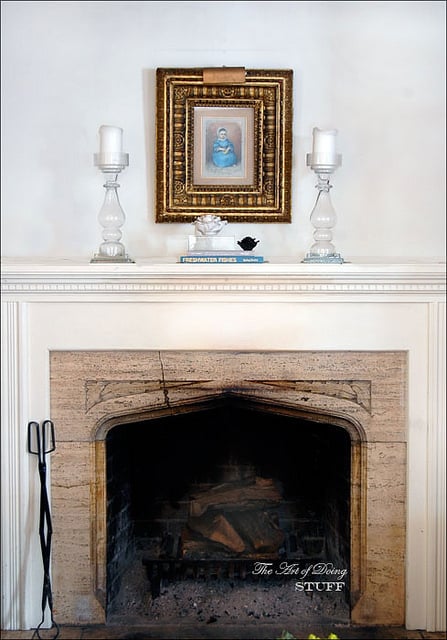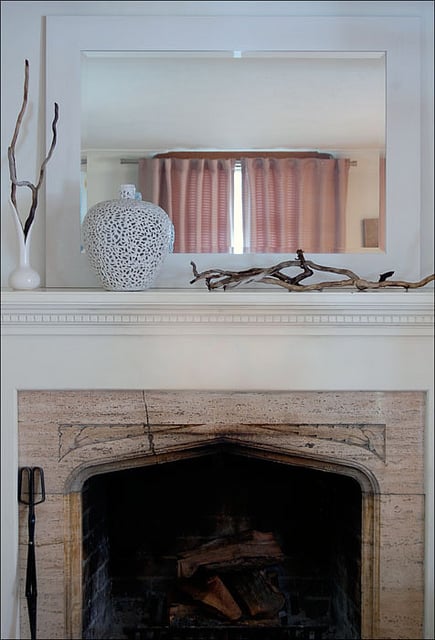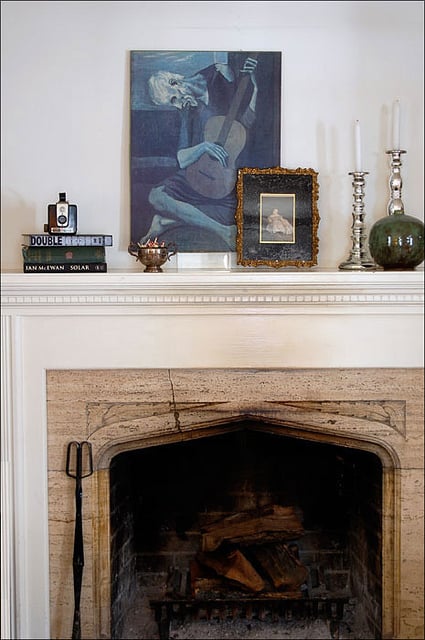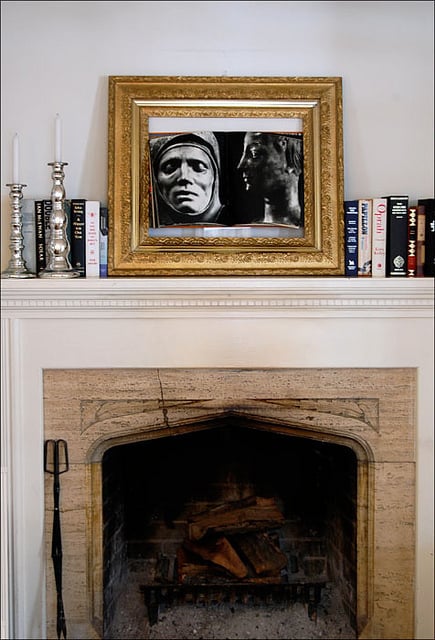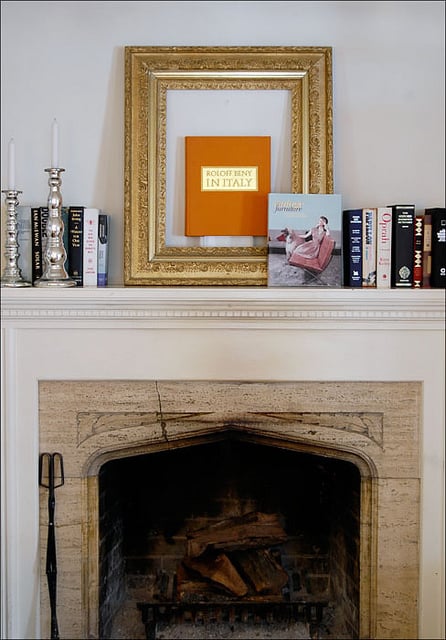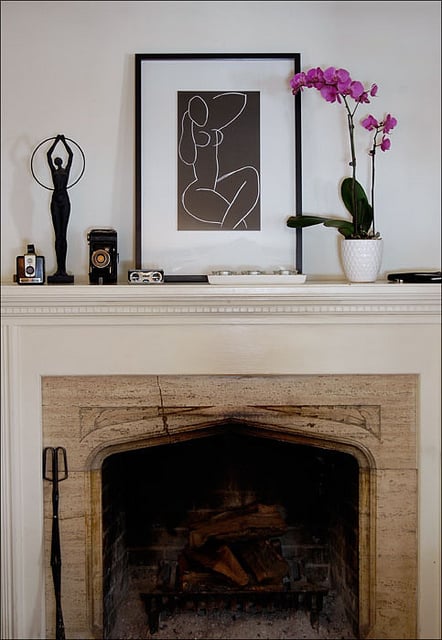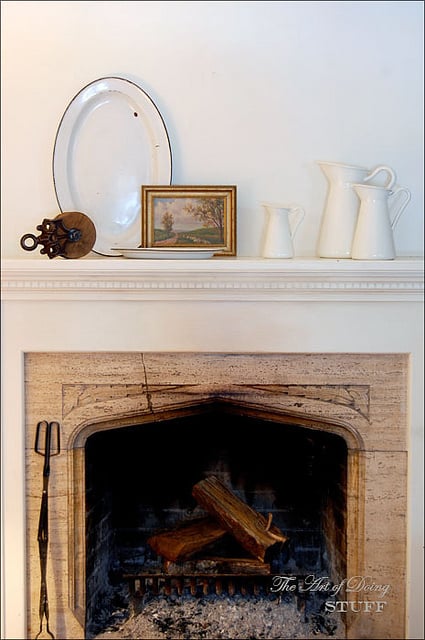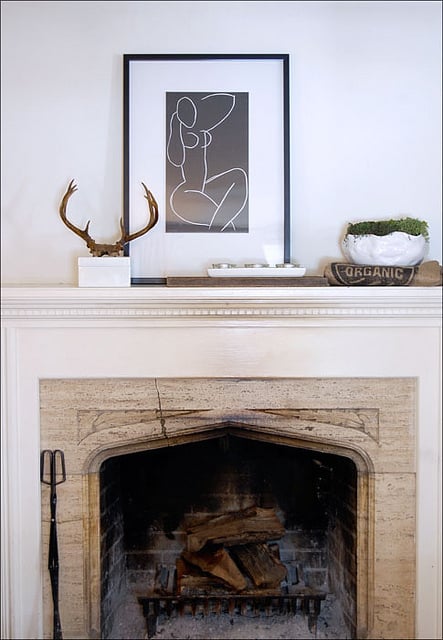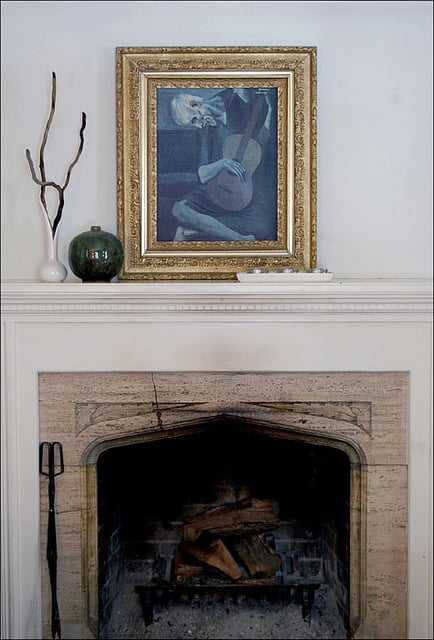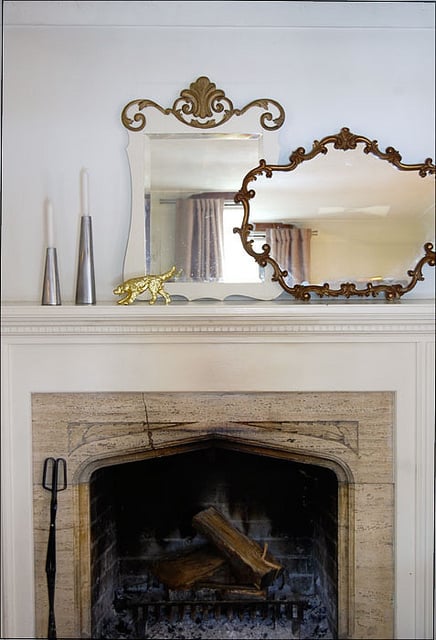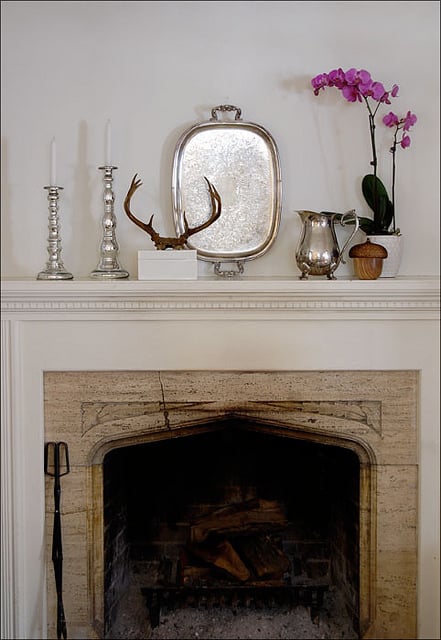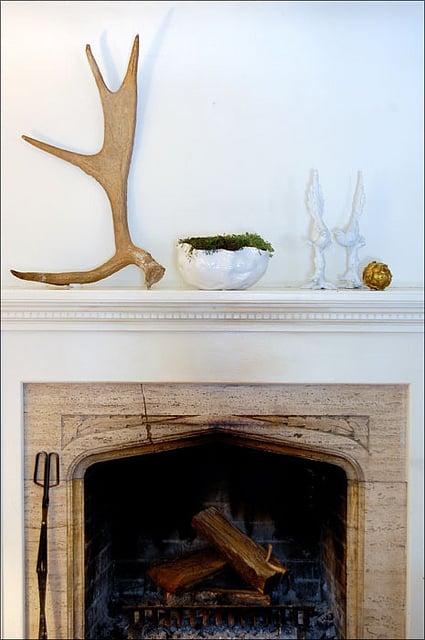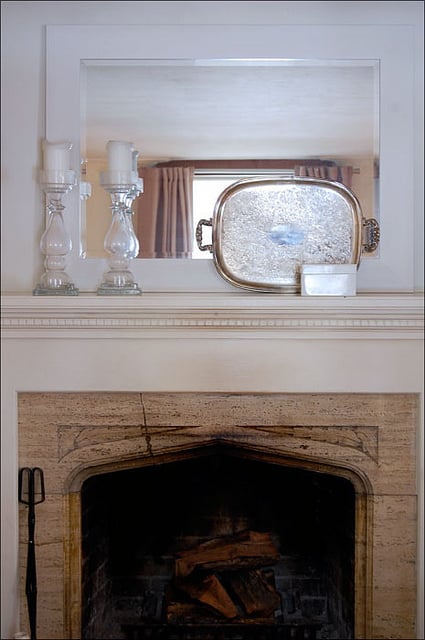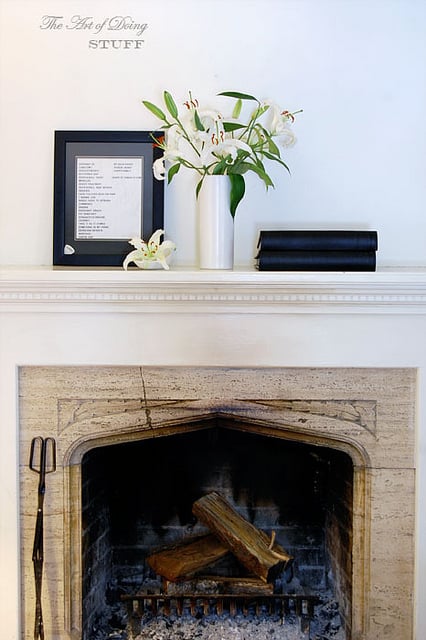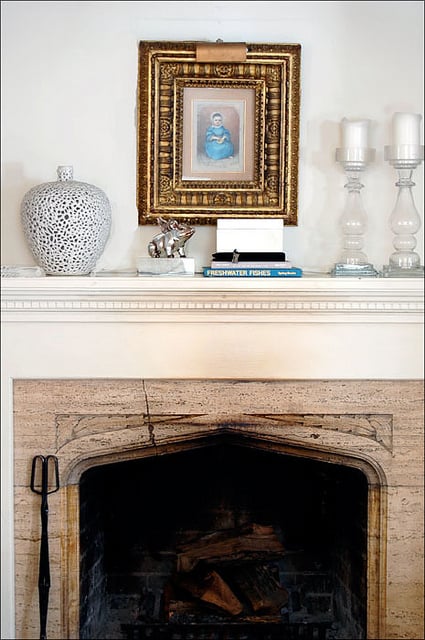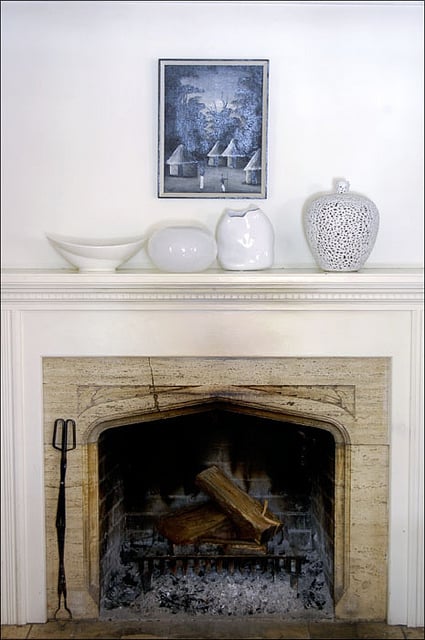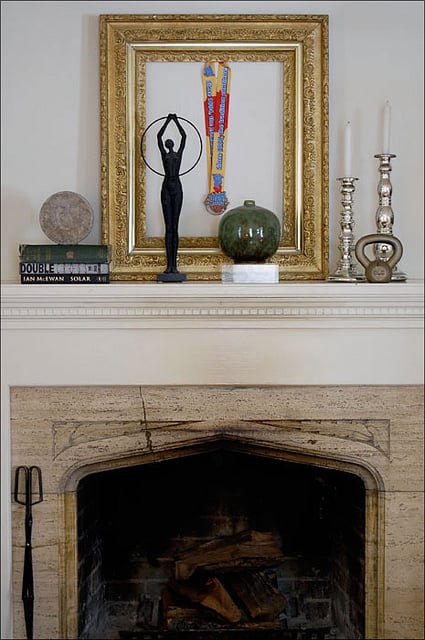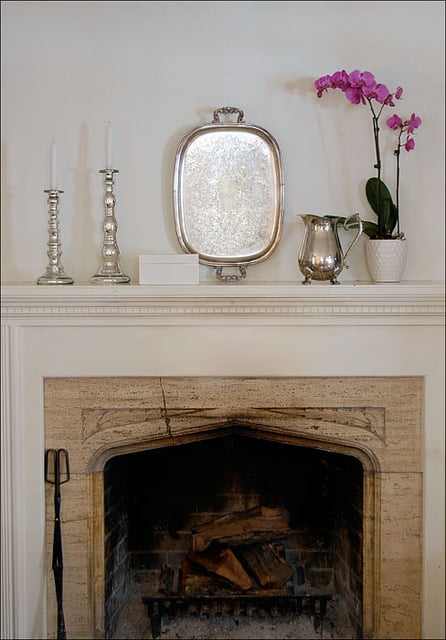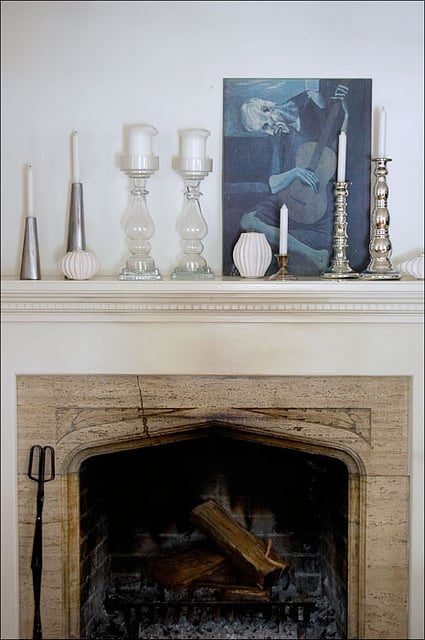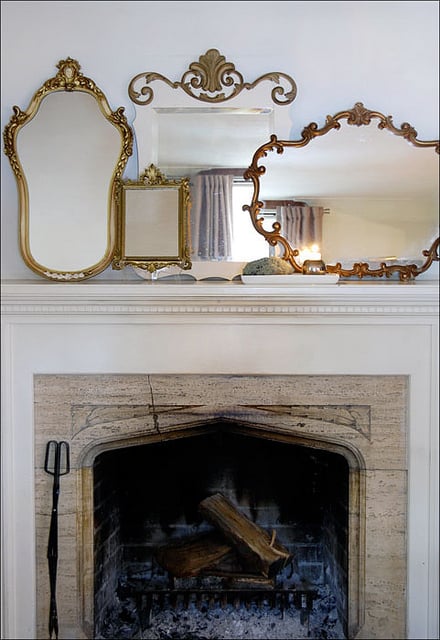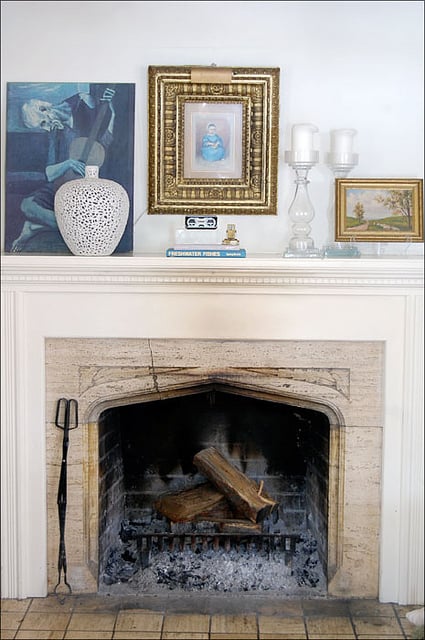 Inspired?  By even just one?  All you need is one.
Tips for mantel design.
Display a collection.  Designers say this all the time.  But what *is* a collection?  I don't collect Royal Doultons or antique doorknobs or anything like that.  BUT, I do have a bunch of white vases. I don't necessarily collect them.  I just have them.  Same with books, white stuff in general, antique mirrors, candlesticks, and the list continues. You may not think you have a collection, but you probably do.
Display things that mean something to you.  The fifth picture from the bottom, that has the metal surrounded by a gold frame shows the mantel with a bunch of the fella's accomplishments.  His metal for running the Around The Bay Road Race in Hamilton, a small kettle bell award from a Crossfit competition, and a circle of concrete from a big job he worked on.  Set out separately around the house they don't amount to much, but together on the mantel they work and they remind.
Don't worry.  Don't worry too much about getting things "right".  It's a mantel.  You can change it if you want.  Just do what looks good to your eye.  You know why?  Because no matter what they say in decorating magazines, you're the one lookin' at it.  Chances are a magazine editor isn't going to come bursting into the living room to chastise you for not having a "pop" of colour.
Gold & Silver.  Yes.  As a matter of fact.  You *can* have both gold and silver together on a mantel, coffee table, or wrist.
Continuity and Balance. Now I'm about to backtrack on the "don't worry" thing.  If you are worried that a magazine editor might be coming over, think about continuity.  You can have a variety of mismatched objects on your mantel, but something in them has to go together.   There has to be something that lets your eye roam around the entire mantel.  It might be a tiny bit of black in a frame that repeats in a book or a feeling of "country" in all the pieces or a tiny white votive candle that balances out the white vase on the other end of the mantel.  Even a mantel that seems unbalanced when you first look at it, has something that is indeed balancing it.
The very last mantel picture in the series is a good example of that.  Nothing is symmetrical when you first look at it but the white candles on the right balance the white vase on the left.  The gold frame on the right balances the gold frame in the centre, which is emphasized with the tiny vintage brass flip calendar on the stack of books.  The blue of the Picasso print on the left, is picked up in the blue of the dress in the gold frame and again, everything is emphasized by the blue book in the stack of books.
Accessories
The accessories I used are all things I had around the house and most of them are inexpensive.  The only thing that's really worth anything is the antique gold frame with the little girl in the blue dress.  Everything else was under $100 and a lot of the accessories were either free or bought for $3-$10 at garage sales and flea markets.
You can buy pop up opera glasses like these on Ebay for around $12.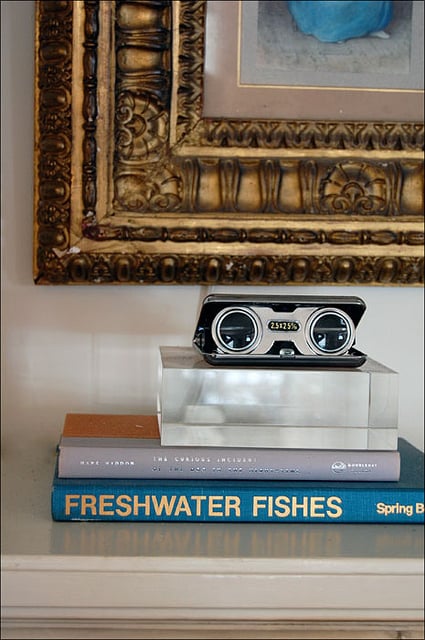 I absolutely LOVE this small landscape painting.  I got it at a garage sale for about $5.  The chipped enamel platters are from an antique market.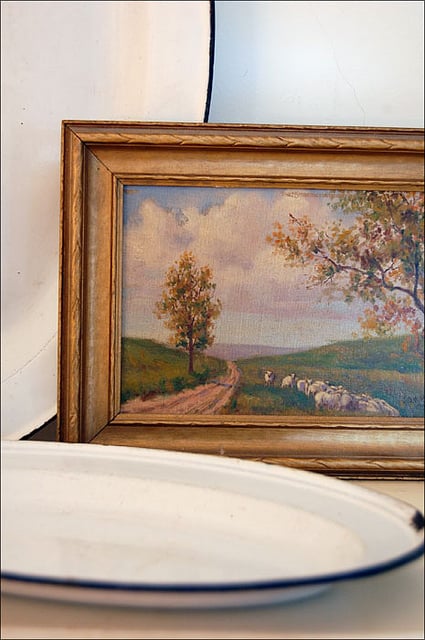 The Bombay Company sold these glass blocks up until a few years ago.  As I've said before a glass block or a glass dome can make anything look important.  Even these $5 ceramic roses.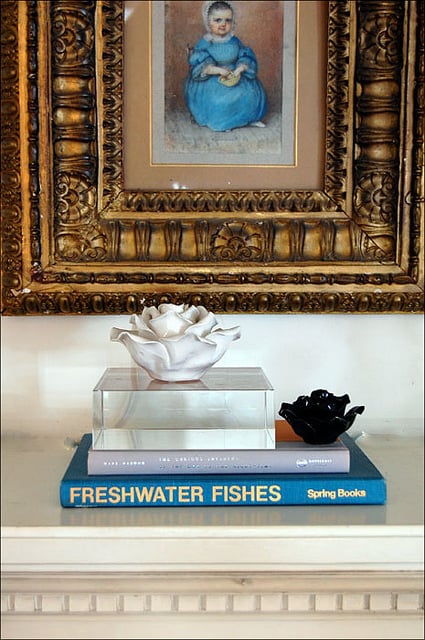 Tinga Tinga.  At least I think that's what this African painting is.  It's not colourful like Tinga Tinga normally is but it's from the region and painted on masonite.  Estate Sale $20.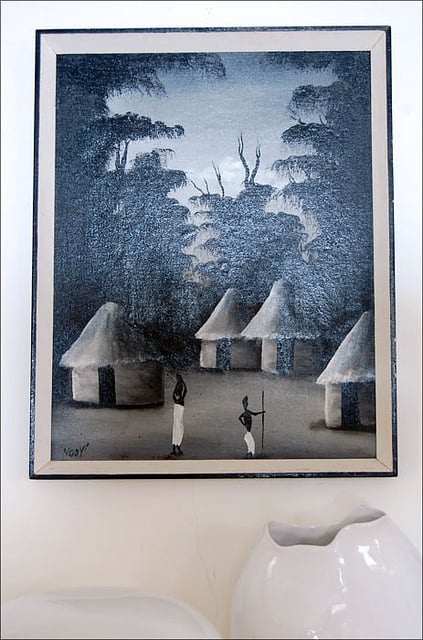 Sometimes you don't have art, but you do have art or coffee table books.  Stick them in an empty frame, either open like this, or closed, displaying the cover like in the 9th picture from the top of the mantel pictures.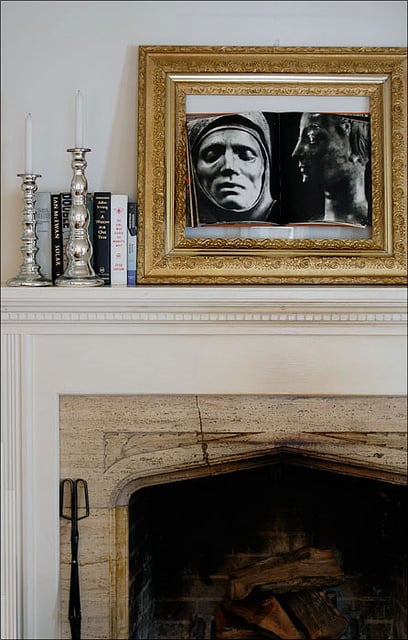 Quick Reference
List of Mantel Accessories and where to buy some of them
**note most of these links are now out of date and unavailable but searching the Internet you'll find similar objects**
Books
Candles
Candlesticks Mercury Glass from Ikea, Large Clear Glass from Pottery Barn 
Vases
Opera Glasses Ebay
Platters
Frames
Art
Prints
Mirrors
Awards
Found objects (driftwood, sticks, rocks, moss, etc)
Folded burlap Coffee sack  Several on Etsy
Antique cameras Brownie Cameras on Ebay
Random Objets d'art (gold artichokes, white lacquer box, gold leaf books, ceramic roses, antique framed prints, silver flying pig, black lady sculpture)
Orchid
Tea lights
Enamel jugs 3 white jugs from Ikea
Antique wood pulley Available on Ebay
Antique antlers Can be found here on Etsy
Wood Acorn Box by Brenda Watts, Cattails Studio
Vintage brass flip calendar  Can be found here on Etsy
Now get out there and rearrange!  And if you're wondering, my favourite ended up being the final mantel.  The unbalanced one with the 2 gold frames and Picasso print.   It is how my mantel looks right now.
It barely won out over the classic Swedish country look with the white enamel platters,  white jugs and small landscape painting.  I may switch over to that in a month or so.
Or maybe I'll take everything down and put a big stuffed bunny on the mantel if I find one that tickles my ass.  As luck would have it ... I'm not expecting a magazine editor over any time soon.
→Follow me on Instagram where I often make a fool of myself←