Most people go to the cottage to relax. To sip coffee in the morning and lay in the sun. Maybe read a book and roast a wiener or two.
I go to the cottage to pilfer from the forest and judge people wearing inappropriate swim trunks. Honestly. There is just no place for G-String bikinis in cottage country.  For a multitude of reasons, not the least of which is sand spiders.
I spend the majority of my days scouring the edge of the water, the beach and the forests for things I might want to bring home.  Could be twigs or reindeer moss or small children I think are especially cute.
For me the cottage isn't about relaxing, it's about work, which often requires power tools, safety glasses and prescription strength deodorant. Oh! And those little boxes of Froot Loops that you tip on their side and eat right out of the waxed paper liner.
So last year when we went to the cottage my boyfriend didn't even raise an eyebrow when I told him I wanted to bring some Birch branches home. I do that sort of thing all the time. The eyebrow raising came later when he saw me sawing and shoving entire Birch trees into his obsessively well maintained car.
Birch trees are the perfect thing to pilfer from the cottage because they aren't the hardiest trees around and, in fact,  tend to fall over and die with great frequency.  Those trees that had fallen over and died?  I took em.   In the middle of summer, drenched in sweat, I had the foresight to bring em home for Christmas.
Once I got them home I cut them into  equal lengths of 6 feet and stored them until it was time to do my planters.  I stored them for the past year and brought them out again this year and they're still in perfect condition.  Granted, there are many of you who don't have the inclination or opportunity to pilfer the forest.  Lucky for you, you can now buy birch logs at garden centres.
Here we go!  The basics of how to make a stunning outdoor planter.
If your budget allows, buy a variety of greenery.
If it doesn't allow, steal a variety.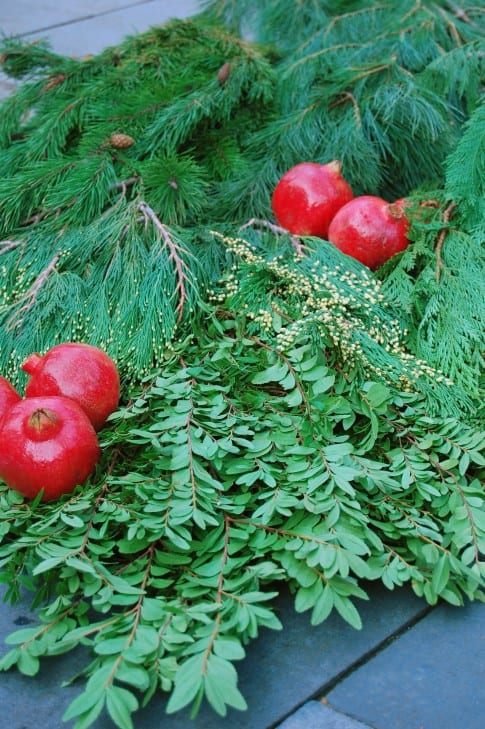 Incense Cedar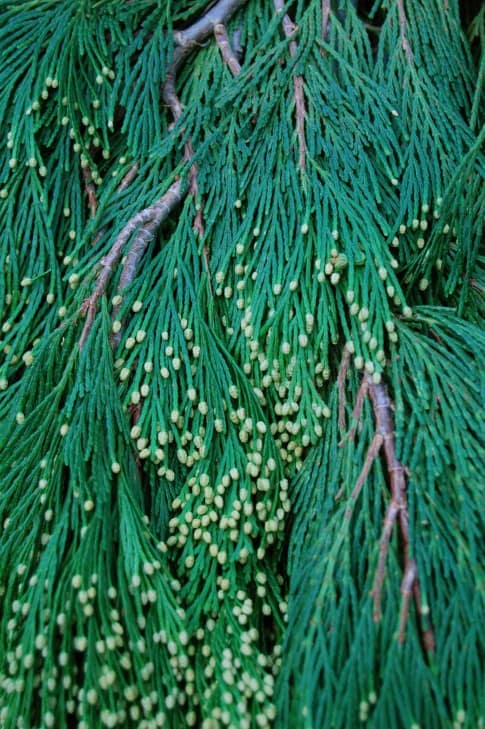 Western Cedar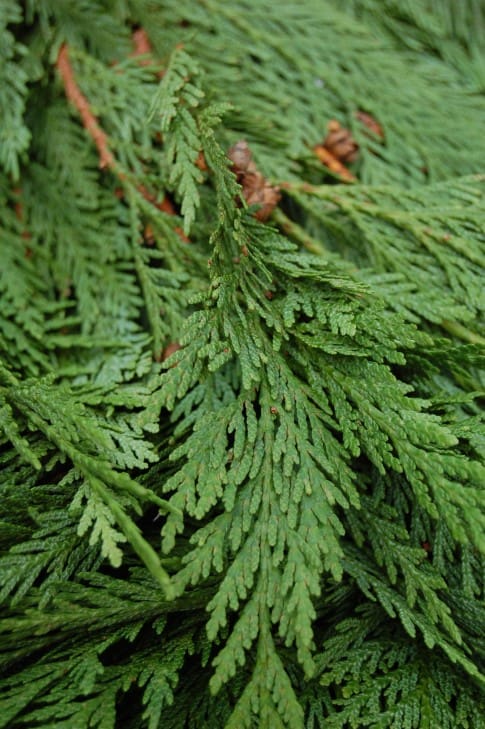 Boxwood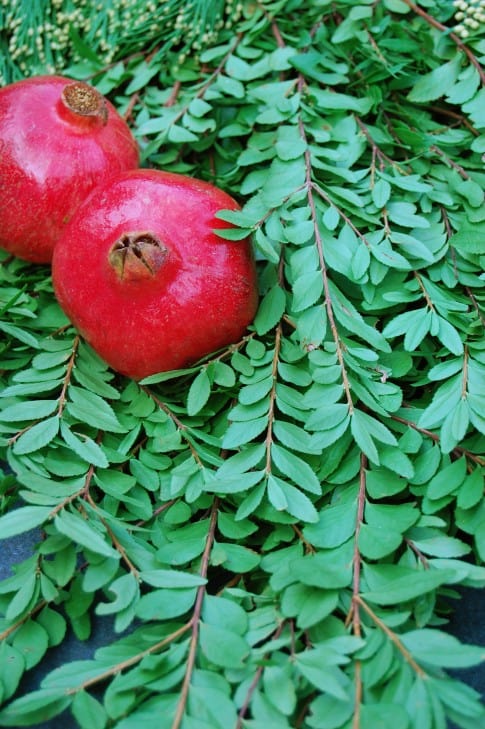 Shore Pine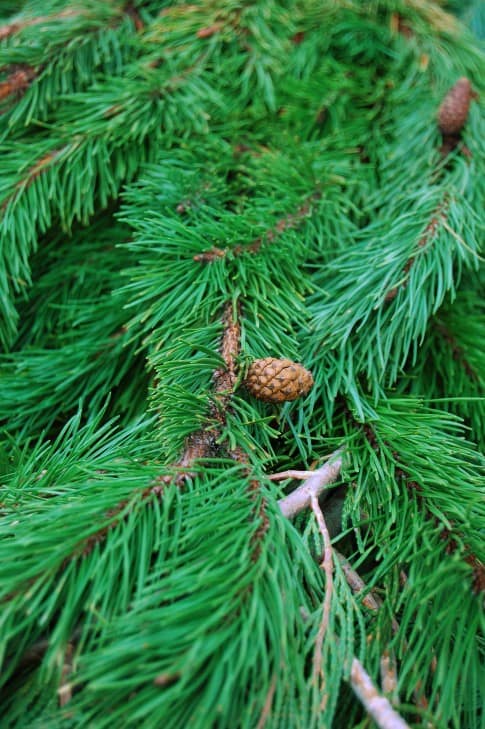 White Pine
Birch Logs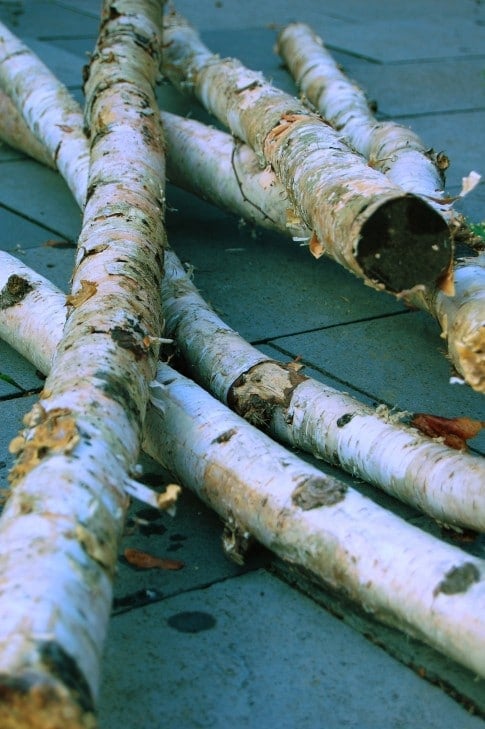 If you're using large tree trunks or smaller branches, dig a hole for them.  Insert the log/branch and then pack the dirt around them tightly.  Tight, tight, tight.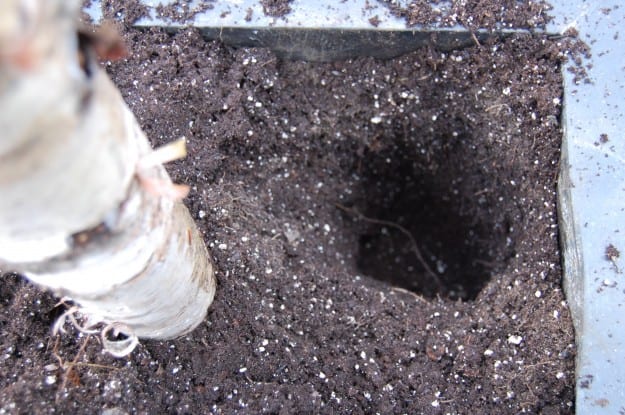 At this point if you're going very minimalist you can call it a day and go inside for a Hot Toddy or whatever you fancy.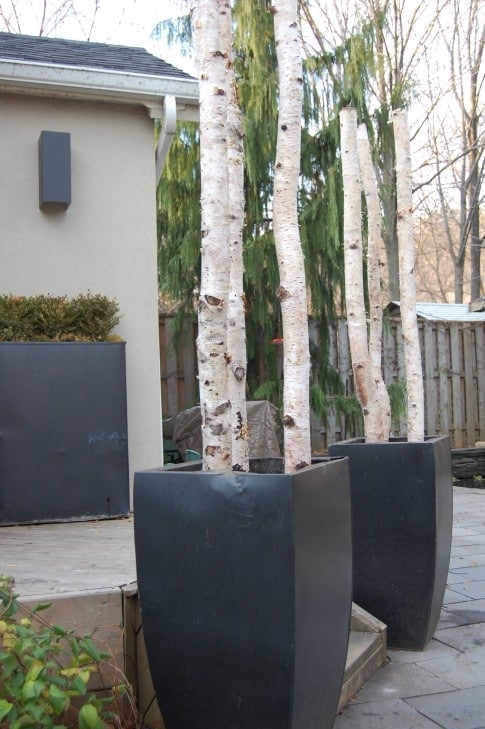 The rest of us will continue on, adding in the greenery.
I don't ever have a real plan other than dividing up the branches evenly between the 2 planters before I start working.
This eliminates the pesky problem of having used too much in one planter and not having enough for the other.
Once your greenery is in you can add whatever other embellishments you have.
I used pomegranates and a huge pinecone.  The pinecone you can keep from year to year.
The pomegranates?  Not so much.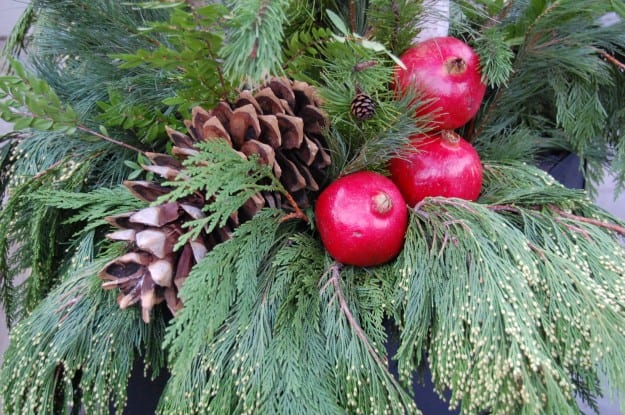 As you can see, the result is very pretty.  Mine looks a little more contemporary with a hint of tradition.
If you were to do yours in a more traditional urn, it would appear heavier on the traditional side.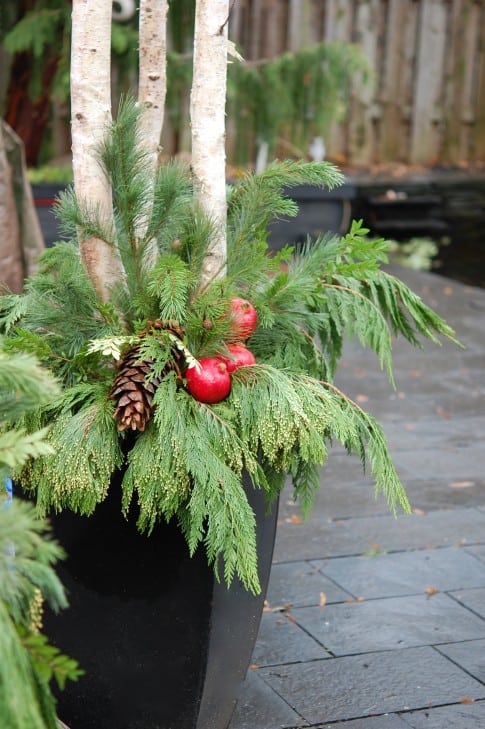 Now most bloggers would be done here.  This would be the end of the story.
But not here.
Remember in the summer I told you I used my Glowing Orbs in the winter as well?
Yup.  It's time to break 'em out.
Tie a wire around them ... I used picture wire, but you can use whatever wire you can get ahold of.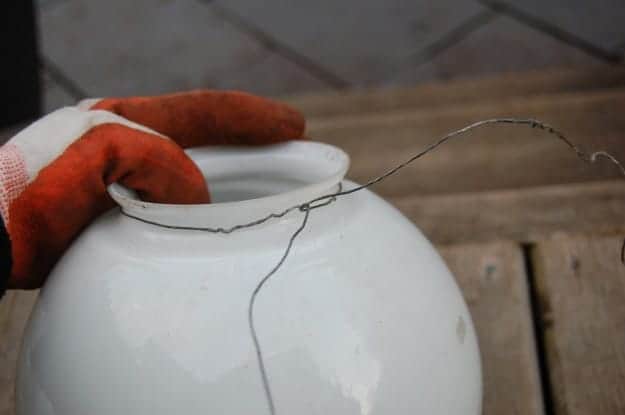 Then tie one or two of them to the lower portion of the logs in your planter.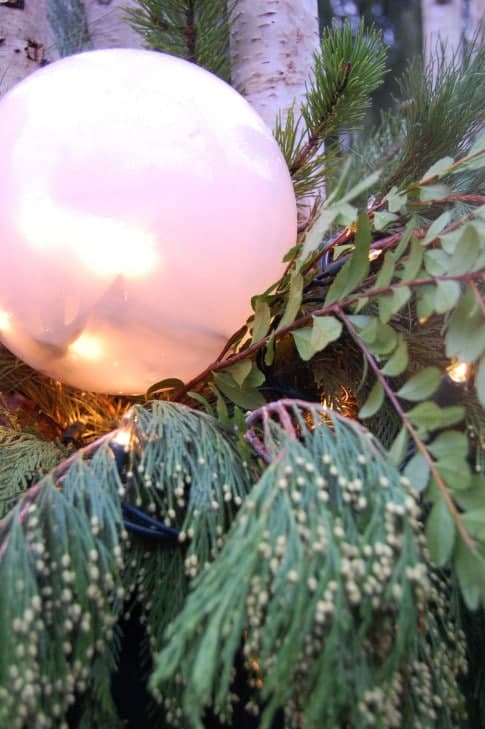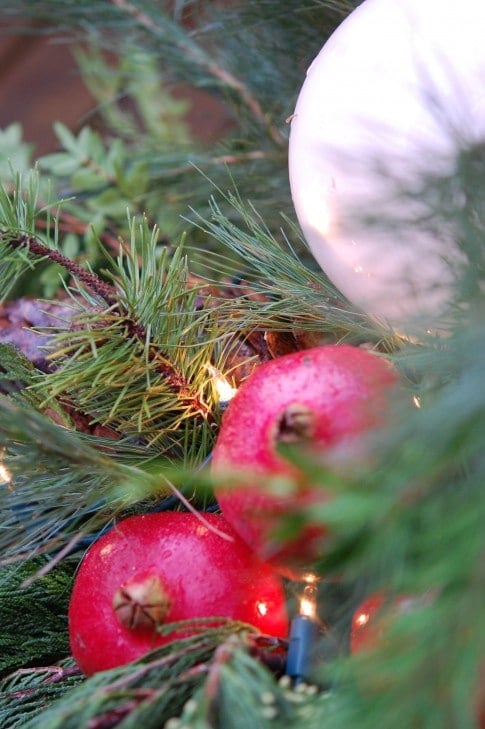 And then stuff them full of mini-lights.
Scatter the lights among the branches as well.
You have now created a thing of beauty ...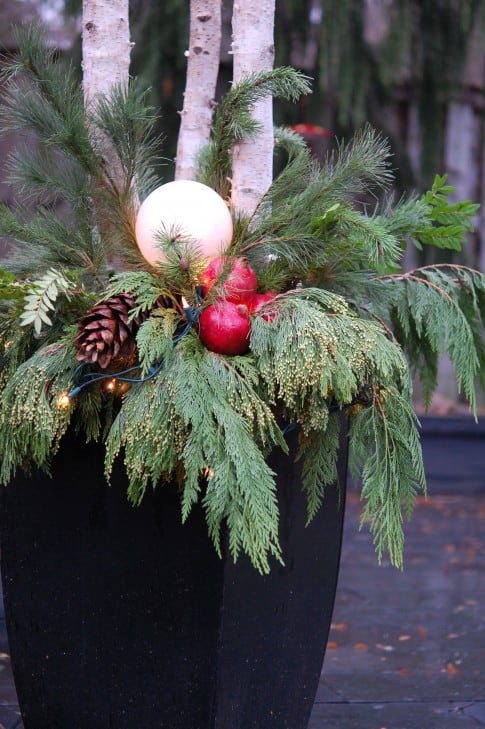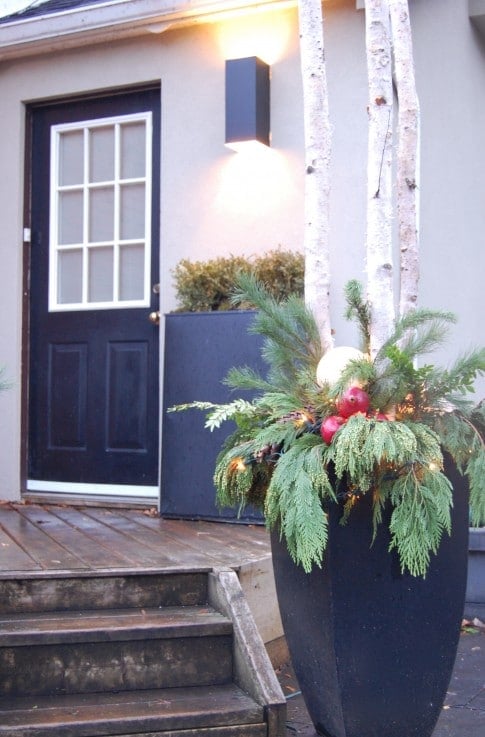 ... that will only get more beautiful the darker out it gets.
There are a few more tips and tricks I could tell you about with regard to creating holiday planters but frankly I'm sick of writing this post . I'm dying for a coffee and my G String is starting to itch.