I want to stress that I do not celebrate Christmas just so I can decorate my entire house with swaths of garland so fresh the whole first floor smells like a forest and squirrel poop. No, I also celebrate Christmas for more altruistic reasons; the presents.
I like to give 'em, I like to get 'em, but most of all I like to wrap them.
I would like for you to gasp so hard when you see my wrapping that people try to perform the Heimlich maneuver on you, fearing there's a drumstick wedged in your esophagus. That is my goal.
Anything less than that and I'm disappointed in myself.
This year I got my wrapping inspiration from my very own Christmas Pledge Facebook group, which is a group I created for people to motivate each other to create their own near death experience Christmases. We also encourage each other to gain weight, drink wine and throw mittfuls of tinsel on anything in our path. Close to the beginning of the Christmas Pledge, members were already talking about wrapping ideas and a few people mentioned Furoshiki, the Japanese art of wrapping in fabric.
I thought to myself, Karen, that's what you'll do this year. Simple, elegant, kind of old timey, and no need for bows. Great. I ran myself to Ikea to pick up some cheap fabric. I wanted velvet but they didn't have any, plus I realized velvet would be way too thick to wrap with. Tea Towels also ran through my mind but all of my presents would have to be the size of those forest squirrels traipsing through my garland for the tea towel to be big enough, so that idea was eliminated.
I ended up with several meters of natural and black cotton. It was lightweight and cheap. That night I got to wrapping my first present. It looked weird. So I unwrapped the present and tried again. No. It still looked weird. And by weird, I mean, like a diaper. The present looked like it was wrapped in a giant nappy. No matter what I did or how I adorned it I would be handing over the Christmas equivalent of a baby toilet.
Shocking, but wrapping your presents in a diaper can make them look like shit.
Which means here I sit, on December 1st, without a present wrapping idea. I'm so ashamed.
I know I'll come up with something but that doesn't help you people who are staring at your computers right now waiting for me to spurt out a brilliant choking hazard.
For now I'll remind you of some of my past ideas in case you'd like to glom onto one of those.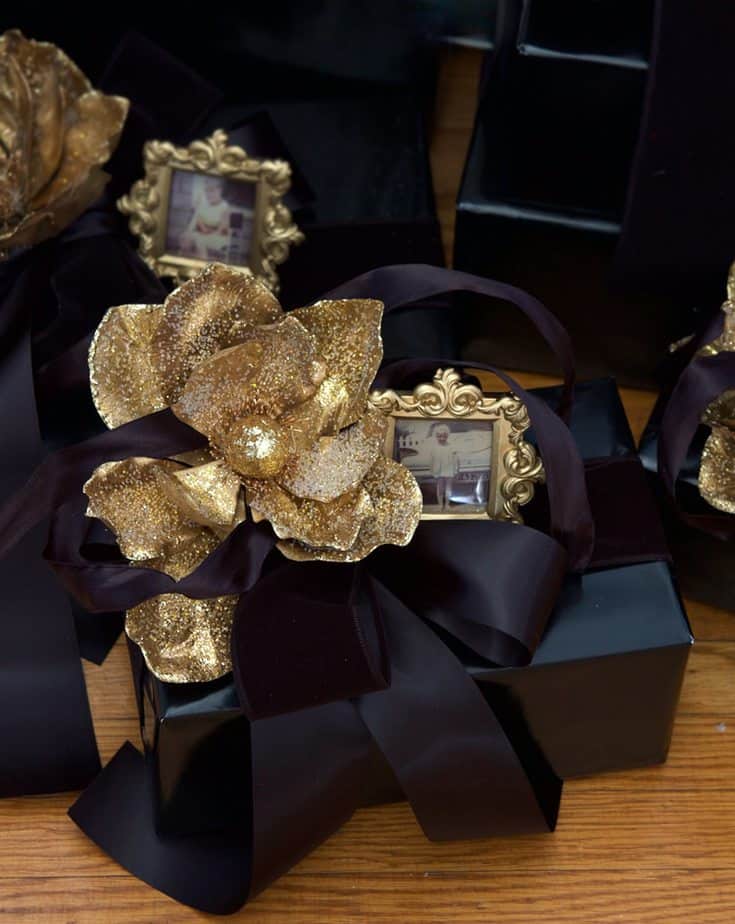 Back in Black – Christmas wrapping 2016. Black paper, black wide velvet bows, dramatic gold accents.
Glitter and Glue – Christmas wrapping 2015. Tracing the iconic Group of 7 trees onto white paper and glitterizing them. I like the Group of Seven so much I bought a Group of Seven jigsaw puzzle last year.
Paper and Pinecones – Plain old kraft paper, pinecones, and feed sacks. Tied up with string.
Christmas Present Dioramas – THE wrapping gold standard. Create a multitude of scenes on top of wrapped boxes like this one or my other favourite, the skating pond in the forest, complete with ice rink.
At this point the only wrapping idea I can think of that would make someone choke is dipping the presents in ammonia. Which would be especially effective if wrapped in a that diaper.
Have a good weekend, good luck with your wrapping. And don't forget. It isn't prosecutable if you're killing them with kindness.