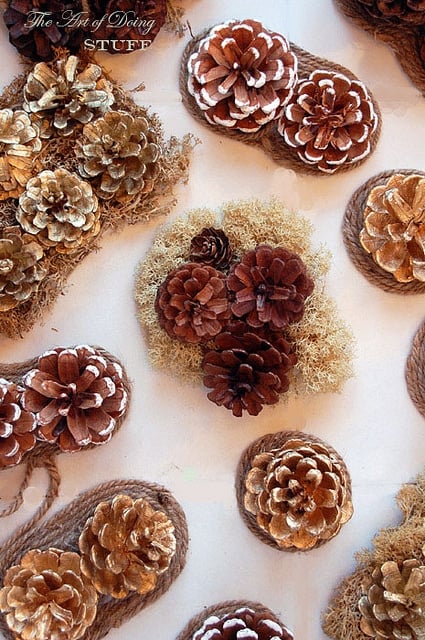 3 months ago I sat straight up in bed and said "Pinecone bows" out loud. It wasn't the weirdest thing I'd ever done in bed, but it was up there. I knew, like the time I apparently pushed the fella right out of bed, I would forget this in the morning. So I got out of bed, walked over to the desk and wrote down "Pinecone Bows" on an old Jumbo Video receipt. Yeah. That old. I also wrote down Push fella out of bed again.
I kept that little Jumbo Video receipt to remind me that when the time came (the time being Christmas) I should make some bows out of some hot glue, 4×6 index cards, twine and acorns. No, no. Pinecones.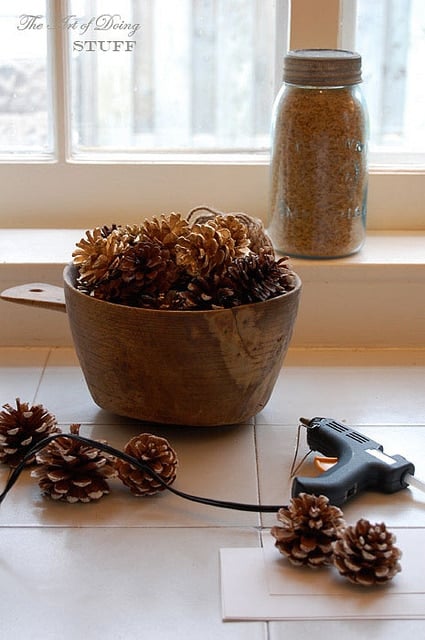 The pinecone bows are in keeping with the whole chicken/farmy Christmas theme I've got going. The rustic sort of, I live in the woods and have squirrels for pets kind of feeling.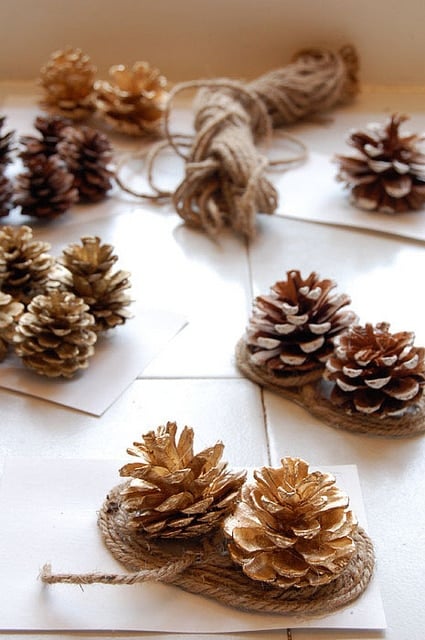 My original plan was just to hot glue pine cones onto index cards until they were in the shape of a bow.
But when I actually did that, I wasn't in love with it. It basically looked like pinecone poop. So I added a bit of reindeer moss here and there. Now it looked like pinecone poop with reindeer moss, which obviously is a huge improvement but still not acceptable. So … I continued screwing around with the pinecones and the twine.
I just kept gluing and twining and cutting until I came up with a design that worked.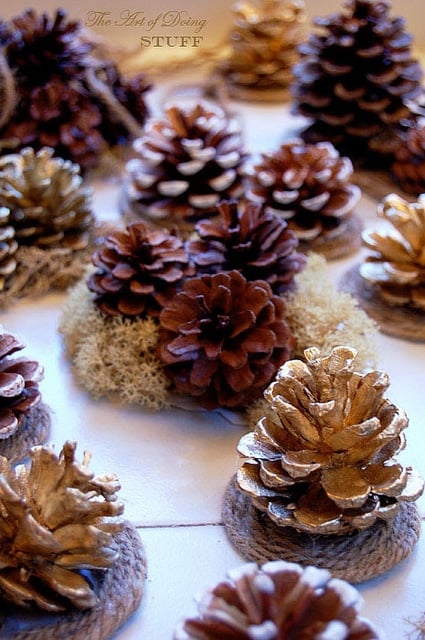 What ended up working the best was a design that combined rustic and a bit of modern. All you do is hot glue a pinecone or two onto an index card then glue twine around them to act like a frame. Cut away the leftover index card and you're done.
Like with hotdogs, if one is good, two is better.
I improved the original pinecone bow by just making it more natural looking. A few pinecones laying in a bed of moss. I picked this reindeer moss from a very remote and difficult to get to spot at the cottage, picked the bugs and twigs out, transported it home and then preserved it myself. I have no intention of giving this bow away. I'm either going to sit it on the windowsill or wear it as a hat on Christmas Eve.
In the next few days I'll be showing you how to complete these babies and the paper I'll be using for my presents. If you just can't WAIT, they'd look great as is, on plain old brown paper or white wrapping paper. So you can get going on that or … you can wait to see what I'll be using. Something … a little bit different. The idea came to me while waiting in line to get my drivers license renewed, where it's *much* more embarrassing to randomly scream things out
It just occurred to me … all the stuff used to make these bows are from the Dollar Store. Pinecones, hot glue sticks, twine and index cards. The reindeer moss isn't. We've been over that.