Which brings me to my next mess. I really didn't want to be staring at sawhorses all summer and winter long, so I knew I was going to box the entire base of the oven in with barnboard.
Which meant searching out some barnboard. There was no way I was going to pay for it when there are barns falling down all over the place. I put a call out on my Facebook page, which led to reader Erin from I Can Craft That directing me to a couple of towns over, where they were indeed taking down an old barn and giving away the wood.
Problem is, by the time I got there this is all that was left.
3 hours, 14 buckets of sweat and one trip to the hardware store for a screwdriver, crowbar and mallet later, I had a car filled with what I hoped was enough barnboard and posts to build my pizza oven base.
I need a truck. Like ... I reallyyyyy need a truck.
Even after I got it home and laid it out I wasn't convinced it was gonna be enough.
I was at least convinced that it was genuine, old barnboard. As evidenced by the big square nails.
So I laid out all of my materials, got rid of any boards that were too rotted or too short and started framing in the horrendous saw horses, which if you remember ... looked like this.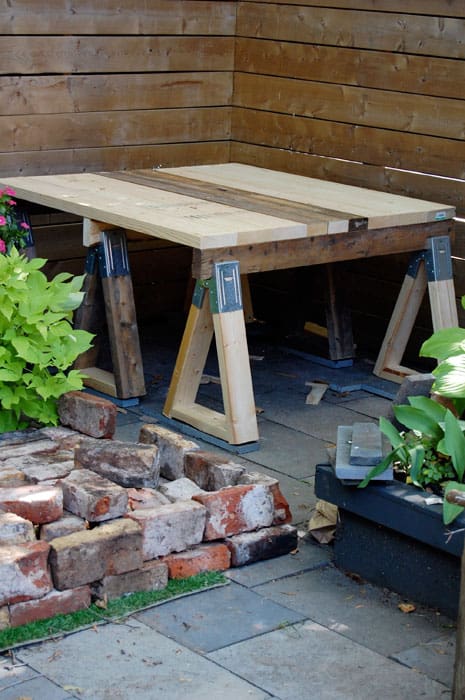 I wanted two things in my base. I wanted it to look nice and I wanted there to be a large working area so I could prep pizzas.
I started my barnboard base by framing all around the existing saw horses and adding another sawhorse to the right so I could extend out the top of the pizza oven area, creating my work space.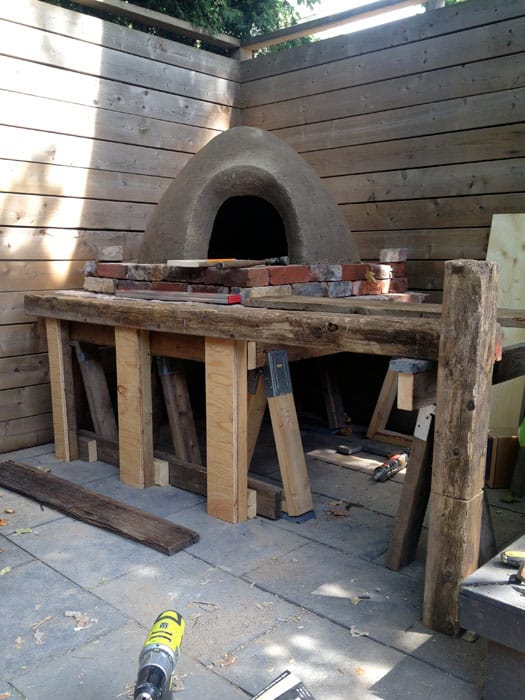 Since the barnboard is 100 years old or so it isn't what you'd call ... structurally sound. So the barnboard is just acting as the "pretty" and all of the parts of the frame and table were made with new wood and just covered up with the barnboard.
You can see in the picture below I've used 2" thick slabs of wood to form my work area and I've begun to frame it in with the antique posts from the barn.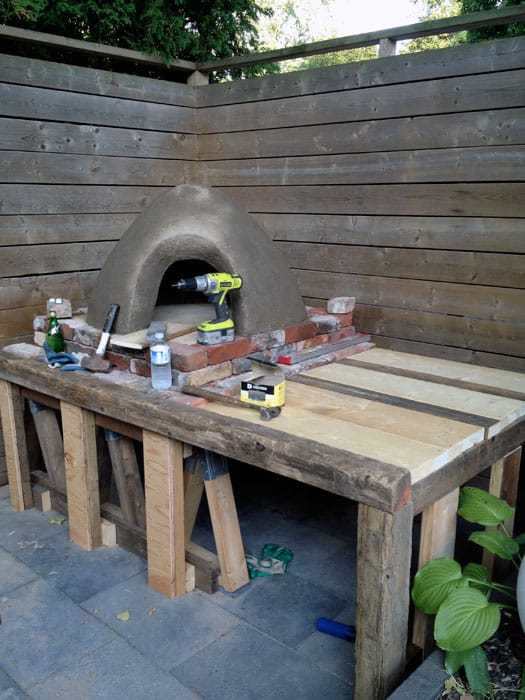 To attach everything I got fancy and used a jig.
And you can't have a barnboard base without adding actual barn doors can you? No. You really can't. You also really can't buy actual barndoor hardware because even if you're fabulously wealthy you would recognize that it's incredibly overpriced.
So you make your own. I made this hardware using flat metal I got from Rona which I bent with a vice and a hammer. The rollers inside are off of cheap pulleys I bought from Canadian Tire. To attach the pulleys to the metal, I just drilled a hole in the metal using a drill bit made specifically for metal.
And just like any suspense novel, the story ends here until the next chapter on Monday.
Sorry. I've run out of time. Who knew writing posts about pizza ovens was more difficult than building a pizza oven.
On Monday I'll have a slew of pictures of the completed oven and at least one (maybe two) videos of it in action. Then for the rest of you who don't care about making a pizza oven, seeing a pizza oven, eating pizza, speaking Italian, moving to Tuscany, and living off the land in a breezy farmhouse with long hair and flowing dresses ... things will get back to normal on Tuesday.
Have a good weekend!
Me.