I kind of left you hanging there with the whole sweet potato slips thing. Sorry about that but I was busy. I couldn't tell you what I was busy with, all I know is that "I was busy" is a good all around, cover your bases, excuse for pretty much anything. Plus … I am always busy. Everyone is. Even if you're just watching staring at your cat, you're still busy. You're busy staring at your cat.
I think I was busy avoiding doing my taxes. That's a kind of busy there's no escaping from. I washed my pencils, inspected my arm hair, and did all manner of incredibly important things. Anything that allows me to avoid doing my taxes is incredibly important.
So. That's my explanation as to why you haven't got your "How to Plant Sweet Potatoes" instructions yet. Don't worry about it though, because if you're around my zone (6) then you're still in the window of planting time.
Sweet Potatoes slips shouldn't be planted until the weather and soil are WARM. June 1st is the day I usually plant them, this year it wasn't until June 5th.
To add extra warmth to the soil you should put down black thermal plastic to help heat up the soil a couple of weeks prior to planting. Even if you can't get it down 2 weeks before planting, put it down whenever you can. Even if it's the day you plant. The black plastic helps keep down weeds, retain moisture as well as increases the temperature of the soil by 10 degrees. That's just enough degrees to increase your chances of growing great big sweet potatoes by 100%. That's obviously a percentage I made up to encourage you to put down the black plastic but trust me, you should do it. I'm 100% sure of it.
If you don't have access to "official black thermal mulch", just use a black garbage bag or two. Amazon even has biodegradable black plastic mulch for just $15, which is less than I paid for my regular black plastic mulch. And it's enough to last you for years of sweet potato growing.
I used 5 or 6 sweet potatoes to create my slips this year. I had NO idea how many slips this would produce but as it turns out it created 14 million. Maybe not quite but definitely over 100. Most of which I sold at my community garden sale, and 25 or so that I kept for myself.
I also ordered 12 sweet potato slips this winter from an online source in case my slips didn't work. So this year I'm planting the 12 I bought and the 25 or so that I grew myself.
Technically sweet potato slips don't even need roots on them to plant them. You can just snap them off the sweet potato and stick them in the ground. This slip has a couple of little roots but nothing impressive. Just make sure you water right after planting them.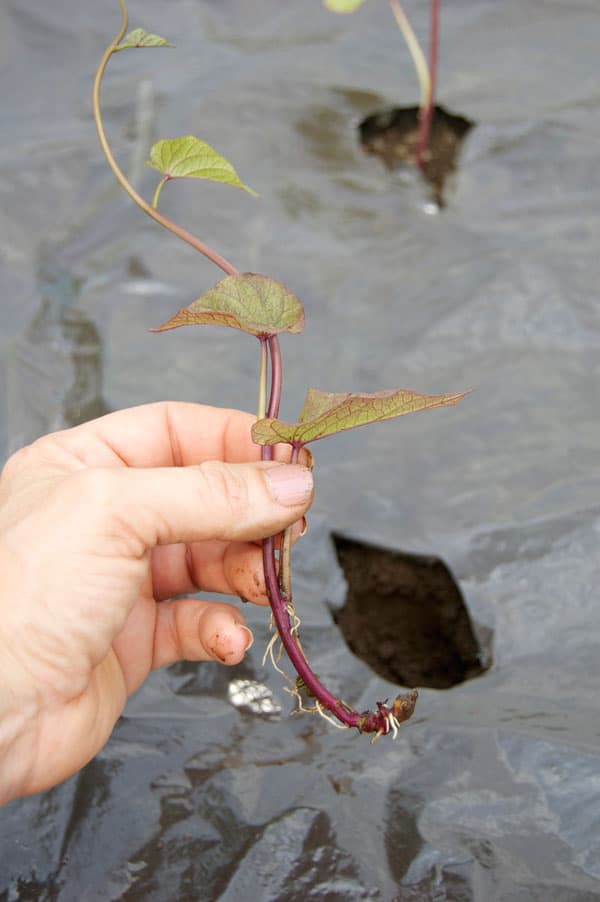 To plant them just cut a hole in your plastic, stick your finger in the soil and stick your slip in. Then pack the soil around the slip so it has contact with the dirt.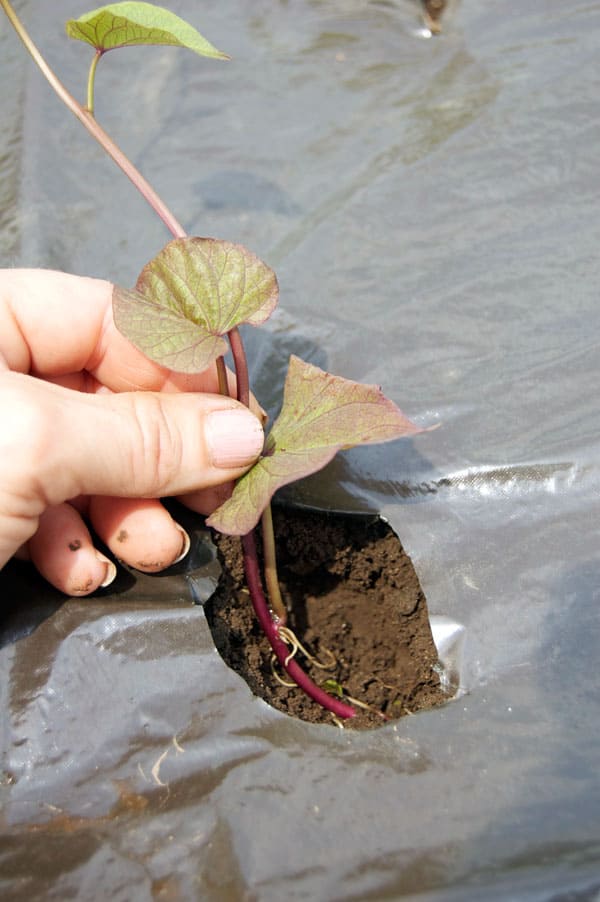 You can plant 1 sweet potato slip per square foot. My bed is 8′ long by 4′ wide, so I planted …. (I'm just getting out my calculator now) … 32 sweet potato slips. Generally speaking, you'll get 1lb of sweet potatoes per square foot, so this bed should yield 32 lbs of sweet potatoes.
This little thing in the photo above is one of the sweet potato slips I ordered through the mail. It's sad and thin looking but it'll eventually become huge so I'm not worried about it. This is how sweet potato slips always look when you order them in the mail.
On the other hand, this is one of the sweet potato slips I grew myself. Much healthier, much fuller and therefore much better. Also it was free which makes it the best. Chances, are they'll both end up the same size by the end of the year with the same amount and size of sweet potatoes though.
This on the other hand is an experiment of mine. After my sweet potato slips grow, I put them in water to root. Some of them were in water for 2 months! So I took 2 of them and potted them up to see if they would grow significantly more in soil than in water while I was waiting for the weather to warm up enough to plant them.
Yup. The potted ones grew 5x as big.
This shot gives you a better comparison between the sweet potato slip I grew in soil compared to the rooted slips I bought online. So clearly this one has a way better head start on the other ones. I'll check at the end of the year to see if there's any appreciable difference in the size of crop between them.
[print_this]How to Plant Sweet Potatoes
1. Lay black thermal mulch (plastic) on area for planting 2 weeks before setting out.
2. Cut a circle in the plastic and push one slip in. Make sure the slip has contact with soil all around.
3. Plant 1 slip per square foot.
4. Harvest sweet potatoes before the first frost. Once the weather cools down they won't grow anyway.
5. Cure you sweet potatoes according to the instructions in this post for optimum sweetness.[/print_this]
I'm also trying sweet potatoes in big black containers this year as an experiment for an article for Lee Valley (which I write for).
So I'll let you know how that goes. Probably 2 weeks too late, probably because I'm busy, probably because I'm avoiding something.
[shareaholic app="share_buttons" id="5342563″]