Last winter I was complaining to my sister Fish Pedicure about how I had too much to do and didn't have any idea how I was going get it all done.
My well thought out solution, was to sit in the corner and stare at a dead bug.
Vacuuming was one of the things on my to do list by the way.
She scoffed and said, all you need is for someone else to do your website photos for you. That would free up a lot of your time. As long as whoever's taking the pictures has chipped, black nail polish the readers will never know the difference.
Fish pedicure has a great sense of humour.  She wasn't using it in this particular moment.  She was quite serious.   And quite right.  Not about someone else taking my photos, that's just stupid, but about my chipped black nailpolish.
You know how taking pictures of her own ass is Kim Kardashian's trademark?  Chipped, black nails are kind of mine.  Her trademark gets her millions of Twitter followers, mine gets me offers of change and a warm place to sleep from random strangers.  Suck on that Kim.
Now that I've addressed my problem, I can address the product.
Sally Hansen's Miracle Gel Nailpolish.  A product that claims to last for 2 weeks, just like a manicurist applied gel would.
How could I say no?
So I shelled out $11.99 for a bottle of topcoat and $11.99 for a bottle of polish and started the experiment.
I painted different nails with different combinations of the Sally Hansen Miracle gel polish, regular polish and the Sally Hansen Miracle gel top coat.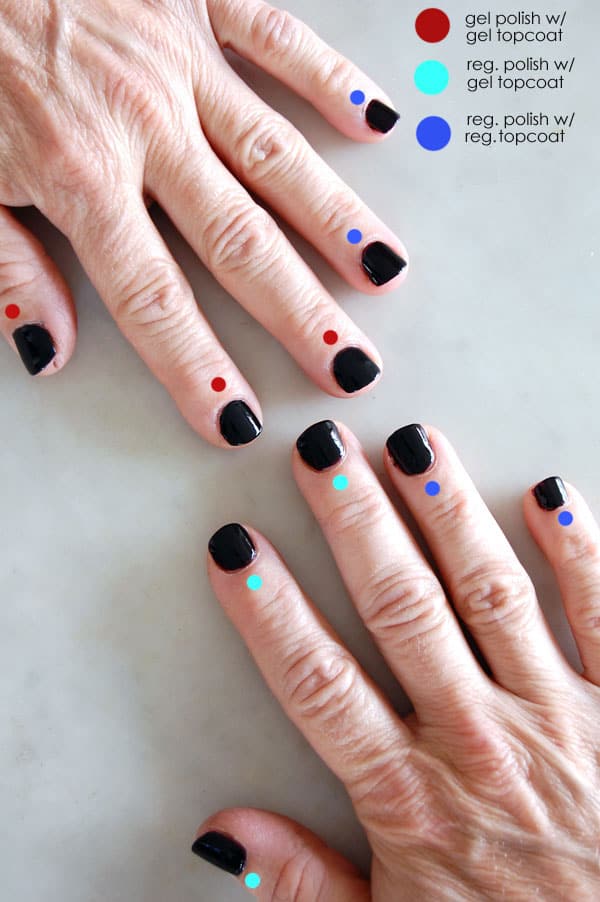 Want more STUFF like this?
Get my posts emailed to you daily.
In case you can't be bothered to analyze the nail graph, the middle, index and thumb nail of my left hand were Miracle gel polish and Miracle gel topcoat.  Those are the ones to watch.
The actual Miracle Gel Nail polish comes in all kinds of colours, but since Black is what I wear most in the winter black is what I got. Also the bottle of top coat is black, but the top coat itself is clear like regular top coat.
I decided I needed to divide my fingers up into sections. One section would have Miracle gel polish and Miracle gel topcoat. Another section would have regular nail polish with the gel topcoat. And the final sections would have regular nail polish and regular topcoat.
I would wear this nail polish through my regular daily activities (including but not limited to baking, fixing large appliances, digging up potatoes, cleaning up cat vomit, scratching mystery things off the floor and giving bad drivers the finger)
After a few days things were looking iffy.  This is the hand with the Miracle gel polish and Miracle gel top coat on the thumb, index and middle finger.  You can see here how dull the top coat is.  It just isn't nice and shiny. And it wasn't even when it was first put on.  Plus … after just 3 days slight chipping at the tips and base is starting.
The chances of this gel polish lasting for 2 weeks as advertised is looking slim. I'm already thinking the "miracle" portion of the label should probably be scratched out.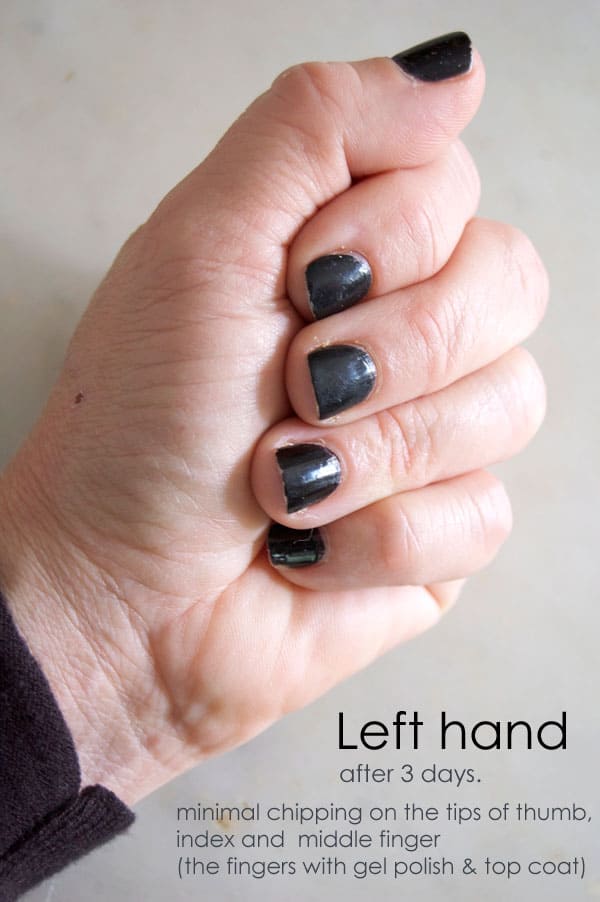 However.  The Miracle gel polish and Miracle gel top coat was holding up much better than my other hand.  The right hand has regular polish and Miracle gel top coat on the index, middle finger and thumb.  They're already a mess.
I'm quite used to walking around with fingernails that look like a disaster.  It's kind of my way and I'm O.K. with it.  The reason is that my nails become a mess so quickly.  Within days after doing them they look like I joined a chain gang immediately after digging myself out of a grave.
But this.  THIS was bad.  After leaving black nailpolish on for 2 weeks this is how they looked.
The top  hand is the hand with the gel polish and gel topcoat on the index, middle finger and thumb. Clearly it doesn't look as good as new after 2 weeks. The ring finger and pinkie are regular nail polish with regular top coat.
The bottom hand is the hand with the regular polish and gel topcoat on the index, middle finger and thumb.  It's even worse.
Want a closer look at the beauty of the Sally Hansen gel polish and top coat that's guaranteed to look good for 2 weeks?
Well here it is after 2 weeks.
And here is the hand with the regular polish and the Sally Hansen gel topcoat.  It can only be described as a shitshow.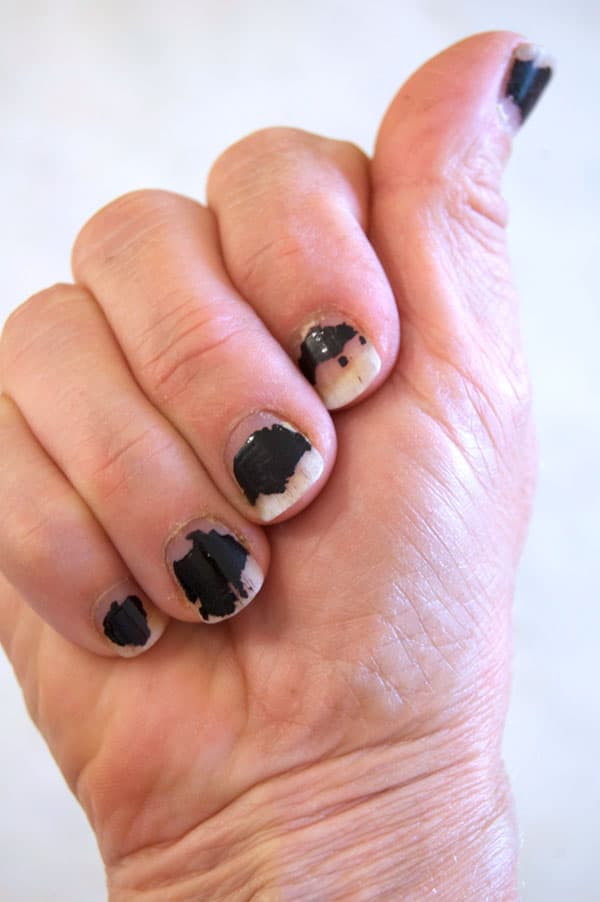 There are two things the Sally Hansen polish has going for it.
1) It does hold up better than regular polish.
2) For some reason while I was removing it, the nail polish remover didn't make it bleed and smear all over my fingers and nail beds. It removed fairly cleanly.
Other than that?  It was horrible.  It was a complete disappointment.
I know that I'm harder on my nails than your average cattle rancher but I was still hoping for some kind of good if not great result.
I didn't get it.  I got nails that looked like they belonged on a common crack whore as opposed to a higher quality crack whore.
Sally Hansen Miracle Gel Polish
rates:
1 cleaver out of 4.
The only miracle here was the fact that in the full 2 weeks nobody asked me if I needed any cardboard to help keep the rain out while I slept in my hovel under the bridge.