All products I review are paid for and purchased by me. I am not compensated by the manufacturer in any way and in fact doubt the manufacturer even knows who the hell I am.
Product: Fitbit Force activity and sleep tracker.

What does it do?: Tracks your activity throughout the day including how many steps you've taken, how many flights of stairs you've climbed, how many calories you've burned, how long you've been "very active", and how well you sleep.
Version tested: Fitbit Force, size small – black.
Cost:$129 + tax (Canadian)
I've been interested in activity trackers for a while, but most of the ones I'd seen were either MASSIVE watches, or they were tiny little charms you hung off your clothing. I wasn't so interested in them that I would have considered either option. So I forgot about them.
And started eating chips. And bacon wraps, cookies, poppycock, dip, chips, bacon wraps, cheese and cured meats. It was the holiday season. No use for a fitness tracker anyway. I could track my fitness all on my own. Steps taken in a day? 4. Calories burned? Way less than calories eaten. See? I'm a regular computer.
Some time before Christmas I started noticing the Fitbit Force. I'd say it was around the same time I went to the emergency room because of the sudden appearance of soft, gelatinous, tube shaped tumours on either side of my lower back.
I tried to order the Fitbit Force as a Christmas present for myself but it was sold out everywhere.
By the first week of January it was back in stock and I ordered one for myself and my tumours.
The Fitbit Force comes in 2 sizes. Small and Large. It comes in 2 colours. Black and a Gray/Blue. Generally speaking if you're a woman you'll wear the small and if you're a man, the large.
When you open the box, you'll find another box that holds 2 important components for the Fitbit Force.
The tracker comes with a charging cord and a little plug that goes into a USB port on your computer. This little plug wirelessly takes the information from your tracker and puts it on the Fitbit software you download onto your computer. The software lets you keep track of all of your activity information.
You can also get the app for your iPhone which is even more user friendly than the desktop version.
The unit itself is smaller than I thought it was going to be. Which is good. I didn't want a huge clunky thing on my wrist all day long. It looks much bigger on the Fitbit website and in other photos I've seen of it.
It measures 3/4″ across the face, and is 9″ from end to end.
The tracker does up with two rubber pegs that squish into holes on the other side of the wristband.
This watch only gets a rating of 3 stars out of 5 on Amazon with almost all of the low ratings and complaints about the strap. A lot of people said they loved the tracker but gave it low ratings because they either a) lost it or b) worried about losing it.
There isn't a real clasp to secure the band together which is a real problem. I was willing to take the risk because I automatically assume other people are stupid and don't know how to do up a watch.
I once met a person that thought rainbows were something magical that had no explanation … so a few people not knowing how to do up a watch wasn't impossible.
The two rubber nubs are a very tight fit in the holes and once I clicked it on it felt very secure. I pulled and flicked at it quite a bit and it stayed put so I was satisfied for the moment. People are so stupi… Oh LOOK! A rainbow!
The tracker feels good on but it got some getting used to. Like a lot of people with a smart phone, I haven't worn a watch in a couple of years so having something on my arm other than a suckling cat was a bit of a change.
The face is the thickest part of the tracker because it has to hold the battery and the actual computer part of the gadget. The thing that magically tells you how many steps you've taken and whether or not you woke up in the night! I know. It's a magical watch. More on the super-exciting world of the sleep monitor later.
Because of the thickness of the face and the fact that it's a straight, sharpish edge, it gets ends up getting caught on my shirt sleeves when I'm either pulling on or pulling off a shirt. This angers me.
The moment I put it on I was very excited to see that I had already walked 12,489 steps but quickly realized it was just a sticker and in fact I had walked no steps.
As soon as you get your watch you simply go to www.fitbit.com/setup. You're instructed to download the software for whichever Fitbit product it is you're setting up.
In this case it was The Force, the latest in the Fitbit activity tracker collection.
Once you've downloaded the software you install it on your computer.
The software then automatically walks you through the steps to connecting your Fitbit Force to your software.
It only takes a few minutes and is very straightforward.
Then all you have to do is wear your fitness tracker like you would a watch. It does have a watch by the way.
The Fitbit Force is fully programmable in terms of what you would like it to track and what you would like the watch to show you. If you want to know how many steps you've taken, but don't care about how many stairs you've climbed, you can eliminate the stair climbing portion of the display through the software. The benefit to this would be you don't have as many things to scroll through on your tracker.
You read your tracker by pressing a very small button on the side of the face. Doing so scrolls you through the time, steps taken, distance travelled, calories burned, stairs climbed, and minutes spent "very active" (running, walking very quickly, that sort of thing). There are also options for whether you'd like your measurements in imperial or metric. Being a Canadian eh, once I finally figured out how to switch to kilometres I switched to that.
All the data is wirelessly sent to your computer (or iPhone if you so choose) so you can review it.
The interface is fairly easy to use and does give you all the stats you need at a glance. Again, I found the iPhone app easier to use than the computer version of the software.


When I first put the tracker on I was checking how many steps I'd taken and calories I'd burned every 30 seconds or so. It was just so fun! I really did need to lose 5 pounds of bacon wraps off my back so I programmed that into the software.
You can tell it what you weigh, what you WANT to weigh and it calculates how many calories you need to eat per day to get you to that weight. You can set it to get you there quickly, or get you there slowly. It adjusts the calories automatically depending on how you want to do it.
The MAJOR PROBLEM is the fact that you have to enter all of the foods you ate throughout the day yourself in the software. All you really have to do is type in "apple" and a list of apples, and things made with apples comes up. You select what you ate and it automatically adds the calories and totals them.
80% of the time I'm too lazy to record the foods I ate. I understand the irony.
You can also use the software to add in other activities you did during the day to burn calories. Everything from painting your new kitchen (!!!) to digging a hole to swimming a mile. It's very easy. Much easier than logging everything you shoved in your mouth in the day. You just type in the activity and how long you did it for and Fitbit automatically tells you how many calories you burned doing that activity.
ADDITIONAL FUN!
Do you ever wake up and think UCH! I was up all night. Well the Fitbit Force will track your sleep. At least that's what they say it does. And it does do something similar to that. It senses your movements to determine whether you're asleep, restless or awake.
Before going to sleep if you press and hold the button on the side of the face the Fitbit Force will track all of your movements in the night. It will tell you how long it took you to fall asleep, how many times you woke up in the night, and how many times you were restless. As soon as you wake up you press the button again and it stops recording.
The software then lets you know everything including the exact times you were awake, how long it took you to fall asleep and how long you appeared to be awake for. It then subtracts that time from how long you were in bed to let you know how many hours of sleep you actually got.
As if that weren't enough, you can also set an alarm on the tracker to gently wake you up by vibrating on your wrist. I LOVE this feature. I hate the sound of an alarm clock and sometimes music just doesn't wake me up. I'm the ultimate slumberer once I actually get to bed.
Note: The Fitbit Force is water resistant but NOT waterproof.
UPCOMING FEATURES!
As of February 2014 you'll be able to download a new version of the Fitbit Force software that enables caller ID on the tracker. You link it to your iPhone and you can see who's calling you on your iPhone. If this feature goes over well with users then Fitbit will add, text messages and emails.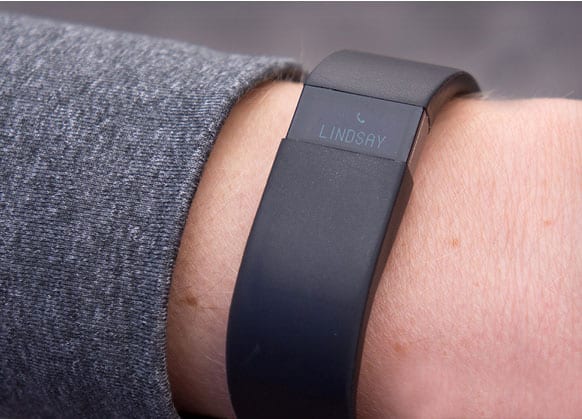 THE RESULTS
I have to apologize for such a long review but I wanted to cover all the questions I had prior to buying it.
I wasn't sure I was going to really use the Fitbit Force, but because it's on my arm all day and all night it isn't even a choice. I'm not sure if it would actually help anyone lose weight but it does make you way more aware of how much or how little you've moved in a given day.
Which is really what it's meant to do. It's meant to monitor your activity.
You can set goals for yourself like how many steps you want to take in a day. Statistically anything less than 5,000 steps a day means you live a sedentary lifestyle. Moving 10,000 steps a day is good. So even if you look at the tracker on that most basic level, step counting, it's worth it. It does add incentive for you to go for a walk, park further away or take the stairs because you can so immediately see the results on the tracker. There's no guess work.
And that kind of immediate visual reinforcement is a strong motivator. Not as strong as seeing yourself in a bathing suit under the fluorescent lighting of a department store … but not as startling either.
Finally, remember the whole watch falling off thing from the Amazon reviews? My watch fell off. I got it caught on the edge of my stove grate and pulled really hard. The watch came completely undone. It was a little bit fluke and a little bit design flaw. Plus I was distracted by a magical rainbow.
Would I recommend it? Absolutely.
If you want your own, you can buy the Fitbit Force here for a cost of $129.