I swear to you no one has a more difficult time writing posts about soup than me. I get soup block.
Which doesn't really make much sense since I love soup so much. If someone were to come up to me in the grocery store and ask me my thoughts on soup I could probably go on for the entire duration of their grocery shop, hop in the car with them, go get gas, pick the kids up from school, help put the groceries away, make dinner, watch a little tv, hop into bed with them and still have many more things to say about soup.
But writing a post on soup? I got nothin'. Nothing more eloquent than …
I like soup. Soup is good.
And this soup happens to be one of my favourite fall/winter time soups. The original recipe comes from the show Masterchef Austrlia.
I like Masterchef. Masterchef is good.
Especially the Australian version which has more focus on cooking and developing chefs than the swearing and backstabbing you might see in the American version. Or in my kitchen.
The reason it's called Pumpkin Soup in fact, is because it's an Australian recipe where they refer to squash as pumpkins. If you want to make this recipe just use the sweetest squash you can find. I use the Kabocha squash that I grow, but Delicata would be fantastic as well. Even Butternut or Acorn squash would work, you just may need to add a tiny bit more sugar.
The premise of this recipe is simple. Cut up all of your ingredients and put them on a baking sheet or in a roasting pan.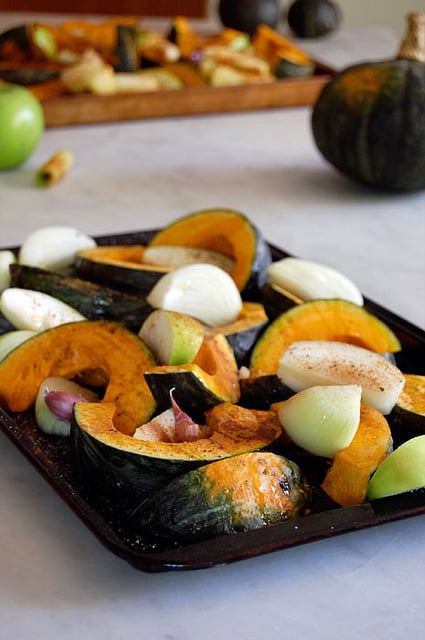 Roast them in the oven until … roasted.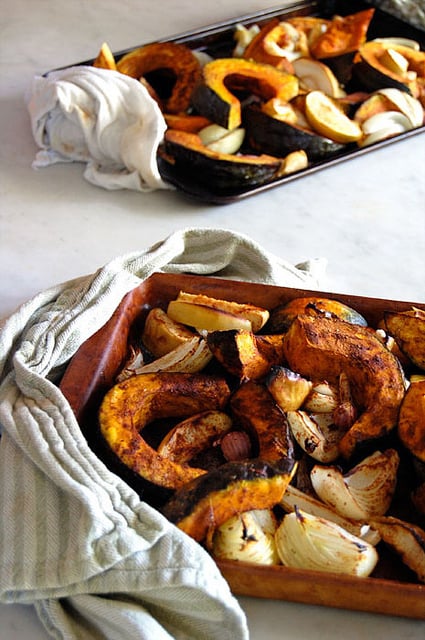 Transfer the roasted vegetables to a pot of broth, simmer and blend.
SOUP!
If you're not going to be bothered to make the topping then, don't be bothered to make the soup. Because the garnish is bacon and pumpkin seeds caramelized in brown sugar.
Without the garnish this soup is just your basic incredible soup. WITH the garnish it's a one way ticket to restaurant quality euphoria.
Print Recipe
Pumpkin Soup
Pumpkin Soup is perfect for fall and winter. Every smooth, warm spoonful topped with the crunch of maple pumpkin seeds, bacon and sage.
Ingredients
2.5

pounds

of sweet squash

kabocha, delicata, butternut or acorn

1

onion

peeled and cut into wedges

1

Granny Smith apple

cored and cut into wedges

3

garlic cloves

whole and unpeeled

1

tsp.

cinnamon

1/2

tsp.

nutmeg

6-8

cups

chicken broth

2

heaping tablespoons brown sugar

Ingredients

2

Tbsp.

olive oil

1

bunch sage leaves

3

slices

of bacon

cut into batons width wise

each "baton" is width of bacon x slightly less than 1/4"

1/2

cup

of pumpkin seeds

(pepitas)

3

Tbsp.

brown sugar
Instructions
Preheat oven to 350 f (180 c)

Put squash, onion, apple, garlic cloves onto roasting pan. Sprinkle with cinnamon, nutmeg, a generals dosing of salt and pepper.

Roast in oven until vegetables are cooked and soft. Approximately 30 minutes)

Once cool enough to handle, remove squash from skin and squeeze out garlic.

Add everything to a soup pot with 6 cups of chicken broth. Simmer for 15 minutes.

Puree in blender or with stick blender. Add brown sugar to taste. Add more broth if needed to thin soup and reheat.

Heat 2-3 Tbsps olive oil in frying pan over medium high heat.

Add sage leaves and fry until crispy but not darkened. Remove and drain on paper towel.

Add bacon batons to pan and fry until golden brown and starting to get crispy. Add pumpkin seeds and cook another minute or two.

Add brown sugar and continue to stir until brown sugar has melted and caramelized over bacon and seeds.

Serve soup in bowls and top with a tablespoon of bacon and pumpkin seed mixture, and one or two fried sage leaves.
It's an easy, easy recipe that has HUGE taste. Which is exactly how I like my soups. Just ask me in the grocery store. I'll tell you all about it.