Thanksgiving has come and gone in Canada but I am reminded of it daily during the morning disagreement between my jeans and my thighs.
If I was so inclined I could shut my jeans up by taking up some form of organized exercise activity where someone yells at you for an hour and you end up sweating, crying and complaining about the taste of blood in your throat afterwards.
But I can't be bothered. I figure a few more weeks of vigorous fighting to get my skinny jeans on and off and those few pounds will melt away. Who knew your heels could get fat.
That's the problem with being the one to host a big dinner like Thanksgiving or Christmas. Leftovers. Lots and lots of leftovers. Mashed potatoes, pumpkin pie, whipped cream, gravy, stuffing, gravy, polish sausage, cheese, crackers, gravy.
I host Thanksgiving every year but this is the first year the leftovers decided to make a permanent home of my ass. Which is a spot I normally reserve for the coming shortbread cookies.
Although this wasn't the first year I hosted Thanksgiving dinner for my family it *is* the first year we needed a "kids table". With 20 people and a dining room built for 15 at BEST I had to think of where to put the kids who are 10, 6, 4 and 2. That's their ages, not their height in centimetres.
I decided on putting them in the front hall because there's a table there already and if someone stretched their heads a bit we could actually see that they were behaving and not picking their noses or flashing gang signs at each other.
The biggest challenge I had was figuring out a way to KEEP them at their designated kids table. With a complete disinterest in actually eating dinner and the rest of the party in the room next door it wasn't going to be easy.
I ended up making each of them a small chalkboard and setting it at their assigned seats along with a piece of chalk.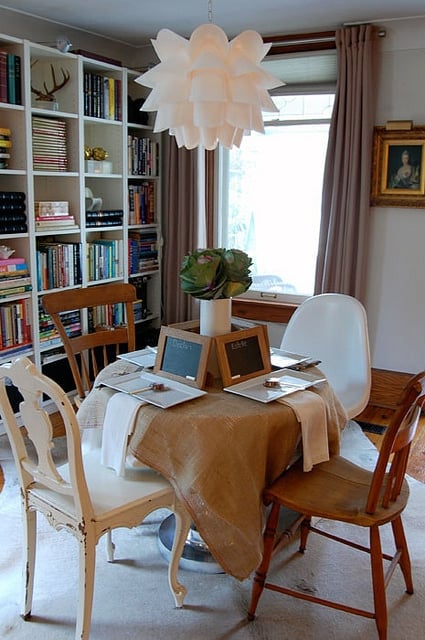 Much to my surprise they not only stayed at their table, they actually played with the chalkboard. If you didn't know, kids are famous for not playing with things they're supposed to and TOTALLY playing with things they aren't. Like knives and extremely well hidden personal hygiene products.
The chalkboards took about 10 minutes to make and cost a total of $2.50 each.
Materials
Cheap 5″ x 7″ picture frame
Small, cheap, chalkboard (got mine at Dollar Store)
or
Can of Chalkboard Paint and foam brush (had some in the basement)
Scissors or Box Cutter
1. Remove the back and glass from the frame. Reserve the glass for later use.
2. If your chalkboard has framing or anything around it, remove that so you're left with plain chalkboard. I mention you need cheap chalkboard. The reason for that is it's easier to cut to size. The cheap stuff is just painted masonite which you can cut with scissors or a box cutter.

Note: When you're buying your frame if you notice the back has a stand AND hooks,
it's possible that the hooks are attached with rivets that will go all the way through to the other side.
These types of back aren't appropriate for painting with chalkboard paint
because your chalkboard will have little holes in the front of it. They're fine to use if you plan on cutting and inserting your own chalkboard.
Frames like this, with no hooks or rivets that go all the way through to the front
are fine for painting, but they may have a couple of bumps at the front. Don't worry about them.
3. Paint the stands that came with your frames with 1 coat of chalkboard paint. When painting with chalkboard paint give it one coat and then leave it alone. Don't try to constantly try to even out or brush over areas you've already painting. Chalkboard paint doesn't like it.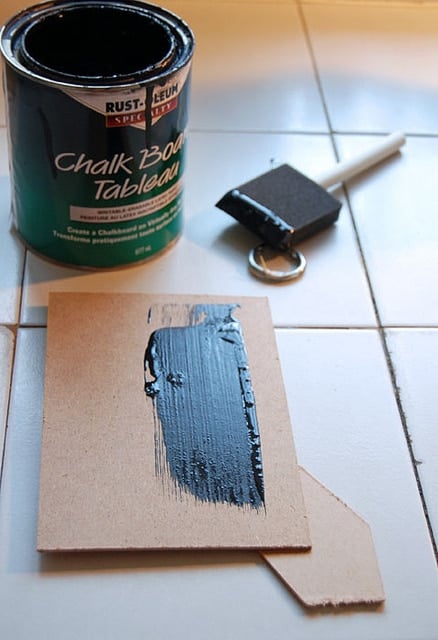 4. If you're using premade chalkboard take your frame back and trace the shape onto your chalkboard, then cut it out with scissors or a Box Cutter. Don't try to score and snap the chalkboard. You'll end up ripping the top layer and ruining your chalkboard. Make sure you cut right through it. Be very careful when using a Box Cutter and never cut so you're pulling the blade towards yourself or your fingers.


5. Place your chalkboard back in the frame then "season" your chalkboard by rubbing the side of a piece of chalk all over it. Coat the board really well and then brush the chalk off. This gets chalk into the small pores of the surface and conditions it. If you *don't* do this, when you write on the chalkboard it won't erase completely and you'll be left with a ghost like image of whatever you drew on it. A lot of people think their chalkboards are cheap or defective when really they just haven't been seasoned properly.
And you're done. If at the end of Thanksgiving, Christmas or whatever occasion you give these to the kids they've drawn something brilliant, you can take the glass you set aside, put it back in the frame, and the drawing will be protected and ready to display forever and ever.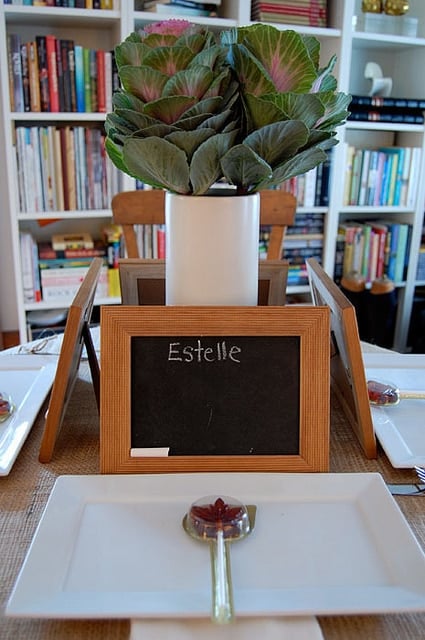 Now if you'll excuse me I have a pair of jeans that need a good talking to and a pair of thighs that need the same.