So you want to grow you own butterfly. In a month. From scratch.
O.K. I can help you with that.
You'll need a few things and a bit of information. If you haven't read "How to Raise a Monarch Butterfly Part 1" yet, do that first.
Things you need to make a home for your Monarch:
1. Any kind of clear glass bowl or vase.
2. 2 way tape (optional)
3. Any kind of screen to cover the bowl (something like a splatter screen for cooking or a piece of windowscreen.)
CUT A PIECE OF SCREEN TO FIT OVER THE OPENING OF YOUR BOWL.
RUN SOME 2 WAY TAPE AROUND THE RIM OF THE BOWL AND STICK THE SCREEN TO IT.
(this isn't mandatory but the baby caterpillars are so small they can wiggle right out from between the screen and the glass if it isn't stuck down)
4. A Monarch Egg.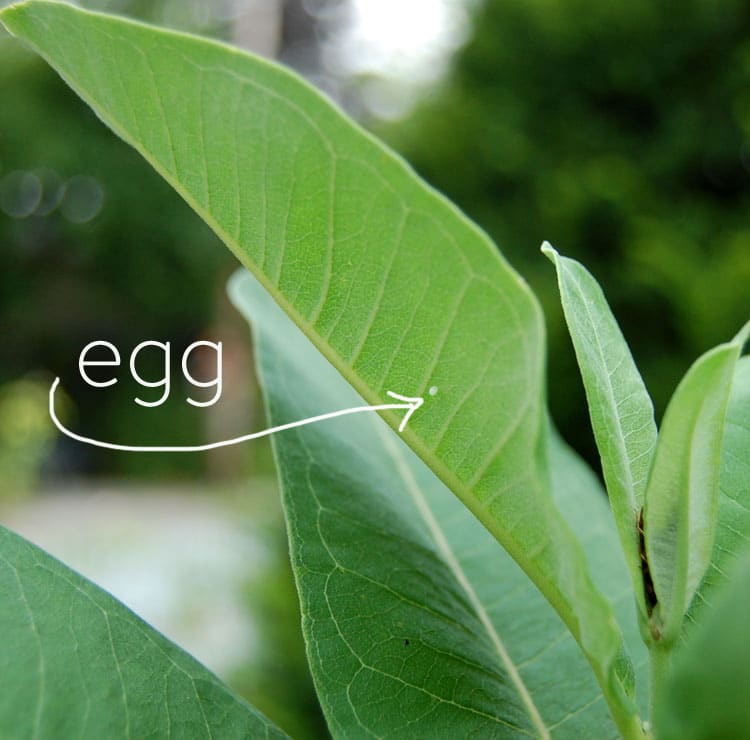 You can find Monarch caterpillar eggs on milkweed plants. There are different varieties of milkweed and what you find in your area of the world might look different than my milkweed that you see in this post.
The Monarch butterfly lays her eggs on the underside of the milkweed leaves so that's where to look for them. They're TINY.
You will also need a supply of Milkweed. Monarchs only lay their eggs on Milkweed. This is because Monarch caterpillars only eat Milkweed. Something in it makes the caterpillar (and later the butterfly) poisonous to most of their predators. Genius, eh? (or for my American friends "Genius, huh?")
If you don't have any milkweed in your yard, go hunting around in the woods and side of the road. Cut some and keep it in a vase at home. Remember though, caterpillars eat A LOT when they get big so you'll need to be able to replenish your milkweed every few days for a 2 week period. If you can't do this ... don't try to grow a Monarch. It'll croak on you. And you will be a murderer.
O.K., now that you have a home and food source for your Monarch all you need is the egg.
Look on the underside of milkweed leaves for an egg. They usually lay their eggs on the youngest, top leaves on the plant.
It's a butterfly egg, so it's stinkin' small. Watch for a white, egg shaped blob.
When you find a leaf with an egg, pinch the leaf off and bring it inside. Keep the stem of the leaf in water until the egg hatches so the leaf doesn't dry up. If the leaf dries up, the egg will too. (more information tomorrow on how to tell when your egg is about to hatch)
Up close, under a magnifying glass it looks like this. It will be white. If it looks dark yellow, the egg probably isn't viable.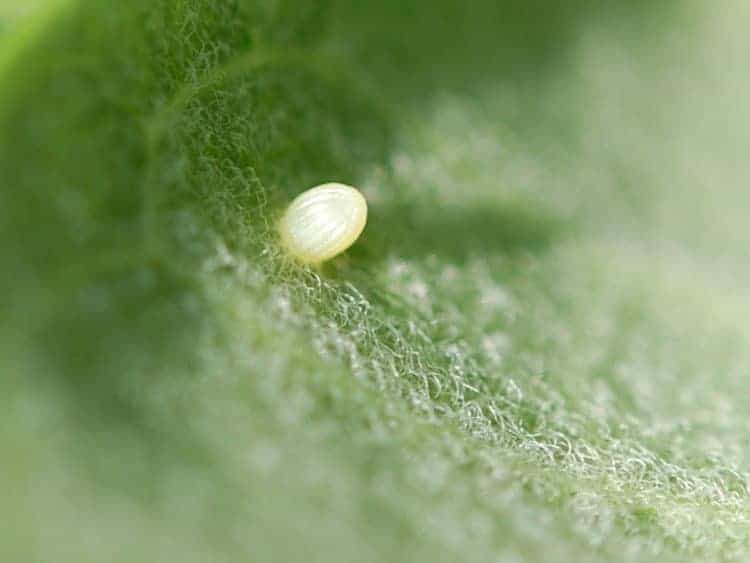 You can also keep your eye out for an already hatched caterpillar. These are harder to find because the tiny baby ones are usually eaten by earwigs, birds or other bugs.
2-3 day old caterpillar in wild
This is partly why I raise Monarchs. Take this into consideration ... of the thousands of monarch eggs that have been laid on my milkweed over the years, I have never once seen a Monarch caterpillar mature into a butterfly outside. Ever. Only 2-3% of Monarchs ever make it to maturity in the wild.
So you have a better idea of what you're looking for, here's a quick video of a Monarch butterfly laying its eggs in my yard.
Coming up tomorrow, what to expect when you're expecting in Part III. The first two weeks of your caterpillar's life.
→Follow me on Instagram where I often make a fool of myself←