In 2014 I interviewed Art of Doing Stuff reader Laura Rogers, one half of the harmonizing duo The Secret Sisters. Since then, they've continued to tour the world and were just nominated for a Grammy Award for Best Folk Album. Congratulations Laura!
You can buy their Grammy nominated "You Don't Own Me Anymore" here.
Reader Profile:
Laura Rogers, Singer.
Laura Rogers has been reading my blog for a long time now. Reading and commenting.
She's one of us. You know how I'm pretend country, living on Green Fakers? Well she's honest to God's country. An Alabama girl living not only her dream life but the dream life of a lot of people.
Read on to learn about The Art of Doing Stuff reader, Laura Rogers and make sure you read to the very end.
1. What is your name and age? You don't have to tell your age if you don't wanna. No big whoop.
My name is Laura Rogers, and I was born in 1986 (but I have the habits of a 75 year old).
2. Where do you live?
I live outside of Muscle Shoals, Alabama (my little homestead is called Happy Valley), and on a tour bus when I'm working.
3. What is your occupation and tell me about how you became what you are.
I am a singer, by trade, and spend most of my time either playing shows or writing and recording music.
I am one half of the alt-country music duo known as The Secret Sisters, the other half being my younger sister, Lydia.
We grew up in a big family whose favorite pastime was bluegrass and gospel music. We spent most of our childhood attending bluegrass festivals with our dad, singing in church, or sitting around singing and playing with our extended family. We never really planned to be professional musicians once we grew up, but in 2009, at an open audition in Nashville, we were "discovered."
We recorded and released our first album, "The Secret Sisters," in 2010, and hit the road touring in the US, Canada, Australia, the UK and Europe. We then released our second album, "Put Your Needle Down," in April of this year, and have spent the last few months touring across the country, playing shows in most of the major cities and seeing parts of the USA that we've never seen before. Our music is hard to categorize; some call it Americana, others call it country, we call it Southern. It's a diverse mix of gospel, country, roots rock and roll, and bluegrass. We are deeply rooted in our Alabama heritage, and have found that most of our music is heavily influenced by the artists and writers who have come before us. When you listen to our music, you can expect two part, sibling harmony…it's kind of our "thing."
4. When you're on tour what do you do when you're not actually performing?
Touring is fun because there is always something new to discover. We typically spend our free time exploring whatever city we're in for the day. We like to do research beforehand to try to figure out what is a must-see in each city. Trying new restaurants in those towns is also a fun adventure. Because we spend so much time on the highway, we try to stretch our legs and get moving once we're stationary, and throwing around a frisbee has become a good outlet for our energy. My favorite recent experience is swimming in a freezing cold river in Missoula, Montana with our bandmates, surrounded by mountains!
5. What do you miss the most when you're on tour.
I'm a diehard animal lover, especially dogs. I have a dog named Annie Ray that I adopted from a shelter last summer, and being away from her is really tough. She's always the first "person" I want to see when I get back, and I'm always brainstorming about how to take her on the road with me. Aside from her, we always look forward to being back with our family. I also love being home and getting to do "normal people things," like buying groceries and cooking dinner, gardening, not putting on a stitch of makeup, not wearing high heels…that sort of thing. I bought the house that belonged to my maternal grandparents a few years back, and I feel so comfortable and safe there, so it's always nice to get some solitude in the country, just me and my furry children!
Update: Laura now fosters a tanglement of dogs at any one time and helps to find forever homes for them.
from left to right:
Willie Nelson, Jojo, Annie Ray
6. What do you love the most about coming home?
I love getting away from hustle and bustle. Being on the road can be so hectic, and usually when I'm home, things are calm and I can breathe and regroup. I love reuniting with my big family and gathering around a meal together…there is NOTHING like Southern grandmother food. It's also so important to come back home and get a reminder of who we are as human beings. We don't ever want to lose sight of our values and integrity, and coming back to our little town always keeps things in perspective. I'm dating one of my best friends since childhood, and spending time with him is always high on my to-do list.
Update: They got married!
2019 Update: They had a baby!
Want more STUFF like this?
Get my posts emailed to you daily.
7. What do you love most about being on tour?
The very best part of touring is the performance. That's the moment that requires all the practice and preparation, and everything you do culminates in what happens on the stage. We love that moment with a good crowd, when we can play our songs, tell our stories, and joke back and forth with the crowd. We have such devoted, kindhearted fans all over the place, and hearing from them and getting their feedback about our shows and recordings means so much to us. As long as we are making folks happy with our music, we're doing the right thing, and the hard work is worth it.
8. Enough about all this insignificant stuff. How long have you been reading The Art of Doing Stuff?!
I stumbled upon the Art of Doing Stuff nearly 4 years ago! Wow! I remember the day I found the site…I thought it was so great to see a strong, confident woman who tackled any task or idea with enthusiasm, not to mention a very humorous delivery of her endeavors. And so I binged on it, and read every single entry the first day. Then it hit me that Karen only posts once a day, and since then I've had to take it a day at a time. There are some nights I will hold off on going to bed because I'm waiting on that day's post to go up. And when Karen goes on weekend breaks, I think "Well, now what are we supposed to do?!" :)
9. That's nice of you to say. Have you done any of the projects you found on the site?
I've taken bits and pieces of so many of the projects and put them to use in my everyday life. I did tackle the cupcake Christmas ornaments a couple years ago, with my kid cousins…and it was FUN but they were a little bummed out that they couldn't actually eat them. I also fell in love with OxiClean because of Karen's suggestions. And a few weeks back, I built a window box for my dining room window out of some old boards, and that was inspired by the site as well. The biggest thing I learned from this site is to not be afraid to tackle the things that I need and want to do. I'm a woman, but I am fully capable of doing most everything I set my mind to. I admire that the site is focused on attempting things that seem intimidating or challenging, and figuring it out! Reading the posts each day gives me great ideas and confidence that I can really do whatever needs doing!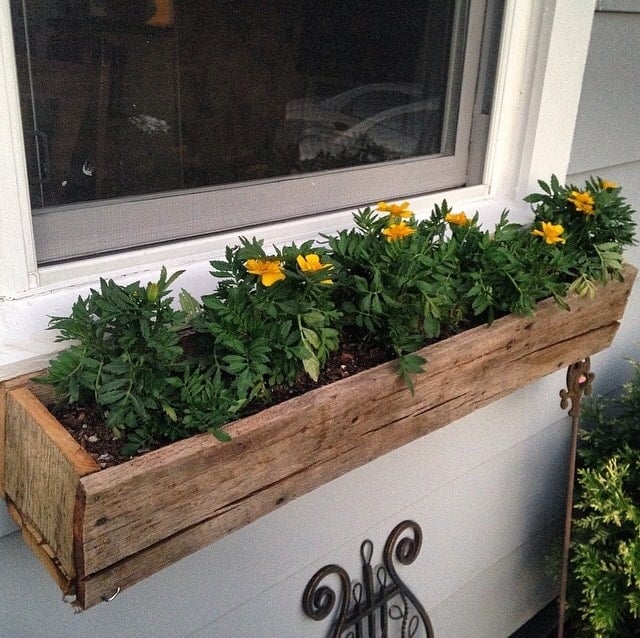 10. O.K., the window box looks absolutely GREAT! Good job. Describe your house and your sense of style in terms of decorating.
My house is a small country cottage on 5 wooded acres, with a small creek. It was built in 1956, and to my delight, the house still contains all the character that my grandparents had in their original plans. Several of my furniture pieces were built by my grandfather, and I love having his craftsmanship around me every day, to remind me of him. I live on a tight budget (music isn't always lucrative!), so much of my decor requires creativity with previously loved items, or things I find in thrift stores. I love anything rustic, and enjoy mixing old, antique items with new pieces that I find. Because I don't live in my house 365 days a year, much of my home is focused on comfort…I love lots of textures and soothing colors, and things that help me relax during my time at home.
11. Describe a typical day when you're on tour.
Morning: Wake up in whatever city we are playing in that evening. COFFEE. Throw on some clothes and start unloading our instruments and merchandise into the venue.
Mid-morning-Afternoon: Get prepared for any possible radio or TV appearances during the day. If no promo is scheduled, we all head out to explore whatever is in walking/taxi distance of the bus. Lunch is always a priority!
Late Afternoon: Go back to the venue to set up and do sound check, and start hair and makeup for the show.
Evening: Play a full set (typically an hour and a half) with our band, then head to the merchandise area to meet and greet fans and sign autographs.
Late Evening: Pack everything up, load it into our trailer, crawl into our bunks on the bus, and sleep through the night as we ride to the next city to do it all again.
12. Describe a typical day when you're at home.
Morning: Wake up way earlier than I do on the road, COFFEE (French press is my favorite), take my dog (and any visiting dogs) out for some exercise. Breakfast for me, my dog, and my two cats.
Mid-morning-Afternoon: Poke around doing whatever needs doing…mowing the lawn, planting flowers, cleaning up animal hair (ugh!), taking care of emails and phonically related to our music, go to the gym.
Late Afternoon: Whatever else needs attention around my house, or perhaps running errands with my mom, maybe a little nap! I love naps.
Evening: Plan dinner…I love to cook, but I also love having dinner at my parents' house or out with my boyfriend. Feed dogs again and take them out for a run.
Late Evening: Perhaps a movie, usually reading and writing before bed. The last thing I do before I shut down my phone for the night is to read the Art of Doing Stuff! No joke!
13. Describe your dream life and do you hope to achieve that dream life?
I am very content with my life at this point. Sure, I could stand to have more money floating around, my car is old and needs replacing, and I've always got projects going on that will improve my home and my life, but I really can't (and shouldn't) complain. I have a wonderful family and fantastic friends, a cool job that makes me happy, a safe and affordable home that I love dearly, and I haven't gone hungry! I do have aspirations… I want to see our music career become more stable, which will enable us to tour and take time off whenever we need it. My biggest dream is to fund and operate a no-kill dog shelter in my area, as there is a serious need for one, and I believe that every dog deserves a loving home. I also long for the day when I can have time for a few chickens, and maybe even a couple of goats! I would also love to dedicate more time to raising and preserving my own food, the way my grandparents did. I'm a person who loves simplicity and solitude, and I feel very grateful for the life I've been given so far.
…………………………………………………………………………………………………..
I've listened to Laura's music and in fact have bought both of the Secret Sister albums. I love them. I'm not just saying that because she's a reader. The band and the sister's harmonizing is astonishing. Astonishing enough to have have been featured on The Hunger Games Soundtrack.
Think I'm just bragging? Like a proud blogger? Not true. Read on …
Laura will be performing with her sister Lydia, as the Secret Sisters tonight, Friday August 22nd, on The Tonight Show with JIMMY FALLON at 11:35 on NBC. Please support a fellow Art of Doing Stuff reader by watching. Then … come back here to tell her how great they were. :)
If you want to get a taste of the Secret Sisters before hand you can watch their latest video Rattle My Bones from their latest album, Put Your Needle Down.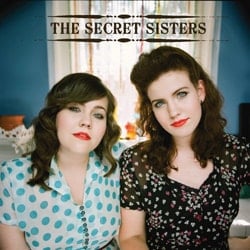 You can listen to clips from their albums and buy them below!
The Secret Sisters
Don't forget to watch tonight! Good job Laura. Livin' the dream.