Sometimes (O.K., you beat it out of me … all of the time) my imaginary world has way more time in it than my real world. There are more hours in the days, days in the weeks and weeks in a months. My imagination is really accommodating that way. In my imaginary world I can paint a whole house, make 14 freezer meals, and neuter a basket of feral cats by the time I've had my second bucket of morning coffee.
Which helps explain why in my imaginary world my Big Spring Project would be finished by now and I would be lazing about my backyard with a pack of wild cats.
My Big Spring Project is not done. It isn't even started. In fact, if you insist I put a percentage on it, compared to the last time I talked about My Big Spring Project, I am exactly -10% closer to completion.
My dining room is exactly the same, only it now it has a bunch of really fun gardening stuff piled on the table. It's gardening season and Lee Valley sent me a whole whack of stuff to test out for them. Because it's gardening season. Which I've mentioned twice in this paragraph but forgot to mention to my imaginary brain when I was planning my Big Spring Project.
The foyer has remnants of unsold garage sale stuff on the floor and is filled with furniture I dragged out of the dining room so I could see what it would look like as a library.
Just when I was really thinking of starting My Big Spring Project, it was time to start seeds (because it's gardening season) and I had to start my plants and pay attention to them and then start getting them hardened off outside.
I have a LOT of transplants because I have 2 large gardens now after taking on another community plot, plus I have my front yard vegetable garden plus I agreed to organize the yearly plant sale at my community garden. That's one of those things that in my imaginary world timeline could easily fit between building a second bathroom and picking up more coffee at Costco. In my real life timeline I'm considering wearing only clothing that opens and closes with velcro to save buttoning time.
Since it's gardening season (did I mention that?) I of course had to try out the cool stuff from Lee Valley immediately. Since it's gardening season and all. So, while I could have been priming my woodwork, instead I was outside setting up pop up accelerators and paper garden cloches over the swiss chard that I overwintered.
I thought the waxed paper "emergency cloche" was a hat when I first opened the box of stuff from Lee Valley. It is not a hat but if I were to wear it as a hat this is what I would look like.
And this is what I would look like gardening in it.
And this is what I would look like grabbing a cup of coffee in it.
And this is what I would look like shopping for home accessories in it.
And this is what I would look like buying produce in it.
And this is what I would look like arguing with an imaginary friend outside of a coffee shop in it.
So, but yeah, it's not a hat.
The front gardens are half dug up and there, indeed, sitting on the front porch is more leftover garage sale stuff. A bed.
Also it's very hard to get motivated to do stuff inside like paint and assemble bookshelves and pick out tables and lamps when things are g r o w i n g. Like grass. And rhubarb. Because you can make The Art of Doing Stuff's World Famous Rhubarb Crisp out of rhubarb. Obviously it's only world famous in my imaginary life.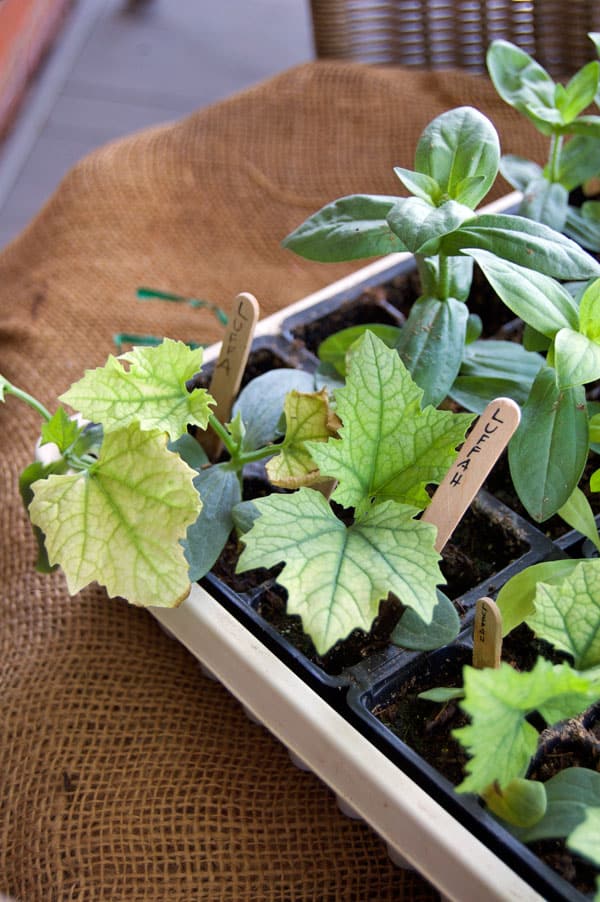 I should be painting but instead, I'm wondering why my luffah leaves are starting to yellow. It's not too much water, but I may have planted my tiny seedlings in too much compost which was more fertilizer than they could use. Which made them angry. And an angry plant does not motivate me to work inside the house.
Then there's the backyard. Which in my imaginary world is again, already cleaned up by this time of the year and the backdrop to several great pizza parties with interesting guests and maybe a conga line.
Instead what you are beholding is a ripped out toilet, old carpet, rotted out metal planters and a broken brick.
So.
I forgot to mention the flagstone. In the past decade it's become much lighter than it was to begin with so I'm going to seal it with a penetrating (NON GLOSSY) sealer and colour enhancer to bring out the black again. Add that to the list of things to do in real life.
Did I mention I'm also going to paint all the trim on the outside of my house?
O.K., so now I'm reworking My Big Spring Project, which initially was redoing the lower floor of my house, repainting all the rooms, turning my dining room into a library and sprucing up my living room and foyer.
Those are things I have to do in my real world by the way, not my imaginary world. In my imaginary world I get to buy up all of my neighbours properties for $5, build a huge addition, a tiny barn and get a goat. In a week.
The problem is, which I wasn't thinking of at the time, I need my Big Spring Project to be something that has to be done outside. Living in Canada you only have a limited amount of time for outdoor stuff. Even less if you live in colder zones like the East Coast or the middle of the country. In the past my Big Spring Projects have been ripping out my front yard to put in a vegetable garden, building a chicken coop or an outdoor pizza oven. What I'm trying to tell you is there's been a shift in the timelines of My Big Spring Project. Which is now My Big Summer, Maybe Actually Fall Project. Does that mean I don't have a Big Spring Project? Well that's not likely, is it?
No, My Big Spring Project is now:
PAINT ALL THE OUTDOOR TRIM ON MY HOUSE
(including windows, eavestroughs, porch etc.)
SEAL MY BACKYARD FLAGSTONE
PLANT MY 2,000 SQUARE FEET OF GARDEN SPACE
BUILD THE GARDEN GATES I WAS SUPPOSED TO BUILD LAST YEAR
REROOF THE CHICKEN COOP
BUY LOTS AND LOTS OF VELCRO
I kept forcing myself to think I had to do the Big Spring Project because … that was the plan. Then Bikram Yoga Niece came over and said, "Realistically? I don't think you can do all that redecorating work plus do everything you have to do outside, plus work full time running a business". I pushed her in the dirt.
But I'd had the same thought myself. That I wasn't going to be able to do all this. I just had a feeling my list was getting out of control. So instead of stressing about it more, I re-prioritized. Sometimes you have to just roll with the hunches.
I feel a LOT less pressure now, and if I get the outside work done and I feel like picking up a paint brush in the early summer, I'll start painting. If not, it's no big deal. That's life. Real life.
Plus now I've made room in my imaginary life for other fun things! Like an imaginary world where I have enough money to hire people to do a few things, where coffee never runs out and paper garden cloche hats are all the rage.