A neighbour friend of mine and I were talking about tile countertops a while ago. Like … maybe 5 years or so ago. When you're young, a while ago is the previous hour. When you're old it's the previous decade.
She said that she was annoyed with everyone asking her if she had a hard time keeping her tile counter clean. She was slightly aghast at this question and answered with a resounding "NO.". I clean my counter meticulously every night. I never had any problem keeping the grout sparkling clean. Sheesh. Can you believe some people? Can't even keep their kitchen counters clean? I mean, a person who doesn't have sparkling clean grout is just one chromosome away from being a dirty, rotten catfish.
At this point in the conversation I had no choice but to agree. Or swim on over a little closer to her and prick her with my barb.
I chose to agree. Slovenly pigs with their dirty grout. I hate those assholes.
That's what it looked like last year while doing my pizza dough post. Gross. I clean it and clean it but it still looks like crap. And even if I manage to scrub it and scrape it and clean it enough that my fingernails bleed, it looks dirty by the next day. Kind of like my fingernails.
I need a new counter. I know I need a new counter. But my sad little kitchen needs a lot of new things so I'm going to wait until either a) I can afford to do everything at once, because it's wayyyyy more fun to have a big reveal all at once than a smidge here and a smudge there or b) I'm so old and insane I don't care about it anymore.
Until then, I have to do whatever little things I can to keep things looking like something other than the home of Tiny Tim.
I was browsing around my local hardware store and came across a "Grout Renewer". I knew things like grout paint existed and grout sealant. This appeared to be a pen that was both in one. A tiny pen for painting your grout which is also waterproof and thusly seals your grout.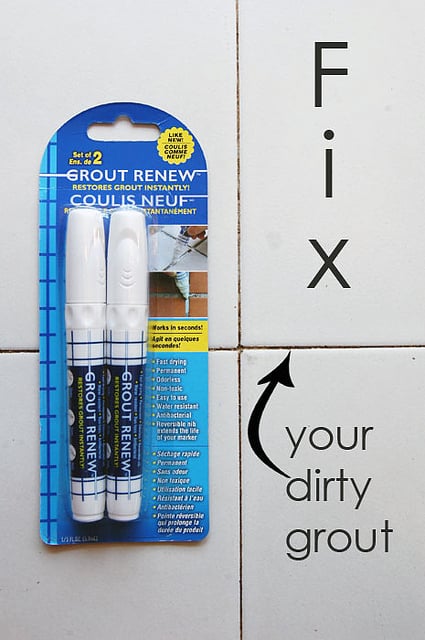 GENIUS.
So I had to buy it. And of course, since I bought it, I had to try it.
In my head of course I figured I'd be able to take the cap off, paint my grout lines perfectly and cap 'er back up in no time. RENEWED GROUT! That dream almost came true. But not quite.
From a bit of a distance my counters don't look that bad.

But they are. They are that bad.
So I opened my package of "Grout Refresh" and applied it just like the package says. Just apply the paint like a pen. Justtttttt brush it along the grout.


Doesn't it look fantastic?!
Not a problem though. I just waited for the paint to dry and lightly wiped over it with a cotton ball dipped in nail polish remover. If you don't press very hard, the paint comes away from the tile but not the grout. Crisis averted. Kind of.


I say kind of because the counter looks good, great in fact, from a bit of a distance. Definitely , without question, way better than it did before.
Infinitely better. It just doesn't happen to show up in the picture very well. Which may be for the best. Because up close it doesn't look great.
Having said that … it does look better. Not as better as a new countertop would look … but better. For one thing it's WHITE. BRILLIANT WHITE. Anderson Cooper white. I suspect when it gets a bit dirtier it'll look better. Oddly enough.
So yes. Now I want my grout dirtier.
Also … it looks like painted grout.

But for the $10 and single hour it took me it to do it, it worked out fairly well. Would I recommend it? Yes. But only if you have a crappy old counter like mine that couldn't get any worse. If you have a newer tiled area and can clean your grout, I'd recommend doing that and then sealing it so it stays clean longer. Plus grout that's been sealed is a lot easier to keep clean than unsealed grout.
Do you know what the worst part of all of this is? If I get a new counter, I'd probably get another grody grout tile countertop. They'll put up with any amount of abuse. Nothing stains it, nothing hurts it, you can take a pot hot from the stove and put it right down on it. You don't have to worry about wine or vinegar or anything. So I like that and plan to stick with it. I don't like change very much. Which make sense.
You can't teach an old catfish new tricks.