Roasting asparagus in the oven and finishing with olive oil and shaved parmesan is a perfect spring side dish.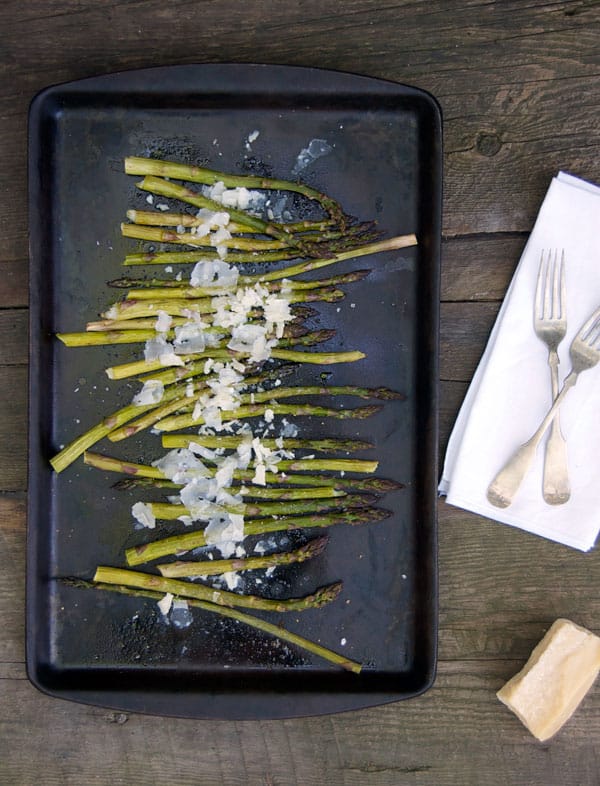 Many years ago when I was working at a television station in Toronto I ate the same thing in the cafeteria for lunch every single day. This was not unlike what I did in highschool when I ate french fries and gravy every single day for lunch, which other than throwing up a well formed ball of grease at the end of 4 years, had no ill effects on me.
By the time I hit my working years I was a little more grown up in my tastes. What I ate every day for lunch was Veeshna's (she was the cook in the cafeteria) Asparagus Soup. I loved it so much I found just having one meal a day of it wasn't enough so I asked her for the recipe so I could make it for myself for dinner. Which I did. For weeks on end. Until one day I looked at the bowl of Asparagus Soup and thought I was going to throw up much more than a ball of grease.
It was 4 years until I could eat anything asparagus again. I've learned to control myself a little more. I still only make asparagus soup occasionally but once asparagus season rolls around I'm eating roasted asparagus at least a couple of times a week.
I told you earlier this week about how there are female and male asparagus spears. The thick ones are male and the thinner ones are female. Unless the thin ones are male and the thick ones are female. There's some dispute about that. It doesn't matter though. All you need to know is whether you like thick or thin spears. People used to say the thicker spears were tough, but that's not the case. I happen to like the thick ones.
If your spears are tough it's more likely that you haven't cut enough of the stem off of the bottom.
To prepare asparagus for roasting (in a 400 degree oven) just bend the asparagus spears with your fingers near the bottom.
They'll naturally break at the point where the tender meets the tough. Tender meets the tough. I think Heart recorded that in the late 70's.
If you're weird about all your asparagus spears being the exact same length then don't bother snapping them, just cut 2 or 3 inches off the bottoms. Ya weirdo.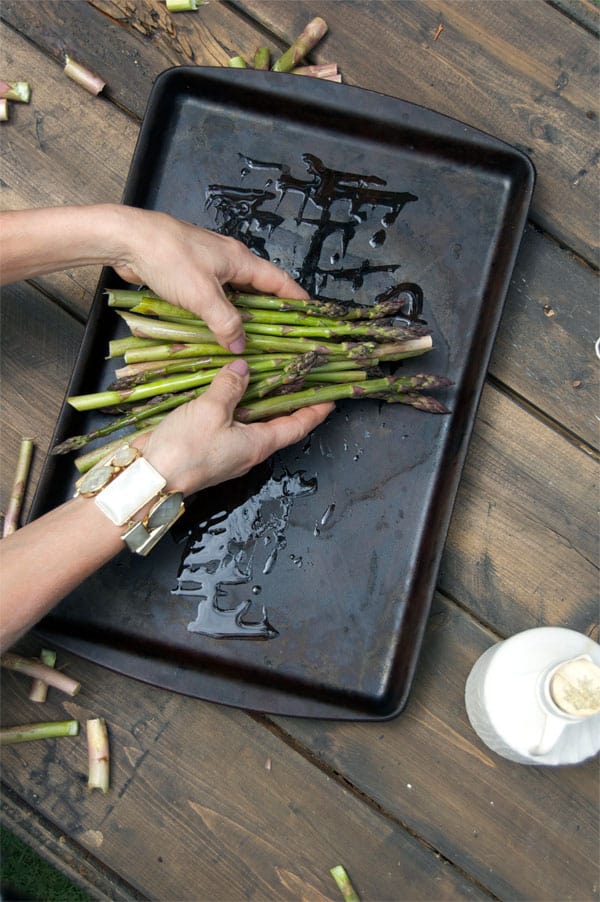 Drizzle your asparagus with some olive oil and toss them around to get all the spears coated. Do NOT salt and pepper prior to cooking. When you're roasting vegetables you're better to salt and pepper at the end because salt will draw moisture out of the vegetable as you're roasting and you don't want the water out, you want it in.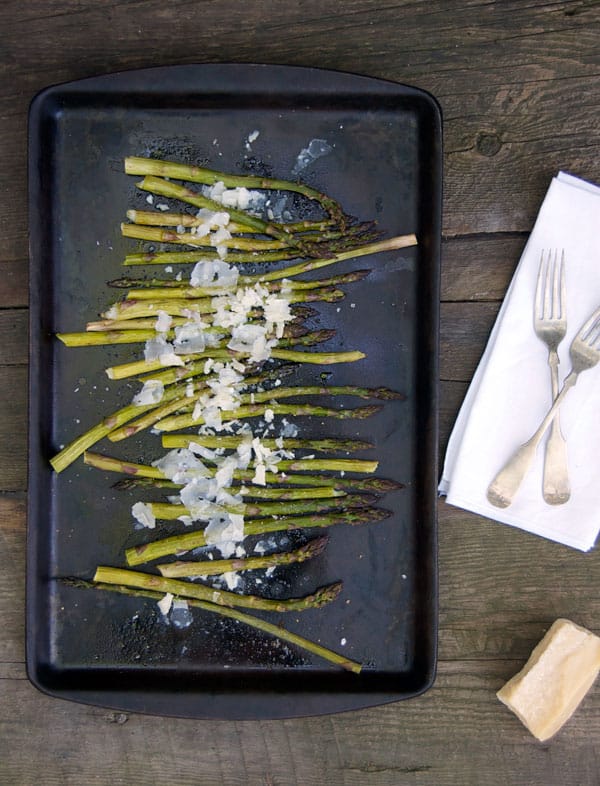 Roast the asparagus for AROUND 10 minutes depending on the thickness of the spears. For thinner spears check them at 5 minutes, for thicker spears check them at 10 minutes. It also depends on how you like your asparagus cooked. Technically you're supposed to allow them to have a bit of bite to them. Some crunch. But some people don't like that. Some people like their vegetables to be complete mush, which is fine. Is it how a chef thinks you should eat asparagus? Nope. But since it's you eating the asparagus you're in control and you can cook them however you like them.
I for instance like my scrambled eggs decidedly overcooked. That's how I like them. I don't care that it's "wrong". Liking canned peas is "wrong" too, but I like those as well.
As soon as you take the asparagus out of the oven sprinkle it generously with salt and pepper and then shave parmesan cheese over it. Do it right away so the heat from the asparagus will help melt the cheese a bit. You can also stick the asparagus all cheesed up under the oven broiler to get it a bit crusty and bubbly. In fact. Do that. Always do that. Always broil it for a minute afterwards. That is now an order.
The roasting changes the flavour of asparagus, just like it changes the flavour of any vegetable. Roasting caramelizes the sugars in the vegetable and brings out a slight sweetness in everything along with giving them a roasty, charred taste.
Roasted Asparagus with Shaved Parmesan
The thickness of your spears will dictate how long to cook the little spring spears of joy.
Print
Pin
Rate
Ingredients
Asparagus

Olive OIl

Salt

large sea salt flakes if you have them

Pepper

Parmesan Cheese

shaved
Instructions
Preheat oven to 400 F

Wash asparagus and snap off the tough bottoms.

Toss in olive oil and lay out on baking sheet.

Roast for 5-10 minutes depending on the thickness of the spears and how well cooked you like your asparagus.

Remove from oven and immediately sprinkle generously with salt, pepper and shaved Parmesan cheese.

Throw them under the broiler for a few minutes if desired. And trust me. You desire.
More STUFF tip:
If you have leftover roasted asparagus heating it up tends to overcook it no matter how hard you try not to. So throw it in a pot with just enough chicken stock to cover it, simmer it, throw it in a blender, and you have asparagus soup. Serve with shaved parmesan and a few large croutons on top.
Just don't eat the soup every day for lunch. And dinner. Ditto for the fries and gravy.