a mini-workshop
sponsored by
Join the fun and learn to start your own seedlings in this hour and a half long quick and dirty workshop.
---
THIS COURSE IS NOW OVER
---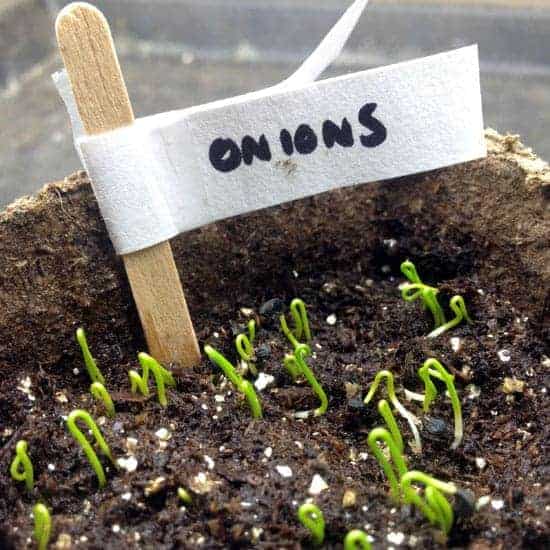 Have you always wanted to start a vegetable or flower garden from seed but weren't sure how to start?
---
Course Date: April 9, 2015, 8:00 p.m. – 9:30 p.m. E.S.T.
Enrollment Dates: Enroll Anytime
Instructor: Karen
Cost: $35 USD
---
Join me online April 9th to learn everything you need to know about starting your own vegetable or flower garden from seed.
This course includes:
1.5 hours of live on-line video teaching including demonstrations.
3 packets of organic, heirloom seeds from Cubits Seeds.
Access to a private Facebook group to boast, encourage, ask and share ideas.
Why start from seed?
When you buy seedlings from your local nursery or grocery store the variety is limited. You will never find Glass Gem corn or Russian Chocolate tomatoes at the nursery. Growing your own seedlings from seed gives you almost limitless possibilities. Don't have a lot of space? Grow Mascotte beans, a variety that only gets to be 18″ high and is made especially for growing in containers.
Also, a lot of seeds can be planted out before the garden centres even open for business in the spring. Beets, carrots, onions, lettuce, swiss chard, kale and a ton of other things can be put out in the garden a full month before tomatoes and other heat loving vegetables can.
What you'll learn.
How to plant seeds. Which method for which seed.
What soil to use.
The benefits and drawbacks of different kinds of pots/containers.
When and how to fertilize.
How to separate and thin your seedlings.
Do you need grow lights and if so which kind?
How to harden off your plants.
Where to get your supplies.
And much, MUCH more.
About the seeds
Laura, from Cubit's is passionate about locally grown produce and believes everyone can grow their own food. She and her husband Ryan run the organic seed company Cubit's. Ethical seeds for the Edible Garden. Their seeds are open pollinated, heritage varieties. Which you'll learn all about in the course. Thank you to Laura for very generously providing the seeds for this course.
You will each receive 3 packets of seeds from Cubits for this course. 1 tomato, 1 green and 1 beet. You won't know which variety of each you're getting until they arrive at your door. It will be a surprise.
Gardens are always full of surprises.
I'D LOVE TO HELP YOU GROW YOUR OWN FOOD AND FLOWERS.
Join the local food movement. Click the button to sign up now!