Welcome to the first in the Sow Generous challenge series. Starting your first vegetable garden. Or it could be your twenty first. Either way … let's pick out some seeds!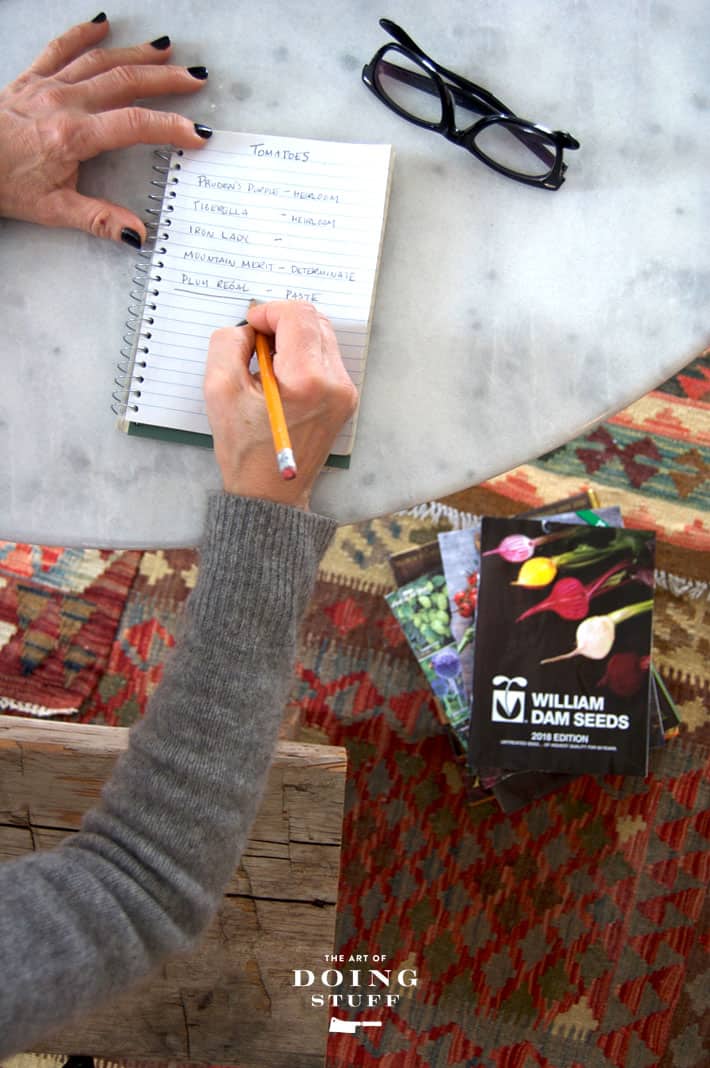 If you haven't yet, read about the Sow Generous Challenge here!
February is the month we gardeners do our best deluded imagining. The memories of our gardening embarrassments from last season have safely faded into a cobwebby haze somewhere in the back of our brains (right behind the memory of that time we gave a big wave back to that person who was waving at the person behind us.)
This bad memory stashing allows room in the front of our brain for all sorts of positive thoughts. Like how we're going to grow the perfect garden that will have no weeds or pests, where the sun shines every day and yet the soil never gets dry. Butterflies will flutter, bees will buzz and the bunnies will eat vegetables out of our hands but never out of the ground. Yes. Every February, we gardeners start planning our Disney cartoon garden.
And it all begins with the seeds.
---
If you plan to grow anything from seed in your garden this year (and you don't have to, you can absolutely just buy seedlings if you want) then now is the time to start buying your seeds.
Good seeds and especially rare varieties often sell out so if your heart is set on that pink celery you'd better order it now.
Where Should You Buy Your Seeds From?
Seed exchange programs.
Seedy Saturdays (community organized days in late winter or spring that have seeds for sale and exchange) It's more of a Canadian thing where across the country there are hundreds of Seedy Saturday events. Click here for a list of Seedy Saturday events in Canada.
Online catalogues.
Local nurseries and garden centres.
O.K. here's where things get serious. Monsanto. I'm not going to tell you what you should or shouldn't do regarding bringing Monsanto into your garden. That's a choice for you to investigate.
But I can tell you there are two ways to keep Monsanto out of your garden if that's a goal of yours.
By not planting GMO (genetically modified) seeds. This will be totally easy since they aren't available to buy. They're only available to commercial farmers/growers and you can't just walk into a garden centre and accidentally buy GMO seeds. True story.
By staying away from vegetable varieties that Monsanto owns. This is harder. Monsanto now owns so many seed companies and so many seed varieties that if you really want to make sure your garden is perfectly Monsanto clean … it'll take a bit of research. Just because Monsanto owns the variety of seed, that doesn't mean they're bad for you. The Better Boy tomatoes (for instance) won't give you cancer, there's nothing wrong with them. They're just seeds owned by Monsanto. But buying them benefits Monsanto.
Popular Monsanto varieties
Royal Chantenay carrots, Cheddar cauliflower, Black Beauty eggplants, Celebrity, Early Girl and Sweet Baby Girl tomatoes.
Those are just a few you might recognize. You can look here for a fuller list of Monsanto varieties. The list is older, and will constantly change but it's still a good guide.
Where do I buy my seeds? These are my favourite online seed sellers.
What vegetable seeds should you buy? K, let's make this easy. Grow things you like to eat. Do not grow things you don't like to eat.
You'd be surprised at how many people ignore that little rule. ( Like me. Who grows Brussels sprouts regardless of the fact that I consider them to be little dirt faces. Bleh.)
What are my favourite vegetables and varieties to grow?
For the beginner (I'm kind of scared of anything weird) vegetable gardener.
Carrots – Bolero, Ibiza
Kale – Black Magic, Lacinato kale
Potatoes – Kennebec
Squash – Delicata, Sweet Mama Kabocha
Radish – French Breakfast, Raxe
Beets – Boldar (yellow), Kestrel (red)
Green Beans – Emerite
Broccoli – Burney, Everest
Tomatoes – Celebrity – a basic, easy to grow determinate (doesn't get HUGE) tomato.
Varieties for the more adventurous
Carrots – Purple Sun (dark purple inside and out)
Kale – Redbor (dark red kale)
Potatoes – Russian Blue or Peruvian Purple (purple skin and flesh)
Squash – Jarrahdale pumpkin
Radish – Ping Pong (pure white variety that grows well and tastes great)
Beets – Chioggia beets (also called candy cane beets, they're swirled with white and red insides)
Green Beans – Chinese Long beans (They grow over 2′ long)
Broccoli – Rapini broccoli (an Italian bitter green broccoli that has no heads)
Tomatoes – The possibilities for weird tomatoes are ENDLESS. My favourites are …
Aunt Ruby's German Green (a green when ripe tomato)
Pineapple (an orange and yellow tie dyed looking tomato)
Green Zebra – A new heirloom variety that's green bordering on turning yellowish when ripe. Delicious. Naturally salty tasting.
Black Krim – A newly popular dark, dark burgundy tomato with good flavour.
Costoluto Genovese – A red pleated (scalloped) tomato
Indigo Rose – A near black, small tomato
Now for some of my favourite things to grow just because they're so much fun. Every year I grow something different, weird or rare.
Seeds to grow JUST FOR FUN.
---
Mouse Melons (cucamelon)
Tiny little cucumbers that look like watermelons fit for a mouse. Slightly sour like a pickle. Really good!
I grew these for the first time about 6 years ago and have been growing them ever since. Mainly because they reseed themselves.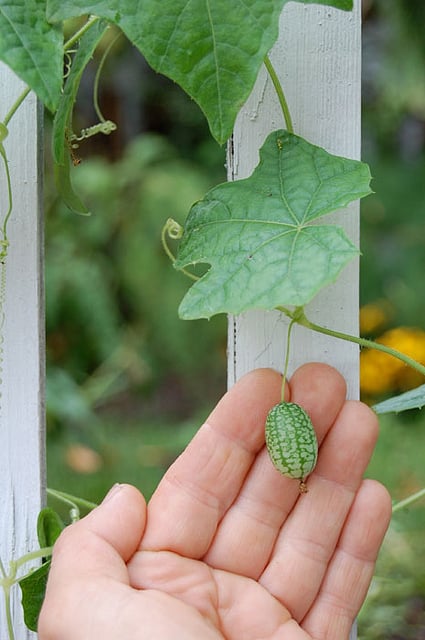 This is the plant I had SO much fun with this year offering it to unsuspecting friends and fellow gardeners.
It numbs your mouth. And makes you salivate like crazy. You chew on a flower head and within seconds your mouth feels like it's filled with salt, numb and you're drooling.
NOW THAT'S A FUN PLANT.
If you've followed me for any amount of time you know I loveeeee growing Luffa and teaching people that they too can grow Luffas. Yes. As in the sponge.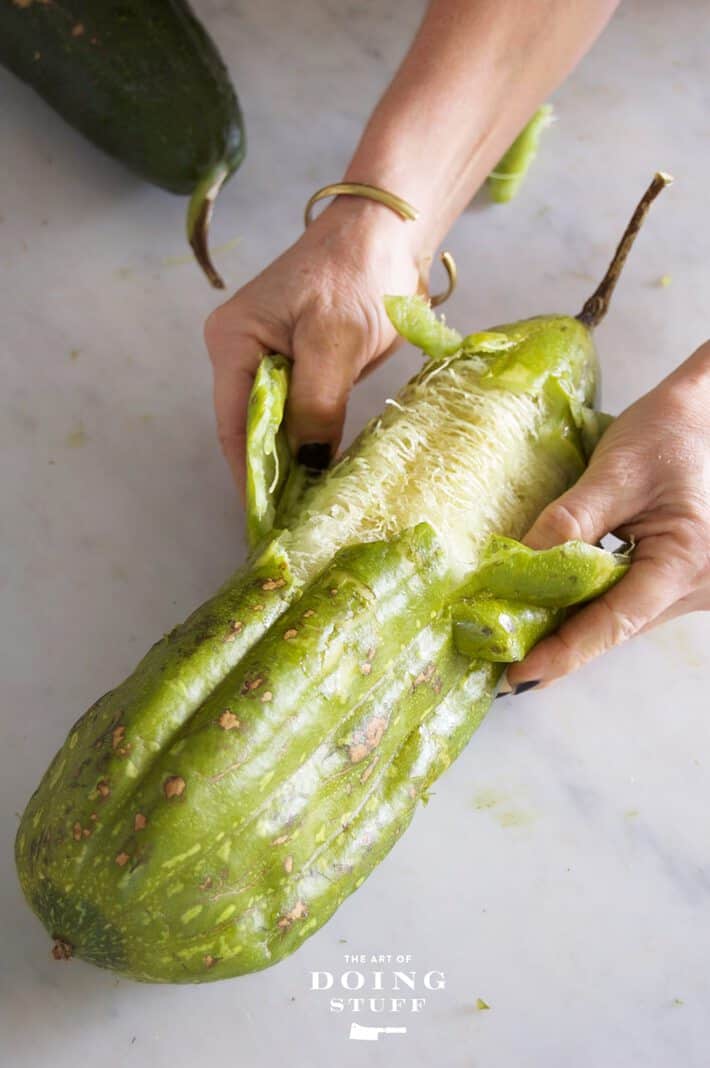 Haven't joined yet? Sign up for the Sow Generous Challenge here and start a Grow & Give garden!
At the end of the season we'll total everything up to see how many pounds of food we gave to food banks etc.
HOMEWORK for February
Find out what gardening zone you are in.
Decide on what you'd really be excited to grow. Don't forget, if you don't have a lot of room, almost anything can be grown in pots – more on that next month.
Browse the sites I provided you with and see what interests you and then order some seeds or drop by a local garden centre and pick some up! Make sure to check that they will grow in your gardening zone.
Dream, dream, dream.
p.s. My goal was to keep these Sow Generous posts to 500 words. I was POSITIVE I could do it. This one ended up being twice that long.
That is exactly the kind of deluded expectations required of a vegetable gardener.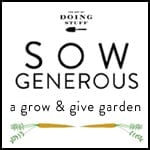 →Follow me on Instagram where I often make a fool of myself←