So I'm driving out of my community garden the other afternoon, my shocks straining with the weight of zucchini when I pass a cop sitting in his car. I knew what I had to do …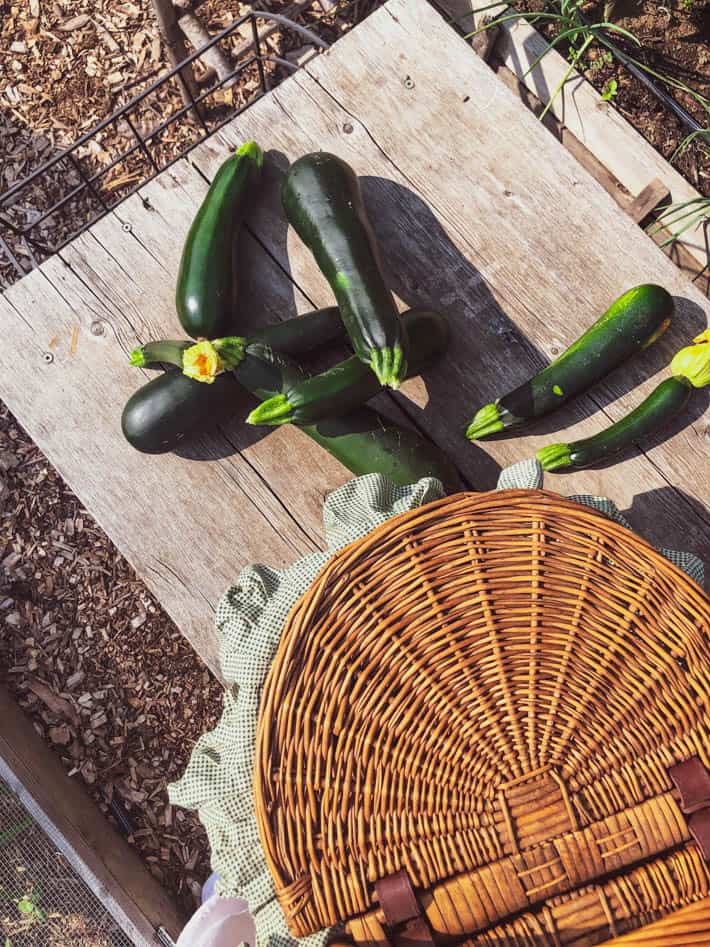 It was hot in the garden. Even on days when people aren't hiding in their air-conditioned homes or washing their sticky hands of the glaze of popsicles, it's hot up at the garden. I'm moving, running, bending, digging and hauling until I sweat no matter what the weather.
On this particular day, I'm going to say about a week ago, the bending and hauling revolved around zucchini. I wrote a post about it the other day actually. I was finally getting caught up on staking and pruning my zucchini plants, which led to the discovery of several more zucchini than I thought I had.
It's Zucchini Season.
Zucchini, along with green beans and cucumbers are notoriously skilled at making themselves invisible. You do not want to play a game of hide and seek with a zucchini because they will always, always win. Honestly – they just appear out of nowhere. It's terrifying.
I put all the zucchinis into my vintage wicker picnic basket (which I picked up at Hipsters R Us) and headed for the garden gate.
Along the way, I came across a fellow gardener who was also working in his plot. I offered him some of my haul and because his zucchini hadn't gone all Poltergeist on him yet, he accepted.
Good. I got rid of 2 of them and I wasn't even out of the garden yet. If I could just bump into a herd of wild roaming vegetarians on the way home I'd be golden.
I plopped the basket into my trunk, checked my feet for ticks and got into my car, pretending I wasn't getting into my Volvo (which I love) but into this car (which I would love more and would carry infinitely more zucchinis.)
Pulling away from the garden, with just enough time to get home for a business call, I saw a parked police car. Inside that police car was a police officer.
I knew what I had to do.
I slowly pulled up right next to him and rolled my window down, just like we were about to take part in a drug deal! He rolled his window down and looked at me with a tiny bit of suspicion that I was about to interrupt his dinner break.
What I said, in a weirdly loud voice was …
HEY!! CAN I GIVE YOU A ZUCCHINI???!!
Blink, blink.
That was our initial exchange. Utter confusion and the calculation of risks washed over his face as he tried to assess whether "zucchini" was code for I'm thinking of throwing a pie in your face.
I could see this had the potential to go sideways on me if I didn't do some explaining.
Me: "I have a lot of zucchini in my trunk".
Cop: "O.K.".
Me: "From my garden".
Cop: "Do you live in this town?".
Me: "Yes, but see that garden just back there is a community garden and we sometimes give away part of our produce if we have extra".
Cop: "I don't normally work this town".
Me: "O.K. well that's alright. You can still have a zucchini. It's just that I have all these zucchini that I grew in that garden and if you'd like a couple I'm happy to get rid of them".
Cop: "What else do people grow in that garden".
Me: "Well, lots of stuff. Tomatoes, cabbages, cucumbers, potatoes … everything really. We don't grow pot though."
Cop: "Well you could, it's legal."
Me: "Actually no, it's not. That's public property owned by the city so you can't grow weed in it".
Cop: "Oh."
Me: "Soooo … (thinking the whole time I have 30 seconds to make the 5 minute drive home to make it on time for my phone call)
Cop: "O.K., sure, why not. I'll take a zucchini".
Me: "GREAT, I'll just get them out of my trunk".
I then hand over two large zucchini to my new police officer friend.
Again I get the blinking.
Cop: "Can I have 3? When I go to the grocery store I always bring home 3."
Me: "Seriously?"
Cop: "Kind of."
Me: "But you aren't getting them from the grocery store, you're getting them from a random street gardener."
Cop: "O.K. You're right. These are bigger than grocery store zucchinis anyway, I'm sure it'll be fine. I was just kidding."
Me: "Do you have any idea what to do with those zucchini?"
Cop: "No, not at all but my wife will. She's the one who gets mad if I only bring home 2 zucchinis."
Me: "O.K., well those are the equivalent of 3 or 4 grocery store zucchinis so you'll be fine. Nice chatting …
Cop: "So, how does it work, how many people are in there, did you say you live in this town, how do you get a place in the garden, do you grow your own plants from seed, I bought cucumber plants this year and they were $3 each, that could get expensive, do you use fertilizer …."
I answered all his questions and gave up on making it home in time for my business phone call. I'd just have to explain what happened.
"Sorry I'm late, it's zucchini season so I had to pull over a cop."
Have a good weekend!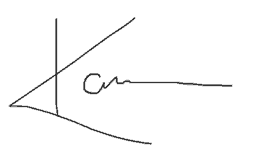 p.s. After all was said and done the officer thanked me profusely over and over for the gifted zucchinis. :)
→Follow me on Instagram where I often make a fool of myself←