A month by month planning calendar for starting your own (big or small) vegetable garden. Have you always wanted a garden but never get around to it? This series is for you.
Are you ready to start a vegetable garden? Good! This year you're actually going to do it. Even if it kills me. Over the next 9 months (the gestation period for both a child and a garden apparently) I'm going to walk you through everything you need to do to create a vegetable garden (big or small) .
Every month I'm going to walk you through what you need to be doing that month in order to plant, nurture, grow and harvest your own vegetables.
---
YOU ARE GOING TO GROW YOUR OWN FOOD!
And then you're going to give some of that food away!
Yup. Give it away. That's the concept behind the Grow & Give Garden.
---
You don't have to do ANYTHING other than pay attention and follow along.
I know the biggest issue many of you have with doing anything is just getting started. It doesn't matter whether it's painting a room, creating some project you saw on Pinterest or making dinner … it's the getting started that's the hard part. What materials do you need? What do you do first? How long is it going to take? You think these overwhelming thoughts and then give up before you even start.
I know for a fact this is the only reason I've never written a Hallmark Christmas movie.
So I'm taking every bit of the guesswork out of Starting a Vegetable Garden in this 9 part series. Each month from February to October I'll be taking you by the hand (or let's face it, the computer screen) to let you know what you need to do that month to grow a garden bursting with vegetables.
PLEDGE TO DO THIS. IT'S A MOVEMENT PEOPLE. IT'S GOING TO BE A THING!!!
You don't need to register or pay but you do need to do 2 things.
Take the Pledge.
Agree to give some of your food away.
Yup. Give it away. You don't need to figure out who you're giving it to right now you just need to agree to do it.
---
Who can you give your extra food to?
Food banks, shelters, soup kitchens, even friends, family or neighbours.
---
I'll be donating a portion of my garden to either my local food bank or a women's shelter that's in my town.
I haven't quite decided yet.
---
So even if you ALREADY have a vegetable garden, this challenge is still a good one for you because it's about sharing your food. You don't have to share with a food bank, it can be your neighbours, family or anyone else you think needs good food. But I do like the idea of giving to a food bank or shelter.
---
Here's a quick rundown of what this challenge will cover.
FEBRUARY – Seeds, seeds, seeds! What to grow, where to get 'em and a list of my favourites.
MARCH – Sow you wanna be starting something? We'll be starting some of our seeds indoors. Yay!
APRIL – Garden planning. Figuring out what kind of space you have and what you can grow where.
MAY – You. Get. To. Plant VEGETABLES! What to plant outside now, how to make sure they thrive and what not to do.
JUNE – Shit just got real. Plants are being eaten alive, falling over and being taken over by weeds. How to deal with ALL of it.
JULY – By now you're going to have questions. I'll be answering some of the most common vegetable gardening questions you have.
AUGUST – So. Um. When do I pick it? How do you know if your watermelon is ripe? Or if your potatoes can be pulled? I'll let you know how to tell when everything is ready.
SEPTEMBER – Now what the hell do I do with all of it??? Ways to store and preserve your infant. I mean vegetables.
OCTOBER – Important garden cleanup rules and my favourite fall harvest recipes.
Ready to take the pledge? Good I just knew you were that kind of person.
Taking the pledge gets you a welcome email, gardening tip sheets and words of encouragement from me.
If you have a website here's a handy badge for your sidebar to show you're a part of the Sow Generous summer.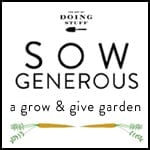 Copy and paste this code below to get the badge for your site!
In the next Sow Generous post, I'll let you know about my absolute favourite seed varieties including carrots, onions, tomatoes, some weird and fun vegetables plus the BEST beets I've ever eaten in my life.