Twinkle lights are the Dolly Parton of the lighting world.  They're cheap, cheerful and in abundance at drag shows.  Seriously, when in doubt ... add twinkle lights.  Then add some more.  That's what I did with the epicly troublesome hoop chair I bought a few weeks ago.  To recap:
The chair wouldn't fit in my car.
Returned with truck, the chair was gone.
Chair was just on loan out of store for high profile photoshoot (which they didn't admit to, but I suspect was porn.)
Chair is supposed to return to store next day, doesn't. Chair has gone AWOL.
Chair returns to store 2 days late smelling of cigarettes and cheese.
Get chair home.
Spray paint cushion of chair in moment of Pinterest induced idiocy.
Throw out chair cushion cover, sue Pinterest, sew cushion, sit, relax, watch porn.
You can read the whole shebang in Part 1 of the epic tale, and Part 2.
With the basics of the chair done I could finally get around to doing what I wanted to do with the chair from the very beginning.  Stand in it with my arms and legs spread while rolling down the street singing Mama Mia as loud as possible.  Once I got that out of my system I did what my friend Marta suggested I do with the chair.
She said I should cover it in twinkle lights so it would be like sitting in a planetarium.
So I did.
Only I think of it as sitting under a constellation.  This, in honour of Canada's Tragically Hip.  Allow me to introduce you to the Star Chair.   Known in Canada, as The Bobcaygeon.
See?  Everything's better with twinkle lights.  At first I only had one set on it.  Then I added more.  Because that's the twinkle light rule; if some is good, more is better.  Like makeup.  Or vodka.
Oh Marta.  I owe you.  I love it and I never would have thought of it.  It's too much.  I know it's too much.  But like with Dolly, too much is just enough.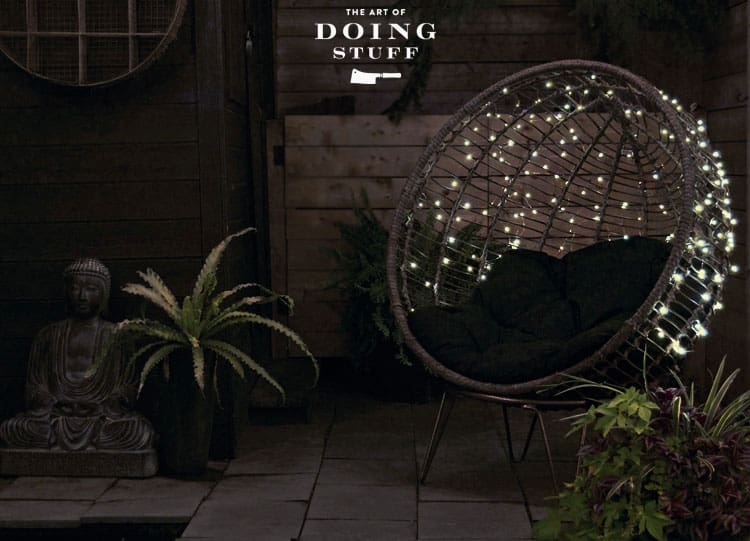 The lights are battery operated which I'm normally opposed to but this set passed all the tests.
They use "C" cell batteries, not AA or AAA so they last a long time.
The lights have a built in timer.  Turn them on and they turn themselves off 4 hours later.  Then they come on at the same time the next night.
They're LED so the bulbs last forever.
They're the kind of teeny, tiny lights on copper wire that you can bend and mould to go in any direction you want.  I just wrapped them around the chair and squished them in place.  Anywhere they didn't seem to want to squish I just added a squirt of glue.  The instant kind that inevitably glues your fingers together giving you an entire night's worth of entertainment as you try to pick it off of your fingers without picking off your actual skin.
Again, if you want the same lights this 2 pack by Kohree were the best ones I could find.
The chair is a hit with everyone who has seen it and sat in it.
Wondering about why I call it The Bobcageon?  That's thanks to The Tragically Hip's iconic song.

"It was in Bobcaygeon where I saw the constellations reveal themselves one star at a time."
That's exactly what it feels like to be in this chair at night.  In the middle of a constellation.  I may not have a cottage in Bobcaygeon.  Or Gord Downie melting at the sight of me.  But I do have my very own constellation.