My favourite part of the holidays isn't the bacon wraps or the pile of presents under the tree. It isn't the Christmas carols or the really good, bad, made for TV movies featuring sitcom stars of the 80's.
It's the way my mom gets drunk and therefore confused when we sing the song The 12 Days of Christmas. "Oh my God! Now we're going backwards!! Hic. "
And the stocking. I love my stocking.
I can still remember the very first items my boyfriend ever put in my Christmas Stocking. It was 8 years ago. In the toe of my stocking, along with all the regular stocking stuffers were an orange and a shiny new penny.
I must have mentioned once how much I loved Little House on the Prairie. Every year Laura and her impossibly blue eyed sister Mary would get these things in their stockings and it was a big deal.
I dug down to the bottom of my stocking, pulled the orange and penny out and stared directly at him. What the hell is this? He was the only one who remembered the Little House on the Prairie story. I'm an awful, awful person.
Once he kick started my memory I remembered the story and immediately wandered away from his outstretched arms to begin daydreaming about my Laura Ingalls life. I kick a lot of stones and braid my hair a lot in my Laura Ingalls life. Usually while sitting on the bank of a stream where I recently panned for gold only to find out it was Fool's Gold. It's O.K. though 'cause I learned a lesson that day. I'm no fool, and even if it *is* Fool's Gold, it's still pretty.
I seriously can't remember what this post is about anymore. Oh! Right! Stockings. I still get the orange and on occasion, the shiny penny. Plus my boyfriend and I often give each other at least ONE item from Blue Q. 'Cause everything and anything from Blue Q is fun.
They have a lot of smaller items that are perfect for stockings. Things like magnets, dish towels, bumper stickers, tin banks and breath spray. Stuff like this:
Tin Bank
Bud Vase/Ring holder
Dick and Jane magnet
Dish Towel
Breath Spray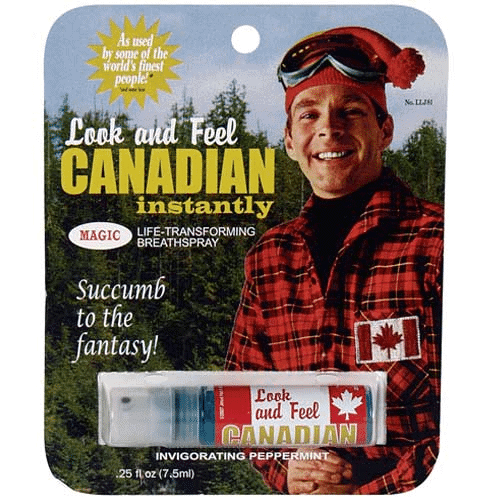 And finally … what I hope to be dropping this year's shiny new penny into.
But only 'cause they don't have a "Savin' up for for a pinnafore and satin hair ribbon" tin bank.
Stocking on the home page for sale at Crate & Barrel.