A month ago I started some sweet potatoes slips.
You're bored already aren't you?
That's O.K. I know that only about 5 of you out there care about growing sweet potatoes but since you're the 5 smartest, prettiest, handsomest, most charming ones out there I'll continue to write these sweet potato updates.
Also I'm obsessed with sweet potatoes and growing them. Plus it's my blog, so there's that.
A month ago I decided it was time to start trying to force my sweet potatoes into making sweet potato slips. But my sweet potatoes weren't viable because I had let them get too cold in my mud room over the winter. So I bought some from the grocery store and hoped for the best. They rooted right away.
So a month ago my sweet potato experiment looked like this …
A few little roots started to sprout out immediately.
Now a month later my sweet potato slip experiment (with a store bought sweet potato) looks like this.
That's pretty impressive.
When slips get to be this size it's time to pull them off.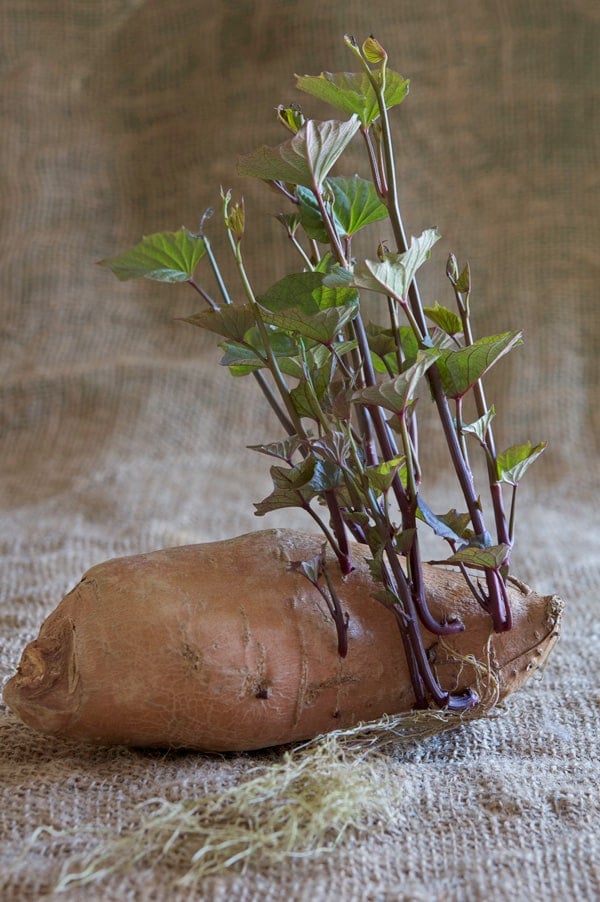 Just grab the base of the slip and twist it off.
I just realized I haven't been particularly funny or entertaining yet.
No wonder you don't like these sweet potato posts.
After you've pinched off the slips you just put them in a glass with some water in it so the slips can form roots. If your sweet potatoes form their slips at the same time they can be planted outside (when it's really warm out and the soil is warm) you can plant them right in the soil without having any roots on them at all. Just pinch off the slip and put it in the dirt. It'll form it's roots there in no time.
Where I am in Zone 6b, the sweet potato slips can't be planted out until June 1st, so that means I'm going to have to deal with these sweet potato slips for 2 months. I didn't really expect them to grow this quickly.
Normally my sweet potato slips are really slow to grow, but this year I really paid attention to making sure the had the right conditions for growing. Dark and over 80 degrees for initial sprouting and light and over 80 degrees for growing slips.
Turns out if you do things right they generally work.
I should be honest with you here. Part of the reason this post is really boring isn't just because it's about sweet potatoes which you probably think are kindda boring.
It's because I'm listening to a course by Penelope Trunk on all the characteristics of various Myers Briggs personality types while I'm writing this post. I thought I could just listen to the first 5 minutes or so and then get back to my writing, but that was an hour ago and I'm OBSESSED. For something I really thought what just a load of crap, I'm amazingly sucked into it.
It's absolutely fascinating. If you missed my original post on figuring out what personality type you are, you should have a look. She talks about which personality types are the nutters, which ones are the doers, how to interact with other personality types that are the opposite of you and how you can use your understanding of other types at work to better deal with someone who you just can't seem to understand at allll.
Like I said. I've instantly become obsessed. If it can distract me from my writing AND sweet potatoes you know there's gotta be something to it.
I actually emailed Penelope to tell her how she was kind of ruining my life with how great this stuff was. A sweet potato on the other hand isn't likely to ever ruin your life.
If you want more information on the Myers Briggs types (because you're fascinated by it like me) my Friday post is going to have some really good information in it. AND it will also have something extra special.
Penelope agreed to let me share one of her video classes on my site with you. It is the only time she's ever done this, and it's exclusive to us Art of Doing Stuff folks.
The sweet potato on the other hand, is pretty much available to anyone.

[shareaholic app="share_buttons" id="5342563″]