Yesterday I took you along to my local farmer's market with me. (If you missed it, read Part I here) I meant for that post to be exactly that … one post. But there was just too much, too many pictures, too much information so I had to split the post in two.
You'll notice where it's possible, I've linked to the various farms that sell at our farmer's market. I am not being compensated in any way to do this. It's my tiny way of helping to support our local farmers. Click on the links to find out more about the farm or what they sell there.
So we pick up today where we left off. At my very favourite part of the market …
Flowers!
$5 a bunch
All grown by the vendor.
You've never seen more beautiful flowers in your life.
FARMER'S TIP!
If you get yellow pollen from the stamens of Lilies on your clothing, DON'T rub or brush at it. Remove it with a sticky roller brush or masking tape.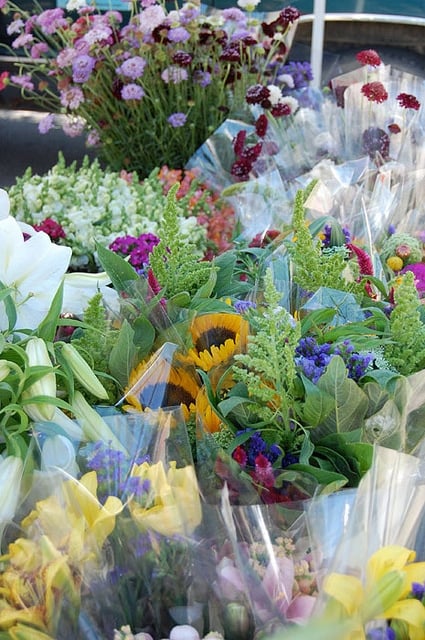 My favourite flower at the market … millet. Millet is used for birdseed & for filling juggling balls!
Without a doubt, the best smelling booth at the market.
The Bee & Me sells honey and beeswax products including candles (plus they're one of the few vendors to sell their wares on-line)
FARMER'S TIP!
The taste of honey varies depending on the types of flowers the bees harvest from. Blueberry Honey is harvested from blueberry fields, wildflower honey is harvested from wildflowers etc. etc. The wildflower honey will vary in taste depending on which part of the country and what time of year the honey is produced. Some honeys (pumpkin honey) can only be produced for very short periods of time every year. If you're looking for a very dark, earthy honey with far less sweetness, go for buckwheat honey.
This cinnamon honey was not harvested from cinnamon fields … it was flavoured.
You might not expect to find a meat locker at a farmer's market, but there it was.
Pasture raised Dexter beef from Black Walnut Lane fed a diet of grass, supplemented with corn and hay grown on the farm.
At $10 a steak, it's about the same price as a grocery store steak. Your money is more wisely spent on this steak for an infinite number of reasons.
Manorun Farms is our area community supported agriculture (CSA). The family raises organic fruits, vegetables and animals on their 40 acre farm which they sell at local markets and in shares which you either pick up or get delivered to your door. How much fun is that?? Surprise vegetables all season long!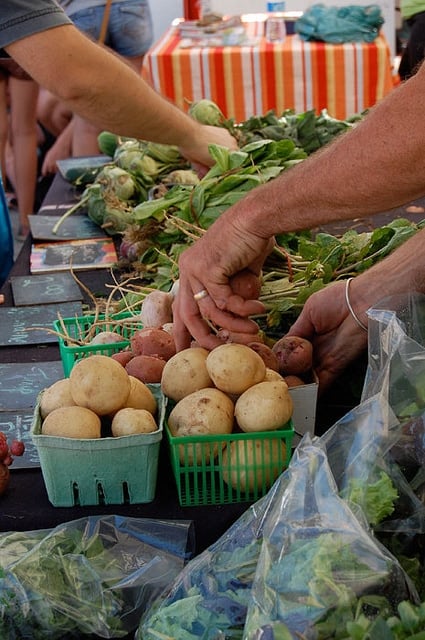 The one thing people have a hard time getting used to is that organic/locally grown vegetables sometimes look … weird.
Take these carrots for example, they look … weird. The soil was a bit hard and they grew all squiggly. Not at all like the perfectly straight carrots you get at the grocery store. Which is exactly why I love them.
And you would never find such a rude looking potato in the potato bin at your local grocery store. Children would be forced to avert their eyes as the produce manager was called. OH MY GOD AN IMPERFECT VEGETABLE!!!!
Leaves might have bites and nibbles out of them. Deal with it. As my dad, and countless other old men have said … if you happen to eat a bug don't worry about it … it adds protein. (disclaimer: the vegetables don't have bugs, I was just making a point)
Our farmer's market also comes complete with an antique instrument playing mannequin. Fun!
It also comes complete with healthy, handome young men holding breasts to their breasts.
FARMER'S TIP!
Chicken can be confusing.
Here's a guide to what it all means.
Organic – Drug free chickens fed only organic food.
Antibiotic Free – Chickens are drug free, but not fed all organic grain.
Free Range – Chickens are given space to roam and venture outside.
Like here at Fenwood Farms.
Certified organic chicken costs a lot more than a regular chicken. After watching countless videos on poorly treated chickens smashed into warehouses so tight they can't even more their wings, I'm willing to pay the extra $5. After falling in love with and raising my own little chickens to adulthood I'm willing to pay even more than that.
Kay, I don't really go for this sort of thing, but even I think these look delicious.
Just not as delicious as this.
The local flower growers also grow mushrooms, which even though I'm not a huge fan of eating, I am a huge fan of photographing.
I don't claim to eat only organic or even only locally. I wanted asparagus last night (which isn't in season) so I went out and bought some asparagus. From Costco no less.
But I am thinking more about what I buy. On the same grocery trip, I bypassed the Costco eggs and went to a shop I knew I could buy eggs from free range chickens.
This eating better, supporting your local farmer, treating animals more humanely if you choose to eat them "thing" isn't an all or nothing deal. You don't have to feel guilty about buying a supermarket chicken or picking up some cherries that were grown in Chile. Instead, feel good about yourself because you did stop at the side of the road to buy some corn. Or picked up your potatoes from a local farmer.
Do what you can and be happy with yourself for doing it.
Finally … I cannot encourage you enough to visit your local farmer's market. If for no other reason than it's fun.