"Dear (identity witheld),
It's me, Karen Bertelsen! The Cineflix people just called me today to ask if I'd host a real estate show. No audition, no nothin. Just offered it to me. Starts shooting in June and ends in September. 12 one hours for the initial run. It's called Property Brothers" ~ May 4th, 2010
Please enjoy this poor quality snapshot of me on the set of Handyman Superstar Challenge for HGTV.
That's an excerpt from an email I sent to someone I knew 6 years ago. It was about 3 weeks after I finished hosting a show for W Network in Canada that was supposed to be a HUGE show for them but ended up getting cancelled almost immediately. W Network still wanted to work with me and they had an idea.
They were starting up a new real estate show with 2 guys who had never hosted their own show before and in their pilot episode they seemed to be kind of flailing. W Network thought the show needed an experienced host to sort of guide the episodes otherwise this show could possibly crash and burn. I was the person they wanted to host it. I knew about home design, DIY and always had camera-ready hair. I was a perfect fit. If you added in the fact that I can also do a bang-on impression of a monkey eating clam chowder it's a miracle I hadn't been offered a show like this before.
I watched the pilot episode the network sent me and then went into Toronto to meet with the producer at the time. I listened politely and then said no, thank you. I don't think I want to host this show.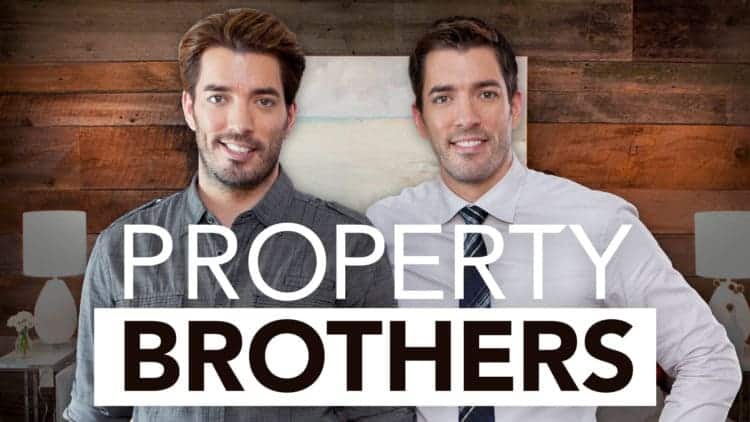 That show as I mented … was Property Brothers.
Yes. That Property Brothers. The ubiquitous Emmy nominated Scott brothers. Turned it down. Suck on that television executives, I don't want the cruddy old show you made for someone else. Suck it all of you!
Here comes the life lesson about being wrong.
Not me. I was completely right to turn down the show. The television network was wrong. The show didn't need a host, the brothers didn't need help and I knew that. I'd have been kicked off of that show after the first season. I'd have been the Brian Dunkleman of lifestyle shows. Either that or I would have married one of the Scott brothers which would have been a horrible thing because then I never would have been able to pursue my relationship with Idris Elba. So there's that to consider.
Also, this was their vehicle. It was a show made for them. It was a great, GREAT opportunity. For them. For me? Well, I'd just be a talking head saying things like, "That's a house alright" "Look at it. It's a blue house". And then the brothers would carry the rest of the remaining 58 minutes of the show.
At the time of the offer, I had just started my blog. And I mean *just*. It was May 4th, 2010 that I was offered the job of hosting Property Brothers and it was on March 1st that I put up my very first post on The Art of Doing Stuff. I knew if I really wanted to give blogging a try I had to do it. I couldn't start a new blog and host a television show. Not if I wanted the blog to be my next profession.
I had only been doing it for a few months but I knew immediately that I LOVED blogging. I wasn't making a single cent from it and didn't for a couple of years but I knew I'd rather be poor and happy than rich and bored. Not that television is boring, but I had done it for 15 years by that point and it had lost some of it's pizzazzle for me. Not the craft services table of course, that sort of thing could never lose its pizzazzleass. (Craft services for those of you who don't know is the catering you receive as someone working on a television production because apparently it's very, very important that entertainers have quick and easy access to pizza rolls at all times. It's imperative really. Craft services is a room or table filled with food available for the taking at any time you want. There's fruit and liquorice and chips and cold cuts and salads and coffee and sometimes even chocolate bars. FOR FREE.) Also you can look people straight in the eye while shoving as much candy as you can into your bra and NOBODY bats an eye. You're either padding yourself for camera or stealing candy to take home. Either way NOBODY CARES. I guess I do kind of miss television.
6 years have passed since I turned down Property Brothers. In that time my blog has grown to a medium size, I sometimes go to the grocery store just to have real life interaction with another human being and Sabrina the Teenage Witch started following me on Twitter, who I have since learned follows everyone in the universe … including Property Brothers.
In those 6 years the Property Brothers have grown their production company to another 5 television shows, a few product lines including an eclectic mix of beautiful outdoor furniture and bobbleheads, a book, hosted a radio show, produced a couple of original music CDs, and an Emmy nomination.
ohmygodwhathaveidone?
Because at the beginning of this post I was allllll "I did the right thing, I'm happy and I have chickens and Jimmy down at the video store knows me from my blog and lets it slide when I bring my movies back a day late and omg I'm the only person on the planet still renting videos, I've let my whole life pass before me, I'm living in the dark ages, I don't have my own bobblehead and nobody loves me. I bet I even have lyme disease."
What the hell can I do to fix this?
Introducing the Karen Bobblehead.
Just kidding.
Yeah, the odd day I look at Property Brothers and all they've accomplished and how well the show has done and the fact that they have selfies with Tina Fey at the Emmy's and I think. Shit. I hate those assholes.
But I really don't. And I know I made the right decision and I have no interest in running a production company or flipping houses, which is really how they've made it.
But man. Tina Fey.
Fast forward to 2 minutes ago.
"Ping" (that's the sound of an email coming in, which I'm compelled to look at even though I'm writing a blog post because it might be someone emailing to let me know I've just won a wheel of cheese)
"Hey Karen,
I was looking to get in touch about a show that we're doing for HGTV. Our company is the producer of Property Brothers, American Pickers, Mayday, Food Factory, amongst others.
Anyhow, we're doing a series on tiny homes and looking for builders and designers to co-star in different episodes. Let me know if I can arrange a phone call to give some more details.
Thanks,
XXXX"
Here we go again … why couldn't it have just been a wheel of cheese?
Have a good weekend Drew and Jonathan.