I've been stacking wood since I was 9 years old. Because apparently I was some sort of pioneer child, further proven by the fact that my favourite toy was a potato. More on that and the resulting therapy in a later post.
It was my father who taught me how to stack wood and he was a good teacher.
It is for this reason that I will not allow my boyfriend to stack wood. You see … I know how it should be done. Norm taught me. According to Norm (may he rest in peace with a roaring fire) you should basically be able to drive a monster truck up one side of your wood pile and down the other without it moving an inch.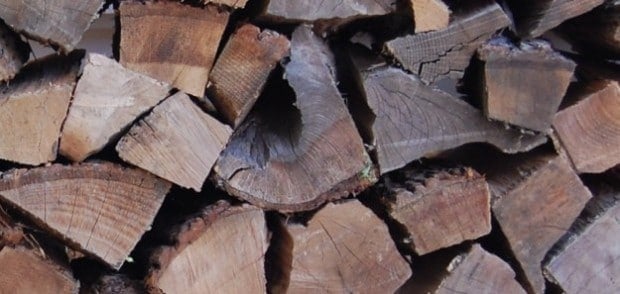 Problem is … Norm was wrong. Eek. I can't believe I just said that. But the truth is, a well stacked wood pile should have a little bit of air space in it. You don't want it wiggly, but you want air to be able to flow around the wood so it stays dry. This means your wood pile shouldn't be so tightly stacked that it's like a cement wall.
Neither should it be so quickly thrown together that one look from an angry cat will send it toppling over. I'm speaking to you, Mr. Boyfriend. I allowed him to stack the wood one year and the whole pile fell over. An entire cord. He blamed the cat. He still blames the cat, although now he does it with a little grin on his face.
For years I've been stacking my wood piles in between 2 rods that I hammer into the ground and secure at the top with thick wire. Just like Norm did. It ensures even if my wood gets a little wonky, it won't fall over. But it's a pain. And it looks a little like something Martha Stewart would scoff at. And rightly so.
Then last year I discovered something fantastic. Something that would make wood stacking so foolproof even my boyfriend could do it. If I were ever to allow him to stack wood again.
This little thingamabob.
The log thingamabob!
Now this log stacking tool isn't cheap. It sells for $12.99 (a pair) Which is fine if you only need one set, but we needed 6. Blech.
However you can use them over and over again every year. And it'll make your life easier and your backyard neater.
Its official name is the Log Stacker. Really it is. Google it.
It works by sticking 2 X 4s into the holes in it, which creates a sturdy crib for your wood.
So you'll also need a bunch of these.
If you have a smallish stack of wood you can use 4′ long pieces of wood.
Line up as many as you need ….
Shove the upright pieces in and admire how pretty it looks already.
Then smack yourself on the head and start all over again, realizing you configured the wood wrong. Dismantling it and then pointing at something random is essential.

Back to where you started, you have a row of Log Stackers filled with 2X4 pieces of spruce (the cheapest wood). This is 12′ long by 4′ high.
Now you must fill it. You must lug and carry and stack. Over …
… and over …
… and over again.
And again.
And for the record, even though he can't stack wood, there are other things my boyfriend does very, very well.
For instance, he can make a souffle, cleans up after dinner, and can toot like a champ. Seriously. Like a champ.