One browse through an Architectural Digest or designer Instagram page and you'll see it. The easiest trick in the book for making any room look great.
Actually, now that I think about it the REAL trick that bloggers and decorators use to make a room look great are animals. Doesn't really matter what kind. Cat, dog, goat, hedgehog, manatee, I mean whatever you have on hand really. Throw one of those on the bed, snap a picture and you're decorator of the year. Done.
However, the trick I am referring to is ...
The Collection.
If you have more than 2 of something - you have a collection. That's right. Right now you are sitting on your very own collection of toes. Hopefully. Let us all hold hands in a circle, praying that you don't have a collection of noses.
As you can see, I have a collection of similarly shaped vessels. I didn't even know I had this collection until I started scouring the house looking for them. They were scattered around, some in bookcases, some on tables and some relegated to the basement. They all looked O.K. where they were (other than the one on the windowsill next to the mousetrap in the basement) but they didn't have any huge impact.
Now they do. Instead of detracting from each other they amplify each other.

SIMILAR THINGS & SHAPES
You probably have collections around your house and not even realize it. Like me. 'Cause we're idiots. In fact I'm such an idiot I didn't realize I have subconsciously created collections all over my house. Wherever I have a collection that part of my house looks good. Put together. Instagrammy.
So why is this a trick? Because it fools everyone into thinking you know what you're doing.
Taking similar stuff and piling it together automatically gives you design cred. There are a few guidelines if you really feel like you don't know what the hell you're doing.
Guidelines for Displaying a Collection of Objects.
There are a few things that will constitute a collection:
Shapes
round, rectangular, organic etc.
Things
vases, plants, photos, bowls, clay pots, scary clowns, PEZ dispensers ... you get the idea.
Colours
repeating colours or tones
Materials
wood, metal, plastic etc.
Sometimes things will look better if they're all the same colour and some things will look better if they're all different colours. You just have to keep trying stuff.
Why the vessels work.
All of the things are similar objects. Vases/vessels. Plus they're all similar shapes.
They're all different materials with ceramic, glass, metal and even paper. But because they're all a similar objects and shapes it works. If they were all random shapes with some having very geometric shapes it wouldn't work nearly as well. If they were all the same colour, having different shapes would work fine.
See? You have to balance enough similar things in a collection for it to look pleasing to your eyeball. You might put things together and think NO that doesn't look good, but you can't figure out why. Keep in mind the 4 categories I've laid out and you should be able to figure out why something is or isn't working.
It could be that things are either too similar or not similar enough to the eye.
It's all about balance.
An entire row of vases that are all the same height and colour would look kind of dull for example.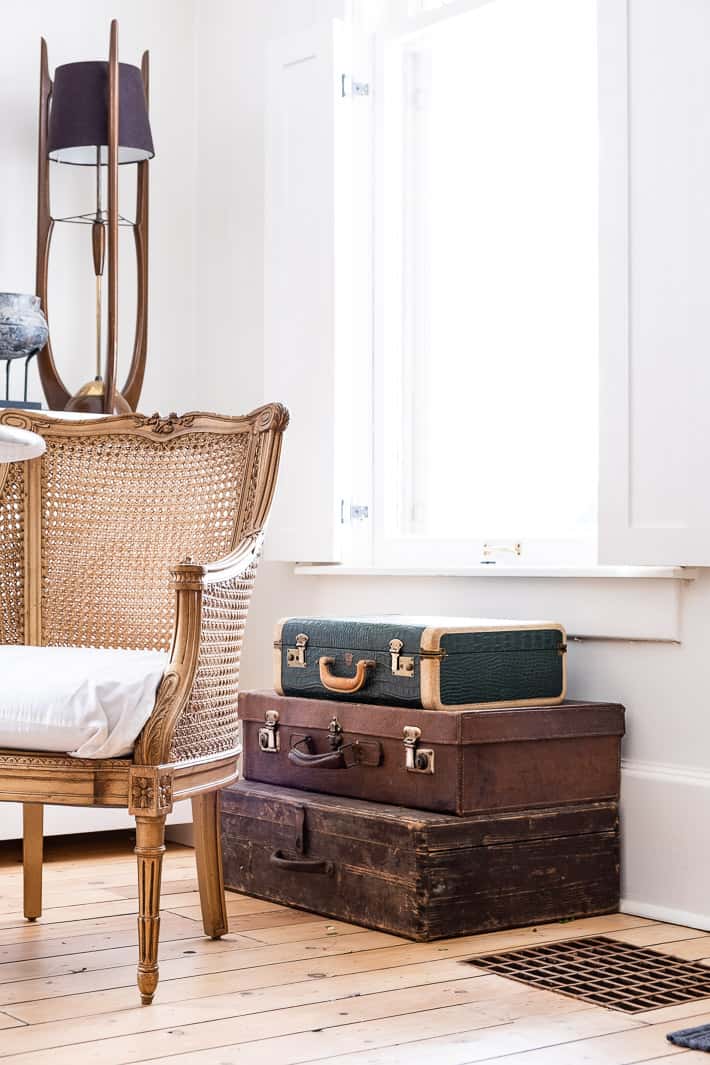 THING & SHAPE
Grouping collections works especially well if you have at least 2 of the boxes checked off. With these suitcases for example, they're all the same thing (suitcases) and all the same shape (rectangular). They aren't the same colours or materials but they all have a similar feel; old and dirty. With a bit of yuck.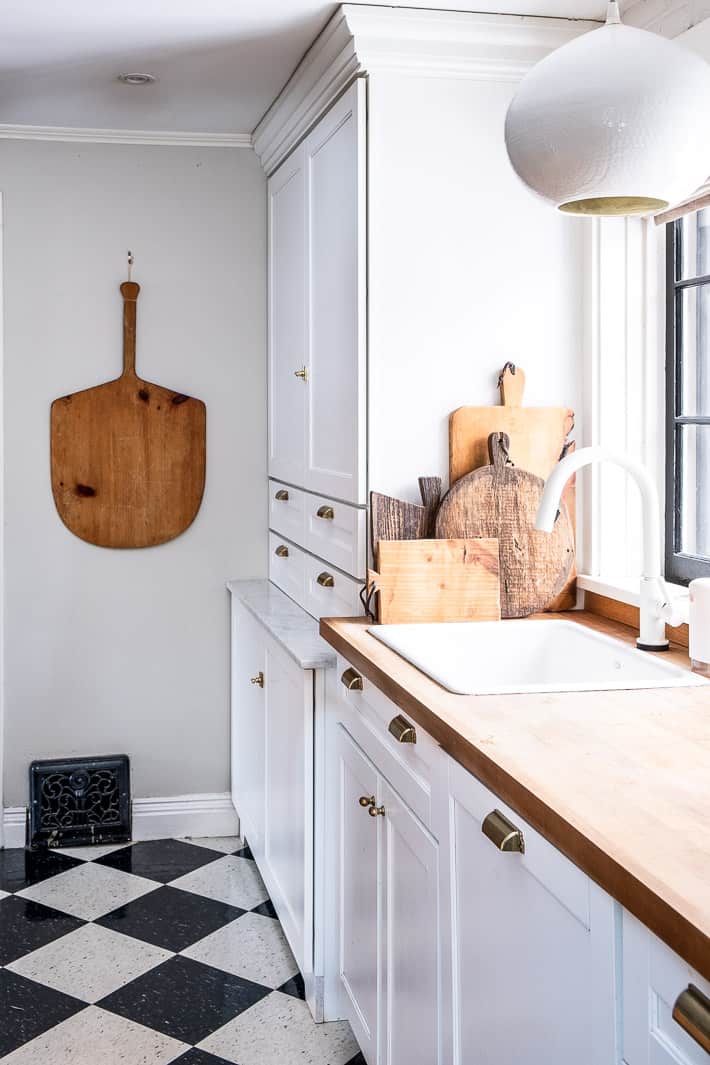 THING & MATERIAL
With these cutting boards again they're all the same "thing". Unlike the suitcases, they're different shapes, but they're all made out of the same material. Plus it's echoed with the pizza peel hanging on the wall.
And seriously, find me one blogger that doesn't have a shot in their kitchen of a "random stack" of old cutting boards. It's a thing. Trust me.
Those aren't old cutting boards by my sink by the way, I made them all and I know you want to make them too now. Go read this post about how to make genuine new old cutting boards.

THING, MATERIAL, SHAPE & COLOUR
Remember a long time ago when I said if you had all kinds of white vases that were the same height it would look kind of boring? Ignore that. I don't know what I was thinking. I'm an asshead.
This collection of *almost* identical ironstone bowls on top of my cabinet proves that theory wrong. Behind them is another collection of ironstone platters, which are different shapes but the same colour and material.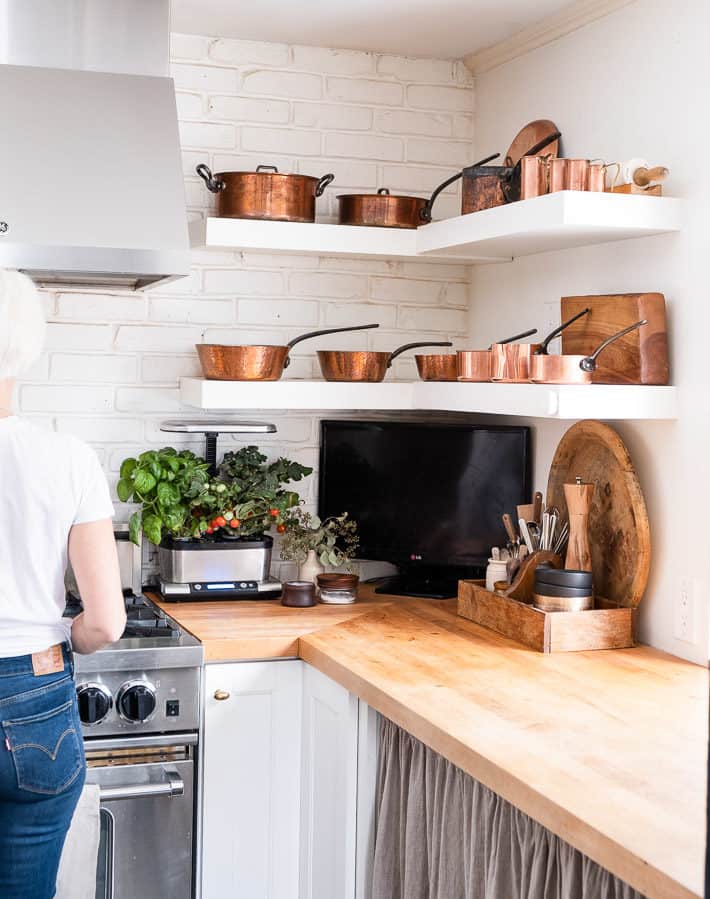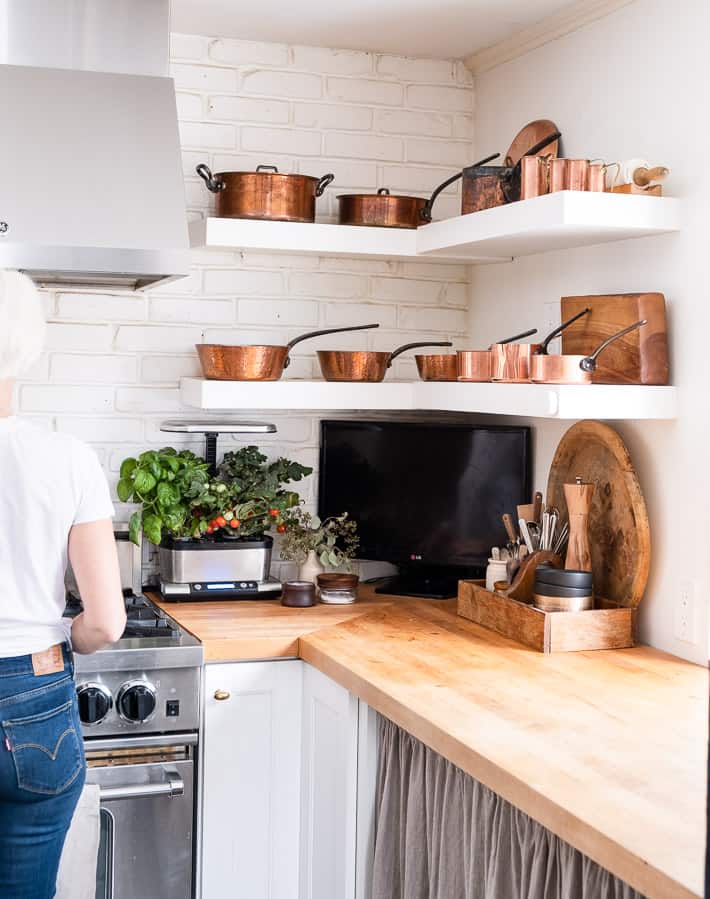 THING, MATERIAL SHAPE & COLOUR
The copper pot collection I'm accumulating may soon be relegated to a hanging pot rack over my island. I haven't decided yet. My ceilings are lowish so it might just feel weird. On the other hand, it would be a great place to hang a sloth for photos.
For now they're all alone within arms reach of my range along with a couple of other copper cooking things like measuring cups and a skillet.
If you're feeling a bit of the winter blues with your house try creating a collection this week. If you already have one try fiddling with it to make it better.
And I know. You don't think you have a collection. But you do. Let me remind you of your toes. You didn't realize you had a collection of those did you? So wander around your house, basement, closet, under beds and put some things together by shape, object, colour or material and see what you can come up with.
THEN when you come up with something good, post it on Instagram and hashtag it #TAODScollection (that way I can find it and repost it).
Extra points for anyone who's able to incorporate toes.
→Follow me on Instagram where I often make a fool of myself←