Welcome to my English Cottage Garden in Canada. The dahlias are just starting and the peonies are done but everything in between is on a roll right now. So come on in.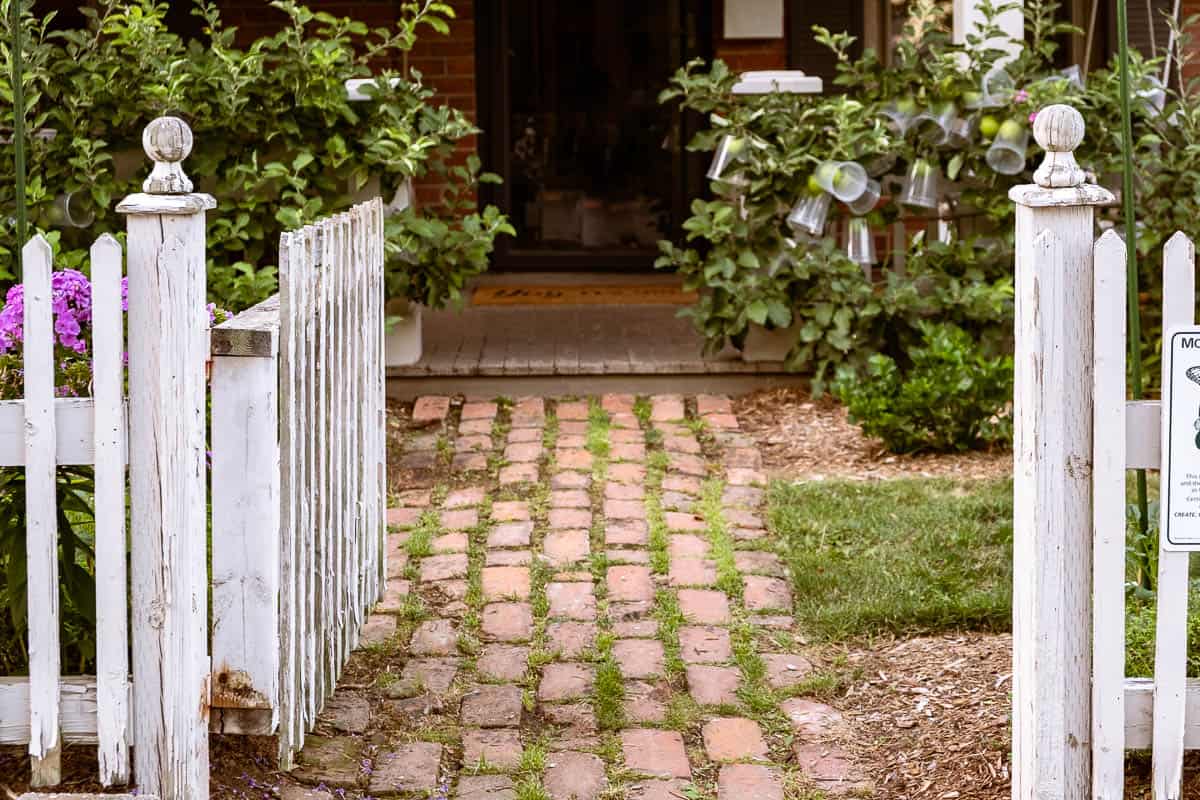 Careful. The fence is a bit rickety. I keep telling myself it adds to the authenticity of an English cottage garden. I'm not sure what I want to do with this fence so I'm not in a rush to replace it.
I'll likely keep it but I'm also toying with the idea of a hedge with a picket fence gate. Or brick pillar and picket fence combination like Julia Child had around her home.
Anyhow. Just don't lean on the fence trying to get a better glimpse of the cockscomb.
I normally shy away from bright colours in my regular life. But once I'm in my front garden I go all Katy Perry meets Fisher Price.
Twice I tried to be more subdued with my colour choices. I envisioned an all white flower garden at one point because it would be SO elegant. But also not very english cottagey.
THEN I thought I'd try just muted tones. But didn't.
Now I'm at the point where I just throw anything into the garden and figure it'll work itself out.
I have everything from dark red to purple, hot pink, peach and of course lots of green. And plastic deli containers, as everyone knows are commonly found in most historic gardens.
Most years my front wall is filled with self seeded snapdragons, but this year the winter killed a lot of them and I put down a thick layer of mulch that they couldn't get through in the spring.
So in early summer when the tulips that live in the space between the fence and the wall had died, I planted several mounds of alyssum - the third prettiest smelling flowers in my garden. (#1 is honeysuckle and #2 is coming up)
Any of the cockcombs or amaranth I have in my front yard have all self seeded. You only need to plant them once and they'll come back forever. Ditto for snapdragons - usually - and cilantro.
This post I wrote ages ago lists some of the flowers you should incorporate if you want an English style cottage garden.
Every year I say I'm going to get my watering system set up and ready as soon as I plant my dahlias. Then I eat a bag of chips, get drunk and don't think of it again until the middle of summer when I notice my front yard is giving off a very abandoned cemetery vibe.
I'm much better about keeping my vegetables alive and thriving from day 1 than I am my flowers.
Because of my watering ineptitude - especially this year when it's regularly been over 35C (95F) - my dahlias always bloom later than everyone else's.
One thing I've always wanted to do but only finally did this spring was train the ever present perennial sweet peas in my garden to climb up my apple espalier trees.
So even when the apple trees are way past blooming, they'll still be covered in flowers.
It'll take a few years for the sweet peas to get mature enough to be able to wind through the entire trees.
I did the same sort of thing along my fence where I have cherry tomatoes growing.
Now hold onto your hats and get ready to be impressed by what may be the saddest Amaranth I've ever grown.
This Coral Fountain amaranth below is very sad. Very, very sad. Again this is a watering issue. It's just out of the reach of my sprinkler system. I expect it will get bigger by the fall but for now it's anemic.
The Opopeo amaranth, a traditional variety from Mexico, that self seeded itself last year is mega.
I also promised myself that I'd pull it out in the spring. I made a very definitely promise to myself at the beginning of the season that I'd pull out any volunteer plants that were growing and only concentrate on the plants that were growing where they were supposed to be growing.
Then I couldn't pull them out because I'm weak. Not weak in muscles, weak in resolve. So the big garnet amaranth stayed where they grew on the edge of my grass and a few (many) other places.
Here's a little rundown of my side yard.
Starting from the left border plantings:
Purple phlox
Sage
Peony
Rhubarb
The right border plantings:
Hansa heirloom rose
Dahlias (not seen)
Opopeo Amaranth
Heliotrope (not seen)
Cherry tomatoes running along picket fence
Cherry tomatoes string trellis trained to run up the large fence.
There are also bits of other amaranth, poppies, cosmos and cilantro growing in between everything.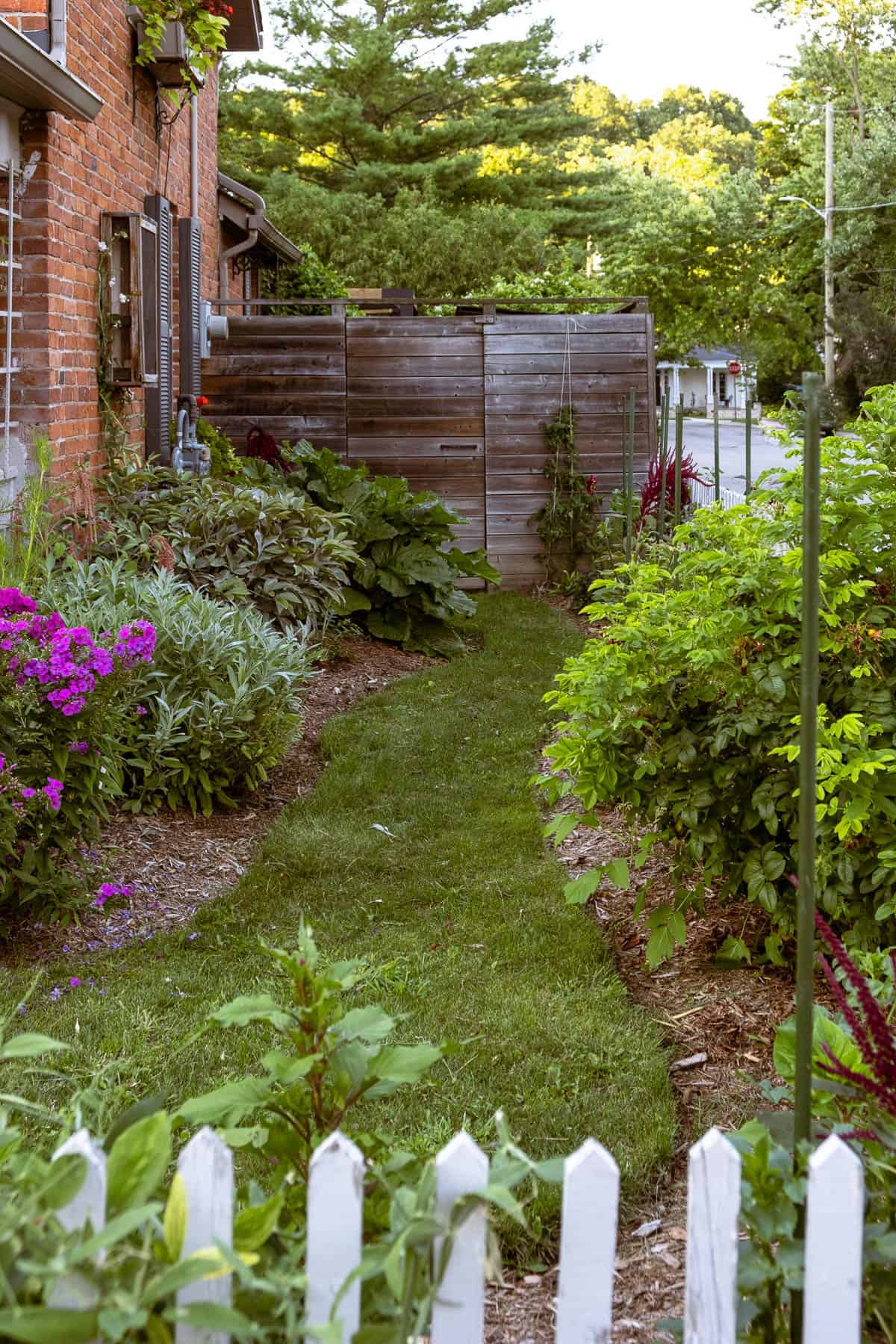 I used to hate cosmos. I thought they were scraggy and stupid. Then I got cupcake blush cosmos and LOVE them. Cosmos are great for flower arrangements because their stems squirrel around and bend and dip. This gives any boring flower arrangement movement and therefore makes it worth at least $25 more.
In my mind anyway.
A new plant!
My neighbour is a landscape architect and she brought over an heirloom plant for me to put in this spring. Acanthus. This particular variety has the common name Hungarian Bear's Breeches.
It has jagged leaves and big spike flowers. As it gets older it spreads. Once it does I'll be hacking those spikey flowers off to bring indoors because I am the flower hacker.
Yes I like to see flowers outside, but unlike a shot and mounted tiger, I also think they're great inside.
The other new thing to the garden this year is this one.
Lip pees on everything. Even the celery I have flanking the brick walk.
So that's new.
Rounding out the butterfly habitat are stalks of milkweed that I allow to grow on the outside of the fence. So it's one stop shopping for the butterflies.
If you don't know about the life cycle of Monarch butterflies it's fascinating.
They lay eggs on milkweed which is where they hatch. The caterpillar ONLY eats milkweed so it never has to leave that spot until it becomes a chrysalis. Once it's gone through it's whole chrysalis thing the monarch emerges and looks for nectar.
It'll only be about 4" away.
English style cottage, english style garden. Honestly it couldn't get more English unless a Sex Pistol jumped out from behind a mound of Phlox.
SEE?! This is why I couldn't hav an all white garden. Look at how the hot pink amaranth looks with the facing purple phlox.
Everyone's favourite, the white sweet peas at the front of my fence have flowered once this year.
Once they're done flowering I hack the sweet peas back (and I do mean hack) and they'll bloom again until October.
This is the same view but from the other direction. You can see the mound of sweet peas on the fence from the back of the side garden.
My rhubarb in the foreground is large enough to provide shelter for an entire extended family of anything. Even catholics. It is a BIG rhubarb plant because it's in a sheltered spot near the warmth of the brick wall of my house.
Also I split the rhubarb once I see it starting to either thin out or grow enormous amounts of flowers (which it did this year.) Splitting your rhubarb plants is the best way to keep them big and healthy.
It's also something people don't really seem to know to do.
So I'm telling you to do it.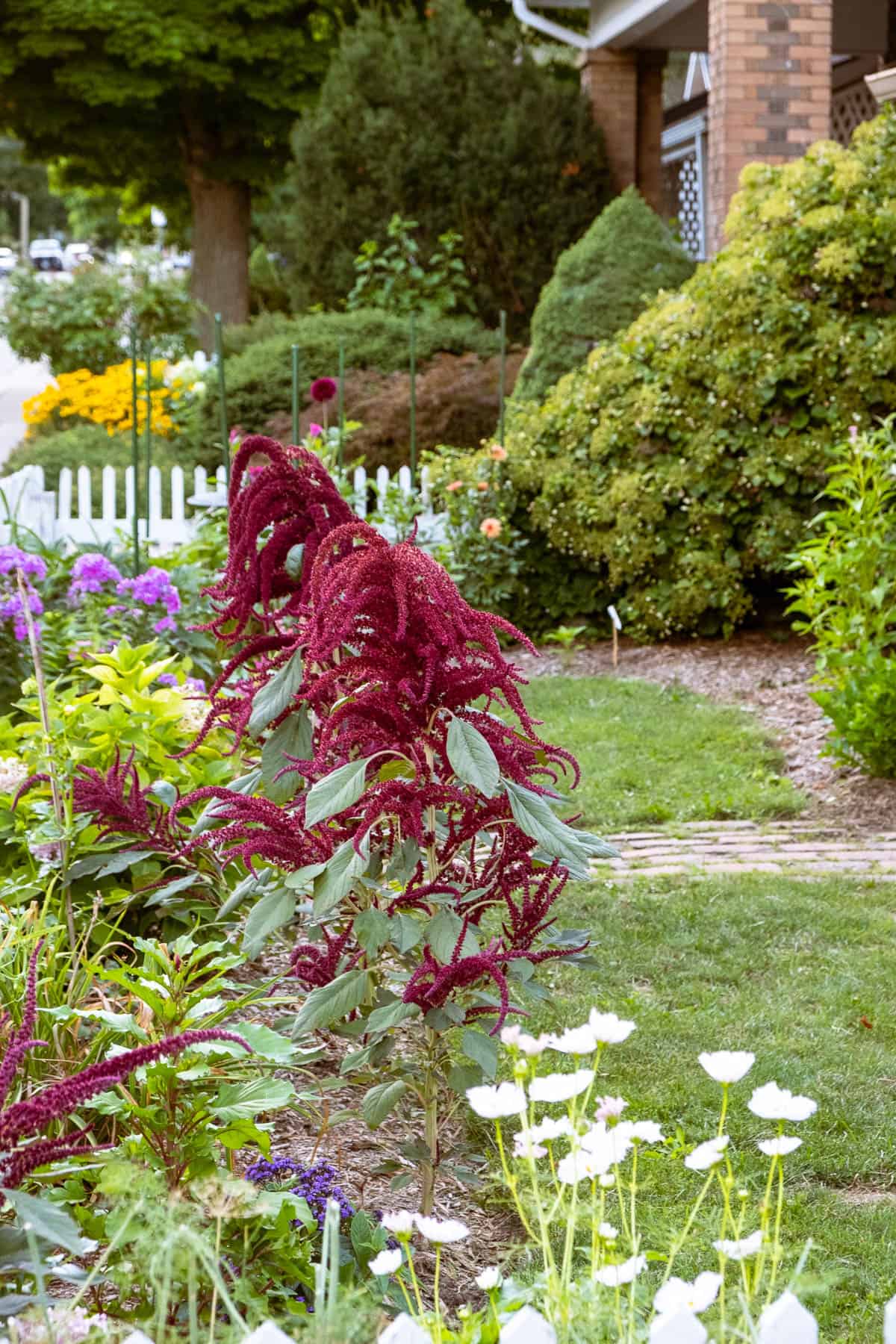 This isn't the last you'll see of my front yard garden this year, this is just the preshow. Come the end of September I expect the dahlias will finally catch up with everything else.
Except the rhubarb.