My English cottage garden at the end the day at the end of July. This is the calm before the storm of dahlias arrive in August.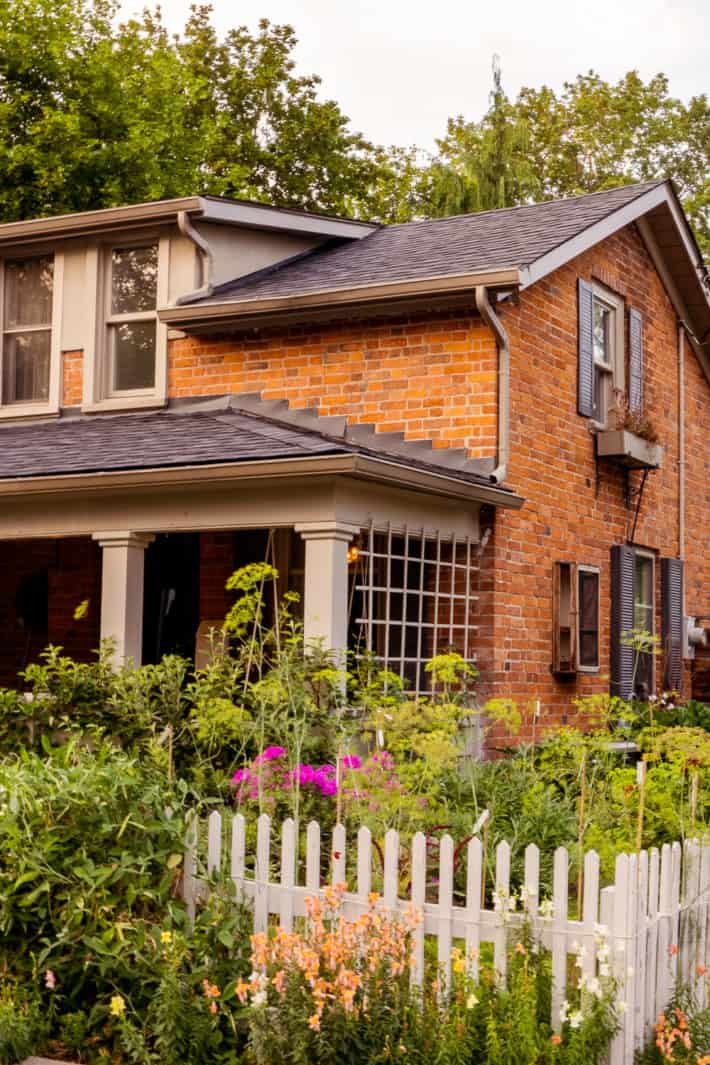 Here's the thing about a garden like mine. It's the perfect setting for a sneak attack. By this time of the year things have grown tall enough and bushy enough that if I sit on my porch I can go completely unnoticed. In fact, as I write this, I'm sitting on my porch going largely unobserved unless I hiccup. I have the hiccups.
It's not the hiccup that tips people off that I'm on my porch it's the fact that I habitually scream HICCUP after every hiccup.
Also, maybe it is my hiccups because they sound identical to the sound a crow would make if mid flight he suddenly discovered he only had one wing.
But most of the time people don't notice me. This is a a great eavesdropping opportunity obviously as people slow their walk past my house to look in the garden.
I'm sure if they knew I was there they'd never mention out loud that they don't know what to have for dinner. Or that they bought their shoes on Amazon. ONE woman walked past, talking on her phone, and declared for the whole world to hear that SHE DIDN'T WANT TO GO BACK TO WORK IN THE OFFICE.
Last week I put a few paper bags of tomatoes on the brick wall that surrounds my garden with the word "free" written on them. I was hidden on the porch when the first bag was discovered and met with a squeal of delight.
FREE?? FREE ORGANIC TOMATOES? YES PLEASE!! Then the recipient grabbed a bag, did a bit of a tomato dance and continued down the street wiggling with all the might of someone auditioning for a Beyoncé video.
By the time he got down to the corner of the street I couldn't hold the laugh in anymore and it blared out across the neighbourhood, murdering the gentle sound of my one winged crow hiccup.
This of course startled him out of his dane routine and he suspiciously made his way back to stare around the garden before breaking into dance again and twirling down the street.
Then there was the couple who walked past who wouldn't let their dog drink from the bowl of water I put out every morning.
Oh, no! No. Yucky. That's yucky water. Look at that. This yucky water that's dirty. Yucky.
Then they mumbled all the way down the street about the horrifying status of my dog water.
Obviously I immediately went out to check to see what possibly could have happened to the bowl of water I put out for dogs since the morning.
It was a horrifying scene to be sure. There was, in the bowl, scrambling on the surface of the water, a single millipede.
It's no wonder they were so alarmed. Had their dog accidentally ingested the millipede it surely would have ruined its dinner which, being a dog, could have been anything from raw meat, to someone's hangover vomit, to it's own mound of feces.
Good call yuppies.
Is yuppies still a thing? Or did that term die out the same time the show 30 Something did?
I 100% could have come out of hiding on my porch and sneak attacked the dog walkers but instead I let them complain because sometimes that's just how people are. Where they find joy in complaining about things, I find joy in not being them.
Although, get ready for it, because I am about to complain.
These are supposed to be Queen Lime Zinnias. Bright lime green zinnias. Instead they seem to be white zinnias with a hint of lime green around the petals. Not enough of a hint to make them amazing. Just a barely there hint, that you can't really see and does nothing to make them more beautiful.
Like getting 4 highlights in your hair. Or adding a fingernail sized piece of ice to a bucket of warm iced tea.
Looking around the garden things are growing but they haven't become full blown yet. The dahlias for example are taking their time and as of the time I took these photos just before the sun went down last Friday there were only 2 dahlias that were about to bloom and the tomatoes were just starting to ripen.
I predict by next week the dahlias will start burst and the tomatoes will start coming in so fast I'll be eliciting tomato dances from neighbours all day and night long.
Subject change: My windowboxes are dead. The bottom one isn't too bad but the upper one is completely croaked. THIS because I didn't put the watering system I have in place on a timer. Because I couldn't be bothered to buy a timer.
I knew, KNEW, that this was the year I was going to be responsible enough to actually just turn the tap on to water the window boxes because it only takes 5 minutes in total (between turning the tap to the drip system on and then waiting 5 minutes and turning it off. )
As it turns out, I am not up for that kind of time commitment.
Which would explain why the birdbath is almost empty as well. That would take at least 30 seconds out of my hiding on the porch time.
The perennial sweet peas continue to get most of the attention as people walk past but they had better get used to being in the chorus because the stars of the show, the dahlias, are just powdering their faces and will be taking to the stage soon.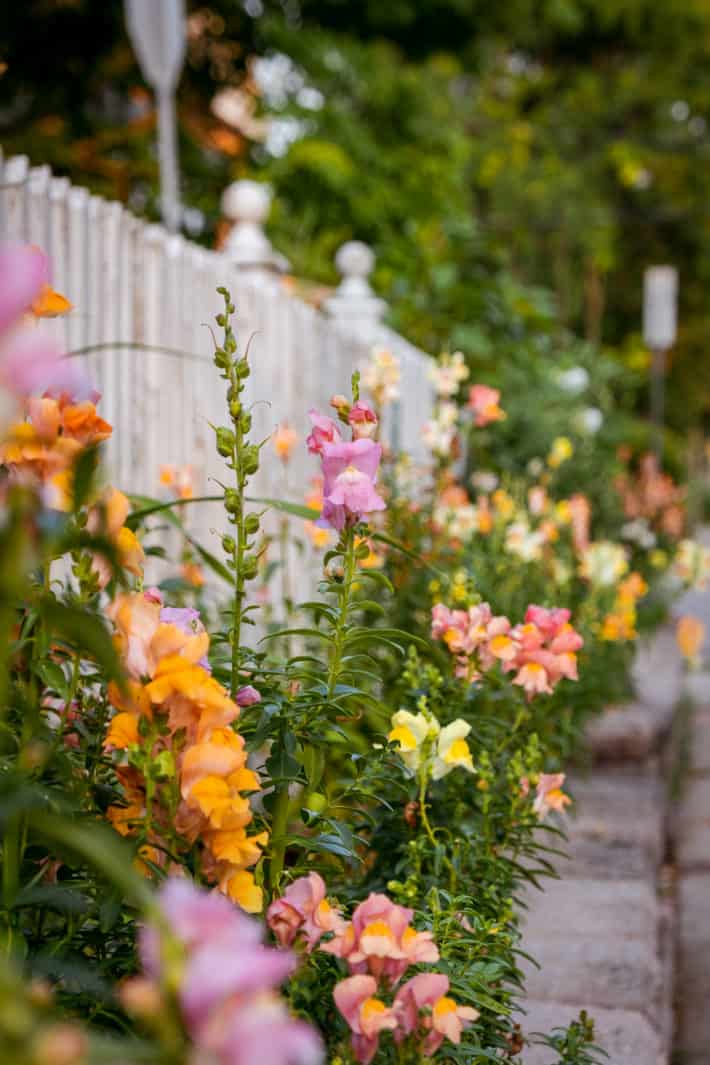 Partly because they're at kid height, partly because of their name, the snapdragons are always a favourite with kids.
Coming up I have an especially nice shot of my dead windowbox.
Told you so.
The self seeded amaranth has been my go-to for cut flowers so far this year because they're so prolific and just a few stems makes an incredibly impressive arrangement.
The best part about amaranth is you can preserve it perfectly so it stays soft and looks exactly the way it did when it grew in the garden. And yes, I will have a post on how to do that soon.
As long as it doesn't take me more than 5 minutes.
Signing off for the day now. If anyone needs me, you know where I'll be.
I'll be hiding on my porch with a coffee and all the time in the world waiting, patiently - dressed in a millipede costume.
→Follow me on Instagram where I often make a fool of myself←