I got the appliance gene from my mother.
Nothing makes either one of us happier than a high end stove.
She loves stoves so much it took her a couple of months, 5 different stores, 3 sleepless nights and an astrology appointment to finally pick out a new one.
Me?  I've known for years what new stove I'd pick.
A Blue Star.
But a  30" Blue Star range is $4,899.
So I figured I'd get the closest thing to a Blue Star.  Maybe an actual used professional range from a restaurant supply store.  Or an NXR.  Or a bunsen burner.
Then one night, as I lay on the couch in a drunken potato chip stupor I was browsing the Costco website and my whole world changed.
They carried the Blue Star range.  For $2,399.
That's $2,500 LESS than buying it from Blue Star.
It was such a great deal it immediately made me suspicious.  So I did some digging around the great vast Internet and came up with a couple of reasons why the Costco version of the Blue Star was so much cheaper.
The burners are 15,000 BTUs each, as opposed to the standard version, which has 22,000 BTU burners.  BTUs are "British Thermal Units" by the way.  A standardized way of measuring heat output.  The higher the BTUS the more heat from that burner, the faster you can boil a pot of water.  Or scorch a pan.
To me, 22,000 BTUS is best left in a restaurant.  I can't imagine any situation where I'd need more than 15,000 BTUs.  Nothing legal anyway.
I have no idea what my current 16 year old stove is, but I can guarantee it isn't 15,000 BTUs per burner so  I don't care.  It'll be better than what I have and more than I probably need.
The other difference in the Costco version is the slide out oven racks. The fancy version's racks are on ball bearings.  The Costco version doesn't have that.  For a savings of $2,500 I'm pretty sure I can muddle through without the ball bearings.
And finally, the interior of the oven.  The fancy version has a double glazed stipple commercial grade enamelled oven interior.  Sounds good!  Almost makes me want to spend another $2,500 on the oven. Wait.  No it doesn't.
So the Costco version wins!  By a long shot I might add.
I don't have the stove yet, but these are shots of it from the Costco website.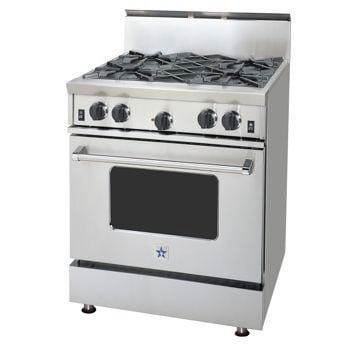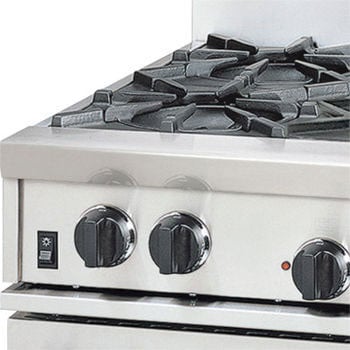 I bet you're wondering why I was so hopped up on the Blue Star.  It's the burner.
Most gas burners are a single circle that runs around the outside of your pot.  The Blue Star burner is in the shape of a star.  A blue star as a matter of fact.  This ensures the middle of your pot is heated just as much as the outside of your pot.  So when you're simmering sauces in a pan the whole pan will simmer ... not just the outside.
I actually spotted this stove over a year ago.  WAY before I had any inclination of redoing my kitchen. It's entirely possible the thought of this stove being out in the world, available for purchase ... may have  subconsciously prompted me to redo my kitchen.
I wonder if Costco would take issue with me billing them for my kitchen renovation.  Since technically they're responsible for it.  Luckily for them my to-do list is quite long and by the time I get around to billing them the statute of limitations on that sort of thing may have run out.
So if you're in need of a good highish end stove ... I've done the research, and this Blue Star from Costco is a good buy for a really good range.
In Canada and need a Costco membership?  I've struck a deal with Costco and they'll send you $10 back when you join up.   Just use the code ILOVECOSTCO1 for a regular membership, or ILOVECOSTCO2 for the executive membership.  The Costco button on the righthand side of my sidebar will stay there for the next month or so if you want to partake in the offer.  Once the button is gone, so is the offer.
Although I can't imagine there are still people out there who aren't Costco members. You people clearly don't know the joy of knowing you'll  never run out of batteries.
I honestly don't buy a ton from Costco, but it's worth it just for the few things I do buy there.  Starbucks French Roast coffee, most of my meat, books and cleaning supplies.  Those are my staples.
And pillow case sized bags of potato chips.
More kitchen updates soon.
Want more STUFF like this?
Get my posts emailed to you daily.