If I can impart one piece of advice on any of you it is this … never flush a bug with wings without putting the toilet lid down first and … don't wait until your appliances have broken to pick out new ones.
You. YOU RIGHT THERE.
Go now and pick out every single major appliance you can think of. Browse online, go to stores, ask friends and then decide on what fridge, stove, dryer, washer or vibrator you'd buy if your current one broke. Because once it DOES break, (and it will) you're gonna be in fits and might not have the mental capacity to make a logical, informed, well thought out decision.
If you wait until your appliance breaks to buy a new one you might end up with something … ugly.
There are a variety of slippery slopes you could go down if you're forced into picking out and buying a major appliance like a refrigerator in the 12 hours you have until your food spoils. And if you're not thinking straight, that slippery slope migt not be paved with an automatic ice maker.
My fridge broke a few weeks ago. When I realized it was on the blink my head started to spin and I got a bit woozy. Partly due to the fear of having to buy a new fridge and partly because I immediately started banging my head against the 13 year old appliance. Sometimes that'll help get things up and running again. It's the Fonzie move but with your head.
It didn't work. I am still without a fridge. Actually, that's a bit of a lie. I now have a total of 3 refrigerators in my kitchen. Three of 'em. My regular, broken fridge, my niece's bar fridge, and my mother's miniature poolside fridge. All in my kitchen.
Why no. It isn't crowded and annoying. Why do you ask? Why do you ask? Why do you ask? Why do you ask?
Sorry. Sometimes the Xanax makes me repeat myself.
Tra la la.
While my first thought was to run out and get a refrigerator immediately so I didn't have to live through what I'm living through right now, I restrained myself. I would rather live for a month or so with completely inadequate fridge storage, a crowded kitchen and the soothing sounds of my Xanax drip than live for the next 10 or 15 years with a fridge I hate.
So every night for the past few weeks I've been looking at and researching refrigerators. I now know exactly what I want. I know right down to the last detail. I also know … this fridge I have in my head? It doesn't exist.
More on that later.
For now … a look at what's out there. I need to come to a decision quickly by the way. I'm overrun with carrots, beets and zucchinis from the front yard vegetable garden and have nowhere to put em.
The Most Beautiful Refrigerators from Around the World.
The increasingly popular French Door fridge. I was surprised that the cost of a full sized French Door Viking refrigerator was only a few thousand dollars. I would have guessed more. Great professional style handles, nice clean lines and I'll admit it, the Viking label up in the right hand corner kindda sucks me in.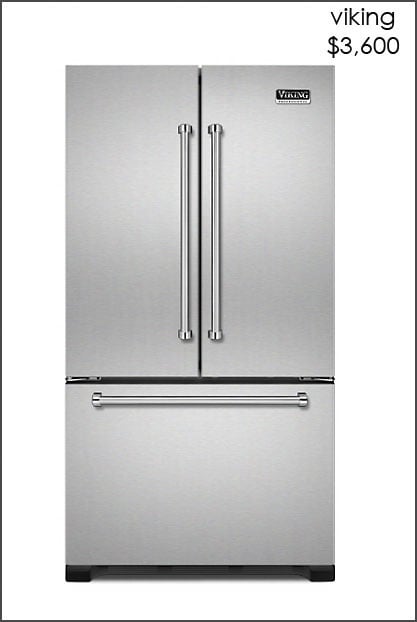 I absolutely love the look of professional appliances with all of my heart. This True column refrigerator is one of my favourites. Sadly I can't have it because it has no freezer. I don't need a big freezer because we have an upright freezer in the mudroom, but I do need something so I'm not always having to trudge 5 steps to the mudroom when I want ice or nuts for cooking or whatever.
The other downfall to actual professional refrigerators like this is they're louder than refrigerators meant for the home. They have fans in the top of them that run constantly. They never, ever, shut off. I would find that constant drone in the kitchen annoying. I think. I DO love the look of this though. Hmm.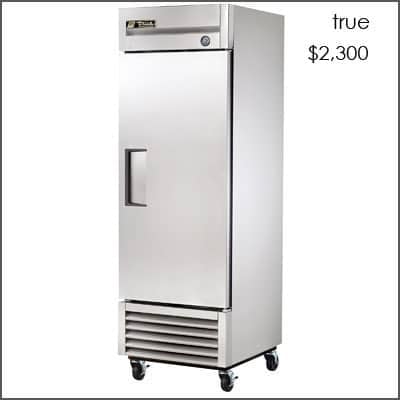 Source: True via Costco
This idea comes from a environmental lifestyle expert Danny Seo. This is one of the best ideas for chalkboard paint I've seen in a long time. This could actually work in my 1940's kitchen. It would probably look out of place in a kitchen with new cupboards and shiny new things that aren't … cracked and broken.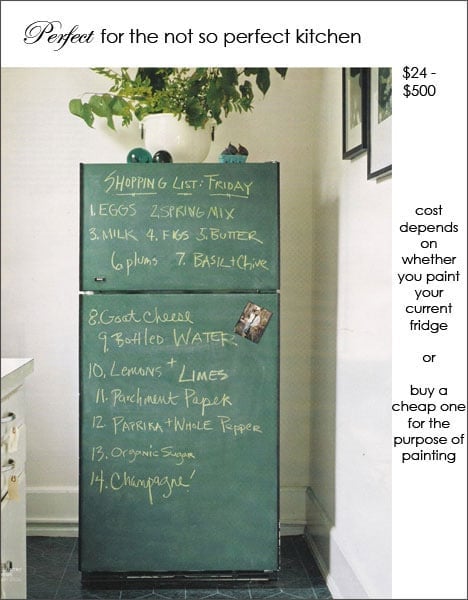 Source: Daily Danny
This LG refrigerator is way too small for me but I thought it was so cute I had to include it. Fantastic fridge if you have a tiny kitchen or need an extra fridge for the basement or pool house. I don't have a pool house. I have an algae filled pond and a potting shed.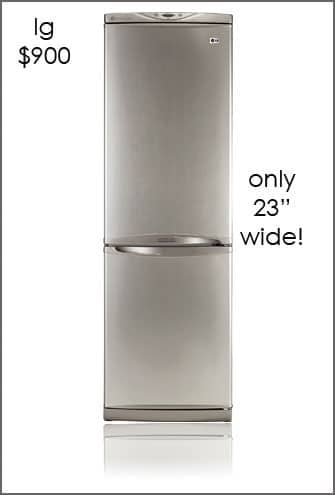 Source: LG
Get ready for the fridge I would buy even if I couldn't afford it. The only reason I will not buy this fridge is I don't have room for it. I would have room for it if I got rid of my stove, but then I'd have to go on one of those raw diets where nothing is cooked and I happen to like my chicken cooked. My beets too. I could probably go either way with cookies. This fridge exterior is by the Italian company Meneghini with the inner workings by high end German refrigerator manufacturer Liebherr. It's the Ferrari and the Mercedes Benz of refrigerators.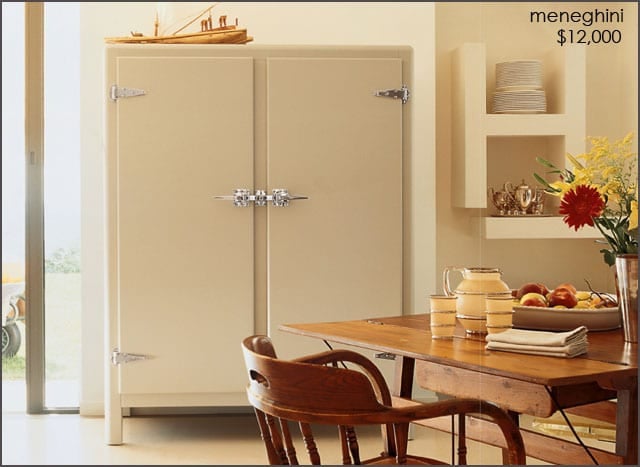 Oh. And as you can see from the panelling you can also get a woody.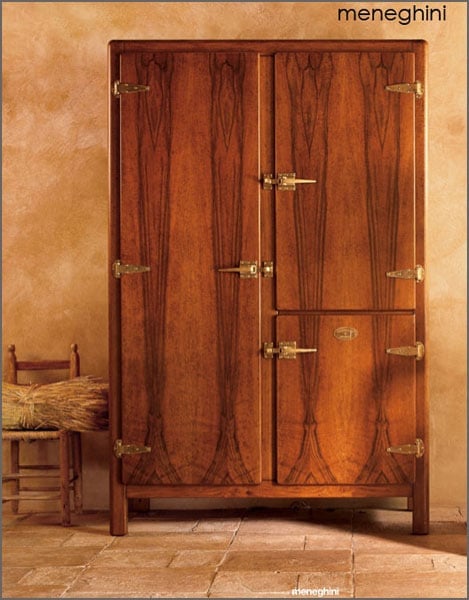 Wow. WOW. How do things like this exist and I don't know about it so I don't care that I don't own it then once I realize it exists and I get depressed because I don't own one. How does that happen?
By the way you're only allowed to keep Guinness, chips and leftover takeout curries in this fridge.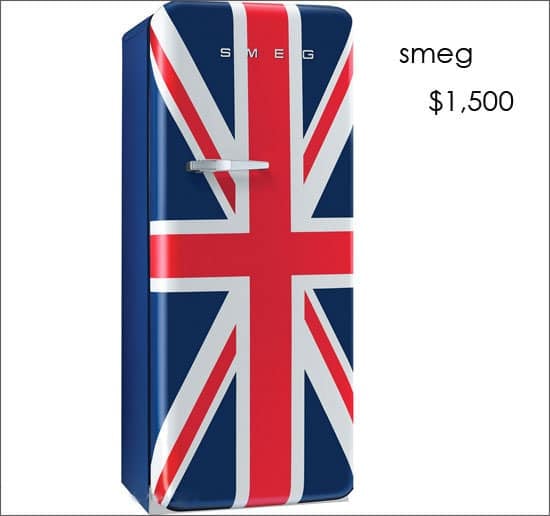 Source: Smeg
I've been seeing the "armoire" refrigerator more and more lately. I wasn't able to find a manufacturer of one, but rather people have bought high end refrigerators (Sub-Zero) and had the armoires custom built around them. Something like you see below would cost approximately $20,000 for the Sub-Zero fridge and then the custom cabinet made to house it. I'll admit they've done a great job on this and I actually like the look of it. But I wouldn't want it in my kitchen. The same way I wanted to make sure my vegetable garden looked like a vegetable garden, not a bunch of vegetables disquised as flowers … I want my fridge to look like a fridge.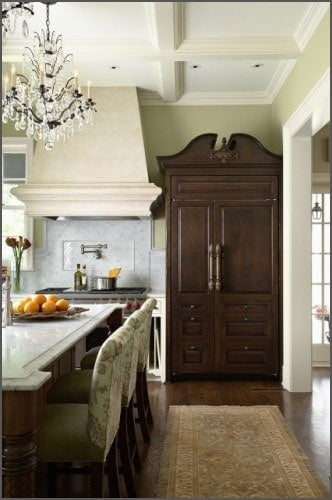 Now we are at the closest thing to the perfect fridge I could find. Allow me to introduce you to the …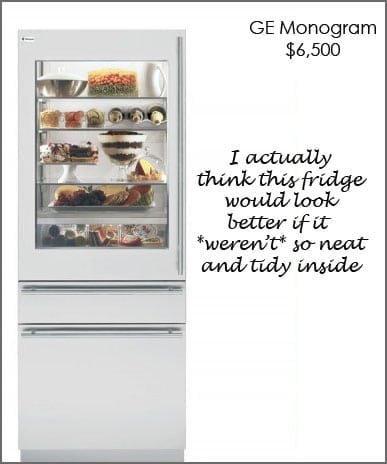 Source: General Electric/Monogram Series
I realize this is the sort of thing that would scare a lot of people away, but I have wanted a glass front refrigerator for years. And I think I'm one of the few who doesn't immediately think "everything has to be perfect inside it". I really don't think that's the case. There are some precautions I would take to ensure it looked nice, but I definitely wouldn't worry about having mustard bottles on display or other everyday items.
The one thing it WILL have to be is clean at all times. The fridge above is the General Electric Monogram and it's the closest thing to the perfect fridge I can find.
It has a glass door, comes with a freezer, is made for the home so it isn't too loud and it's stainless. IT HAS LED LIGHTING ALL THE WAY DOWN THE SIDES OF THE INTERIOR! But it's out of my budget. I think.
Because I spend a HUGE amount of time in my kitchen I plan to spend a lot on my fridge and I won't feel one bit guilty about it. My fridge and stove are my toys. They're my vacation and my workhorses. I use them every day and I use them a lot.
When I see magazines filled with pages and pages of kitchens boasting Sub-Zero refrigerators and Wolf or Viking stoves I think … but you don't cook in that kitchen. I can TELL you don't cook in that kitchen.
There aren't a lot of men out there buying Ferraris to just look at them. So why do so many women do it with high end appliances?
This next fridge is similar to the GE Monogram only definitely out of my budget. The Sub-Zero glass door fridge has a little larger glass area than the Monogram, which I like. The more glass the better.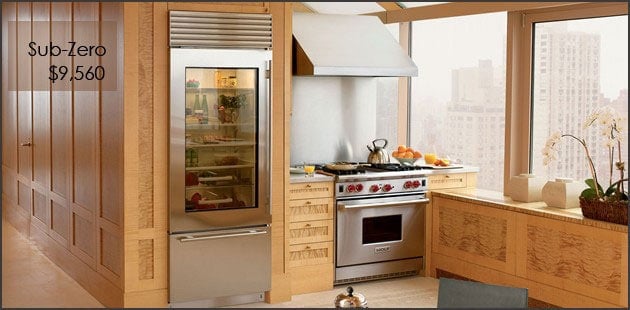 So … if the more glass the better, that would make this fridge the very BEST, right? It's perfect in so many ways, yet so wrong in so many others. Full glass door, but no freezer, plus it's a genuine commercial refrigerator so it would have the constant humming of a fan all day and night long. BUT, it's only $1,500.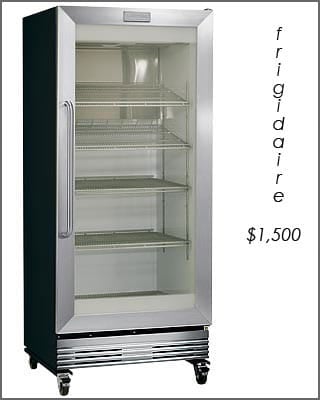 Source: Frigidaire via Costco
We're going on a month with no real refrigerator here and I still have no idea what I'm going to buy so tonight I'm going to proceed with my last resort.
Before I tuck myself in tonight I'm putting a zucchini under my pillow and keeping one eye open for the elusive Glass Front Fridge Fairy.
Update: I ended up buying a new refrigerator when I redid my kitchen and I went with a True Professional series glass front refrigerator. And I absolutely LOVE it. You can see it in my kitchen and read all what it's like to live with a glass front fridge in this post.