The perfect crust is tender, buttery, flakey and crisp. The best way to get those qualities is to make a pie dough that uses both butter and lard. Here is that recipe.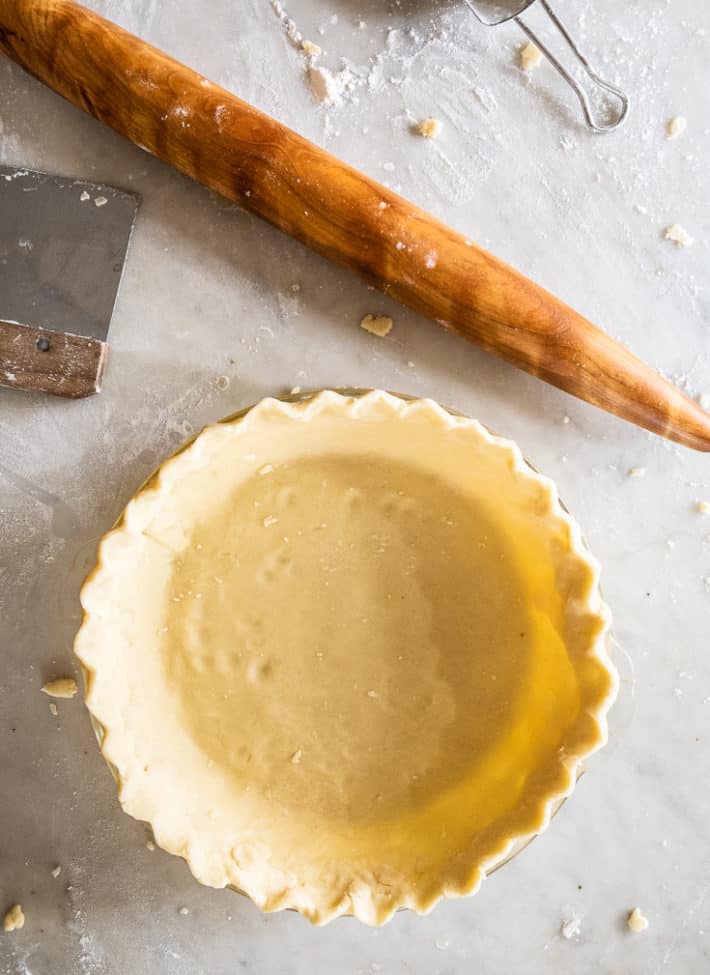 Behold the naked pie crust. Unbaked, rustically crimped, awaiting its perfect filling: an eggy quiche, a fall pumpkin pie, or a savoury pot pie.
If you happen to be a clown, this pie crust is aerodynamically sound and once filled with whipped cream will sail through the air before perfectly landing on the face of its recipient.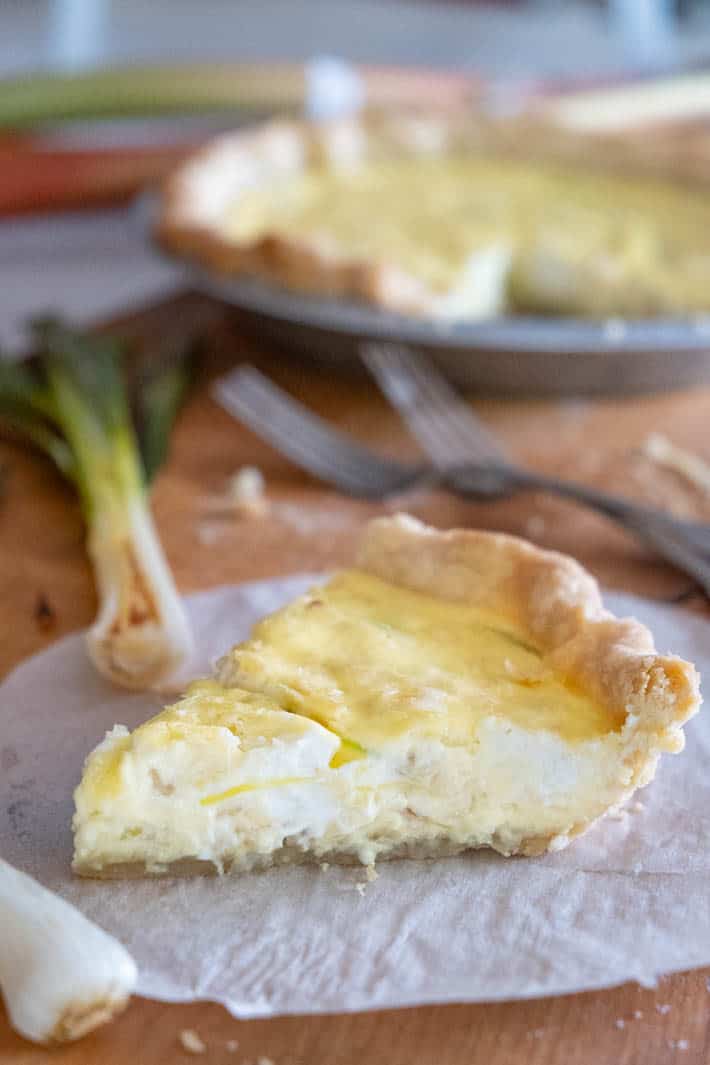 I've been asked for my go-to pie dough recipe for years and I'm finally sharing it. Not that it's a big secret. It's fairly widely known in Canada as the Tenderflake recipe.
---
Tenderflake
So what's Tenderflake? It's a Canadian revelation, available only to those of us in the Great White North but sought worldwide. Seriously.
However, what Tenderflake actually is - is lard.
Lard is fat that's been rendered from a pig. Let me tell you, for something that really has very little flavour itself, lard has the ability to make things it's added to taste D E L I C I O U S.
---
It doesn't taste piggy or meaty or anything else that might make a pie crust seem gross to you.
(Unless you're vegan or vegetarian in which case all of this seems extremely gross. You've probably already jumped to the comment section and are furiously searching for the green barfing face emoji. Or - you've fainted.)
If you ARE vegetarian or vegan, don't worry, I have a lard substitute for you.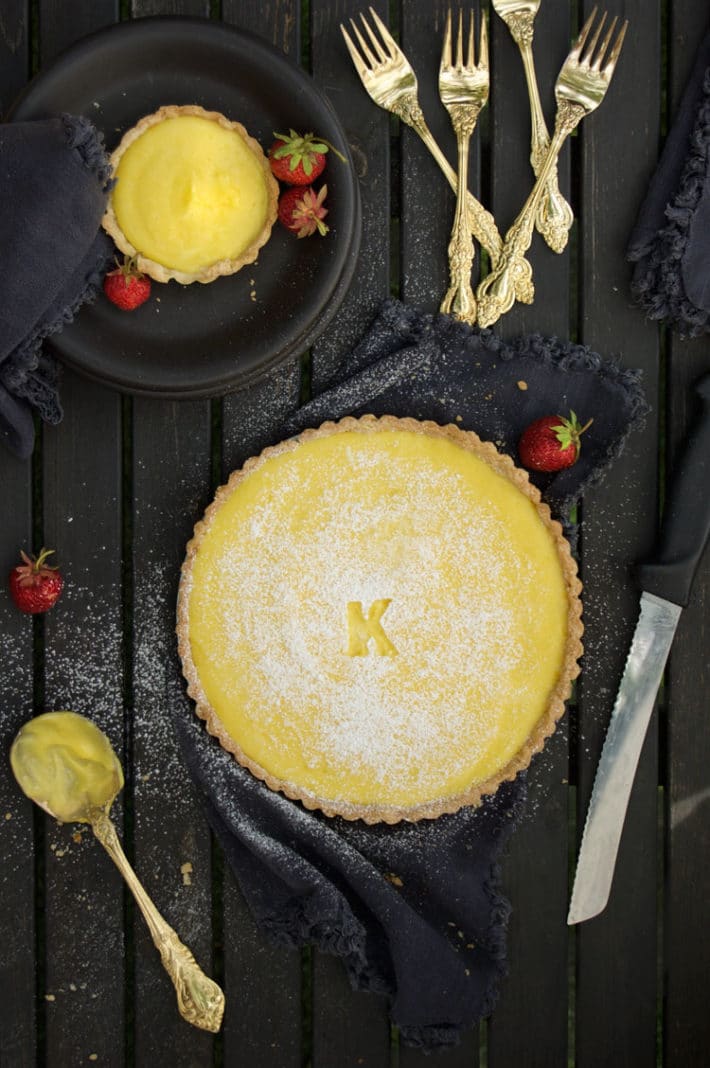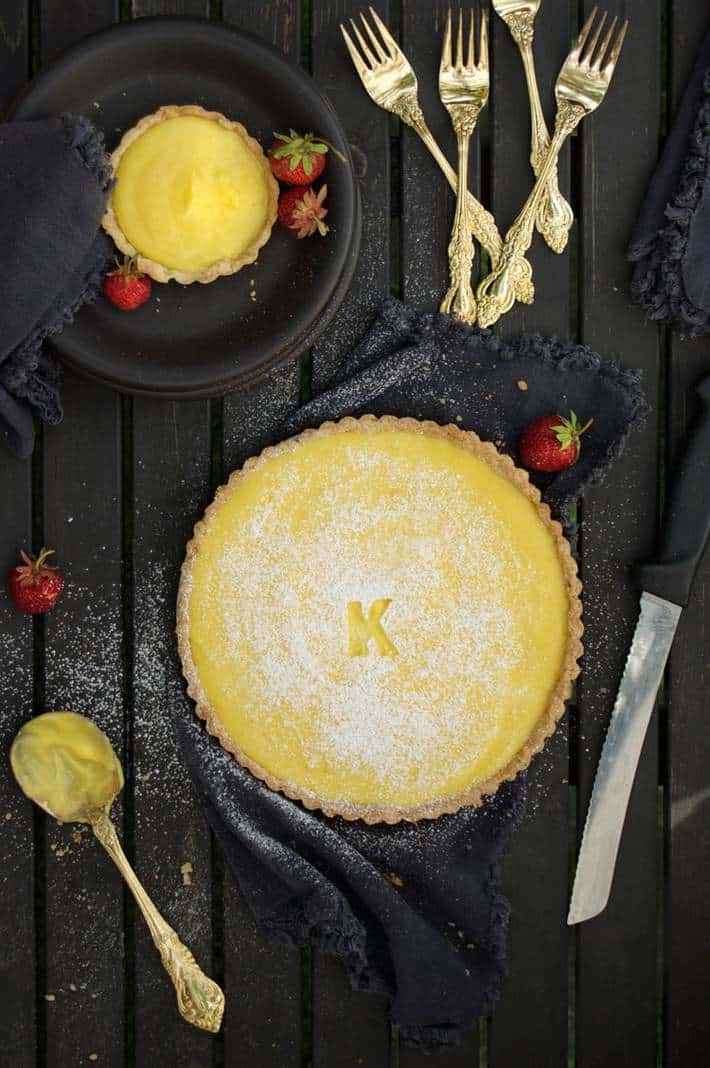 You don't need actual Tenderflake for this recipe (if you're in Canada, it's a good choice).
---
IF you're a do-it-yourself kind of baker you can learn how to render your own lard in this post. If you do let everyone know that you did it. It's kind of a pig deal!
---
O.K. who is ready to make a whack of pie dough that you can throw in the freezer to pull out whenever you need it??
Yes, as a matter of fact you CAN do that and it freezes beautifully.
Why Lard & Butter?
Lard is for the structure of the pie crust. It creates the flakey crust everyone wants in a pie. This because lard has a much higher melting point than either shortening or butter which means once the crust starts to bake the lard stays solid longer creating pockets in your crust while it bakes. Those pockets create a dough that rises and a crust that's tender and flakey.
Butter is for flavour. I mean, you've eaten butter, right? It's always there for the flavour.
Using only lard in a pie crust creates a crust that I consider TOO flakey. It falls apart and doesn't have a lot of of flavour.
Using only butter in a pie crust creates a crust that's dense and even oily.
Using both lard and butter is the best of both worlds and creates the perfect crust. Tender, flavourful and crisp.
---
Pie dough recipe
(with lard & butter)
You're going to need some flour, butter, lard, an egg, vinegar and ice water. And a whole lot of filling ideas. And don't you worry, there's a printable, concise recipe card coming up after the pretty pictures.
*for the animal free folks, substitute vegetable shortening for lard.
As per usual, you're going to mix together your salt and flour. You don't need to sift, just mix it up with a whisk.
Weigh out and cube your COLD unsalted butter and lard.
If you have a food processor, add your all purpose flour and fats to it.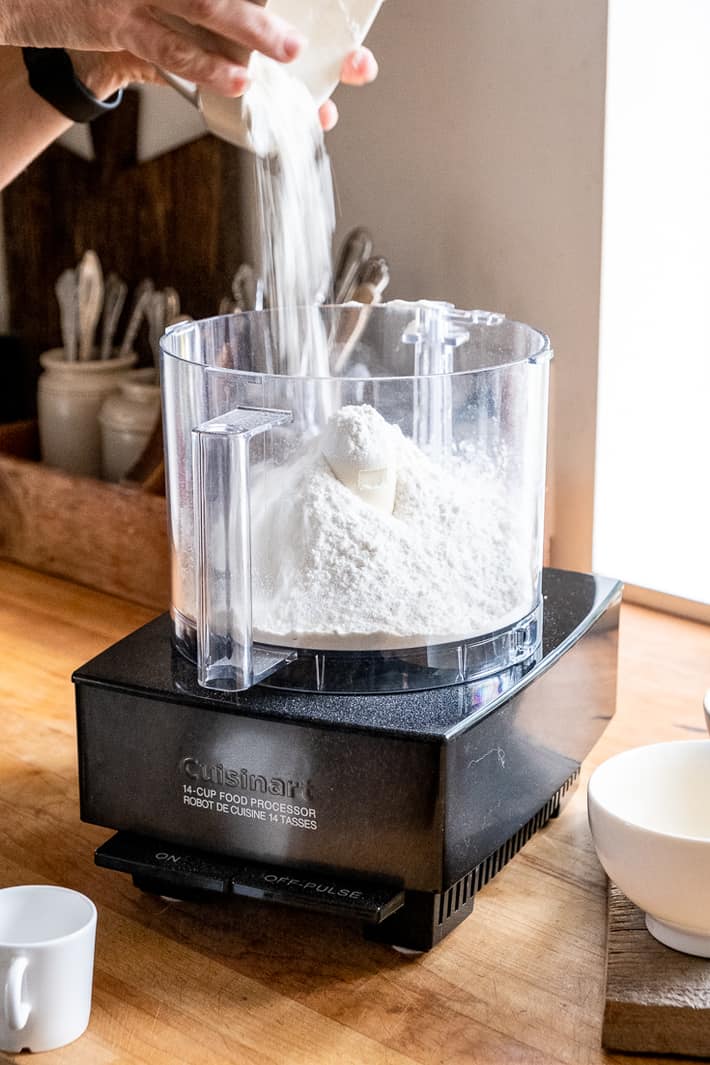 Pulse until crumbly. You still want to be able to see chunks of lard & butter after mixing. If you don't have a food processor you can cut your dough with a pastry blender or two forks.
You'll mix some ice water, vinegar and egg together and blend that in too. Don't blend away all of the bits of lard and butter. The bigger they are, the more slowly they melt when cooking, then more rise and flakiness you get in your crust.
Dump the contents onto a plastic wrap lined, cold surface if you have one (any natural stone works great). Don't touch the dough! Your hands are warm because you are a live and loving human being. Great for hand holding, but total crap for dough.
Grab the sides of the plastic wrap and pull it together until your dough forms a firm ballish type of thing. Divide the dough into 2 or 3 balls depending on whether you halfed or doubled the recipe. Flatten those balls into disk and wrap in plastic wrap to rest in the fridge while you go to the bathroom, eat a sandwich or whatever else you were putting off while you were making the dough.
This is ALSO when you would put the disks straight into your freezer if you're making the dough in advance because you're a good doomsday prepper who knows nothing can turn a doomsday frown upside down like pie.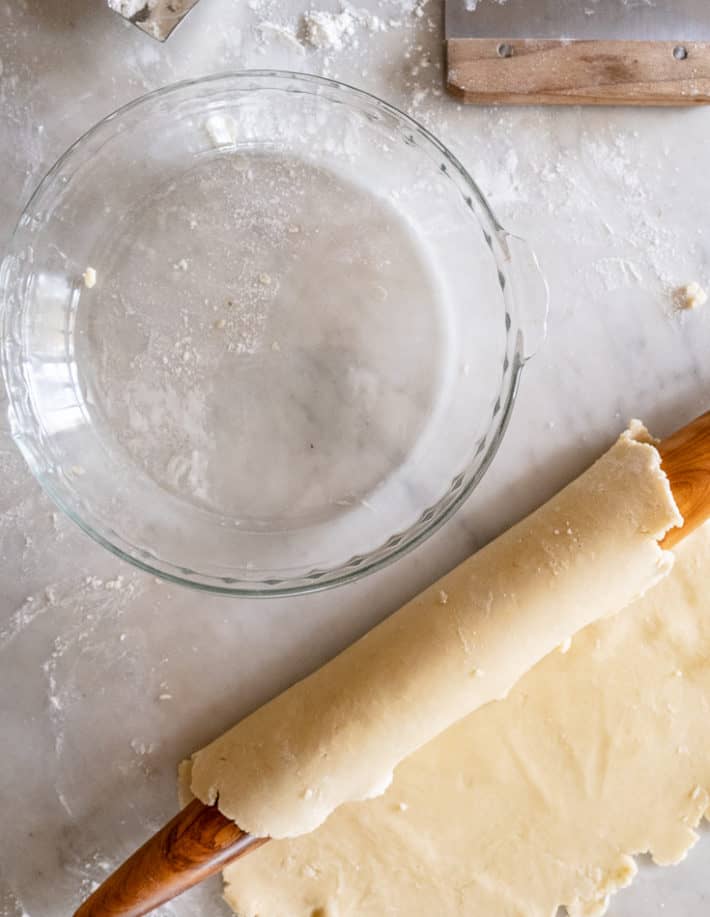 After the dough has cooled and rested in the fridge for at least half an hour, roll it out, again, touching it as little as possible.
---
*A note about pie plates!
What's the best pie pan?
For me there are only 2 choices. A glass Pyrex pie pan or a dull, old aluminum metal pie pan. If I had to pick a favourite, it would be the dull aluminum pan.
Pryex pie plates conduct heat well and get a fairly evenly browned crust, but they aren't as good as aluminum.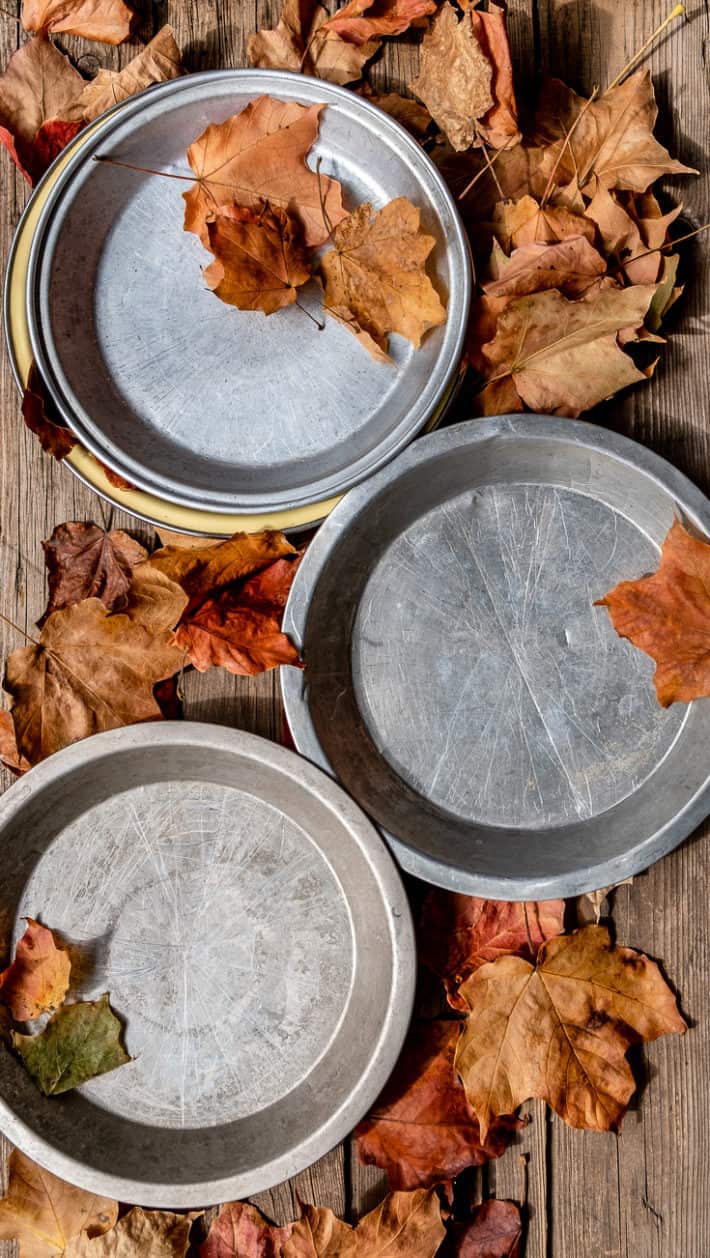 Newer aluminum pans that you can buy in kitchen stores or Amazon are not the same. Older pans have developed a dull finish and just work better for conducting heat and browning the crust.
If you don't have any of these old aluminum pans, hunt for them at garage sales. If you can't wait for garage sale season, then use cheap, disposable aluminum pans.
(or like I said, use a Pyrex dish)
---
Once your dough is rolled out, roll it over your rolling pin and then use the pin to pick up the disc of dough and place it over your pie plate.
You should have rolled your dough out until it's a couple of inches bigger than the diameter of the pie plate.
Let the dough settle into the dish, pushing it down with your hands then start your crimping of the edges.
If your recipe calls for the crust to be partly cooked (blind baked) then you can do that now.
If you aren't familiar with it, the explanation of what blind baking is and how to do it, is in this post.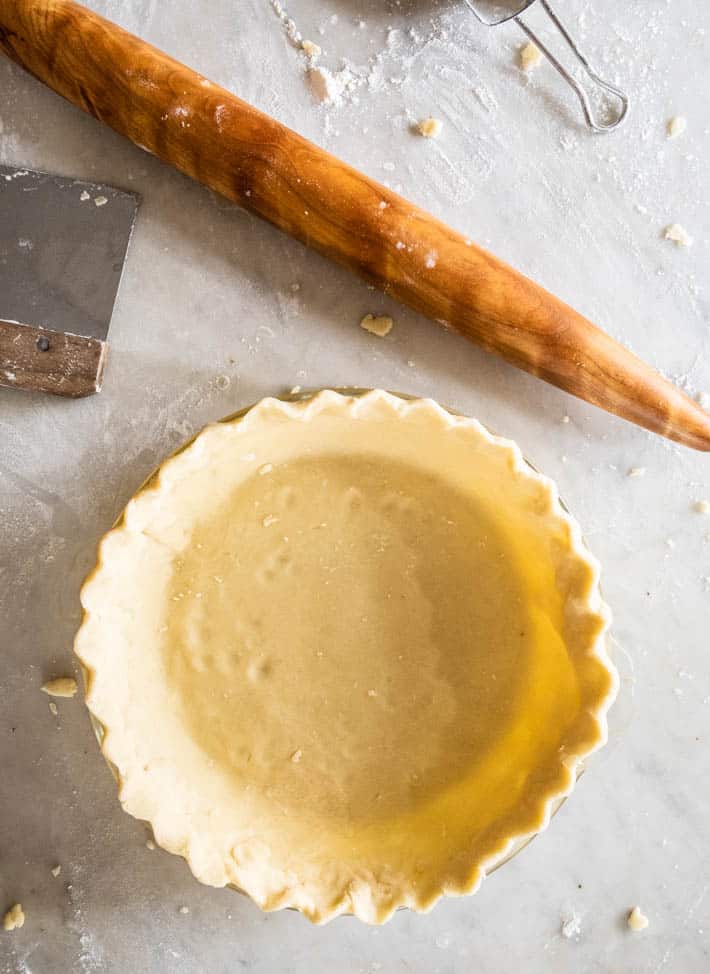 Once your pie is blind baked (if required) fill 'er up with your filling and bake.**
**Using an aluminum pan can reduce your cooking time so keep an eye on things.
---
PREPARE TO SLAP YOURSELF ON THE FOREHEAD.
You can add spices to flavour your crust.
Yup. 🤦‍♀️ Just think of how many apple pies you've made that would have been OVER THE TOP DELICIOUS if you'd added a bit of cinnamon or lemon zest to the pie crust.
How to Flavour Pie Dough

Add ¼ teaspoon of dried spice per dough ball. For instance if you're making the full recipe for 6 balls of dough, you'd add 1.5 tsps of spice to the dough. Just add it to the dry mixture of flour and salt. Cinnamon, nutmeg and pumpkin spice are good choices for apple or pumpkin pie.
Add 1 teaspoon of fresh herb or zest per dough ball. For instance for 6 balls of dough you'd add 6 teaspoons of chopped rosemary or thyme.
Some examples of spices/herbs to add to pie crusts:
Pumpkin Pie - nutmeg, cinnamon, orange zest
Apple Pie - Lemon zest, cinnamon, chopped rosemary
Savory pies - Thyme, celery seed
---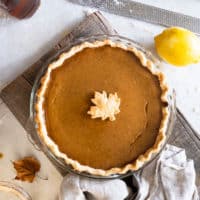 Pie Dough
A perfect pie dough thanks to O' Canada. Lard & butter for a delicious crust. (Vegan/Vegetarian substitutes in notes.
Print
Pin
Rate
Ingredients
5½

cups

all purpose flour

2

teaspoon

salt

½

pound

lard

cold and cubed

½

pound

butter

cold and cubed

1

tablespoon

vinegar

1

egg

lightly beaten

Ice Water
Instructions
Whisk together flour and salt* then cut in butter and lard with a food processor or pastry blender. Cut dough until it's crumbly but fat pieces are still pea sized or so. (If your food processor is small, you'll have to do this recipe in 2 batches because it'll be too much for your machine)

Add your egg and vinegar to a measuring cup and then top it up with ice water until you have 1 cup of liquid.

Add liquid to the dry ingredients in a slow stream just until dough comes together. You may not need all the liquid.

Dump the contents onto a large piece of plastic wrap then fold the plastic in towards the dough repeatedly until a ball forms. Try not to touch the dough with your warm hands.

Divide the dough into 6 balls. (if you made a half recipe, then divide into 3 balls)

Wrap dough in plastic and flatten them into discs. Refrigerate for at least half an hour before rolling out. This is also the point that you can put the dough directly in the freezer for using later.

When you're ready to make PIE! roll the dough out onto a lightly floured surface with a lightly floured rolling pin. Drop it into your aluminum pie pan, flute the edges and bake however your recipe requires.
Notes
*Want to really take your crust up to an impressive level? Add ¼ teaspoon of spice per dough ball.  For instance if you're making the full recipe for 6 balls of dough, you'd add 1.5 tsps of spice to the dough.  Just add it to the dry mixture of flour and salt. Cinnamon, nutmeg and pumpkin spice are good choices for apple or pumpkin pie.  Thyme or celery seed are good choices for savoury pies.  Work within the herbs/spice combinations used in your filling recipe.
Vegan and Vegetarian Version
Substitute lard with vegetable shortening
Substitute butter with vegan butter
Omit egg. 
Confession
I actually prefer a ratio of 60% lard and 40% butter, but half and half is just so much easier to measure out and remember.   
Nutrition
Serving:
1
ball
|
Calories:
711
kcal
|
Carbohydrates:
90
g
|
Protein:
14
g
|
Fat:
33
g
|
Saturated Fat:
20
g
|
Cholesterol:
109
mg
|
Sodium:
1064
mg
|
Potassium:
222
mg
|
Fiber:
5
g
|
Sugar:
1
g
|
Vitamin A:
2881
IU
|
Vitamin C:
13
mg
|
Calcium:
118
mg
|
Iron:
6
mg
If you're looking at the 711 calories up above and vowing never to eat pie again, remember that's for an entire crust. Depending on whether you slice it into 6 or 8 pieces, that's just 89 - 118 in crust calories per slice.
Always keep in mind you're going to eat one slice, then go back for just a sliver of another slice, and then polish the remainder off as well. So count on eating at least 2 pieces is what I'm saying.
Use this dough recipe with any of my favourite filling recipes.
Please note I was only kidding about throwing this pie in someone's face. That would obviously be a waste of a good crust. Just use a frozen crust for that.
→Follow me on Instagram where I often make a fool of myself←