I've been blogging for a year and a half now.  So I'm kind of a veteran.  I have learned a couple of things as a blogging old timer.
1.  Use the word tinkle a lot.  Tinkle is a funny word that always gets a laugh.
2.  People do not want to tackle any project that takes more than 15 minutes unless the end result is covered in icing.
So ... because of this, I've decided to offer you an alternative to one of my more time consuming tutorials.  The Tree Stump table has proven to be one of my most popular and passed along posts.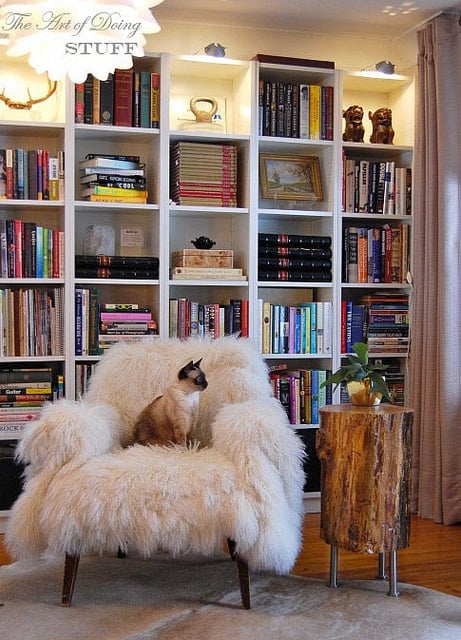 It's a truly simple project, but it does take time.  There's waiting for the stump to dry and the finish to dry and the finish to dry and the finish to dry.  There are several coats of finish.  Plus there's some power tools involved and you have to go out and buy legs, and ... well ... it just takes a lot longer than 15 minutes.   Tinkle.
So, it occurred to me, that if you reallyyyyyy wanted, you could get the same basic look as my tree stump table, without all the fuss or muss.
And here's how you do it.
Instructions for ...
The Tree Stump Table
The lazybones version
1.  Get stump, let it dry out, bring it inside.
2.  That is all.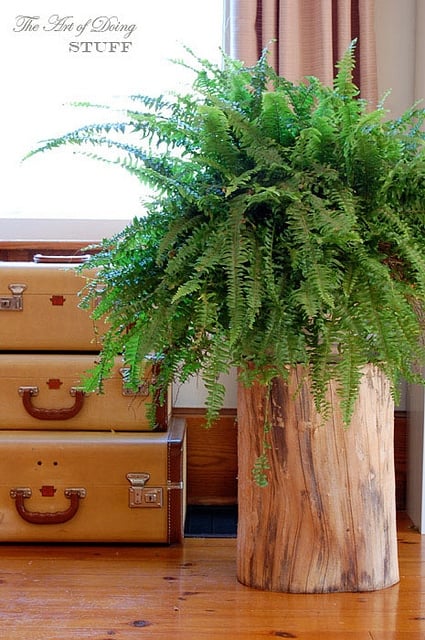 This is a stump the fella and I found while walking home earlier this summer.  Originally we were going to make a stump table to bring up to the cottage, but realized there probably wasn't room for it.  So ... it sat in the backyard with a fern on it looking quite beautiful.  One day whilst looking at the beautiful, natural stump with the beautiful fern, I thought to myself.  "Hmm, myself ... I bet that would look beautiful inside, just as it is."  
So before frost had a chance to get at my fern I dragged the whole lot inside.  And guess what?  It does look great inside.  Myself was right.  Other than taking the bark off, which basically just fell off ages ago, this stump table took no effort at all.  I like the dull finish of the natural wood and it's perfect for a plant.  If your plan is to use this as an actual table, be warned that if you spill anything on it like wine or salsa or whatever, it will stain.
That's what's great about the original stump table.  The finish on it makes it close to indestructible.  The drawback to it of course,  is that it's not covered in icing.