I have made a spectacularly inspired and spur of the moment decision to take a week off to clean up this wreck of a house of mine before autumn hits.
The only way I was able to do this was to not post for a week. But that made me sad.
So what I've done is quite clever I think. For the next 4 days I'm going to be posting the first 4 posts I wrote for The Art of Doing Stuff.
I have no idea what led me to the decision that grinding up meat was a perfect first post. I'm not saying it isn't … I'm just not sure what led me to believe that THAT was the post to start with on The Art of Doing Stuff, but I think it's a pretty good representation of what I wanted the site to be and what it eventually did become.
A place for criminals to exchange ethically questionable ideas in a safe and loving environment.
Err, no.
A place for people to learn stuff and be entertained at the same time. If you don't care about what I'm doing, chances are you'll still be entertained by it. And if you don't find a post particularly entertaining, I bet it's because you were so absorbed by how fantastically educational it was.
The one thing, above all else I pride myself and this website on is the fact that I do not recommend anything I haven't tried myself. Repeatedly. I don't every use the phrases, "I've heard", "I think", "I once read on the Internet …". I particularly hate that last one because as we all know, the Internet is … A BIG FAT LIAR.
It's appropriate too, I think, that the fella was also in my very first post. I didn't realize at the time how big a part of this blog he would become.
The post focuses on our food and where it comes from. It seems not much has changed in the past 2 ½ years other than my hair and the horrifying development of back fat.
My very first ever blog post, dated March 1st, 2010.
Enjoy …
____________________________________________
Originally posted
March 1, 2010
I don't know how many of you have seen the movie Food Inc., but the other night my fella and I sat down to watch it. If you don't know what it's about let me give you a quick synopsis. The documentary revolves around where our food comes from. Apparently it comes from the bowels of the American government and the dirty old intestines of business.
I know! I had no idea either. I thought it came from a farm. And a pretty one too, with prancing kittens and cows that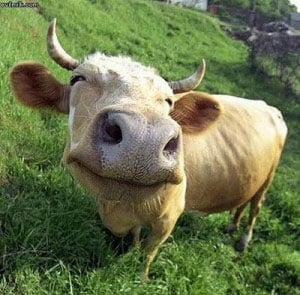 smile. The movie takes you on an in depth discovery of how, as North Americans our food rarely comes from a wholesome, windswept farm. And industries don't care quite as much about the food we eat as an overall wearing, straw hat donning farmer.
Food is a business that corporations want to make a profit from. How do you make a profit? By producing food faster, bigger and cheaper. This is done with antibiotics, hormones, engineered feed for the animals and packing as many of them into as small a space as possible. The same way Chinese gymnasts are produced. The point of the film is to get you thinking about where your food comes from and what you can do about it.
Now, I'm freakishly suggestible with food at the best of times. You know when you're walking along, minding your own business and you suddenly smell a French fry? And then you must eat French fries? I pretty much do that with everything. During the whole Olympics this year every time I saw a Union Jack I'd start gazing off into the distance with my tongue hanging out thinking about Yorkshire Pudding (Martha Stewart's recipe for this is the very best by the way).
So when we sat down side by side on the couch, and started up this movie I knew I was in trouble. And not just because the large man beside me had recently finished a stew dinner and was conspicuously draping himself in his "toot muffler" blanket. Uch.
We were smart enough not to watch this movie with a lap full of Chicken McNuggets and special sauce but even with a bowl of Crispers it was enough to make us a bit gaggy. I was in trouble because I knew this movie was going to change my life and I didn't necessarily want it to. I didn't want to know where my meat came from, I didn't want to see the torture and I didn't want to possibly be put off hamburgers for the rest of my life. Hamburgers are fantastic little creatures that even taste good when they're terrible. But I did watch the movie and it did change my life.
BECAUSE NOW I MAKE THE MOST DELICIOUS HAMBURGERS EVER! I mean, there's all kinds of other great take away notions in the movie, but for here and now I want to tell you about grinding your own meat. Oddly enough, the movie doesn't mention anything about grinding your own meat, but it does make you think about your food and where it comes from. Which got me to thinking about what exactly is in my ground beef. I was guessing there were a lot of things in there I didn't necessarily want in there, so I looked it up on the trusty Internet.
I found all sorts of crap about what you could do with ground beef but very, very little about what was actually in it. This was actually more frightening than finding pages and pages of gross information on it. They're sneaky those beef people. And I happen to have it on good authority (Oprah) that they take their business quite seriously. I did manage to find out that ground beef is commonly made out of things that could only be described as "icky" so soon after watching the movie I decided to try and grind my own organic beef. It sounds like more of an ordeal than it is. Unless you have 3 or 4 kids. Because even putting on deodarant is an ordeal when you have 3 or 4 kids isn't it? Wanna know how to grind your own meat? Watch the video! Give it a shot. And revel in the fact that all of us, together, can continue to enjoy tasty hamburgers!
">//