One day, a girl named Karen, a girl very much like you, and you, and you, put on her boots and went outside to start her garden.
It wasn't a regular garden like dad used to plant in the summer. It was a special garden. Karen was creating the most magical of all gardens, the winter garden.
First she built a house for her plants so they would be protected from the blowing snow and the winter's chill that bites at your nose.
Then she planted her seeds row by row.
Mustard Greens and beets and lettuce galore! For the rest of the winter they'd grow more and more!
After the seeds were settled snug in their soil, Karen went back into her warm house.
Some time after that, everything went to shit.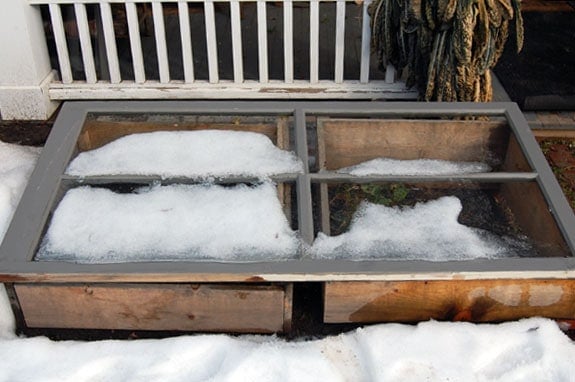 This is my cold frame as it looks today. I figured it would be a good day to check on what was inside because the snow had melted and the Polar Votex was long gone. Oops. The Polar Vortex is now back. That didn't take long.

While this little bed of Mache might look impressive or at the very least encouraging, it isn't. This mache stopped growing around November and has stayed the same size since then. There's exactly enough for a for a very small family of gerbils to use as garnish on their meals with for about a day and a half.
This would be my mustard greens. They didn't die from the cold. They died (or withered up like a post-menopausal vagina) from lack of water.
Because I didn't water the cold frame.
Ever.
I was kind of under the impression that it would somehow water itself. That the humidity in there was build up and drip down and there would be sort of a watering system. I also though that that when it rained or snow melted that the ground underneath would absorb water from all around and stay moist.
I was so wrong. You can see in the picture above that a few areas did get water, just not enough.
The swiss chard I transplanted into there in the fall is still alive with nice greens. It isn't enough to eat, but with any luck the plants will continue to live and I'll be way ahead of schedule with they shoot up into full grown plants in the spring.
The beets. The beets! The beets were a disaster.
The beets in the cold frame are withered and all of the greens are dead. I'm pretty sure even the gerbils would turn their whiskers up at it.
On the OTHER hand, the beets I left outside of the cold frame, to be protected (and watered) only by a thick layer of snow were perfect. I brushed the snow away and started picking.
They still had nice fresh greens on them and were pretty firm. Definitely edible.
The snow beets did great just left to their own devices outside in the garden. The cold frame beet, which you can see at the bottom of the below photo was gross. My interference with it by forcing it to live in a cold frame upset it a great deal and it revolted by dying back and shrivelling up.
The other mistake I made was putting a new window on the cold frames. I was SO excited to get the beautiful Mennonite built window from my neighbour that I couldn't resist putting it on the frames I made last summer. The problem is, this window didn't fit making my cold frames almost completely inefficient.
I'll make a new large, single cold frame next year, plant my cold frame crops a bit earlier and try it all again.
Karen was sad to discover her plant's house didn't protect them through the winter. Cold, teary and with her socks bunched up in the toes of her boots, she came inside and started a new plan for next year.
Because there's no such thing as an unsuccessful plan. There are just plans that haven't become a success yet.
The end.