This is the most ridiculous DIY in the world. And you know you want one.
I find a bizarre kind of comfort in the aisles of the grocery store. Pushing my clacking cart with Adele softly singing from overhead. I always feel a certain toe tingling excitement when I go down the cleaning products aisle. It always smells good and they have entire shelves filled with candles, and room spray and pretty things you plug into the wall to make your kitchen smell like vanilla or your laundry room like lavender.
I never buy those things.
Ever.
I look at them. I smell them. I pick them up and hold them, hovering my hand over my cart … and then I put them back on the shelf.
I'm pretty much the same way with new cleaning gadgets. I must get it from my mother, who still says the Swiffer is a passing fad and what the hell are we all going to do with those Swiffer handles when we can't buy the pads for them anymore. (We're going to cut pieces of polar fleece to size and use those by the way)
But every once in a while I see something that I really can't resist buying. It could be Adele softly cooing me on, or the fact that the package is shiny or because of the giant sign declaring … Buy one get one FREE.
That usually does it for me.
So a few months ago, as I neared the end of the cleaning products aisle I noticed out of the corner of my eye a big yellow sale sign under a bottle of Windex. But it didn't look like a bottle of Windex, it was more like a baby wipes container. And then it hit me. THESE WERE PRE-MOISTENED WINDEX TOWELETTES!
You'd have to be a real asshole not to buy those when you saw they were on sale.
Wanting to uphold my cuddly as a kitten reputation, I bought 2. (well technically 1, because the second one was free)
For the next 2 weeks I Windexed at abandon. I walked around the house Windexing everything from the mirrors to the leftover meatloaf. And just like that … they were gone, and the sale was over. I didn't know what to do.
I wasn't paying full price for these things even though they were one of the more useful and convenient things I'd ever tried. They just cost so much money for what they were.
So I started experimenting. After 2 or 3 prototypes I came up with this, which I believe is a perfect solution.
I made my own Windex towelette dispenser out of a milk carton, shop towels, and Windex of course. The earlier versions involved tupperware, an ice cream container, regular paper towels and homemade cleaning solution.
The regular paper towels weren't sturdy enough to handle a good soaking in Windex, the Tupperware and ice cream containers weren't tall enough to hold nice big sheets of paper towels and the homemade cleaning solution was a pain and really didn't work as well as Windex. I know there are those of you who would disagree on the Windex point, so if you want to make your own cleaner, go nuts. I will not shun you. Publicly.
Wanna make your own Premoisted Windex Towelette dispenser? Of COURSE you do! Why?? BECAUSE YOU'RE NOT AN ASSHOLE! YOU'RE CUDDLY AS A KITTEN!
Here we go.
Gather an economy bottle of Windex, Shop Towels, and a large milk carton.
Mark your shop towels at the height of the milk carton (before it starts to narrow at the top).

Cut with a bread knife, or electric knife.
You can use the leftover bum end as regular paper towels. If you have an especially poor fashion sense, you could wear it as a hat.
Pull the cardboard tube out of the centre.
Pull the first shop towel out from the centre of the roll.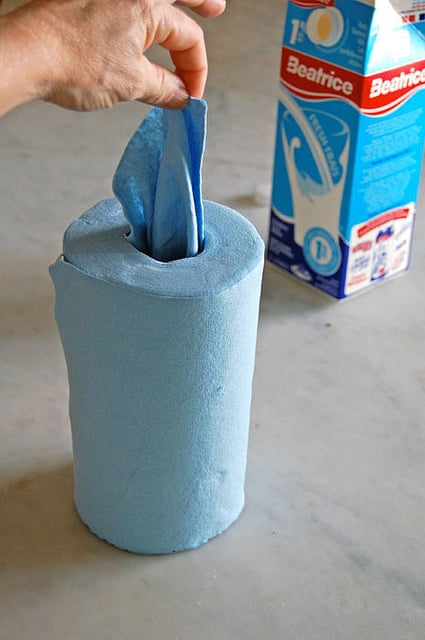 Carefully open the top of the milk container by pulling it apart. Smush the shop towels into the container. You may need to squish/fold the towels a bit like I've done in this picture.
Pull the shop towel from the centre out of the milk dispenser hole.
Evenly distribute about a cup of Windex. Let it settle and soak for an hour or so. Then do it again. Make sure you get right in the centre of the towels too. If when you pull out a towel it has dry portions, you can pull the entire roll out and douse it in Windex that way. Just be careful not to add too much or they'll turn to mush and rip apart easily.
Now run around your house Windexing willy nilly!
Oh I'm sorry. Does this hurt your design sensibilities? Can't say I blame you. For those of you with a more discriminating eye, I offer this version …
Paper Towel Dispenser Final
It's a little delicate but I haven't thrown my Windex Towelette dispenser at anyone in at least 6 months so it should hold up fine.
To make this version just paint your milk (or orange juice) carton white and attach sheets of rhinestones (I got mine at Dollarama) with two way tape. Instead of painting it you can also cover your milk carton with white craft paper or bristol board using two way tape. Keep the top closed by attaching two way tape to both sides of the top of the carton and press firmly.
This kitten's not just cuddly. She's crafty.